Netherlands Places to Visit | Top 15 Cities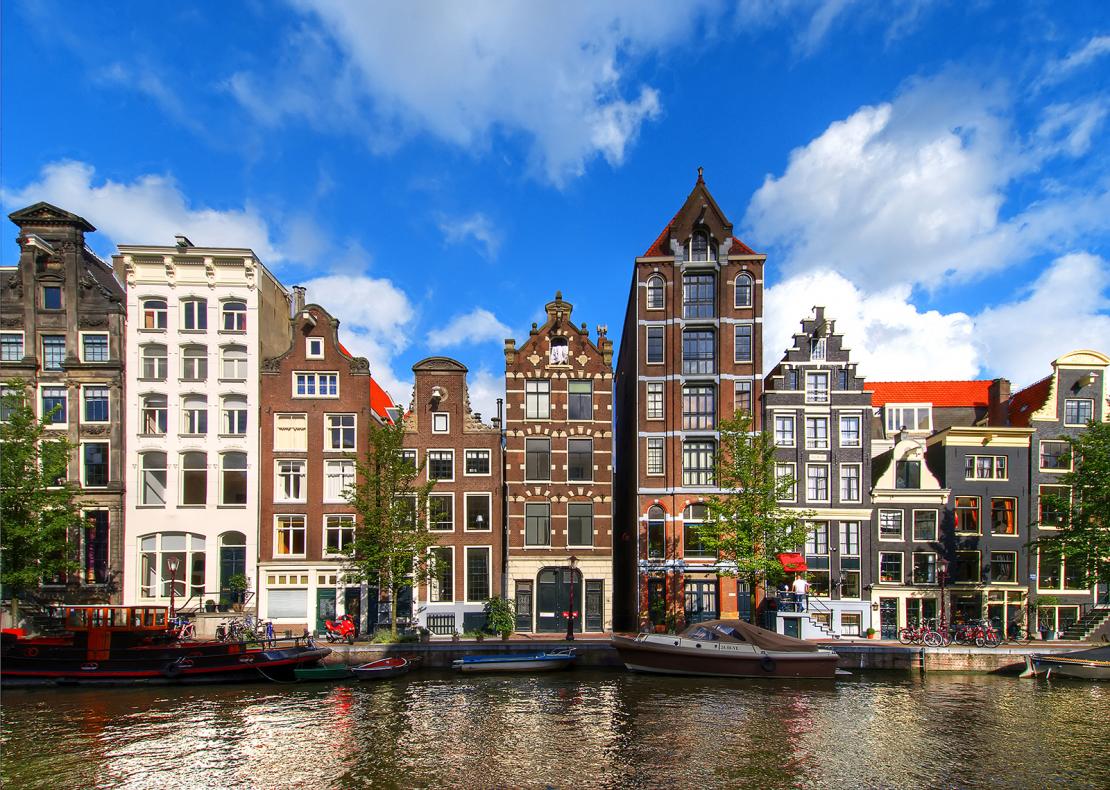 The Netherlands, the country below sea level, continues to increase its popularity and host hundreds of tourists every year.
In our article on places to visit in the Netherlands, we bring you together with cities that will warm your heart, fascinating events and the naivety of the country's culture.
The Netherlands, one of the most beautiful and unique countries in the world, is a place that must be seen and met with its culture before you die. Famous for its tulips, bridges, windmills and cheese, the country is among the first in the world with its approach to homosexuality. It is also known for the colourfulness of the entertainment life of the country, each city of which is beautiful, with its streets where the canals connect and its bicycles whizzing on its streets. If you have questions about Netherlands Places to Visit here is the answer.
#1 Netherlands Attractions
At the top of the list;
1- Amsterdam
The city, which is the capital of the Netherlands, is one of the regions that host the most tourists in the country. While even the magical atmosphere of the city is worth seeing, you will find a lot in terms of culture, entertainment and history. Do not forget to take a peaceful bike tour along the canals in the city, where you will be fascinated by its free environment and always colorful nightlife.
Rijk Museum, Van Gogh Museum, Vondelpark, Red Light District and Anne Frank Museum are just a few of the places you can visit, and we are sure that you will have unforgettable moments in Amsterdam.
2- Arnhem
In the city located in the east of the Netherlands, you can see one of the most beautiful open-air museums in the country. While it is a non-crowded city, there are many historical monuments to see in Arnhem, which has increased its popularity thanks to the notables of the region. II. The magnificent La Grote Kerk, which was damaged in World War II and then rebuilt according to its original form, is just one of them.
3- Delft
You can see many works from Renaissance to Gothic architecture in Delft, which has not spoiled its historical texture since its establishment. As in all cities in the country, the city surrounded by long canals hosts dozens of events in the field of science and art. A nice stroll in the quiet city with magnificent structures such as Prinsenhof Museum, Delft City Hall, Nieuwe Kerk will do you good.
4- Eindhoven
Make sure to make room for a small city, Eindhoven, that will take up one day on your tour of exploring the country. The city, which you can reach by taking the train journey from Amsterdam, stands out with its green nature and culture and art. The city offers you the chance to visit pleasant stops such as Van Abbemuseum, Sint Catharinakerk National Monument, Evoluon Building, Philips Stadium.
5- Giethoorn  
Your trip to Giethoorn, one of the most beautiful villages in the world, will take an important place in your life. You will encounter a village whose spouse you have never seen before. There is no place for any motor vehicle in the village. Transportation is provided by small boats or boats over the canals. You are surrounded by cute houses in green gardens. Add this village away from technology, where peace truly reigns, to your list with capital letters.
6- Gouda

If you are a cheese lover, you should definitely go to the Dutch Cheese Festival held in the cheese city of Gouda. You can taste all kinds of cheese at the stands that open every Thursday from April to August. Be sure to try Gouda cheese, which has made a name for itself in the world. We are sure that it will impress you with its 15th century buildings and regular highways.
 7- Groningen
the northern Dutch city of Groningen; Being at the junction of all roads and canals, it serves as an important trade center. Despite being an industrial city, in a city where tourism is also developing, even the summer months are mildly cool.
The city, which is a great place to explore by bike, has been recognized as the "World Bicycle City" due to its network of bike paths. You can take a look at our article about places to visit in Groningen with its historical buildings, long rivers and unique nature:
8- Haarlem
Haarlem, which you can reach in 10-15 minutes by a train departing from Amsterdam, is a place preferred by those who are considering renting a seasonal house. Because the rental prices are very affordable compared to the whole country.
If you have a crowded travel plan, it would be useful to research the houses in this region. In Haarlem, which will give you an advantage with its proximity to Amsterdam; You can visit the historical Grote Kerk, take a picture with the windmills and get lost in its rich shops.
9- The Hague
The Hague, a department within the city of Den Haag, is the administrative center of the country. Due to this feature, he made the city in which it is located also known by his own name. The city, where the embassies and the Royal Palace are located, draws attention with its small but original architecture. In the city, you can visit museums with impressive collections such as the Louwman Museum, the Gemeente Museum and the Mauritshuis Museum.
10- Leiden
In the Netherlands, the land of canals, another city where you can enjoy a boat ride is Leiden. Walking around the streets connected by wooden bridges and resting in the gardens with a thousand and one kinds of plants are just two of the activities you can do.
You will also find historical and cultural places in the city where you will feel a smile spreading on your face without realizing it.
11- Maastricht
The city in the south of the country, Maastricht, is a hidden ancient city where old walls meet with canals. In the city, where modernity and old tastes come together, many festivals are held in the winter season.
You can unwind in bohemian cafes and restaurants and visit attractions such as the Bonnefanten Museum, Hell's Gate and Saint Servatius Church.
12- Marken
A peninsula in Lake IJsselmeer will attract your attention with its houses built on poles. Marken is one of the places where you can feel that the whole country lives almost intertwined with the sea. You can spend a calmer and quieter day in the city, which was an independent island at first and then connected to the mainland by filling up.
13- Rotterdam
Known for The Euromast Tower, Rotterdam is scarce in terms of touristic values, but has dozens of activities where you can spend a full day. Although it was a 13th century fishing village, it is now considered one of the most modern cities in the Netherlands.
Festivals held in the Delfshaven region attract visitors from different European countries every year to the city. Besides its famous tower, you can also explore the Kindergic Windmills and the Boijmans Van Beuningen Museum, which exhibits the works of world-famous painters.
14- Utrecht
In Utrecht, the country's medieval city, every road to the city center passes over the Rhine. We can say that Ultrecht University, which is thought to be the largest university in the Netherlands, adds a different atmosphere to the city.
In addition to its magnificent museums where archaeological artifacts from the region are exhibited, do not miss out on points such as Dom Tower, Cathari Jneconvent Museum and De Haar Palace.
15- Volendam
Although it is a town that is not preferred by travelers next to popular cities, Volendam is a place that will allow you to travel to a fantastic universe. You can come to the town, where you can take an organic nature trip, by taking a 25-minute drive from Amsterdam. Time will pass very quickly in Volendam with its souvenir shops, delicious fish restaurants and cheese factories.
Check out the Netherlands flights now to watch the colorful tulips watch in the shadow of the windmills. We hope we answered all your questions about Netherlands Places to Visit .
Exploring Amsterdam's Best Laptop-Friendly Cafés for Digital Nomads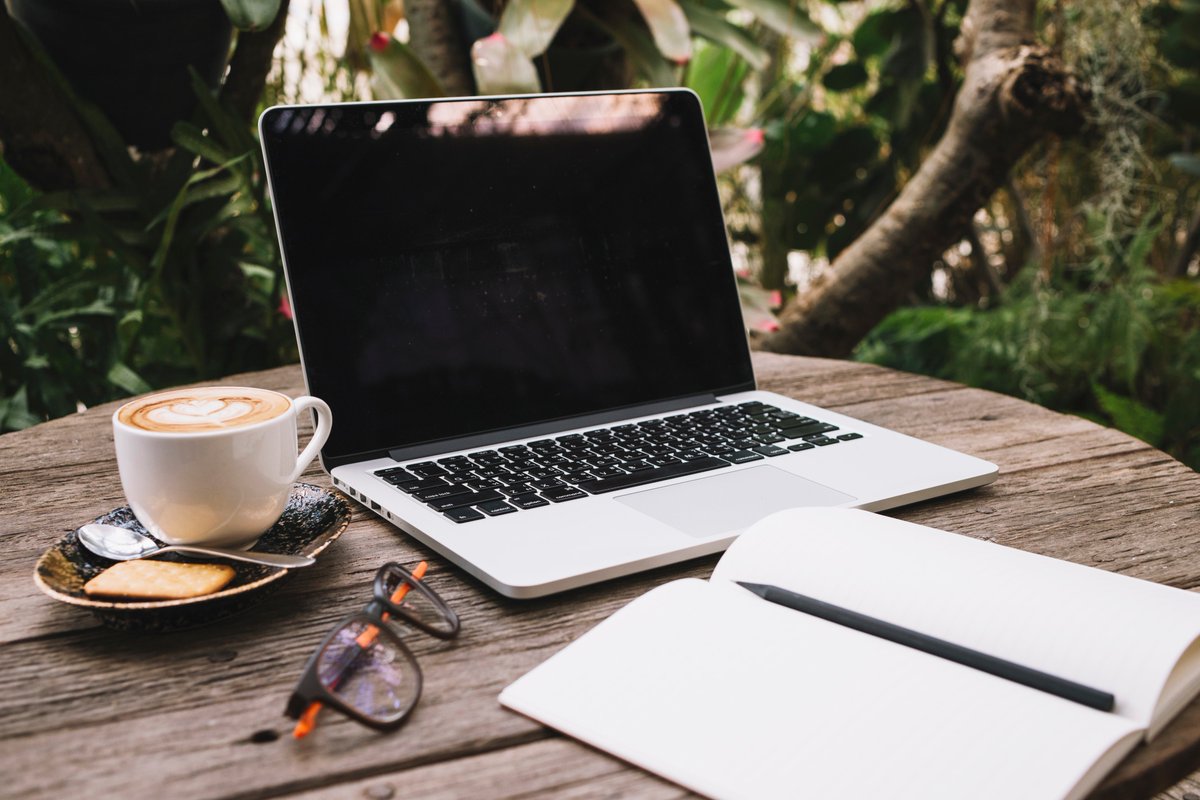 Amsterdam, renowned for its picturesque canals and vibrant cultural scene, has become a haven for digital nomads seeking a balance between work and exploration.
The city's charming coffee culture, coupled with its tech-savvy ambiance, has given rise to a plethora of laptop-friendly cafés that cater to the needs of remote workers. This article serves as a guide to some of the best laptop-friendly cafés in Amsterdam, where you can sip your favorite brew while staying productive.
Exploring Amsterdam's Best Laptop-Friendly Cafés for Digital Nomads
1. Coffee & Coconuts
Nestled in a former cinema, Coffee & Coconuts is a spacious and aesthetically pleasing café that offers a tranquil atmosphere for those seeking a productive work environment. With three levels of seating options, including cozy corners and communal tables, you can easily find your perfect spot. The café's ample power outlets, free Wi-Fi, and a menu featuring an array of coffee options, fresh juices, and healthy dishes make it a top choice for digital nomads.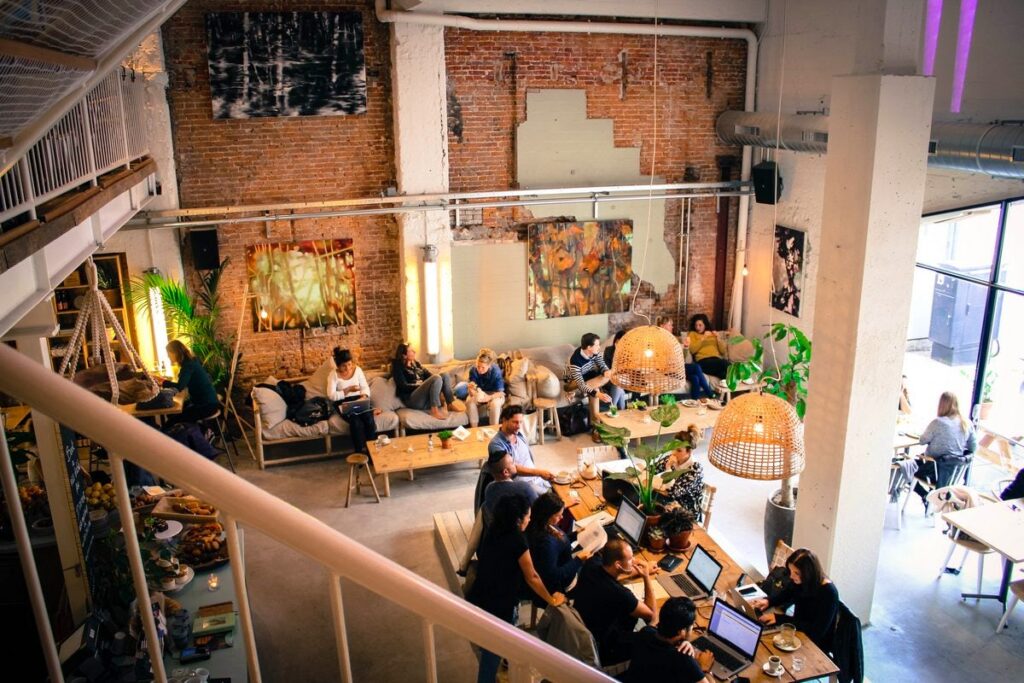 2. The Hoxton
Located along the Herengracht canal, The Hoxton is a stylish boutique hotel that boasts a welcoming lobby turned café, perfect for remote work. The ambiance blends vintage décor with modern amenities, offering a comfortable space to settle in with your laptop. The Hoxton provides complimentary Wi-Fi, a selection of delicious pastries, and a range of beverages from expertly brewed coffee to herbal teas.
3. Lot Sixty One Coffee Roasters
For the true coffee connoisseur, Lot Sixty One Coffee Roasters is a must-visit. This cozy café is celebrated for its exceptional coffee brewed from beans roasted on-site. The café's minimalist design and serene ambiance create an ideal setting for focused work. The absence of distracting background noise further enhances its suitability for remote work. While here, savor a cup of their artisanal coffee and perhaps engage in a quick chat with the knowledgeable baristas.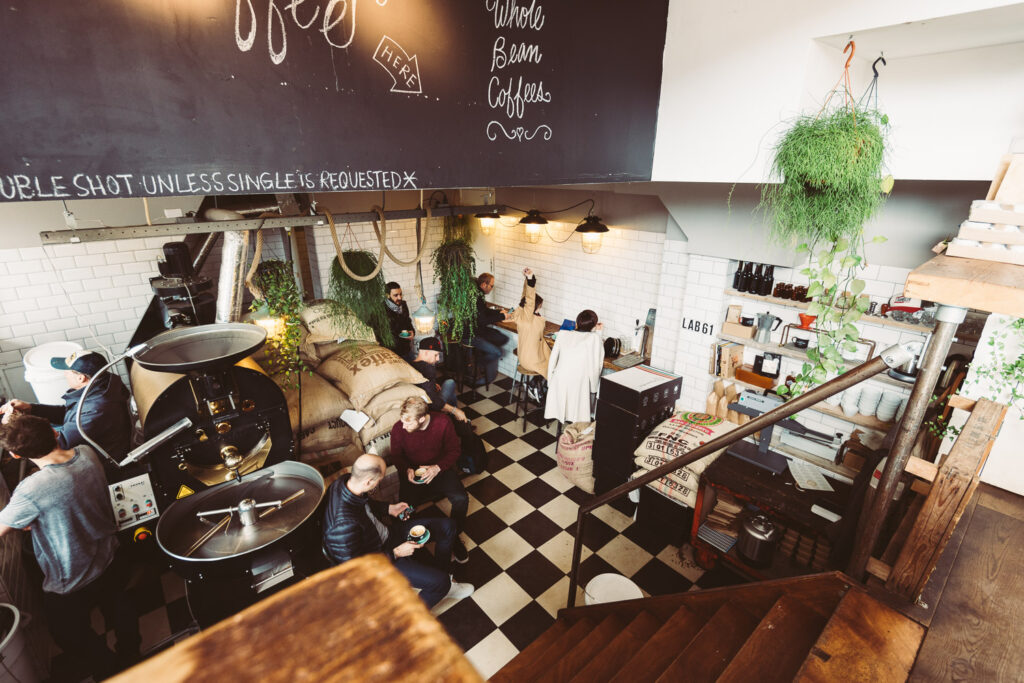 4. Scandinavian Embassy
A haven for lovers of Scandinavian design and quality coffee, Scandinavian Embassy offers a sophisticated space for digital nomads. The café's specialty coffee is crafted with precision, and the menu features an assortment of delectable treats. The minimalist interior, characterized by clean lines and natural materials, fosters a serene atmosphere, while the friendly staff ensures your caffeine fix is accompanied by a productive work session.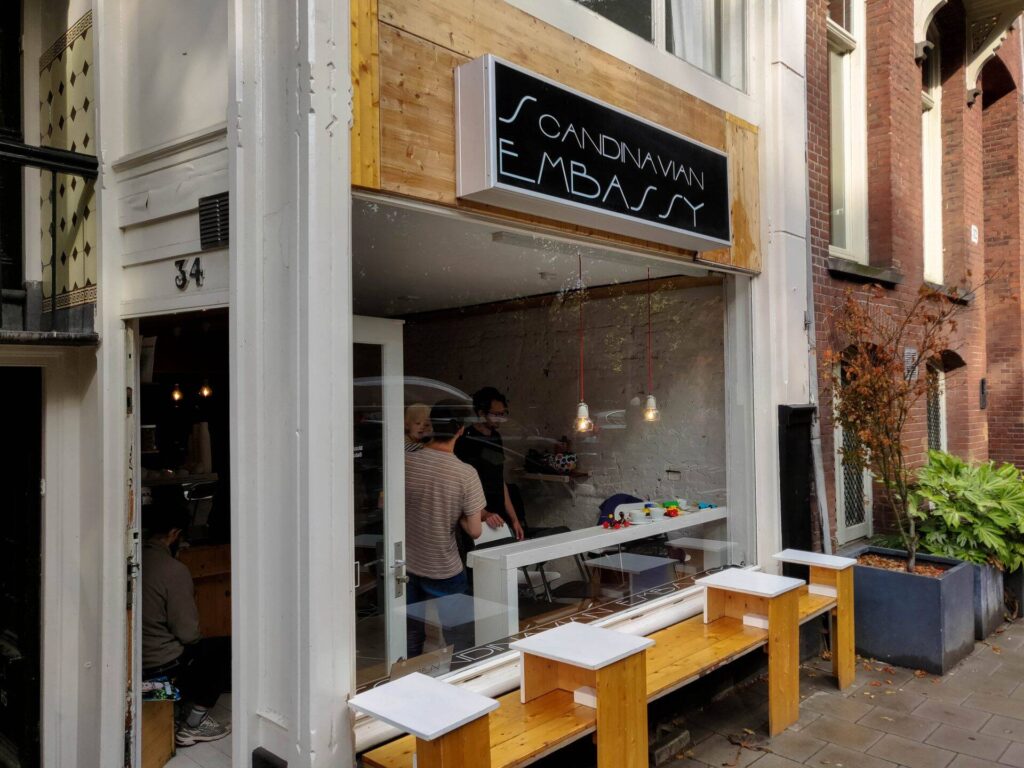 5. De Wasserette
De Wasserette, with its rustic charm and inviting atmosphere, seamlessly blends into Amsterdam's cozy ambiance. Known for its artisanal bread and pastries, the café provides an inviting environment for those seeking a laptop-friendly space. The wooden tables, ample natural light, and the aroma of freshly baked goods set the stage for a productive work session, complemented by their selection of coffees and teas.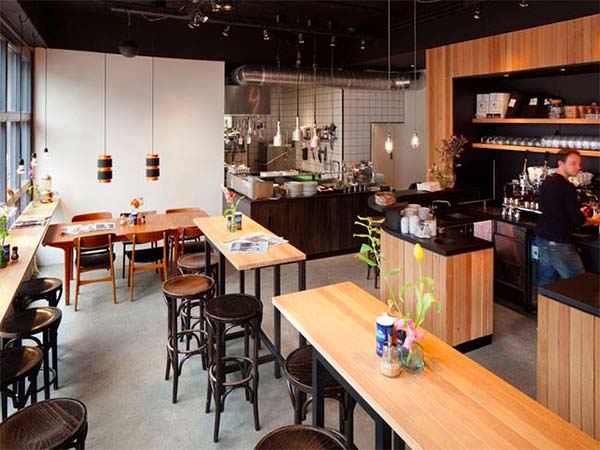 Amsterdam's coffee culture and digital-friendly mindset have given rise to an array of cafés where remote workers can find solace while pursuing their professional endeavors. From the trendy Coffee & Coconuts to the coffee perfectionists' haven, Lot Sixty One Coffee Roasters, each café offers a unique experience. So, whether you're a digital nomad in search of an inspirational workspace or a traveler looking to soak up Amsterdam's charm while catching up on work, these laptop-friendly cafés have got you covered. Embrace the blend of productivity and leisure that Amsterdam's coffee scene has to offer.