Most Popular Travel Destination in Haarlem
Haarlem, the capital of the Noord-Holland province, is located between Amsterdam and the North Sea. Just seven kilometers from the coast on the banks of the small River Spaarne (the source of the city's nickname "Spaarnestad"), this typical Dutch town is located on the northern border of Bollenstreek, a famous onion growing region that produces tulips, hyacinths and crocuses.
Haarlem has a long and rich history. From the 11th to the 13th centuries, it was the seat of the Dutch Counts and received its municipal charter in 1245, making it the second oldest city in the heart of the Netherlands.
In the 17th century, the city was the scene of major artistic events and the residence of many painters such as Frans Hals, Jacob van Ruisdael, Philips Wouwerman, and Adriaen van Ostade. This rich cultural heritage survives to this day and the Frans Hals Museum, one of the most visited places in Haarlem, attracts many visitors.
To learn more about these and other top attractions, be sure to read our list of the best things to do in Haarlem. 
1- St. Visit Bavo Church: Grote Kerk (St.-Bavokerk)
Located in the heart of the Grote Markt, Haarlem's main town square, St. Bavo Church or Grote Kerk (St.-Bavokerk) is the city's most striking building. This late Gothic cruciform basilica is 140 meters tall and has a slender 40-metre tower. It started with the choir building in the 14th century, with the transepts bing added later in the mid-15th century.
Highlights of the interior include opulent pre-Reformation furnishings, including the choir and pulpit from 1499, beautifully carved choir stalls from 1512, and a brass choir curtain from 1509. Three models hang in front of the former chapel of the Sailors' Guild. While the piers below the tower and in the choir are covered with 15th and 16th century paintings depicting symbols of the Apostles, guilds and church doctrine.
But the real star is the church's famous Müller Organ. Considered one of the largest instruments of this kind in the world for its tone and decoration, this magnificent instrument was made by Christian Müller in 1738 and consists of three manuals, 68 stops and 5,000 pipes, the largest of which is 10 meters long and 10 meters in diameter. 40 centimeters.

2- Explore the Frans Hals Museum
Frans Hals Museum, founded in 1913 in one of Haarlem's most important historical buildings, the 17th-century Old Men's Lodges (Oude Mannenhuis), is one of the leading art galleries in the Netherlands. Spanning two locations, "Hof" and "Hal", the museum focuses on the work of the Haarlem Academy, a group of artists founded in the 1600s by Frans Hals.
Today, this impressive museum is home to some of the world's largest works of Hals, including five major pieces of civil protection. These large canvases showcase his genius for capturing a moment and bringing each face to life.
Other highlights include work on sniper guilds, companies of volunteers who will come together to form a civilian militia from the city's wealthier citizens. The collection also includes 17th century portraits and landscapes alongside a collection of modern and contemporary art, including paintings, sculptures, textiles, ceramics and graphic arts by artists in and around Haarlem.
A large collection of contemporary art and photography can also be viewed. English-language guided tours are available, and there is also a cafe and shop on site.
3- Wander around the Grote Markt and the Old Town
Haarlem's historic market square (Grote Markt) is home to many of the city's main attractions, including the Town Hall and the Grote Kerk, as well as home to a host of other spectacular sights, making it one of the most visited . popular things to do
Highlights include the Brinkmann-Passage with its shops and restaurants, and the Hoofdwacht, one of the oldest buildings in Haarlem, notable for its gabled roof dating from 1650.
But the real gem here is the Vleeshal or Meat Hall. Built in 1603 to house both the municipal slaughterhouse and the butchers' guild, it is considered the finest work of the Northern Renaissance movement and is perfectly preserved as an annex to the Frans Hals Museum.
Be sure to pop into Vleeshal's basement as well to get a glimpse of the Haarlem Archaeological Museum (Arkeologisch Museum Haarlem), one of the best free things to do in Haarlem. Exhibits include artifacts (including ancient human remains) unearthed during local archaeological excavations.
Also noteworthy is the Vishal or Fish Hall. Also occupied by the Frans Hals Museum, this building is notable for its red and white facade adorned with beautifully ornamented walls. You can learn more about this fascinating neighborhood and its history on a two-hour Private Walking Tour with a local guide.
4- Old Town Hall
Opposite the Grote Kerk is the old Town Hall (Stadhuis), the oldest parts of which date back to 1250. Newer features such as the exterior staircase, north wing, and Neoclassical façade were added in the 1600s.
The tower, Haarlem's greatest landmark and emblem, was rebuilt in 1913 according to original plans (the original bell still rings at the beginning of council meetings). The interior is also interesting and contains many fine paintings, relics and memorabilia along with fine wood carvings. Guided tours are available.
5- Teylers Museum
The oldest museum in the Netherlands, the Teylers Museum was founded in 1778 after its namesake, a wealthy cloth and silk merchant, bequeathed his wealth to build an establishment that showcases the advancement of the arts and sciences. One of only four museums of this kind in Europe. The museum contains an extensive art collection with numerous drawings and paintings by early Dutch masters.
Other notable works include Michelangelo's figure studies for the Sistine Chapel; Raphael's drawings; and extraordinary collections of scientific instruments, minerals and fossils. Of particular interest is the elegant Oval Room, designed as a place for research and study, and where scientific experiments were once held.
English guided tours are available. Also worth seeing is the adjacent Weighing House (Waag), built in 1598 and in use until 1915.
6- Take a Walking Tour of Amsterdam Poort
One of the most beautiful corners of Haarlem is located around the Bakenessergracht, home to some of the oldest and most magnificent buildings in the city. Particularly beautiful is the Hofje van Bakenes, a lovely little courtyard dating from 1395 and famous for its cryptic rhyme (see the sign above the entrance).
At the end of the Bakenessergracht is the Binnen Spaarne River, which crosses an attractive old suspension bridge and offers great views of Amsterdamse Poort, Haarlem's only surviving city gate. It was built in the early 1400s and is a national monument, surrounded by two octagonal towers and two round towers, as well as the remains of the old city walls.
7- See Historic Old Houses in Proveniershuis
Located on the Grote Houtstraat, Haarlem's main shopping street, Proveniershuis is a collection of beautiful old buildings from the 17th and 18th centuries that should really be included on your list of places to visit. Historically, this attractive area has housed a cross-section of townspeople, from nuns and priests to merchants and retired guild members.
Today, it's a fabulous area to wander around as you soak up the atmosphere and explore the alleyways that spill into the city's many quiet nooks and crannies. Highlights include seeing the many former almshouses where poorer citizens once lived.
8- St. Enjoy a Recital at Bavo Cathedral
Saint Bavo Roman Catholic Cathedral is a relatively new three-aisled cruciform basilica built between 1895 and 1906. Approximately 100 meters long, 42 meters wide and 60 meters high, it is a fine example of the transition from traditional to traditional in church architecture. more modern designs.
Highlights include the Cathedral Treasury and St. There is a holy relic containing the remains of Bavo. Other notable features are the fine stained glass, as well as sculptures and paintings by well-known Dutch artists.
Also notable is the Willibrord Organ, built in 1923 with four manuals and 75 stops. Be sure to check the schedule for periodic organ recitals.
9- See the Tomb of William of Orange in Nieuwe Kerk
Haarlem's New Church (Nieuwe Kerk) was built between 1645 and 1649, with an elegant Renaissance tower and a clock from 1795. Inside the church, be sure to notice the magnificent Baroque tomb of William of Orange, made in England by Hendrick and Pieter de Keyser. 1614.
Also important are the tombs of the painters Jacob van Ruisdael and Philips Wouwerman in the adjacent churchyard.
10- Learn the Lessons of War at the 10-Ten Boom Museum
Despite being one of the smallest tourist attractions in the city, the Ten Boom Museum is worth a stop when you visit Haarlem. Dedicated to the life of writer Corrie Ten Boom, it resembles the Anne Frank House in Amsterdam and portrays a typical small house that played an important role in the hideout of Jews persecuted during the Second World War.
Located in his family-owned watch shop, the museum's focus is Ten Boom's bestseller, The Hiding Place, which vividly describes the dangers involved in providing a safe haven for refugees. Tragically, the family emerged and many were killed before the war was over. English guided tours are available.
11- Take a De Adriaan Windmill Tour
Located on the banks of the Spaarne river, De Adriaan Wiindmill (Molen de Adriaan) is a faithful replica of the original 1778 mill built on the foundations of an old defensive tower. The original, which turned the rifle into a powder used to make cement and then used to grind tobacco and then corn, burned down in 1932.
On a 45-minute tour you can learn more about the history of the mill and Haarlem, and see how a windmill works. You can enjoy beautiful views of the river and the city from the viewing platform.
12-Brederode Castle
Although now largely in ruins, Brederode Castle (Kasteel Brederode) offers an excellent glimpse into life in the Netherlands in the 13th century. Considered the country's first national monument, this monument is just a few minutes' drive (or bus) from downtown Haarlem in Santpoort-Zuid.
There's no shortage of fun things to see and do here, especially for those traveling with kids. In addition to its extraordinarily beautiful environment; There is even a moat and a bridge on the land. Staff and volunteers regularly host period-themed costumed events such as markets and musical performances.
These same "living history" actors also provide fascinating guided tours as characters. Frequent exhibits designed specifically for children include Playmobil toy displays.
Exploring Amsterdam's Best Laptop-Friendly Cafés for Digital Nomads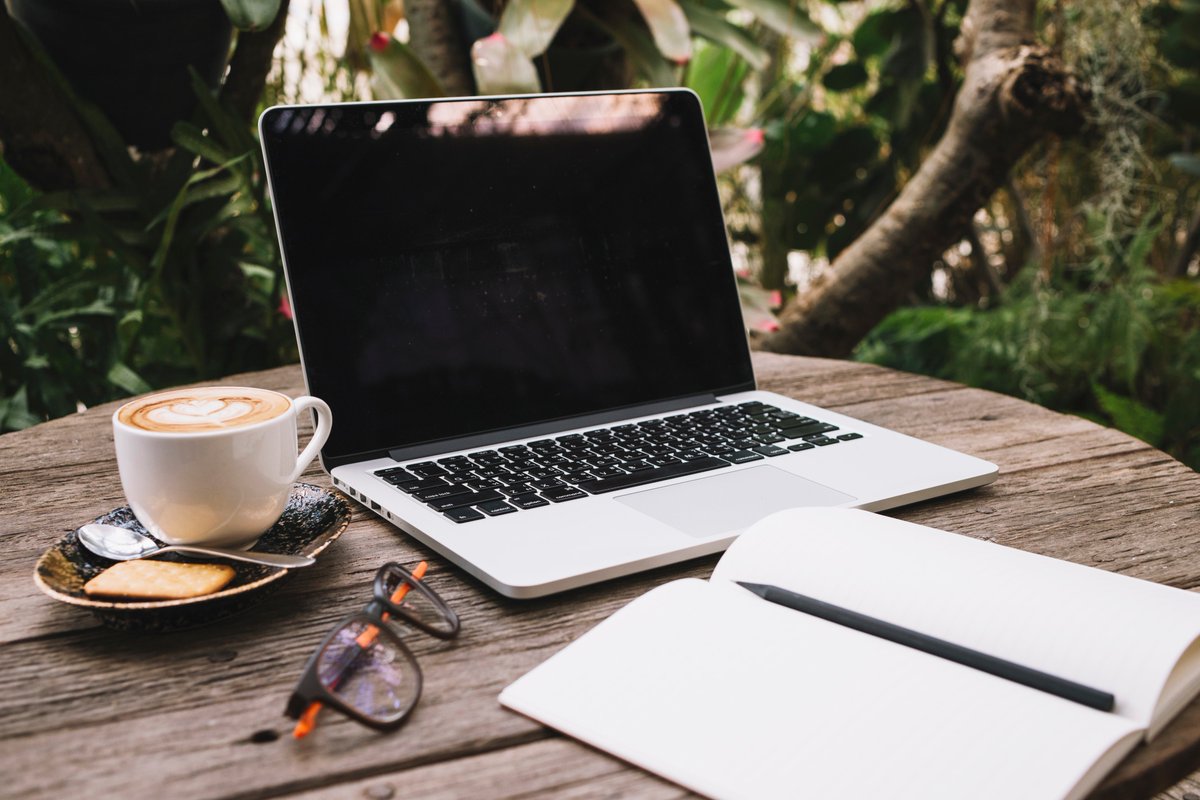 Amsterdam, renowned for its picturesque canals and vibrant cultural scene, has become a haven for digital nomads seeking a balance between work and exploration.
The city's charming coffee culture, coupled with its tech-savvy ambiance, has given rise to a plethora of laptop-friendly cafés that cater to the needs of remote workers. This article serves as a guide to some of the best laptop-friendly cafés in Amsterdam, where you can sip your favorite brew while staying productive.
Exploring Amsterdam's Best Laptop-Friendly Cafés for Digital Nomads
1. Coffee & Coconuts
Nestled in a former cinema, Coffee & Coconuts is a spacious and aesthetically pleasing café that offers a tranquil atmosphere for those seeking a productive work environment. With three levels of seating options, including cozy corners and communal tables, you can easily find your perfect spot. The café's ample power outlets, free Wi-Fi, and a menu featuring an array of coffee options, fresh juices, and healthy dishes make it a top choice for digital nomads.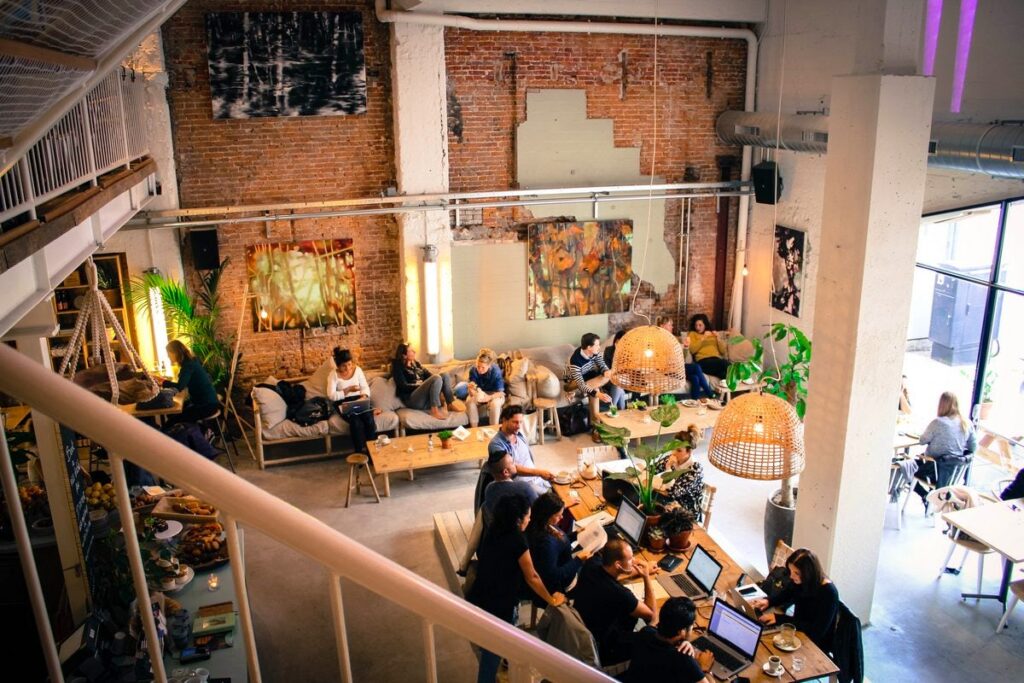 2. The Hoxton
Located along the Herengracht canal, The Hoxton is a stylish boutique hotel that boasts a welcoming lobby turned café, perfect for remote work. The ambiance blends vintage décor with modern amenities, offering a comfortable space to settle in with your laptop. The Hoxton provides complimentary Wi-Fi, a selection of delicious pastries, and a range of beverages from expertly brewed coffee to herbal teas.
3. Lot Sixty One Coffee Roasters
For the true coffee connoisseur, Lot Sixty One Coffee Roasters is a must-visit. This cozy café is celebrated for its exceptional coffee brewed from beans roasted on-site. The café's minimalist design and serene ambiance create an ideal setting for focused work. The absence of distracting background noise further enhances its suitability for remote work. While here, savor a cup of their artisanal coffee and perhaps engage in a quick chat with the knowledgeable baristas.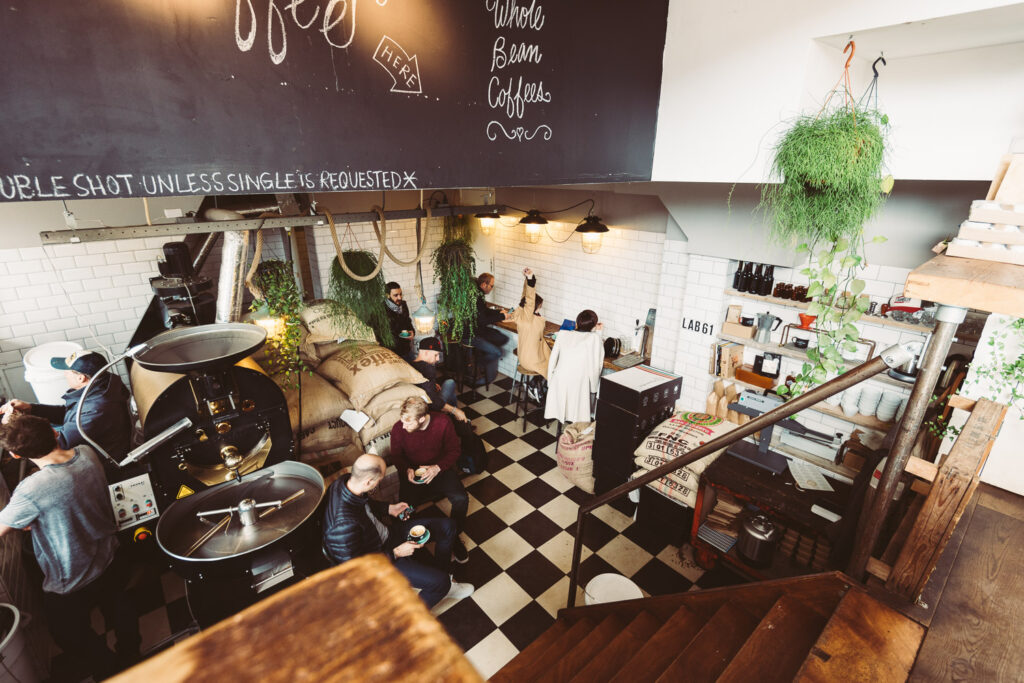 4. Scandinavian Embassy
A haven for lovers of Scandinavian design and quality coffee, Scandinavian Embassy offers a sophisticated space for digital nomads. The café's specialty coffee is crafted with precision, and the menu features an assortment of delectable treats. The minimalist interior, characterized by clean lines and natural materials, fosters a serene atmosphere, while the friendly staff ensures your caffeine fix is accompanied by a productive work session.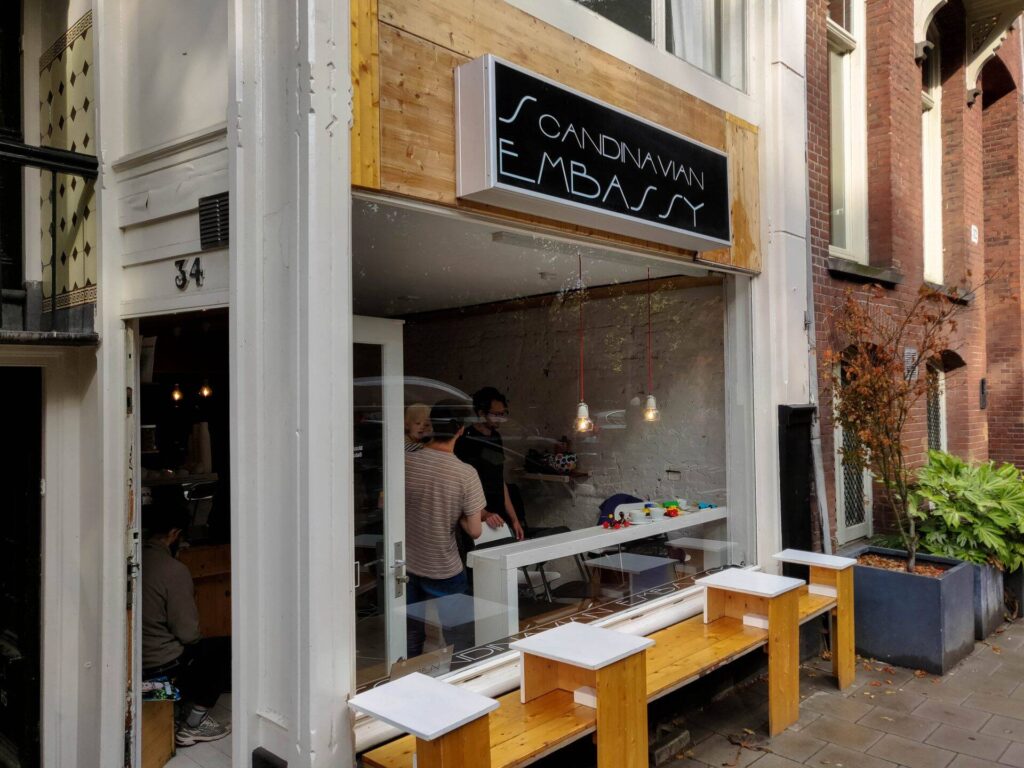 5. De Wasserette
De Wasserette, with its rustic charm and inviting atmosphere, seamlessly blends into Amsterdam's cozy ambiance. Known for its artisanal bread and pastries, the café provides an inviting environment for those seeking a laptop-friendly space. The wooden tables, ample natural light, and the aroma of freshly baked goods set the stage for a productive work session, complemented by their selection of coffees and teas.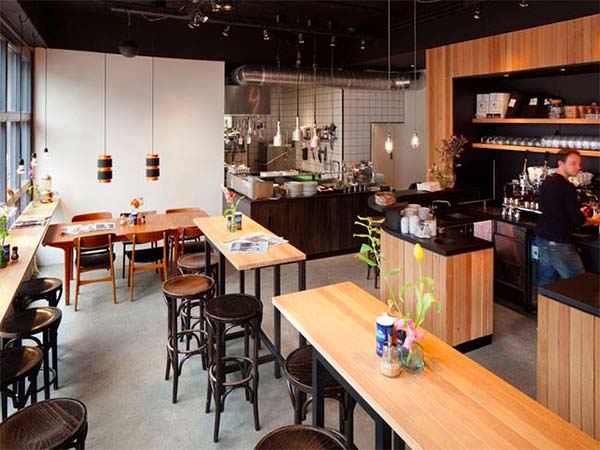 Amsterdam's coffee culture and digital-friendly mindset have given rise to an array of cafés where remote workers can find solace while pursuing their professional endeavors. From the trendy Coffee & Coconuts to the coffee perfectionists' haven, Lot Sixty One Coffee Roasters, each café offers a unique experience. So, whether you're a digital nomad in search of an inspirational workspace or a traveler looking to soak up Amsterdam's charm while catching up on work, these laptop-friendly cafés have got you covered. Embrace the blend of productivity and leisure that Amsterdam's coffee scene has to offer.