Amsterdam Weather: A Delightful Blend of Seasons
Amsterdam, the vibrant capital city of the Netherlands, is known for its rich history, picturesque canals, and diverse culture. One of the aspects that adds to the charm of this beautiful city is its ever-changing weather. From misty mornings along the canals to sunny afternoons in the parks, Amsterdam offers a delightful blend of seasons throughout the year. In this article, we will explore the different seasons and weather patterns that grace the streets of Amsterdam.
Spring: Awakening from Winter's Embrace
As winter fades away, Amsterdam comes alive with the vibrant colors of spring. From March to May, the city experiences a refreshing change in weather, with average temperatures ranging from 8 to 15 degrees Celsius (46 to 59 degrees Fahrenheit). While mornings and evenings may still be chilly, the afternoons witness a gradual increase in warmth. Spring showers are common, so it's wise to carry an umbrella or raincoat while exploring the city's beautiful parks, such as Vondelpark or Keukenhof Gardens, where blooming tulips create a mesmerizing spectacle.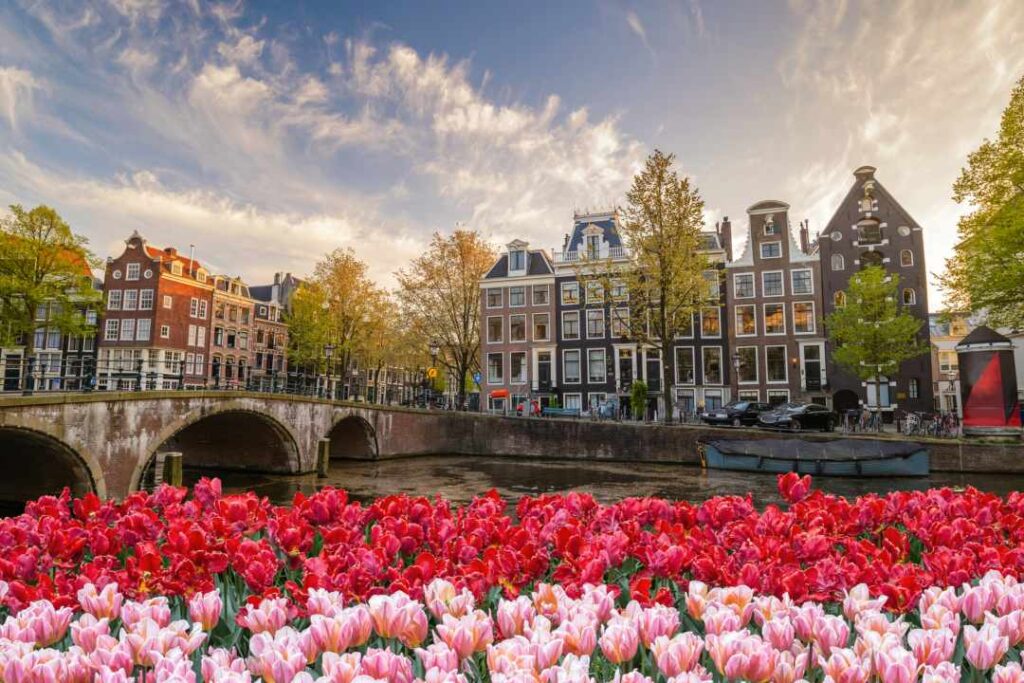 Summer: Sunny Days and Festive Vibes
Summer in Amsterdam is a joyous time, with long days filled with sunshine and an array of festivals and outdoor activities. From June to August, temperatures range from 15 to 25 degrees Celsius (59 to 77 degrees Fahrenheit), making it ideal for exploring the city's famous museums, strolling along the canals, or simply relaxing in one of the many outdoor cafes. The warm weather invites locals and tourists alike to enjoy boat tours along the canals or picnics in parks like Westerpark or Oosterpark. It's important to note that summer rainfall is not uncommon, so packing a light jacket or umbrella is still a good idea.
Autumn: A Tapestry of Colors
Autumn paints Amsterdam in a stunning tapestry of colors, as the leaves turn golden and the city prepares for a cooler season. From September to November, temperatures range from 10 to 15 degrees Celsius (50 to 59 degrees Fahrenheit). As the days gradually become shorter, Amsterdam experiences more rain showers and cooler breezes. Nevertheless, the city remains captivating, with its historical buildings reflected in puddles and cozy cafes offering warm drinks to combat the chill. The autumnal charm is best enjoyed by taking a leisurely stroll through the Jordaan neighborhood or exploring the nearby countryside, such as Zaanse Schans or the beautiful Amsterdamse Bos.
Winter: A Winter Wonderland
Amsterdam transforms into a winter wonderland during the colder months. From December to February, temperatures range from 0 to 8 degrees Celsius (32 to 46 degrees Fahrenheit), and the city often experiences snowfall, creating a picturesque scene. The canals freeze over, and locals and visitors eagerly lace up their ice skates for a quintessential Dutch experience. The festive season brings a delightful atmosphere, with Christmas markets, ice sculptures, and cozy cafes serving warm beverages and delicious Dutch treats like oliebollen. The city's museums and galleries also provide a haven for indoor exploration during this season.
Amsterdam's weather showcases a unique blend of seasons, each offering its own distinct charm and opportunities for exploration. Whether you're admiring the blooming tulips in spring, basking in the sunshine during summer, marveling at the autumn foliage, or experiencing a winter wonderland, Amsterdam's weather adds to the city's allure. So, no matter the time of year, be prepared for changing conditions and embrace the beauty that each season brings while enjoying all that Amsterdam has to offer.
Exploring Amsterdam's Best Laptop-Friendly Cafés for Digital Nomads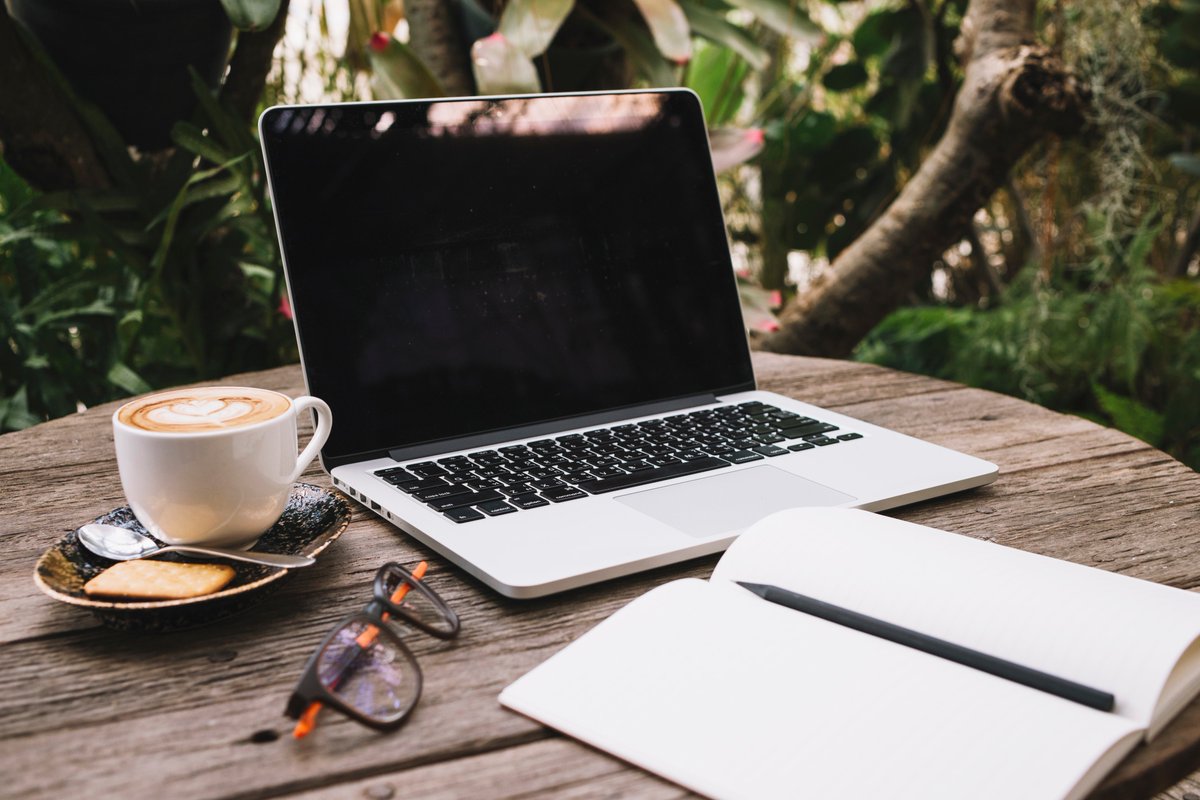 Amsterdam, renowned for its picturesque canals and vibrant cultural scene, has become a haven for digital nomads seeking a balance between work and exploration.
The city's charming coffee culture, coupled with its tech-savvy ambiance, has given rise to a plethora of laptop-friendly cafés that cater to the needs of remote workers. This article serves as a guide to some of the best laptop-friendly cafés in Amsterdam, where you can sip your favorite brew while staying productive.
Exploring Amsterdam's Best Laptop-Friendly Cafés for Digital Nomads
1. Coffee & Coconuts
Nestled in a former cinema, Coffee & Coconuts is a spacious and aesthetically pleasing café that offers a tranquil atmosphere for those seeking a productive work environment. With three levels of seating options, including cozy corners and communal tables, you can easily find your perfect spot. The café's ample power outlets, free Wi-Fi, and a menu featuring an array of coffee options, fresh juices, and healthy dishes make it a top choice for digital nomads.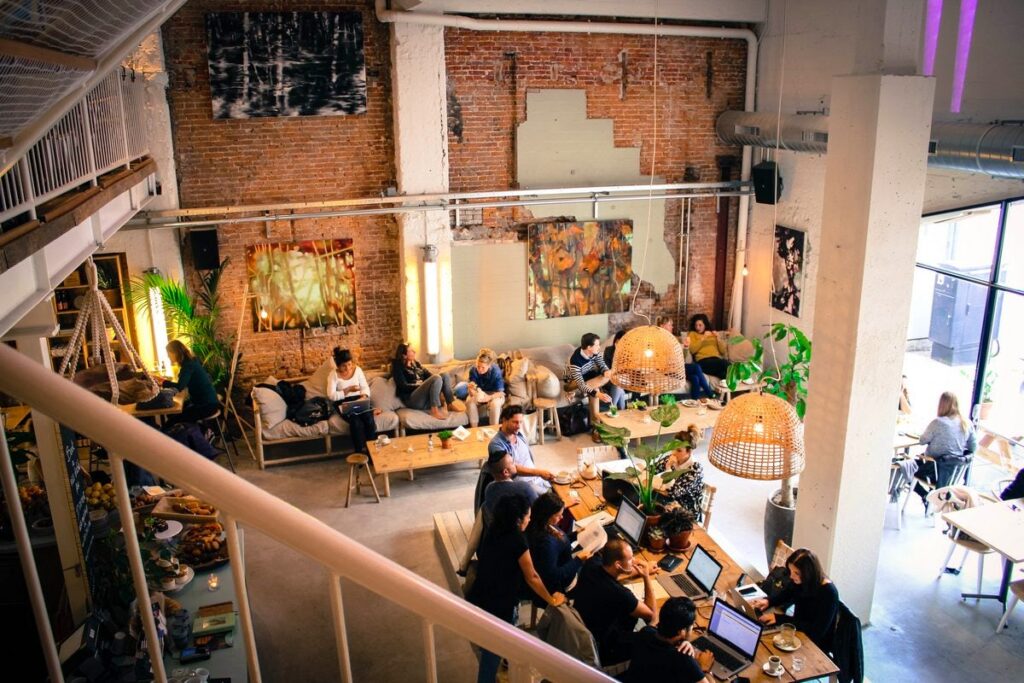 2. The Hoxton
Located along the Herengracht canal, The Hoxton is a stylish boutique hotel that boasts a welcoming lobby turned café, perfect for remote work. The ambiance blends vintage décor with modern amenities, offering a comfortable space to settle in with your laptop. The Hoxton provides complimentary Wi-Fi, a selection of delicious pastries, and a range of beverages from expertly brewed coffee to herbal teas.
3. Lot Sixty One Coffee Roasters
For the true coffee connoisseur, Lot Sixty One Coffee Roasters is a must-visit. This cozy café is celebrated for its exceptional coffee brewed from beans roasted on-site. The café's minimalist design and serene ambiance create an ideal setting for focused work. The absence of distracting background noise further enhances its suitability for remote work. While here, savor a cup of their artisanal coffee and perhaps engage in a quick chat with the knowledgeable baristas.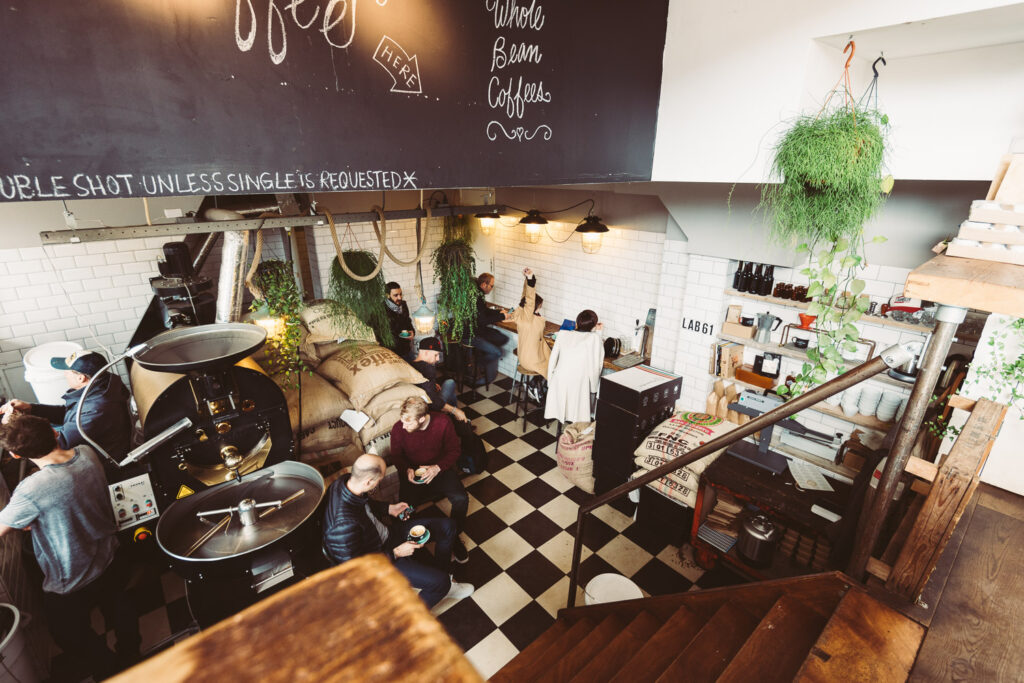 4. Scandinavian Embassy
A haven for lovers of Scandinavian design and quality coffee, Scandinavian Embassy offers a sophisticated space for digital nomads. The café's specialty coffee is crafted with precision, and the menu features an assortment of delectable treats. The minimalist interior, characterized by clean lines and natural materials, fosters a serene atmosphere, while the friendly staff ensures your caffeine fix is accompanied by a productive work session.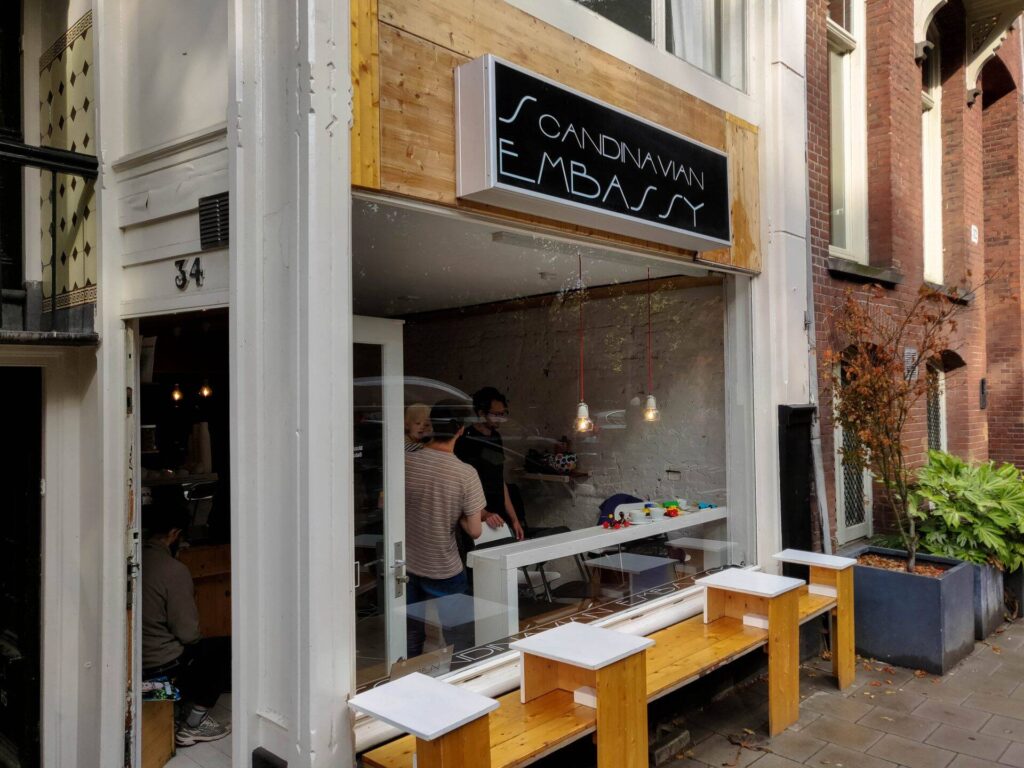 5. De Wasserette
De Wasserette, with its rustic charm and inviting atmosphere, seamlessly blends into Amsterdam's cozy ambiance. Known for its artisanal bread and pastries, the café provides an inviting environment for those seeking a laptop-friendly space. The wooden tables, ample natural light, and the aroma of freshly baked goods set the stage for a productive work session, complemented by their selection of coffees and teas.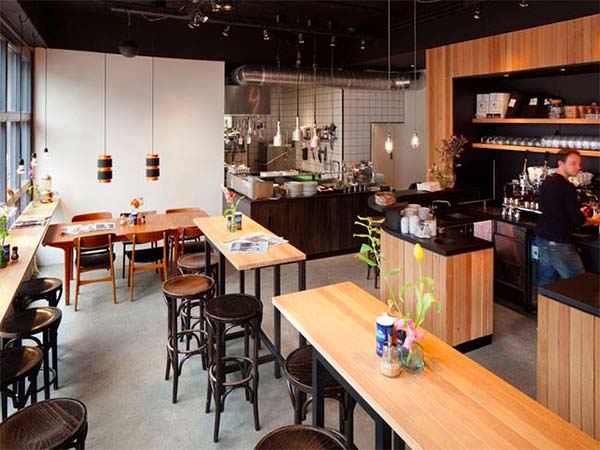 Amsterdam's coffee culture and digital-friendly mindset have given rise to an array of cafés where remote workers can find solace while pursuing their professional endeavors. From the trendy Coffee & Coconuts to the coffee perfectionists' haven, Lot Sixty One Coffee Roasters, each café offers a unique experience. So, whether you're a digital nomad in search of an inspirational workspace or a traveler looking to soak up Amsterdam's charm while catching up on work, these laptop-friendly cafés have got you covered. Embrace the blend of productivity and leisure that Amsterdam's coffee scene has to offer.