An Amsterdam icon: PARADISO night club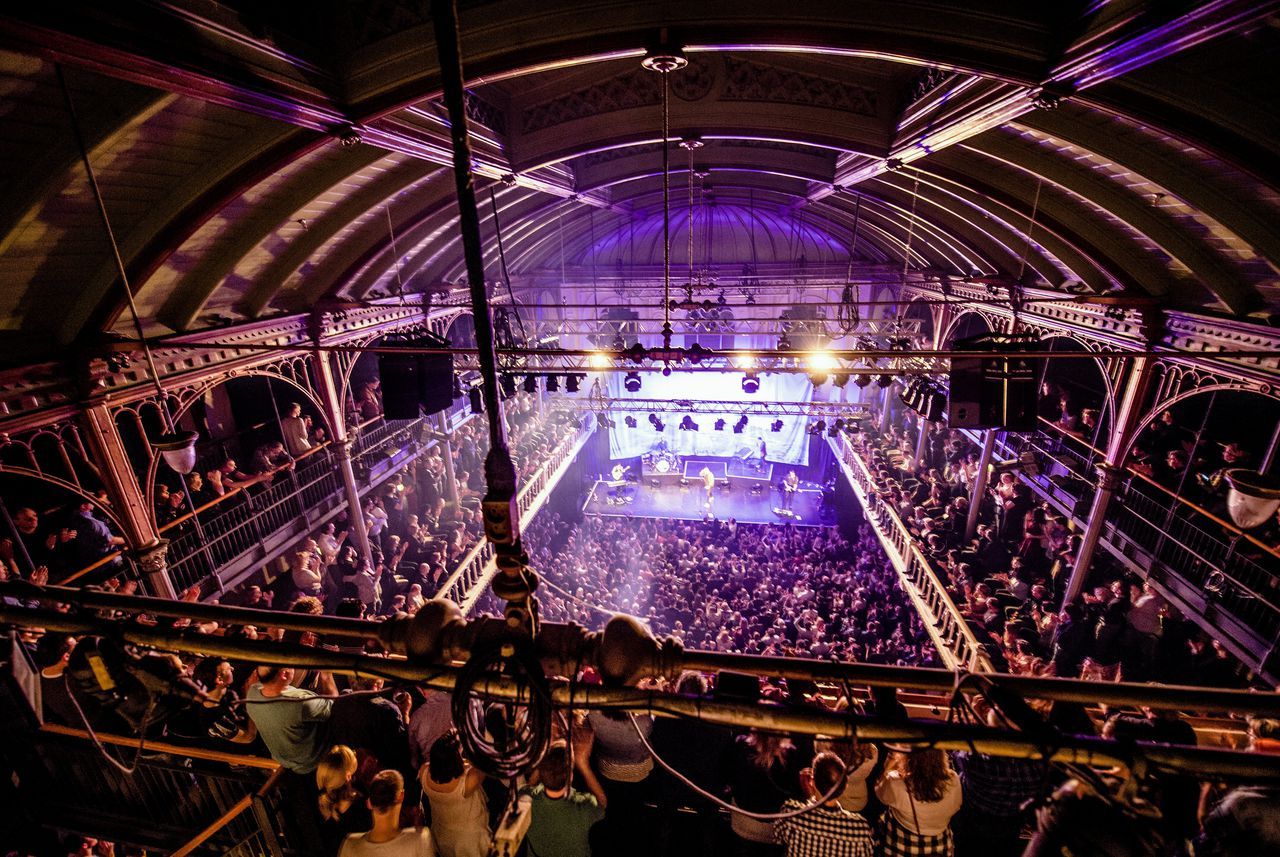 Located in the heart of Amsterdam's touristic center, the Leidseplein, a few hundred meters away from Melkweg, the city's other most important nightclub and concert venue, the old church, the new nightclub (this must be what they call recyle!)
It is one of the rare places that has an indispensable place in Amsterdam's nightlife. In addition to the various dance nights held regularly, it is a night club that hosts many groups coming to Amsterdam, and also hosts cultural events such as various discussions and conferences when necessary.
The fact that it is remodeled from the church makes the building's acoustics not an ideal place for concerts, but it is still one of the indispensable points of rock concerts for Amsterdam (also, the beer served in plastic glasses will spoil your drinking pleasure, but it can be excused). But the best part is that you can go to the concert at 8 o'clock and stay for the dance night that follows it (of course, you have to pay for the ticket :-). This place, which has a considerable place in the nightlife of Amsterdam, has signed important dance events such as Paradisco 2000 (and 3000, 4000 goes…) and bassline.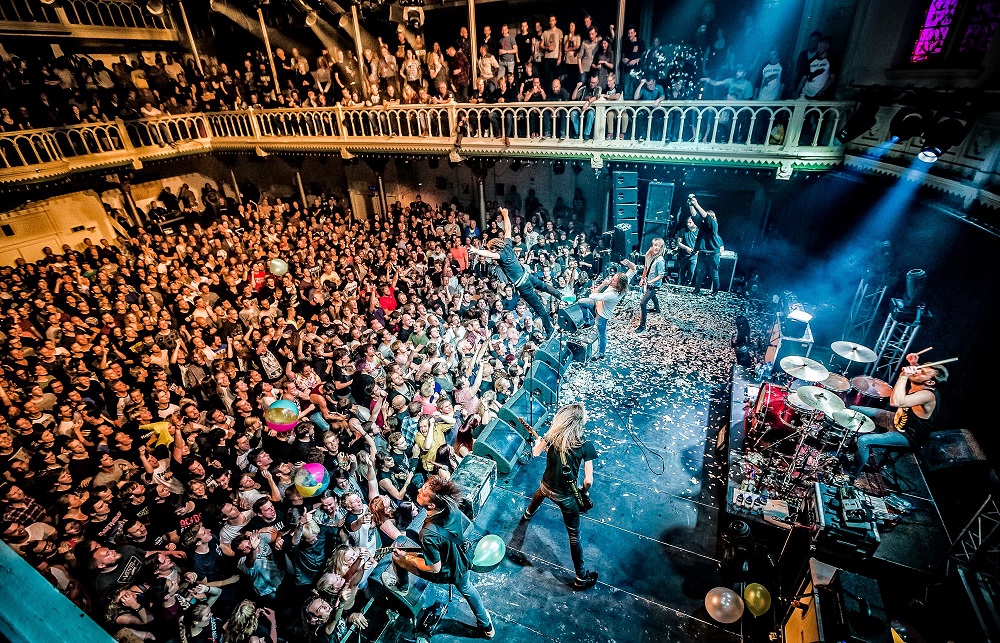 Paradiso Webpage: https://www.paradiso.nl/en/
Paradiso Google Map: 

Paradiso Adress: Paradiso Weteringschans 6-8 1017 SG Amsterdam / Netherlands
Amsterdam Nightlife Guide
Let's sit crooked and talk straight Amsterdam Nightlife Guide; Ok, Amsterdam is famous for Van Gogh's works, beautiful canals, cheese and tulips, but nobody goes there to smell flowers now. Of course, the vases in the house are filled with tulips and the tables with cheese on the way back, but let's see what happened in Amsterdam. I gave up, don't ask, what happens in Amsterdam stays in Amsterdam.
Amsterdam is the city of distractions, wearing shoes with dancing and legal sins. If Hangover had been filmed in Europe, it would probably have taken place in Amsterdam. Amsterdam is to Europe what Las Vegas is to America. Based on the authority vested in us by living in the Netherlands, we present to you our Amsterdam nightlife guide that makes the wolves shed.
DAILY BUDGET
$ – 100 Euros (Accommodation (22-35 Euros) : In the guest house / Hostel, Food: supermarket or street food (15 Euros), Transportation: public transport (6-7 Euros), Entertainment: museum or event (11-17) Euro) )
$$ – 100-200 Euros (Accommodation: at the hotel (125 Euros), Food: in restaurants (30 Euros), Transportation: guided tour (10-15 Euros), Arts and Entertainment: show or concert (40 Euro) )
$$$ – Over 200 Euros (Accommodation: In 4-Star Hotel (230 Euros), Food: Fine Dining Restaurants (50 Euro), Transportation: Taxi (20 Euro), Entertainment: Canal Tour or Cabaret/Shows 50-90 Euro)
EVENTS OF THE AMSTERDAM NIGHT LIFE
One of the Biggest Capitals of Electronic Music in the World Amsterdam
Instead of dancing in clubs, the types who keep their drink in their hands but keep the tempo with their feet are killing you too, and if you miss the environments where everyone dances freely, without macho, red and white, in Amsterdam! you will say. In fact, they usually put their nightclubs outside the city so that people can shed their wolves easily. The Dutch really know how to party, and they show it to the world with maybe 30 electronic music festivals throughout the year.
World Famous Dutch DJs
It is no coincidence that many of the world's most famous DJs are Dutch: Tiesto, Afrojack, Martin Garrix, Armin Van Buuren, Fedde Le Grand, Hardwell and at least 5 more world-famous DJs are from here. Parties and DJ performances that last until the morning are all over the city. Amsterdam usually has nightclubs in a more mainstream style than in Berlin. In other words, you can put all the stylish clothes you left behind while going to Berlin, but generally people prefer sports-elegant clothes. No matter how fashionable it is from ripped jeans, it does not break in Amsterdam bars, keep in mind.
Legal Elements 
We must admit that; Although it is not directly related to nightlife, there are also the Red Light District, where prostitution is legal, and coffee shops , where cannabis is legal, among those that make Amsterdam world famous . Of course, we should not forget the places that sell magic mushrooms. I guess we don't need to say that there is an 18-year-old limit, right?
City Famous for its Beer 
It is one of the world's beer centers such as the Netherlands, Belgium and Germany, which is also known for being the hometown of the Heineken brand. It is an ideal city to taste a variety of beers. There are many other types of beer brands such as Amstel, Grolsch, Dommelsch, Brouwerij 't IJ  and La Trappe made by the monks . It would not be a lie to say that they are all at the same price as water. 😀 By the way, we said beer, but Amsterdam's cocktail bars are also very famous!
City Festivals
Amsterdam Pride, where the canals turn into rainbow colors, and King's Day (Koningsdag) on April 27, in honor of King Willem-Alexander's birthday, are among the  most colorful city festivals. Its former name was Queen's Day. On King's Day, which is also a national holiday, the entire city of Holland turns orange and parties are partying all over the city until the evening of the next day.
Electronic Music Festivals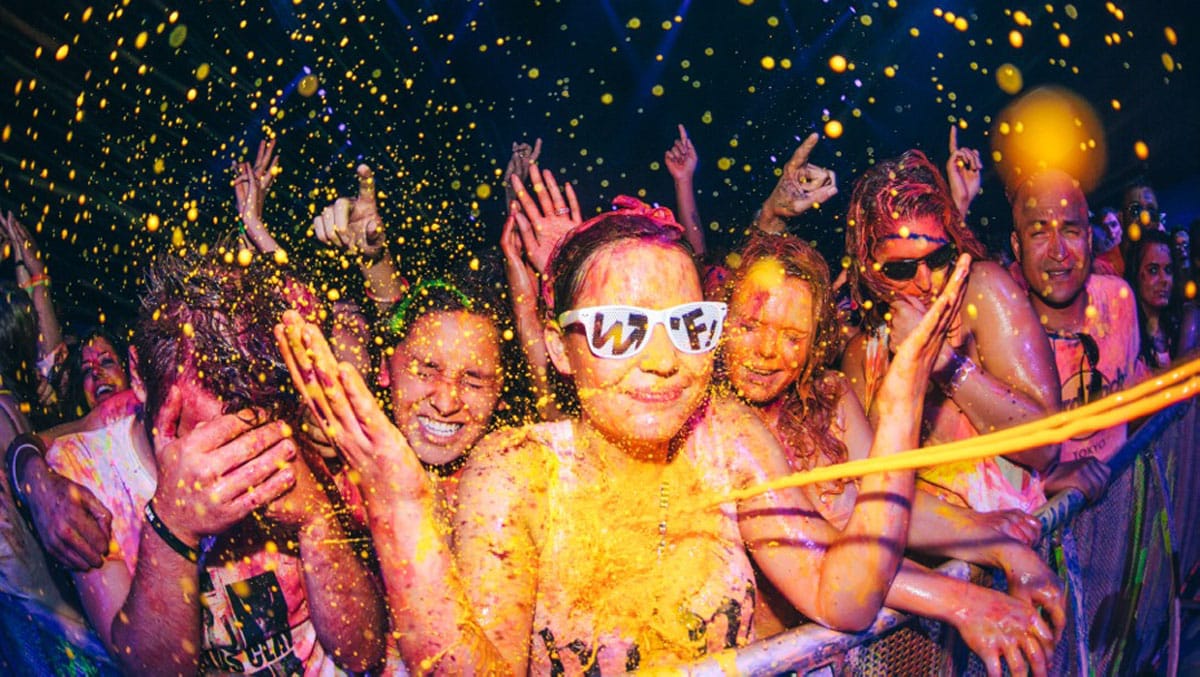 If you like electronic music festivals, there are plenty of festivals from the beginning to the end of summer… Even on Kings Day alone, there are 4-5 festivals. Nassau, Thuishaven, DSM Vrijhaven King's Day, VOLTT Koningsdag, Bakermat & Friends, Oranjebloesem, Loveland van Oranje, Kroongetuige Kingsday 8 festivals take place on the same day. One of the most important electronic music festivals is the Amsterdam Dance Event, which takes place in many clubs of the city. There are also festivals in the winter, just less often. The most entertaining festival of winter is Neonsplash, the largest paint festival in the country. The most famous festivals of the country are Pink Pop and Lowlands, which coincide with the summer. am
---
FAMOUS NIGHT CLUBS OF AMSTERDAM
Paradiso, Melkweg, Sugarfactory, Panama Club, Canvas, Jimmy Woo, AIR, Pacific Parc, De School, Studio80, Escape, Chicago Social Club, Bitterzoet are the most popular nightclubs. We have listed the most popular ones below. 😉
Paradiso ☆
This is a former church building now one of the most popular alternative music scene and nightclubs. In fact, it is one of the 2 stars of Amsterdam nightlife.  In fact, it is a place that opened its doors not for such a purpose in the first place, but as a place where artists can collectively do creative work under the name of "Cosmic Relaxation Center Paradiso" in 1968. But over time, it has turned into a concert venue where local and international bands take the stage. Since the venue is an old church with 1500 seats, you can guess that its acoustics are excellent.
Address:  Weteringschans 6-8 1017 SG Amsterdam Tel:  31 20 626 8790 Website: www.clubparadiso.amsterdam  Click for location .
Melkweg ☆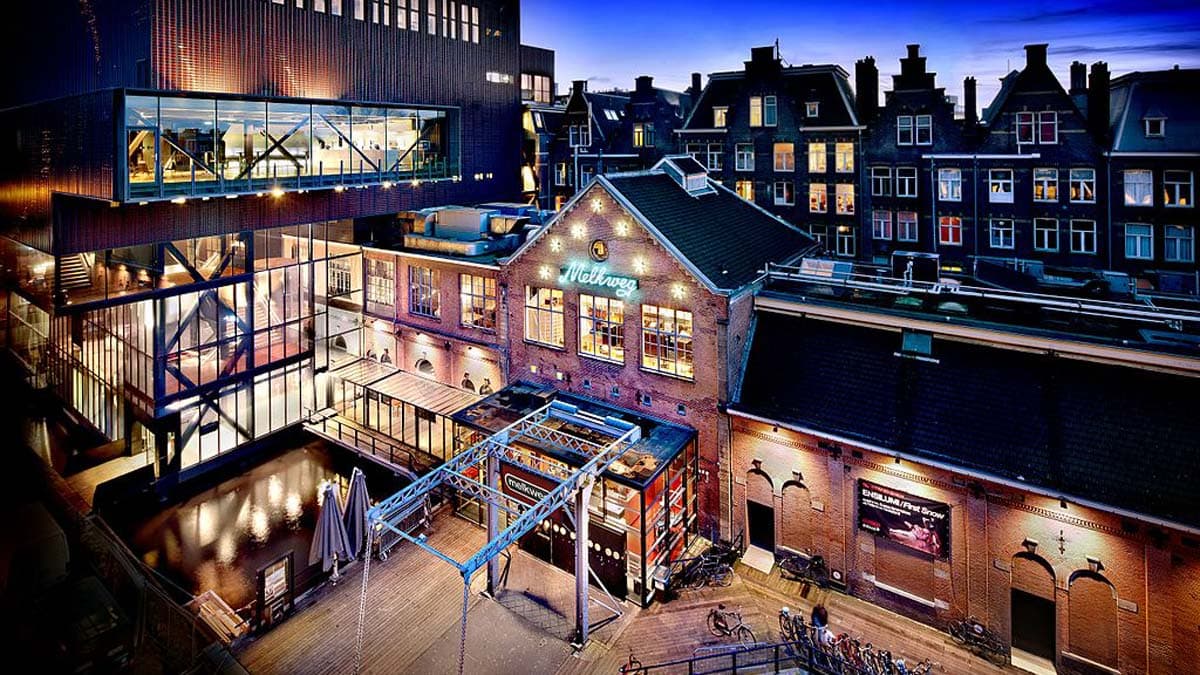 Melkweg, the Milky Way, is the other star of Amsterdam nightlife. It was conceived as both a music/entertainment venue and a cultural centre. Our İKSV style is managed by a non-profit organization. A place converted from an old dairy factory. Its four halls function as a stage with different styles of music concerts, a cinema, an exhibition space and a restaurant.
Address: Lijnbaansgracht 234A, 1017 PH Tel:  31 20 531 8181 Website: www.melkweg.nl/ Click for location . 
Sugarfactory
Although it is slightly overshadowed by Paradiso and Melkweg, Sugarfactory is one of the gems of Amsterdam nightlife. Combining nightlife with performance and art, the venue does not host international artists like the other two, but it also hosts performances from neighboring countries and local talents. There are also special DJ parties on Mondays, Thursdays and Sundays for different music genres, from techno to jazz.
Address:  Lijnbaansgracht 238, 1017 PH Tel : 31 20 627 0008 Website: www.sugarfactory.nl  Click for location .
Panama Club
This is a huge nightclub with a quality sound system, House & Techno performances by world-famous DJs, and a capacity of more than 1000 people. The building in which it is located is one of the historical and nostalgic warehouse buildings in the harbor area of ​​Amsterdam.
Address:
 Oostelijke Handelskade 4, 1019 BM 
Tel:
 +31 20 311 8686 Website: www.panama.nl Click for location .
Canvas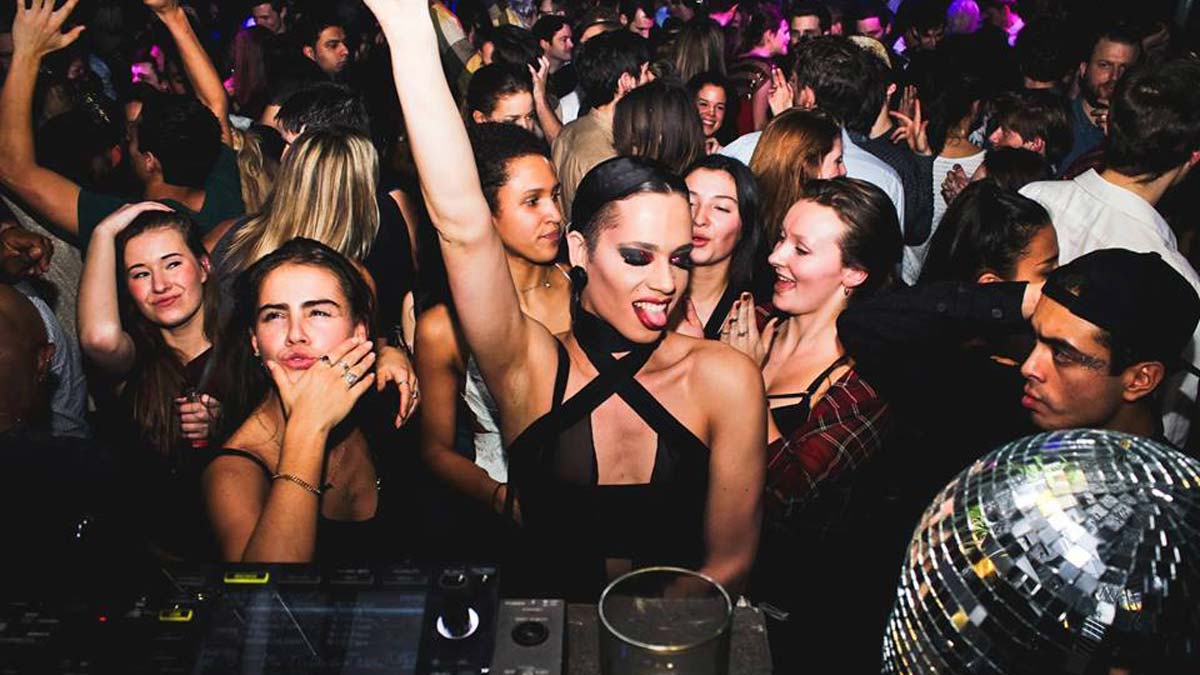 Let's take you to Canvas for a classier party. Canvas, a rooftop bar with 360-degree views of the city, located on the 7th floor of an old newspaper building, which is now a hotel, is the address for locals and foreigners who want to party on Friday and Saturday nights. After 23.00, the tables leave and take their place in the DJ booth.
Address: Wibautstraat 150, 1091 GR Tel:  31 20 261 2110 Website:  www.volkshotel.nl/en/canvas/ Click for location .
AIR Amsterdam
Address: Amstelstraat 16, 1017 DA Tel:  31 20 820 0670 Website: www.air.nl  Click for location .
It is one of the most popular venues of the electronic music scene in the city. The Air Card system is used to buy drinks from the bar in the nightclub with a high quality sound system, a capacity of 1300, 5 bars, divided from room to room. There are also lockers inside for those who want to have fun more safely and comfortably.
Jimmy Woo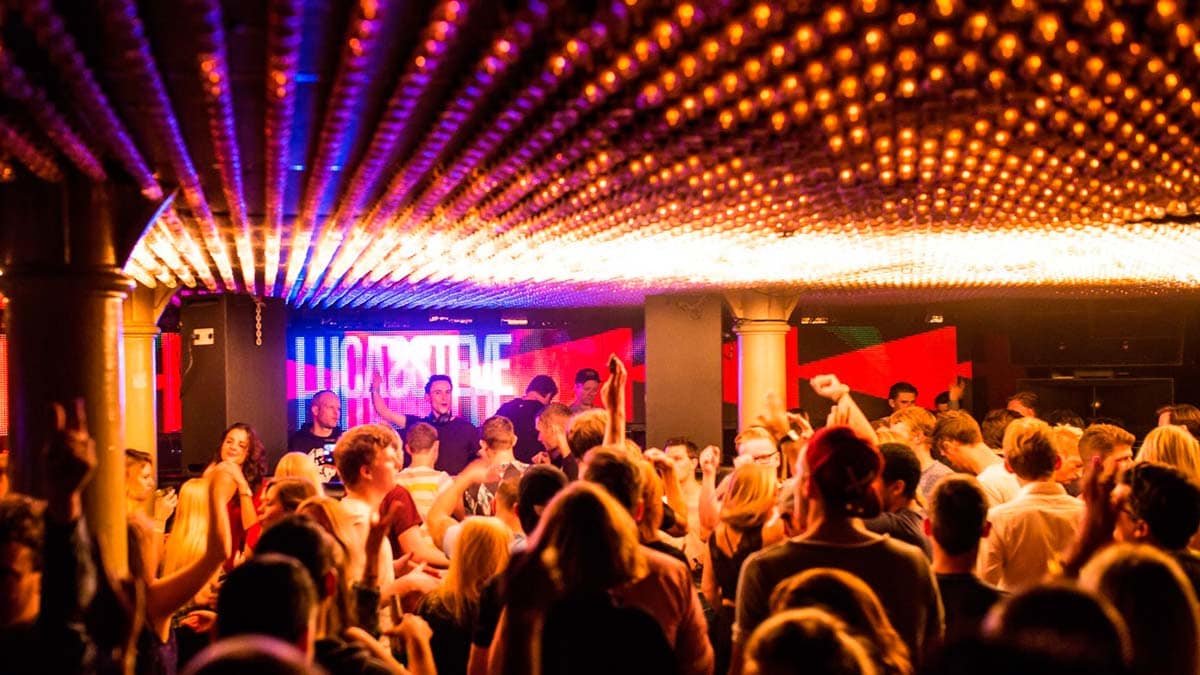 Attracting attention with its shining ceiling, the nightclub is frequented by celebrities. The upper floor is an Asian style lounge bar, and the lower floor is the dance floor. But getting into this club is not as easy as other places. There is a strict door policy.
Address: Korte Leidsedwarsstraat 18 1017 RC Tel: 31 20 626 3150 Website: www.jimmywoo.com Click for location .
Pacific Park
If you're the type who doesn't like to dance and hang out at the bar corner with a drink, we say don't even go near Pacific Parc. Because this is Amsterdam's most rock & roll place. In the place where there is a place to spend time and eat during the day, on Thursday, Friday and Saturday evenings, the tables are set aside, rock 'n' roll starts with DJ or live music.
Address: Polonceaukade 23, 1014 DA Tel:  31 20 488 7778 Website: www.pacificparc.nl  Click for location
IMPORTANT INFORMATIONS
Closing Hours
Restaurants are open until 01:00.
Amsterdam nightclubs close at 03:00 on weekdays and at 04:00 on weekends.
Those who can't get up to speed can continue to have fun in places known as night cafe. They close at 04:00 on weekdays and at 05:00 on weekends.
Entrance fee
It varies between 5 and 20 Euros. They may ask for more for live DJ performances, if you can find tickets at the door because these types of tickets sell out in advance. Especially if you want to watch a DJ in Melkweg and Paradiso, you need to buy your tickets early. Some clubs may also ask for a membership fee of 4 Euros. Membership is for one month, so you only pay for the event ticket when you go again in the same.
What where?
The most central places of nightlife in Amsterdam in the Rembrandtplein and Leidseplein neighborhoods. It consists mostly of places where students hang out. Especially in Leidseplein there are Irish pubs and music venues.

When?
We would love for you to catch the atmosphere and the party at King's Day 👉 April 27th.
Since winter and autumn are very cold in Amsterdam, the best time is between April and October.

Transportation
In the city: Since the city is small, cycling is the most practical option, but it is not very convenient for nightlife. Don't drink & drive, albeit a bike. 🙂 There is a developed tram network in Amsterdam, but it does not run after midnight. There are also night buses. Getting an Amsterdam Card is the smartest way to use public transport.