Exploring Amsterdam's Best Laptop-Friendly Cafés for Digital Nomads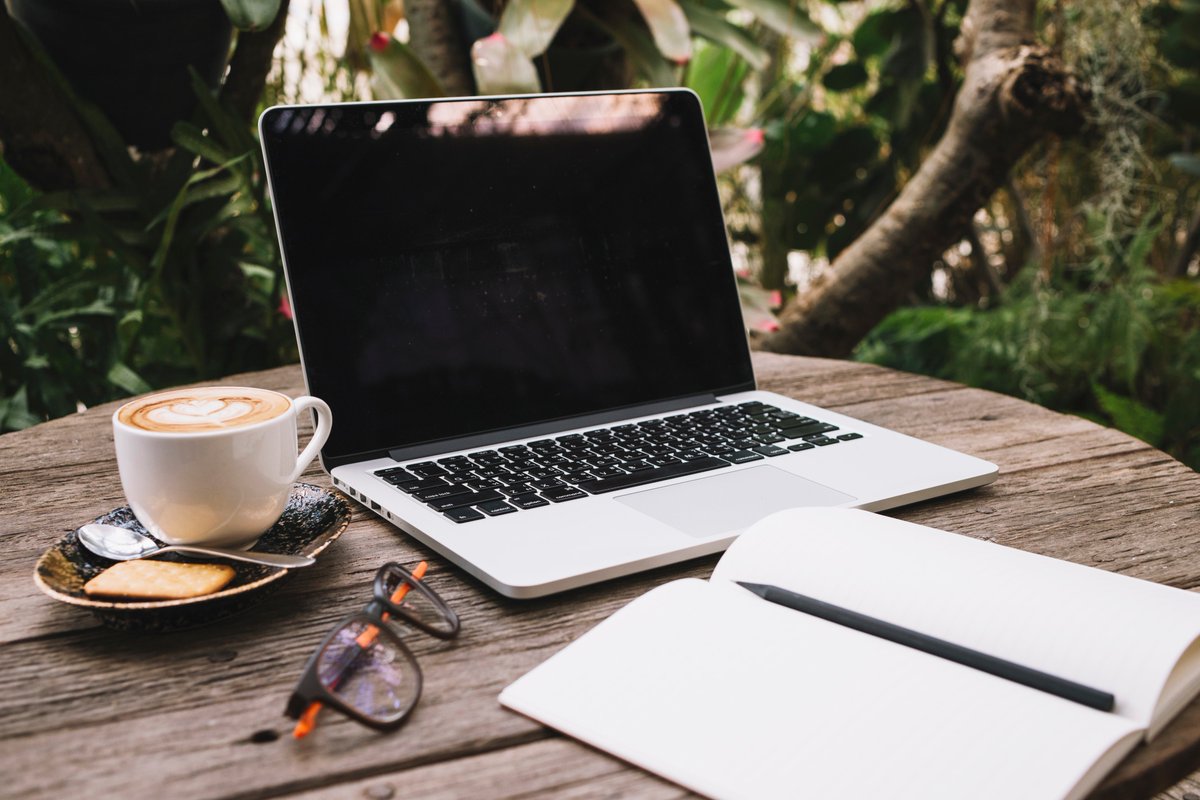 Amsterdam, renowned for its picturesque canals and vibrant cultural scene, has become a haven for digital nomads seeking a balance between work and exploration.
The city's charming coffee culture, coupled with its tech-savvy ambiance, has given rise to a plethora of laptop-friendly cafés that cater to the needs of remote workers. This article serves as a guide to some of the best laptop-friendly cafés in Amsterdam, where you can sip your favorite brew while staying productive.
Exploring Amsterdam's Best Laptop-Friendly Cafés for Digital Nomads
1. Coffee & Coconuts
Nestled in a former cinema, Coffee & Coconuts is a spacious and aesthetically pleasing café that offers a tranquil atmosphere for those seeking a productive work environment. With three levels of seating options, including cozy corners and communal tables, you can easily find your perfect spot. The café's ample power outlets, free Wi-Fi, and a menu featuring an array of coffee options, fresh juices, and healthy dishes make it a top choice for digital nomads.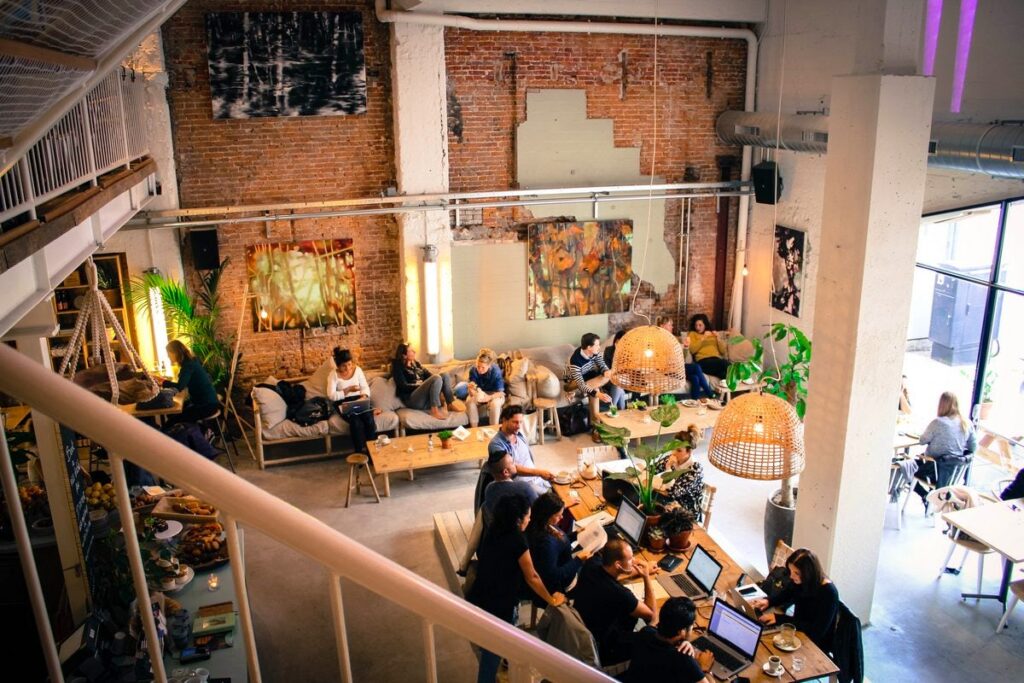 2. The Hoxton
Located along the Herengracht canal, The Hoxton is a stylish boutique hotel that boasts a welcoming lobby turned café, perfect for remote work. The ambiance blends vintage décor with modern amenities, offering a comfortable space to settle in with your laptop. The Hoxton provides complimentary Wi-Fi, a selection of delicious pastries, and a range of beverages from expertly brewed coffee to herbal teas.
3. Lot Sixty One Coffee Roasters
For the true coffee connoisseur, Lot Sixty One Coffee Roasters is a must-visit. This cozy café is celebrated for its exceptional coffee brewed from beans roasted on-site. The café's minimalist design and serene ambiance create an ideal setting for focused work. The absence of distracting background noise further enhances its suitability for remote work. While here, savor a cup of their artisanal coffee and perhaps engage in a quick chat with the knowledgeable baristas.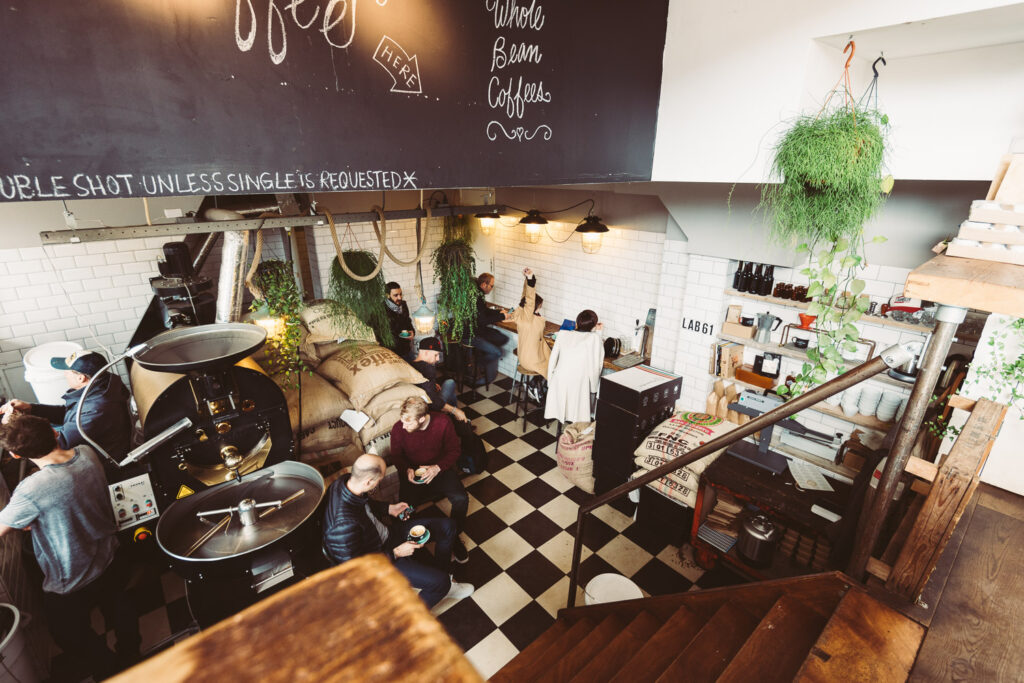 4. Scandinavian Embassy
A haven for lovers of Scandinavian design and quality coffee, Scandinavian Embassy offers a sophisticated space for digital nomads. The café's specialty coffee is crafted with precision, and the menu features an assortment of delectable treats. The minimalist interior, characterized by clean lines and natural materials, fosters a serene atmosphere, while the friendly staff ensures your caffeine fix is accompanied by a productive work session.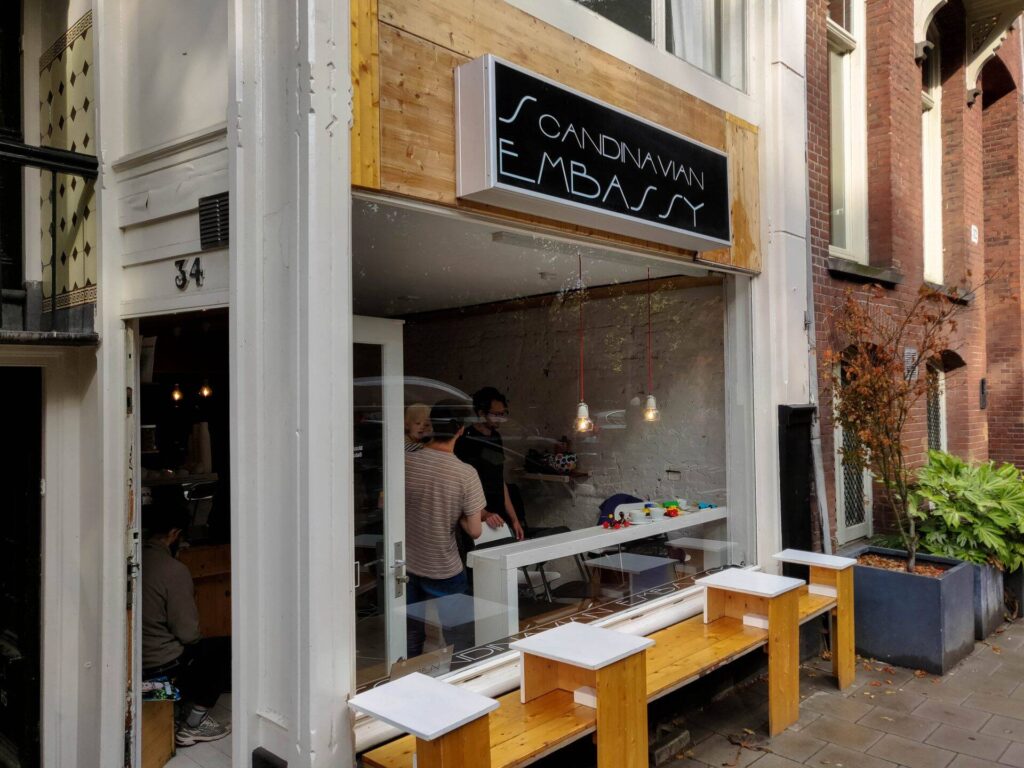 5. De Wasserette
De Wasserette, with its rustic charm and inviting atmosphere, seamlessly blends into Amsterdam's cozy ambiance. Known for its artisanal bread and pastries, the café provides an inviting environment for those seeking a laptop-friendly space. The wooden tables, ample natural light, and the aroma of freshly baked goods set the stage for a productive work session, complemented by their selection of coffees and teas.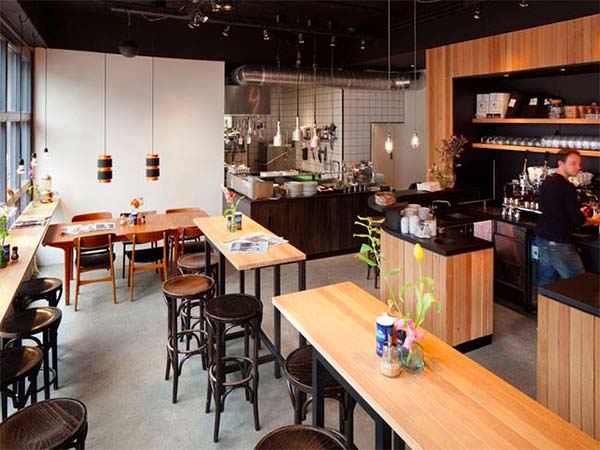 Amsterdam's coffee culture and digital-friendly mindset have given rise to an array of cafés where remote workers can find solace while pursuing their professional endeavors. From the trendy Coffee & Coconuts to the coffee perfectionists' haven, Lot Sixty One Coffee Roasters, each café offers a unique experience. So, whether you're a digital nomad in search of an inspirational workspace or a traveler looking to soak up Amsterdam's charm while catching up on work, these laptop-friendly cafés have got you covered. Embrace the blend of productivity and leisure that Amsterdam's coffee scene has to offer.
Finding a Hotel for Pride 2023 in Amsterdam
Amsterdam Pride is one of the most anticipated and colorful events of the year, attracting LGBTQ+ travelers and allies from all corners of the world.
As you prepare for an unforgettable experience during Pride 2023 in Amsterdam, finding the right hotel is crucial to ensuring a comfortable and enjoyable stay. 
1. Book Early, Secure Your Spot Amsterdam Pride is an incredibly popular event, and hotels in and around the city tend to fill up quickly. To secure the best accommodations at reasonable rates, it's essential to book your hotel as early as possible. Keep an eye on the official Pride website and other event-related platforms for announcements and special deals on accommodations.
2. Choose the Right Location Amsterdam offers a diverse range of neighborhoods, each with its unique charm and atmosphere. For the most convenient and immersive experience during Pride 2023, consider staying in areas that are close to the event venues and parade route. The city center and the Le Marais neighborhood (also known as the Gay Village) are popular choices for LGBTQ+ travelers, as they are in close proximity to major Pride events and gay-friendly establishments.
3. Gay-Friendly Hotels: Embrace Inclusivity For an extra-special Pride experience, opt for a gay-friendly hotel that actively supports and welcomes LGBTQ+ guests. These hotels often go the extra mile to create a warm and accepting environment, allowing you to feel comfortable and free to be yourself during your stay. Look for hotels with LGBTQ+ symbols or statements of inclusivity on their websites.
4. Budget Considerations Amsterdam offers a wide range of accommodations, catering to various budgets. Before making your reservation, set a budget for your stay and explore options that align with it. Keep in mind that prices for hotels during Pride might be higher than usual due to the high demand. If you're looking to save some money, consider staying slightly further from the city center or sharing a room with friends.
5. Amenities and Facilities Think about the amenities and facilities that are important to you during your stay. Some hotels offer on-site restaurants, bars, gyms, or wellness facilities, which can enhance your overall experience. Additionally, consider the type of room you prefer – whether it's a standard room, a suite, or a shared dormitory for a more budget-friendly option.
6. Read Reviews and Ratings Before finalizing your hotel choice, read reviews and ratings from previous guests. Websites like TripAdvisor, Booking.com, and Google Reviews can provide valuable insights into the quality of service, cleanliness, and overall guest experience. Pay attention to feedback from LGBTQ+ travelers, as they may highlight specific aspects that are important to you as well.
7. Inquire about Pride-Related Events Some hotels may organize special Pride-themed events or parties for their guests during the festival. Don't hesitate to inquire with the hotel's staff about any planned activities or gatherings. This can be a great way to connect with fellow Pride-goers and add an extra layer of enjoyment to your stay.
8. Be Mindful of Cancellation Policies While it's essential to book early, be mindful of the hotel's cancellation policy. Life can be unpredictable, and you may need to adjust your plans closer to the event date. Choose a hotel with a flexible cancellation policy, so you have the option to make changes if necessary.
Good luck!
A
M
S
T
E
R
D
A
M
F
O
X
.
c
o
m