Visit to Veteran Windmills: Zaanse Schans
Visit to Veteran Windmills: Zaanse Schans… Amsterdam is the first thing that comes to mind when it comes to traveling to the Netherlands, and this is one of the first places to visit in Amsterdam. Zaanse Schans is a place of fairy tale beauty beyond being a town in its own right… It is almost an open-air museum where you can taste the delicious Dutch cheeses, witness cheese making, and meet the village and farm life of the Netherlands.
Transport
About 20 km from Amsterdam, Zaanse Schans is connected to the city of Zaandam. There are many alternatives for transportation from Amsterdam to Zaanse Schans. You can reach the colorful windmills in just 15-20 minutes with a bus ride that takes approximately 40 minutes, or with the Koog Zaandijk train departing from Amsterdam Centraal Station for those who say they don't have time. When you come to Zaanse Schans, be sure to get a map and find your route. If you wish, you can also stop by the bike rental point and evaluate the long and short tour options.
History of the Region
When you see the historical windmills and wooden houses, you feel that this place has a history of hundreds of years. The town of Zaanse Schans, one of the first settlements in the Netherlands, was built in the 18th century. Many houses have moved. Until 1993, village houses, farms, windmills, tiny ports and roads were built. In those years, windmills provided water drainage in the Netherlands, most of which was below sea level.
In Zaanse Schans, which had more than a thousand windmills in its time, there are 10 windmills under protection today, each of which is used for different purposes. In addition to paint production, woodworking, oil and cocoa production, you can visit some of the windmills that serve as warehouses for free, and some for a fee.
In Zaanse Schans, which is completely outside our understanding of the "village", you come across houses with well-kept and glamorous gardens, museums with surprising history, and tiny shops.
MUSEUMS
Albert Heijn Museum Shop
Amsterdam, you are probably the birthplace of the Albert Heijn grocery chain, which you will see on every corner! This wooden house from that time is a cute place with its furniture and green color that will create a wonderful backdrop for the photos. The entrance to the market, which was established in 1887 and turned into a museum, is free.
Honig Breethuis House
In this house , named after the Honig family who lived here in the 1800s, you have the opportunity to witness the local village life of the Netherlands up close. You can also examine the home decoration from those years with many details.
The Zaanse Time Museum
is a museum that deals with the "clock" culture, which has undergone changes from centuries ago to the present day. Those who are interested in watches should definitely see it.
Zaanse Museum
This is exactly where that delicious chocolate smell comes from! Those who want to take a closer look at the history of biscuit and chocolate should definitely visit.
Bakery Museum
You can visit the historical bakery to learn about Dutch pastries and taste the famous Zaanse Schans bread. Plus, admission is free!
Jisper House
I've come this far, and for those who want to have a moment with traditional clothes, fisherman's cottage Jisper House will be the right address.
Windmill Museum
The museum, which will open again in 2020, contains a lot of information about the windmills in the region and in general.
Windmills
De Huisman
De Gekroonde Poelenburg
A windmill where you can buy a windmill while enjoying a wonderful view from the terrace floor and tasting all kinds of spices downstairs.
De Kat
is still one of the most famous mills used in paint production. The entrance fee is 4 Euros to witness the production of paint with the power of the mill and to look at the view from the terrace.
De Zoeker
Mill used in oil, dye and cocoa production.
De Bleeke Dood
The oldest windmill in the Netherlands, not the region. Bakers used to work in this mill to grind flour. In addition to these famous mills that must be visited until Zaanse Schans, there will be other windmills you will see, Het Jonge Schaap, Mini – mills De Ooievaar, De Bonte Hen, De Os.
Brugge – Belgium Travel Guide 2022
Brugge – Belgium Travel Guide. Brugge, unlike Brussels, is Belgium's most loved and most touristic city. So much so that this tiny medieval city hosts around 10-15 million tourists every year.
Brugge(or Brugge) is a city full of canals, beer, chips and, of course, delicious waffles. It is the capital and largest city of the province of West Flanders in the Flemish Region of Belgium, in the northwest of the country. The medieval canals of Brugge are so famous that they called it the "Venice of the North". If you hop on the boat and take a canal cruise, you'll definitely understand why Bruges is the Venice of the North. Bruges' Canals are almost as old as Brugge itself.
Brugge – Belgium Travel Guide 2022
Brugge – Belgium Travel Guide
Markt Square
This is the main square of the city. We love places like this. It is both lively and often the meeting points of young people. It is best for us to start from such a central place. It's a really sweet challenge. Colorful buildings lined up side by side are literally screaming for photos. If you are interested, the phaetons leave from here. We definitely do not recommend it, of course. This is not the place for horses!
Belfort Bell Tower
The bell tower, which is impossible to miss when you come to Markt Square. You can go to the top and watch the view of Brugge, but it didn't appeal to us as it was 14€. The view is said to be good. Let's add here that we saw a much better view with the drone instead 🙂 You have to climb 366 steps to get up. The Musea Brugge Card passes.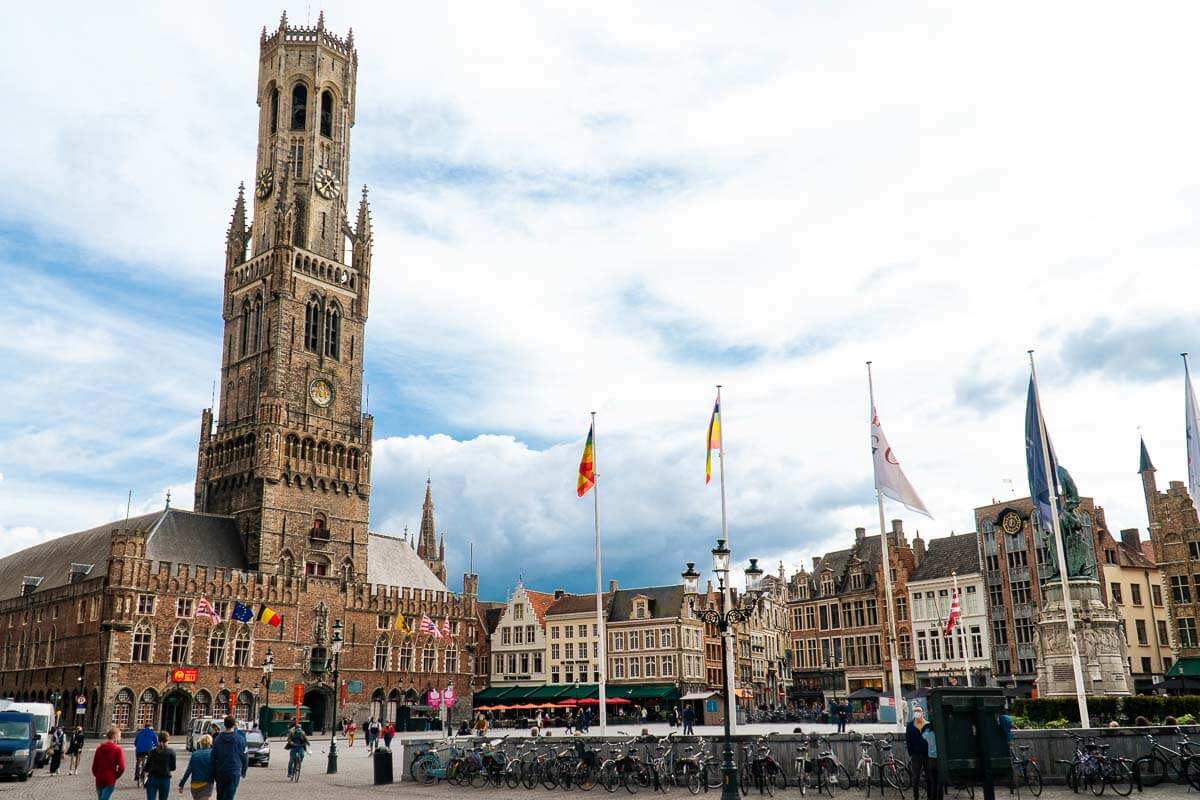 Burg Square
Even though it may seem very small after the Markt, the squares are our heart. The reason for this happening is to visit the Church of the Holy Blood, which we will talk about below. After seeing the Stadhuis, which is also located in this square and attracts attention with its architecture, do not miss to see the magnificent arch on the Blinde-Ezelstraat, on its left.
Basilica of the Holy Blood
Located in Burg Square, it is very difficult to understand that it is a church when you look from the outside, and this church is very important for Christians. In the church, there is a piece of cloth believed to have the blood of Jesus on it. Apart from that, the interior has the most interesting decorative elements we've ever seen. Entry is free. On certain days, the cloth was removed and shown to the visitors, but we could not get a very clear information about when. It is open daily between 09:30-12:00 and 14:00-17:00.
Rozenhoedkaai
In our opinion, this is the most romantic place in Brugge. A frequent destination for photography lovers. This is also the starting point of canal tours. 2be, one of Brugge' most popular breweries, is also located here.
Church of Our Lady
Let's not call it a church because it is the highest point of Brugge with its 122-meter tower, as well as home to Madonna and Child (Madonna and Child), the only work of Michaelangelo found outside of Italy. The entrance to the church is free, but if you want to see this work, cotton hands are in your pocket. Admission is 7€. Free for those with the Musea Brugge Card.
The detail you need to know before going about the work is that you cannot approach the work more than 15 steps. I guess that's why they put a replica closer. The statue differs from other works of Michaelangelo, as the Virgin Mary seems to be smiling. Located in the Vatican, St. It is also very similar to the Pieta in St. Peter's Basilica.
st. John's Hospital (St. John's Hospital)
One of the oldest surviving hospitals in Europe, St. John's Hospital served until 1978. Currently, it continues its life as a museum. You can both learn about its history and see the works of the famous Flemish artist Hans Memling. Admission is 12€. The Musea Brugge Card passes. Even if you don't visit inside, the garden is quite sweet. Be sure to take a look.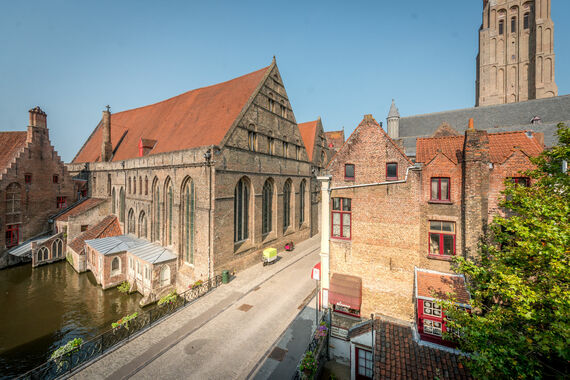 Begijnhof (Ten Wijngaerde)
Begijnhof, a convent where widowed or unmarried women live, is still an extremely quiet place where life continues. It is so calm that there are even signs to be quiet around. You can even come here to escape the crowds of Brugge. There is also a house that tells about the life here. The entrance fee is 2€. It closes at 18:30 in the evening.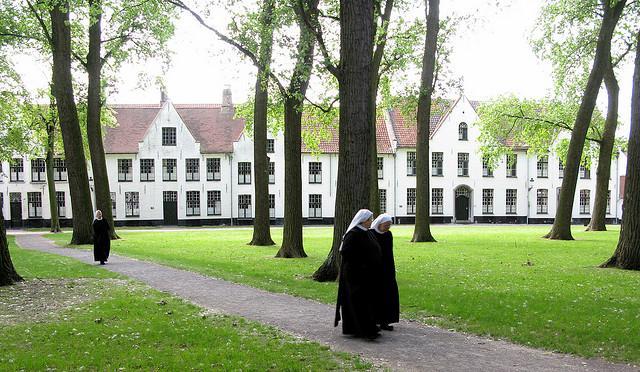 Brugge – Belgium Travel Guide 2022
Minnewaterpark
Minnewater Park, which is very close to the Begijnhof, is a place to take a rest. It is ideal for walking and relaxing with snacks.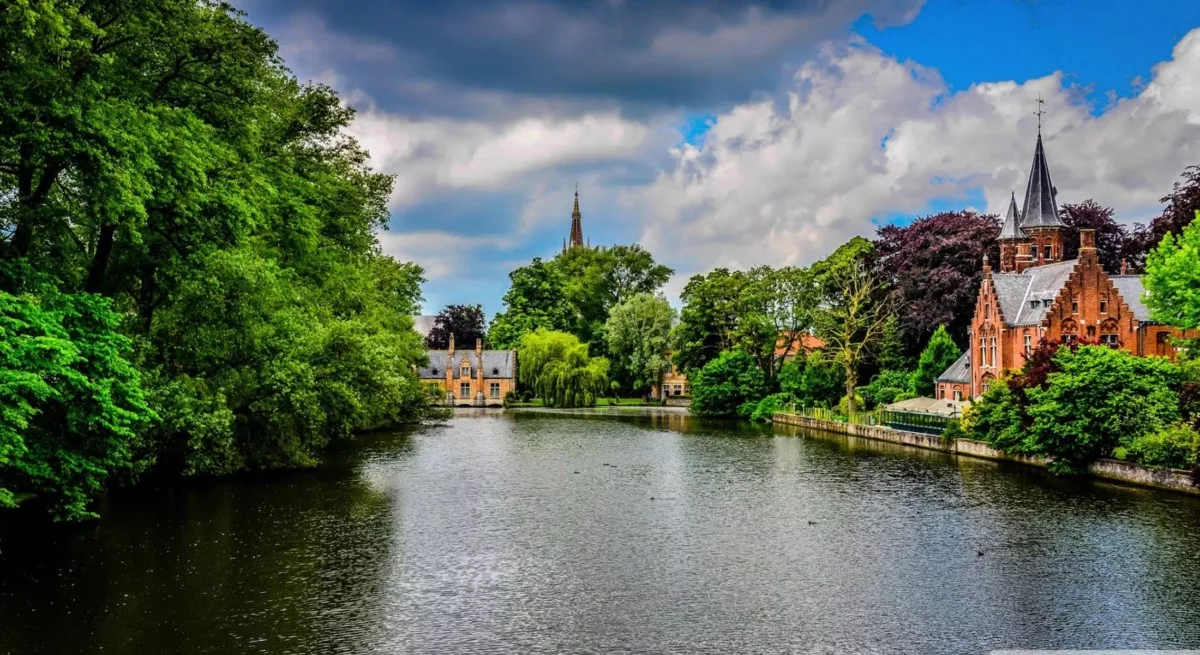 Groenerei
One of the quietest places in Brugge is this canal and its surroundings. The houses with ivy and the bridges again allowed us to take beautiful pictures.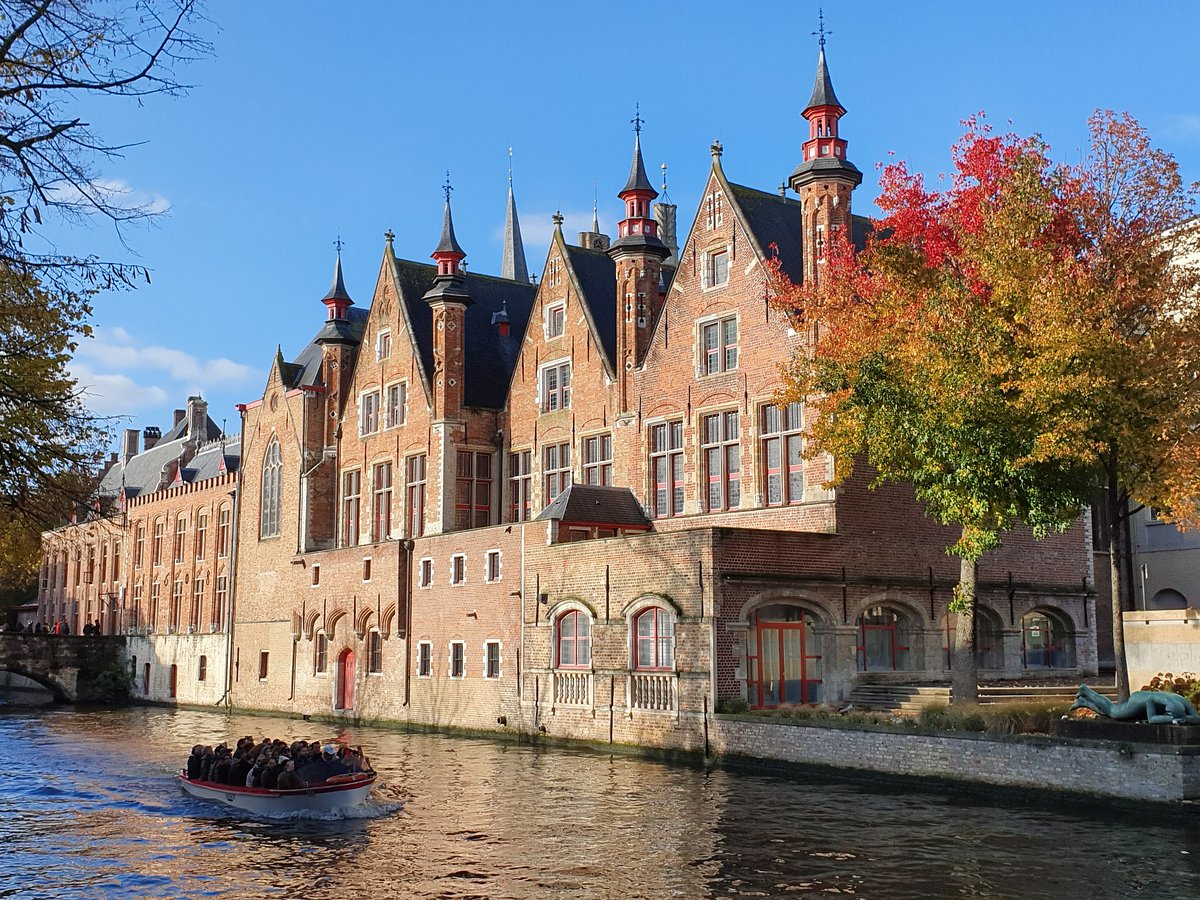 Bonifacius Bridge
We left our favorite place in Brugge for last. We declare this place as the most photogenic place of Brugge. Even if we did not realize that it is not a very old bridge with our Elf eyes, we think that the fact that we have seen the bride and groom photo shoot here gives an idea about its photogenicity.
Museums
As we said, the museum did not interest us at all here. We didn't have time either. But it might interest you. Gruuthusemuseum, Groeningemuseum and, perhaps, one of the most interesting museums, Frietmuseum (Fries Fries Museum) are museums to visit.
Huisbrouwerij De Halve Maan
We wrote this brewery in places to visit because it's a super tour. They explain the production processes of the beer and at the end of the tour there is an unfiltered beer treat. For those who do not go to the Belfort Bell Tower, a very satisfying view of the city can also be a plus. We really enjoyed this tour. The tour fee is 15€ per person.
You will see Brugse Zot, the beer produced here, from many parts of the city.
Brugge Canal Tour
One of the best activities to do in Brugge is the canal tour. Normally these seem like tourist traps to us, but things have changed in Bruges. In our opinion, exploring the city through the canals in a magnificent weather should definitely be done when you come here. You both see the places you cannot see on foot, and you have the chance to look at the places you see from a different angle.
There are several companies for the tour but they all follow the same route. The tour takes approximately 40 minutes. Tickets were 10€ per person in July 2021.
Brugge – Belgium Travel Guide 2022