Visit to Veteran Windmills: Zaanse Schans
Visit to Veteran Windmills: Zaanse Schans… Amsterdam is the first thing that comes to mind when it comes to traveling to the Netherlands, and this is one of the first places to visit in Amsterdam. Zaanse Schans is a place of fairy tale beauty beyond being a town in its own right… It is almost an open-air museum where you can taste the delicious Dutch cheeses, witness cheese making, and meet the village and farm life of the Netherlands.
Transport
About 20 km from Amsterdam, Zaanse Schans is connected to the city of Zaandam. There are many alternatives for transportation from Amsterdam to Zaanse Schans. You can reach the colorful windmills in just 15-20 minutes with a bus ride that takes approximately 40 minutes, or with the Koog Zaandijk train departing from Amsterdam Centraal Station for those who say they don't have time. When you come to Zaanse Schans, be sure to get a map and find your route. If you wish, you can also stop by the bike rental point and evaluate the long and short tour options.
History of the Region
When you see the historical windmills and wooden houses, you feel that this place has a history of hundreds of years. The town of Zaanse Schans, one of the first settlements in the Netherlands, was built in the 18th century. Many houses have moved. Until 1993, village houses, farms, windmills, tiny ports and roads were built. In those years, windmills provided water drainage in the Netherlands, most of which was below sea level.
In Zaanse Schans, which had more than a thousand windmills in its time, there are 10 windmills under protection today, each of which is used for different purposes. In addition to paint production, woodworking, oil and cocoa production, you can visit some of the windmills that serve as warehouses for free, and some for a fee.
In Zaanse Schans, which is completely outside our understanding of the "village", you come across houses with well-kept and glamorous gardens, museums with surprising history, and tiny shops.
MUSEUMS
Albert Heijn Museum Shop
Amsterdam, you are probably the birthplace of the Albert Heijn grocery chain, which you will see on every corner! This wooden house from that time is a cute place with its furniture and green color that will create a wonderful backdrop for the photos. The entrance to the market, which was established in 1887 and turned into a museum, is free.
Honig Breethuis House
In this house , named after the Honig family who lived here in the 1800s, you have the opportunity to witness the local village life of the Netherlands up close. You can also examine the home decoration from those years with many details.
The Zaanse Time Museum
is a museum that deals with the "clock" culture, which has undergone changes from centuries ago to the present day. Those who are interested in watches should definitely see it.
Zaanse Museum
This is exactly where that delicious chocolate smell comes from! Those who want to take a closer look at the history of biscuit and chocolate should definitely visit.
Bakery Museum
You can visit the historical bakery to learn about Dutch pastries and taste the famous Zaanse Schans bread. Plus, admission is free!
Jisper House
I've come this far, and for those who want to have a moment with traditional clothes, fisherman's cottage Jisper House will be the right address.
Windmill Museum
The museum, which will open again in 2020, contains a lot of information about the windmills in the region and in general.
Windmills
De Huisman
De Gekroonde Poelenburg
A windmill where you can buy a windmill while enjoying a wonderful view from the terrace floor and tasting all kinds of spices downstairs.
De Kat
is still one of the most famous mills used in paint production. The entrance fee is 4 Euros to witness the production of paint with the power of the mill and to look at the view from the terrace.
De Zoeker
Mill used in oil, dye and cocoa production.
De Bleeke Dood
The oldest windmill in the Netherlands, not the region. Bakers used to work in this mill to grind flour. In addition to these famous mills that must be visited until Zaanse Schans, there will be other windmills you will see, Het Jonge Schaap, Mini – mills De Ooievaar, De Bonte Hen, De Os.
Exploring Amsterdam's Best Laptop-Friendly Cafés for Digital Nomads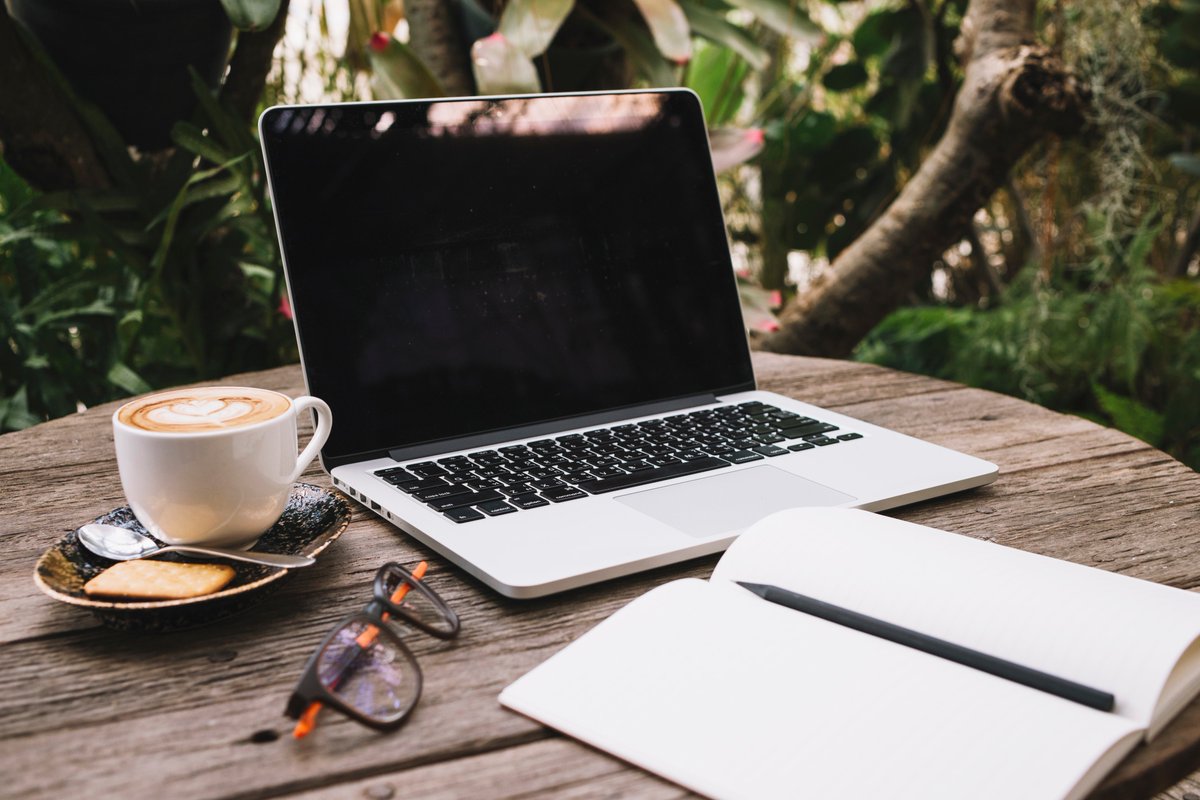 Amsterdam, renowned for its picturesque canals and vibrant cultural scene, has become a haven for digital nomads seeking a balance between work and exploration.
The city's charming coffee culture, coupled with its tech-savvy ambiance, has given rise to a plethora of laptop-friendly cafés that cater to the needs of remote workers. This article serves as a guide to some of the best laptop-friendly cafés in Amsterdam, where you can sip your favorite brew while staying productive.
Exploring Amsterdam's Best Laptop-Friendly Cafés for Digital Nomads
1. Coffee & Coconuts
Nestled in a former cinema, Coffee & Coconuts is a spacious and aesthetically pleasing café that offers a tranquil atmosphere for those seeking a productive work environment. With three levels of seating options, including cozy corners and communal tables, you can easily find your perfect spot. The café's ample power outlets, free Wi-Fi, and a menu featuring an array of coffee options, fresh juices, and healthy dishes make it a top choice for digital nomads.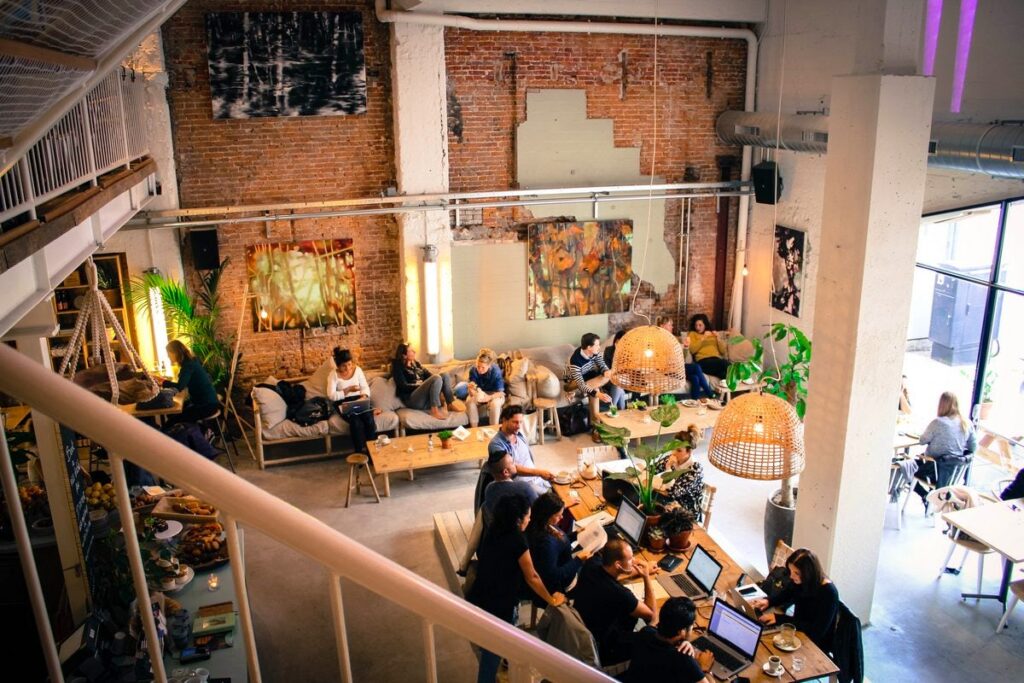 2. The Hoxton
Located along the Herengracht canal, The Hoxton is a stylish boutique hotel that boasts a welcoming lobby turned café, perfect for remote work. The ambiance blends vintage décor with modern amenities, offering a comfortable space to settle in with your laptop. The Hoxton provides complimentary Wi-Fi, a selection of delicious pastries, and a range of beverages from expertly brewed coffee to herbal teas.
3. Lot Sixty One Coffee Roasters
For the true coffee connoisseur, Lot Sixty One Coffee Roasters is a must-visit. This cozy café is celebrated for its exceptional coffee brewed from beans roasted on-site. The café's minimalist design and serene ambiance create an ideal setting for focused work. The absence of distracting background noise further enhances its suitability for remote work. While here, savor a cup of their artisanal coffee and perhaps engage in a quick chat with the knowledgeable baristas.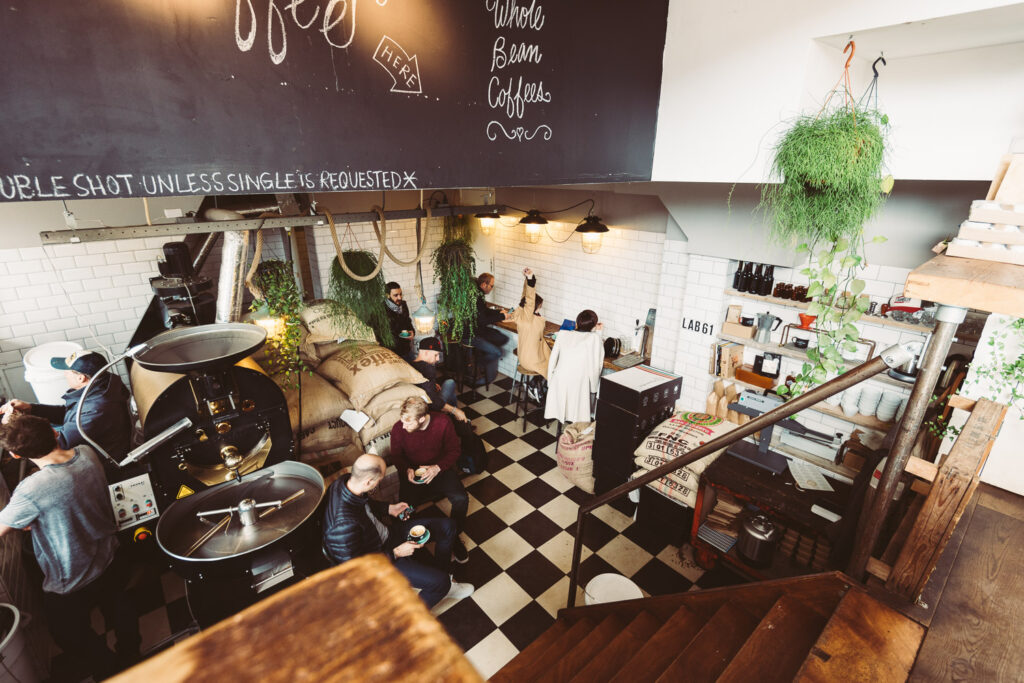 4. Scandinavian Embassy
A haven for lovers of Scandinavian design and quality coffee, Scandinavian Embassy offers a sophisticated space for digital nomads. The café's specialty coffee is crafted with precision, and the menu features an assortment of delectable treats. The minimalist interior, characterized by clean lines and natural materials, fosters a serene atmosphere, while the friendly staff ensures your caffeine fix is accompanied by a productive work session.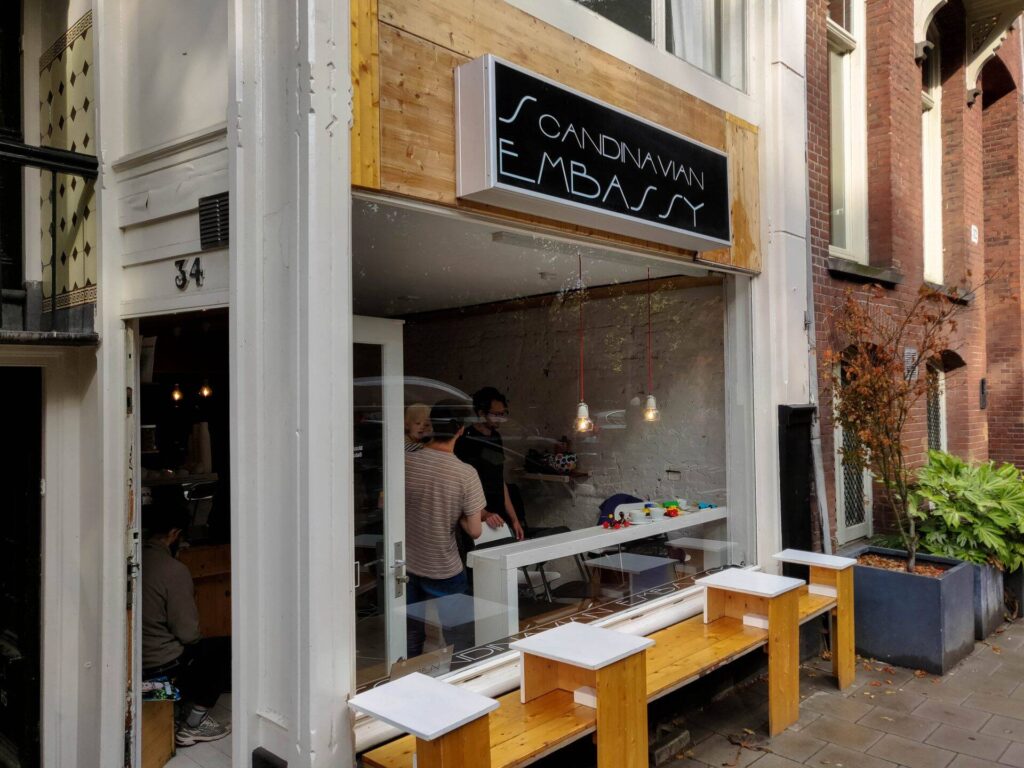 5. De Wasserette
De Wasserette, with its rustic charm and inviting atmosphere, seamlessly blends into Amsterdam's cozy ambiance. Known for its artisanal bread and pastries, the café provides an inviting environment for those seeking a laptop-friendly space. The wooden tables, ample natural light, and the aroma of freshly baked goods set the stage for a productive work session, complemented by their selection of coffees and teas.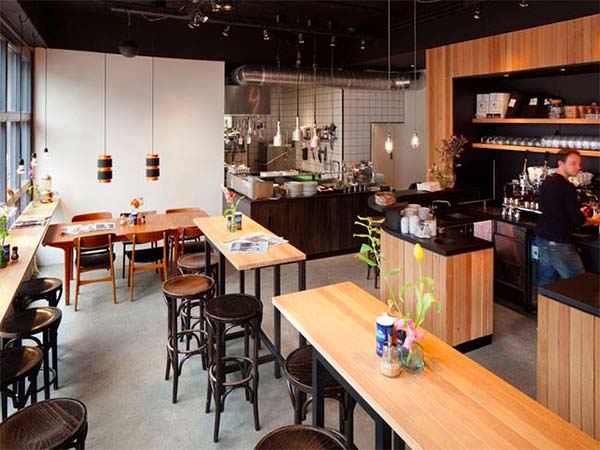 Amsterdam's coffee culture and digital-friendly mindset have given rise to an array of cafés where remote workers can find solace while pursuing their professional endeavors. From the trendy Coffee & Coconuts to the coffee perfectionists' haven, Lot Sixty One Coffee Roasters, each café offers a unique experience. So, whether you're a digital nomad in search of an inspirational workspace or a traveler looking to soak up Amsterdam's charm while catching up on work, these laptop-friendly cafés have got you covered. Embrace the blend of productivity and leisure that Amsterdam's coffee scene has to offer.