Anne Frank House and Museum Amsterdam & Entrance Fee, Transportation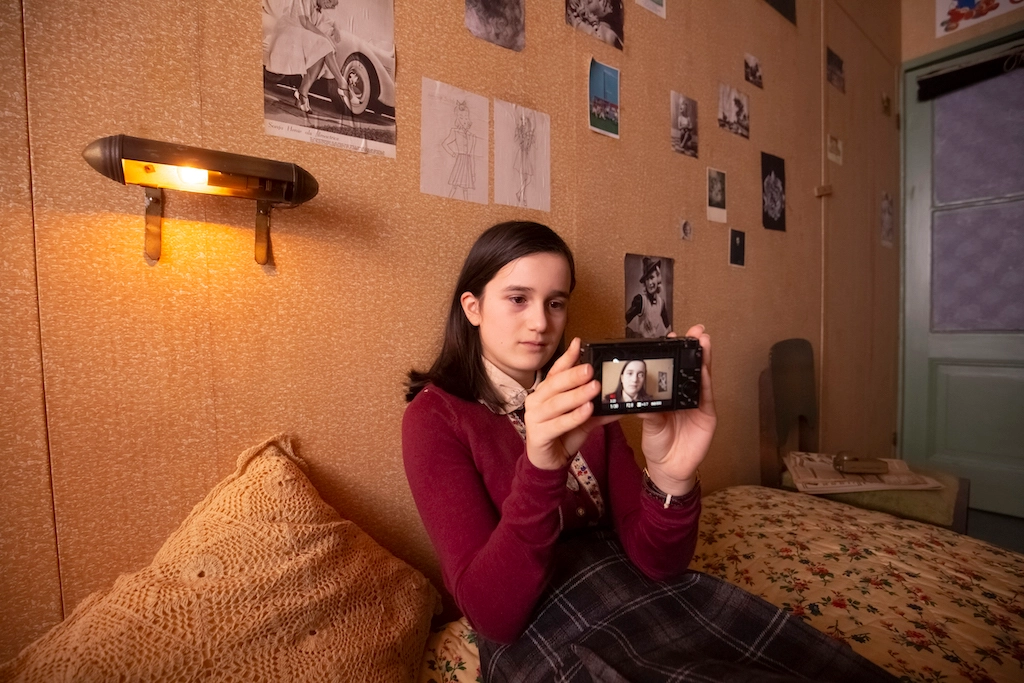 Anne Frank, one of the iconic names of the Anne Frank House and Museum and even Amsterdam , is one of the symbolic names of the Jewish Holocaust in Germany. Despite her young age, her hiding from Hitler and the diary she kept during this time has become an important and a sad day worldwide.

Who is Anne Frank?
Anne Frank is a young girl born in 1929. His birth coincided with such a period that the economic crisis called the 1929 World Economic Depression or more generally the Great Depression broke out and this crisis would continue for 10 years. The Great Depression, which had devastating effects in industrialized countries, caused the number of unemployed to increase in large numbers during its period, and money exchange left its place to barter. It was during this period that Anne Frank's father, Otto Frank , who was a banker, somehow found a way to go to the Netherlands in 1933 , but the troubles continued there. As in Germany, many restrictions are placed on Jews in the Netherlands. In 1942, Jews begin to be collected by the Germans.
Anne Frank's family (Mother, father Otto Frank, mother Edith Frank, older sister Margot Frank) hide in the secret area at the back of the house, along with the close Van Pels family (Hermann, Auguste, Peter van Pels and Fritz Pfeffer). The place where they are hiding is the secret compartment of a spice company, which could not establish his own business because he was Jewish, and therefore fell on his close friend. Miep Gies , who works as a secretary in Anne's father's company , managed to hide them for 25 months. During this time, people who lived in prison and did not go out were able to obtain their daily needs thanks to Miep Gies.
Anne Frank used a diary given by Miep Gies on her 13th anniversary on a daily basis and started to write down her experiences, hopes and fears for 2 years in the notebook that will become world famous in the following years. Two years later, their hiding place was raided by the police. This raid marked the beginning of Anne Frank's last days.
There is nothing to report today but sadness and despair. – The Diary of Anne Frank
2 families caught by the police, II by Nazi Germany . He is taken to Auschwitz Birkenau , the largest concentration, forced labor and extermination camp established during World War II . Afterwards, the remaining family members who lost their lives in different camps were Anne, who was sent to Bergen-Belsen camp, and her elder sister Margot, who was 3 years older than her, and Otto Frank, the father who stayed in Auschwitz. Anne and Margot die of typhoid fever at the campsite. Otto Frank is the Red Army of the Soviet Union. He was saved with his arrival. After she was rescued, she made the Anne Frank diary of Anne Frank, named Kitty, which Miep delivered to her, into a book, and the edition of Anne Frank's Diary took its place on the world's bestseller list.
I no longer dare to do anything, because I am afraid that it will be forbidden. – The Diary of Anne Frank
Information about the Anne Frank House and Museum:
As you can see, one should not expect a fully furnished place like Rembrandt's or other famous people's houses while visiting the Anne Frank House. Anne Frank took shelter here and spent the last days of her life with fears. When you enter this house, it is necessary to understand the events inside with empathy. For this purpose, the house, which was bought by the Anne Frank Solidarity Association in 1957, was converted into a museum and opened to visitors. The furniture used in the house does not exist today, instead dim light, empty walls and windows are closed to completely disconnect it from the outside. To reach this section, it is necessary to use the secret passage behind the bookcase.
At the beginning of the museum, there is a furnished model of the house as it was 70 years ago. Before visiting the house, try to understand the model, if you memorize information such as who is staying where, on which floor the secret passage room is located, the places you visit will be more meaningful. If you want, you can tour the house in 3D on the official website of the Anne Frank House . Unfortunately, photography is not allowed in the museum. Such a ban must have been put in place, as photo shoots would also suffer due to the narrowness of the spaces and the large number of people.
When you go to the Anne Frank Museum
There are always long queues. What we call a queue is not 100 people, but imagine full people along a street, there are many queues. Since I Amsterdam City Card is not accepted, the most logical way to come here is to buy tickets online . Thus, you can enter quickly without having to wait in line. There is only one condition to buy tickets online, you have to enter between 09:00 – 15:30. You can also enter between 15:30 and 21:30 with the ticket you bought at the door. Anne Frank House and Museum. The entrance fee is 9€. If you are going to get it at the entrance and you reach the museum late at night, you will get your ticket if you stand in line. In some cases, the guards can go to the back and close the queue. If you're able to get in line, rest easy.

Where is the Anne Frank House Museum and how to get there?
Many buses and trams pass near the Anne Frank House. You can get off at the Westermarkt stop by taking trams 13, 14 and 17 or buses 170, 172, 174, 272, 752, 754, 758, N70, N72, N74 and N79 .
Exploring Amsterdam's Best Laptop-Friendly Cafés for Digital Nomads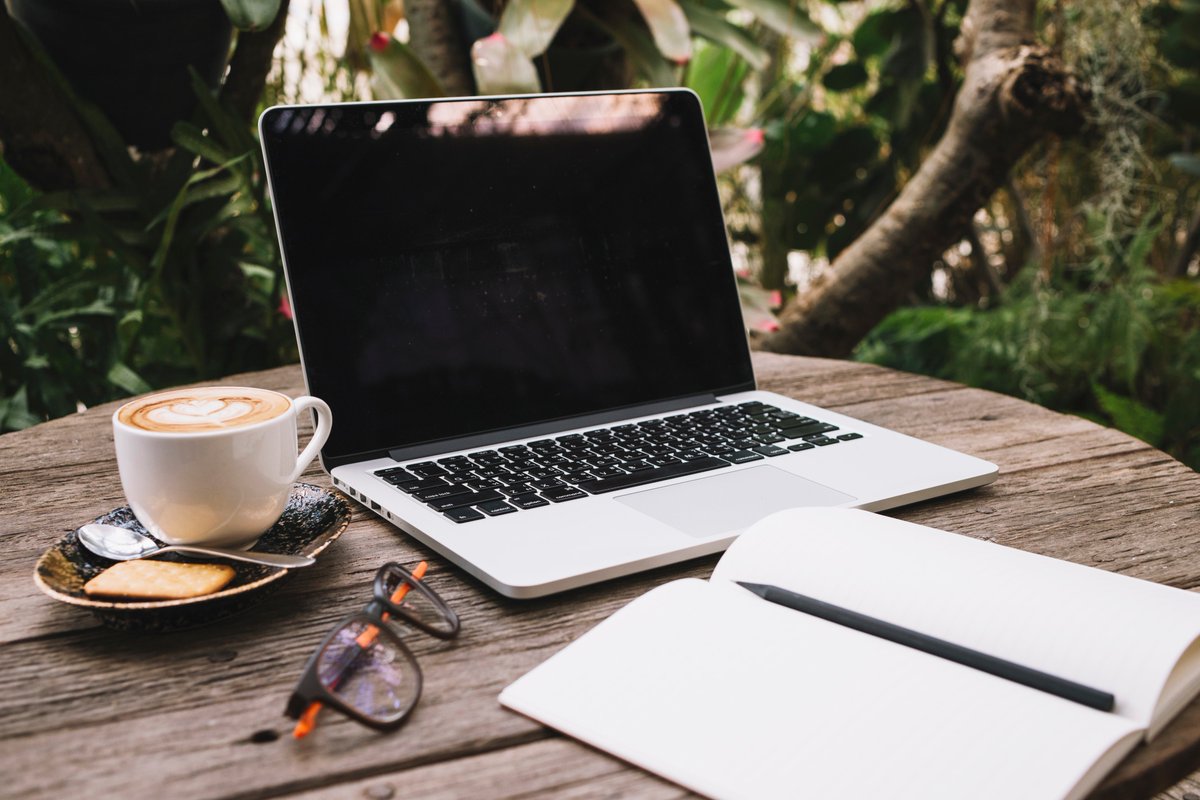 Amsterdam, renowned for its picturesque canals and vibrant cultural scene, has become a haven for digital nomads seeking a balance between work and exploration.
The city's charming coffee culture, coupled with its tech-savvy ambiance, has given rise to a plethora of laptop-friendly cafés that cater to the needs of remote workers. This article serves as a guide to some of the best laptop-friendly cafés in Amsterdam, where you can sip your favorite brew while staying productive.
Exploring Amsterdam's Best Laptop-Friendly Cafés for Digital Nomads
1. Coffee & Coconuts
Nestled in a former cinema, Coffee & Coconuts is a spacious and aesthetically pleasing café that offers a tranquil atmosphere for those seeking a productive work environment. With three levels of seating options, including cozy corners and communal tables, you can easily find your perfect spot. The café's ample power outlets, free Wi-Fi, and a menu featuring an array of coffee options, fresh juices, and healthy dishes make it a top choice for digital nomads.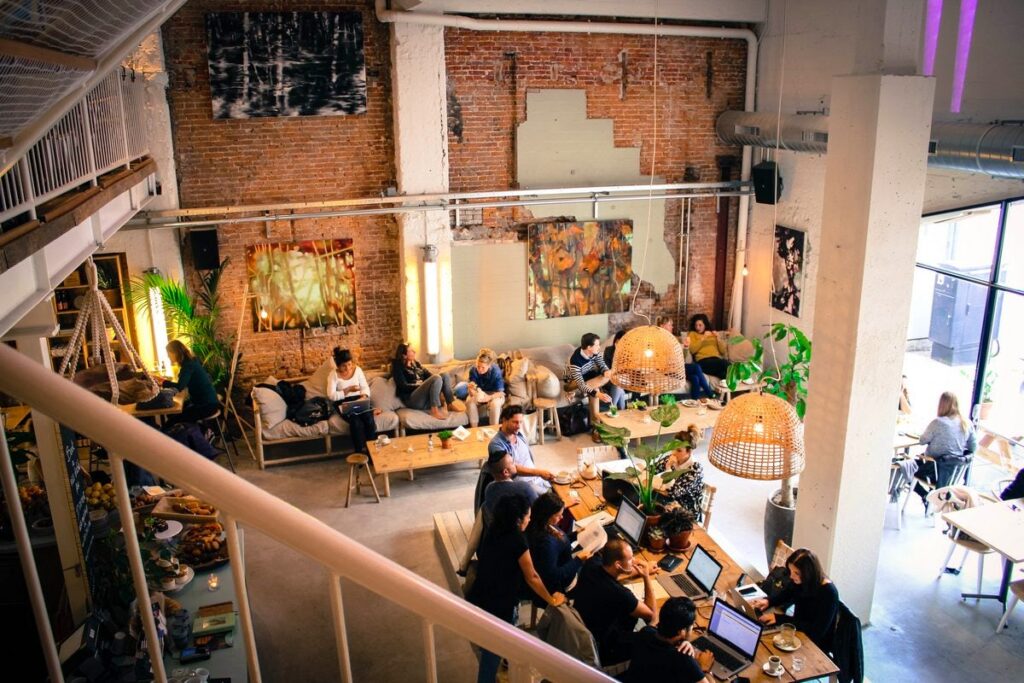 2. The Hoxton
Located along the Herengracht canal, The Hoxton is a stylish boutique hotel that boasts a welcoming lobby turned café, perfect for remote work. The ambiance blends vintage décor with modern amenities, offering a comfortable space to settle in with your laptop. The Hoxton provides complimentary Wi-Fi, a selection of delicious pastries, and a range of beverages from expertly brewed coffee to herbal teas.
3. Lot Sixty One Coffee Roasters
For the true coffee connoisseur, Lot Sixty One Coffee Roasters is a must-visit. This cozy café is celebrated for its exceptional coffee brewed from beans roasted on-site. The café's minimalist design and serene ambiance create an ideal setting for focused work. The absence of distracting background noise further enhances its suitability for remote work. While here, savor a cup of their artisanal coffee and perhaps engage in a quick chat with the knowledgeable baristas.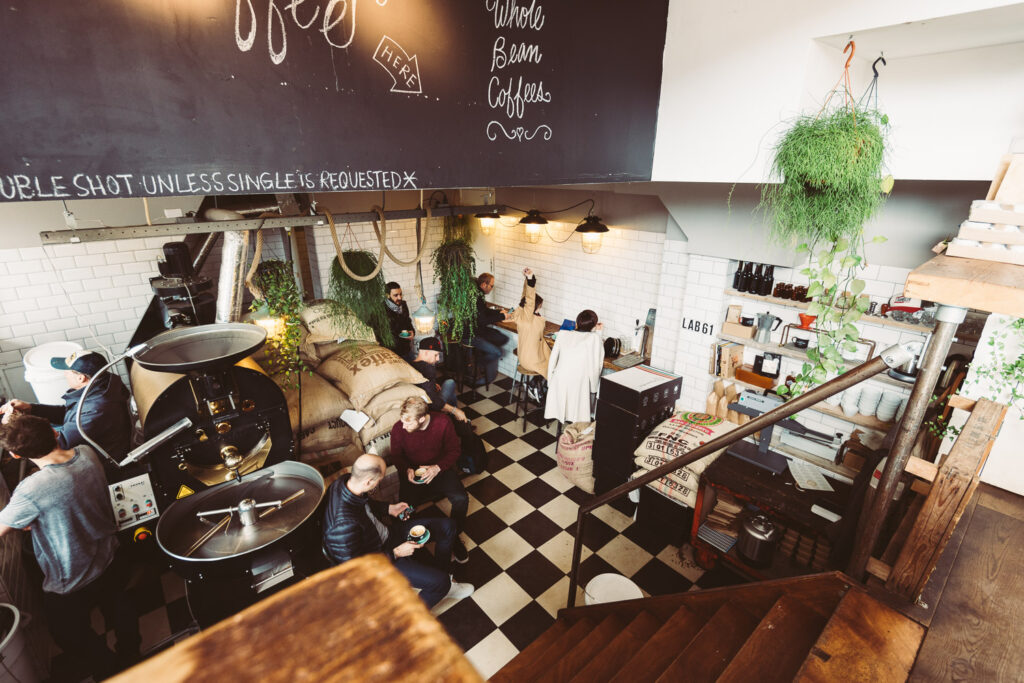 4. Scandinavian Embassy
A haven for lovers of Scandinavian design and quality coffee, Scandinavian Embassy offers a sophisticated space for digital nomads. The café's specialty coffee is crafted with precision, and the menu features an assortment of delectable treats. The minimalist interior, characterized by clean lines and natural materials, fosters a serene atmosphere, while the friendly staff ensures your caffeine fix is accompanied by a productive work session.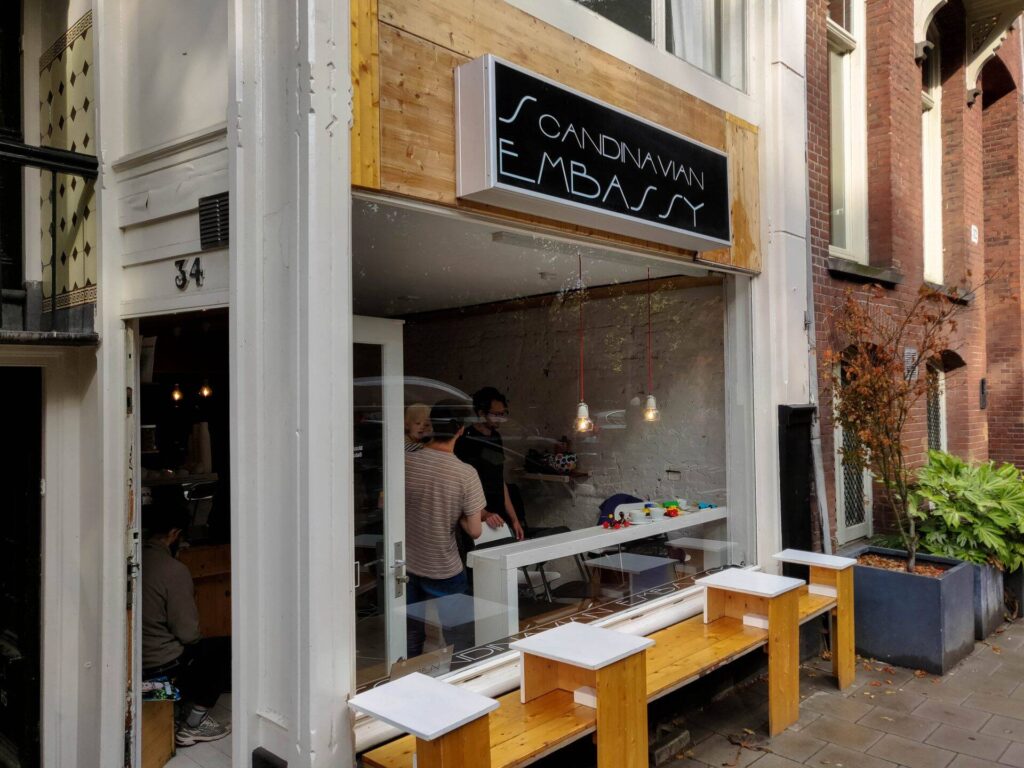 5. De Wasserette
De Wasserette, with its rustic charm and inviting atmosphere, seamlessly blends into Amsterdam's cozy ambiance. Known for its artisanal bread and pastries, the café provides an inviting environment for those seeking a laptop-friendly space. The wooden tables, ample natural light, and the aroma of freshly baked goods set the stage for a productive work session, complemented by their selection of coffees and teas.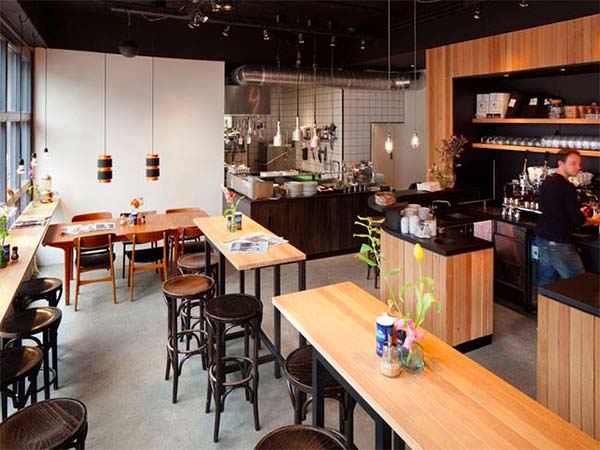 Amsterdam's coffee culture and digital-friendly mindset have given rise to an array of cafés where remote workers can find solace while pursuing their professional endeavors. From the trendy Coffee & Coconuts to the coffee perfectionists' haven, Lot Sixty One Coffee Roasters, each café offers a unique experience. So, whether you're a digital nomad in search of an inspirational workspace or a traveler looking to soak up Amsterdam's charm while catching up on work, these laptop-friendly cafés have got you covered. Embrace the blend of productivity and leisure that Amsterdam's coffee scene has to offer.