Story of Anne Frank House – Location and Entrance Fees 2022
Story of Anne Frank House – Location and Entrance Fees 2022. The house on Prinsengracht, where Anne Frank hid from the Nazis and wrote her famous diary, is one of Amsterdam's top tourist attractions.
The museum is quite intriguing for tourists. Close to 1.3 million people visit Amsterdam's beautiful Anne Frank House by the canal every year.
You can understand the depressing story of the residents of the Anne Frank House in the museum, which houses many original personal items.
Tickets and opening hours – the most important things at a glance
A free audio guide at the Anne Frank House takes you through the museum. This guide gives you exciting information about the objects on display. You can also better follow the stories told. The manual is available in English and many other languages.
Anne Frank Museum Entrance Fees
Admission for adults is 14 euros. Children and teenagers aged 10-17 pay 7 Euros. Children aged 0-9 only pay one euro.
Anne Frank Museum Tickets can only be booked online
On the first Tuesday of each month, all tickets for the next month go on sale online. (from 9 am). Unfortunately, tickets usually sell out within a few hours. You can buy tickets directly from the Anne Frank House website.
You can buy tickets online here: Anne Frank House Tickets 
You can visit the Anne Frank House from 9am to 9pm all year round. The museum is open until 22:00 on Fridays and Saturdays. Please note the exceptions to working hours (eg New Year's). The best time to visit is early in the morning or after 5 pm.
Opening hours of the Anne Frank House in Amsterdam
You should plan at least an hour to visit the Anne Frank House. It usually takes no more than an hour and a half to tour the most important rooms with an audio guide.
In the next chapter, you'll learn all about Anne's life and her hiding place in the back building of the present-day Anne Frank Museum.
How can I get to the Anne Frank House in Amsterdam?
The Anne Frank Museum is very easy on foot from the center of Amsterdam. You walk about twenty minutes from the main train station.
Address : Westermarkt 20, 1016 GV Amsterdam
If you want to go by bus or tram, the next stop is "Westermarkt". Buses: 170, 172 and 174. Trams: 13, 14, 17.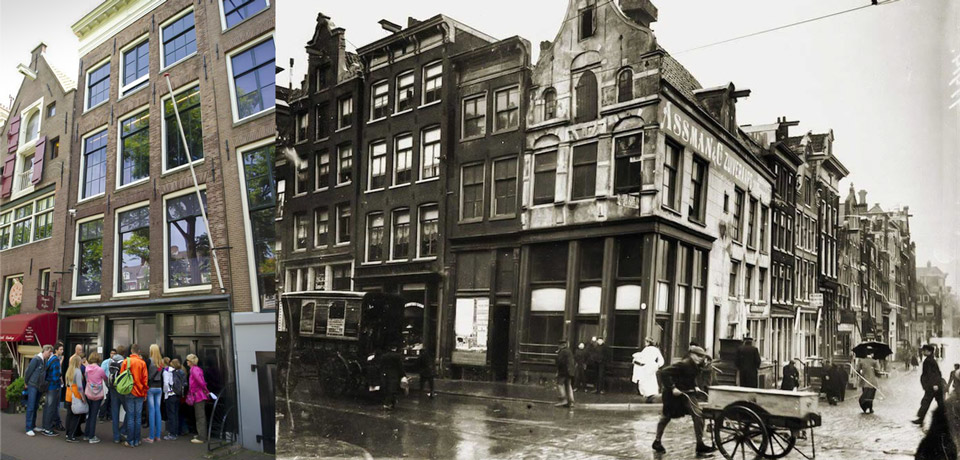 Story of Anne Frank House – Location and Entrance Fees 2022
Story of Anne Frank House –  An unforgettable monument
The horror of Nazi terror in the Third Reich can be seen in Anne Frank's story – millions of European Jews suffered the same or similar tragic fate during Nazi rule.
The Anne Frank House was saved from decay and opened to the public in 1957 by Anne's father and a few colleagues. Their aim was to fight against intolerance and racism by bringing together young people from different cultures.
The interior of the Anne Frank House has been lovingly restored
Most of the furniture in the house was destroyed or stolen at that time. However, the facility was partially rebuilt and displayed many personal items belonging to the people in hiding. Videos with fascinating stories from contemporary witnesses complete the exhibition.
Visiting the Anne Frank House is food for the minds
As a visitor, you may feel the overwhelming narrowness of the hiding place. Can you imagine how you hid here for two years, afraid of being found and killed? Most visitors leave the Anne Frank House thoughtfully.
The touching story of Anne Frank
Before the National Socialists completely destroyed her life and family, Anne Frank lived a carefree life in Frankfurt.
In 1933, the Nazis came to power in Germany. For German Jews, life in their homeland soon became life-threatening. The Frank family decided to flee to the Netherlands.
The Franks loved Amsterdam. His daughters Anne and Margot had many friends. Your father's professional business was going very well. He had set up his own company by trading spices. The family felt safe.
When the Nazis invaded the Netherlands in May 1940, the Frank family's world was shaken again. They wondered what to do when the threat of brutal persecution, deportation, and murder loomed.
Escaping from the occupied Netherlands soon became impossible for the Franks. Anne's father, out of fear, decided to hide with his family.
Hideout in Secret Building – 2 years underground
Anne's father, along with his business partner and some employees, set up a hideout in the small back building of the company building. The secret entrance was camouflaged by a bookcase.
8 people, 75 m², 2 years
From 6 July 1942, eight people (the Franks and another family) lived for almost 2 years in this narrow 75 m² hiding place. The inhabitants had little privacy, had to be as quiet as a mouse, and were not allowed to leave their hiding place.
Underground life was boring and overwhelming, especially for the fun-loving Anne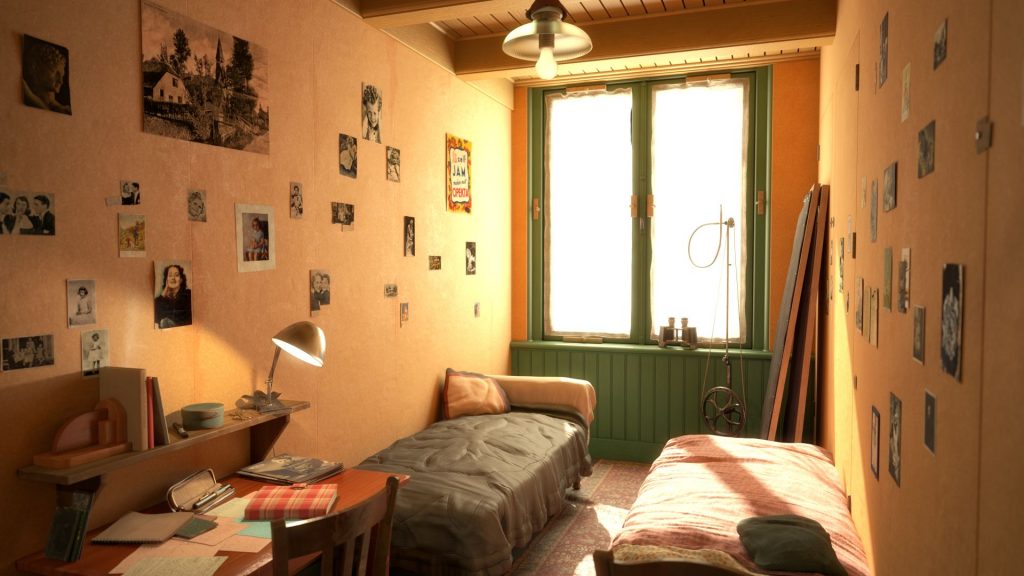 Story of Anne Frank House – Location and Entrance Fees 2022
To pass the time, Anne read a lot and became an avid writer. This is how his famous diary came to be during the time it was kept. This impressive contemporary document shaped world awareness of the brutal persecution of Jews in the Third Reich.
Sad end – arrested in August 1944
Anne and the other residents of the hideout must have noticed that rewards are given to those who find the Jews in Amsterdam. The despair and fear among those in hiding had to be unbearable.
On August 4, 1944, a few days before all the residents of the Secret building were arrested, Anne Frank wrote her last entry in her diary. The family was found in their hiding place.
Anne Frank died at the age of 15
Those arrested were taken by train to Auschwitz concentration camp. Unlike the others, Anne was not killed immediately. After a while she was transferred to the Bergen-Belsen concentration camp. There she lived a miserable life, struggling with hunger and tuberculosis. Anne Frank's body couldn't take it any longer and she weakened and died.
Exploring Movie Theaters in Amsterdam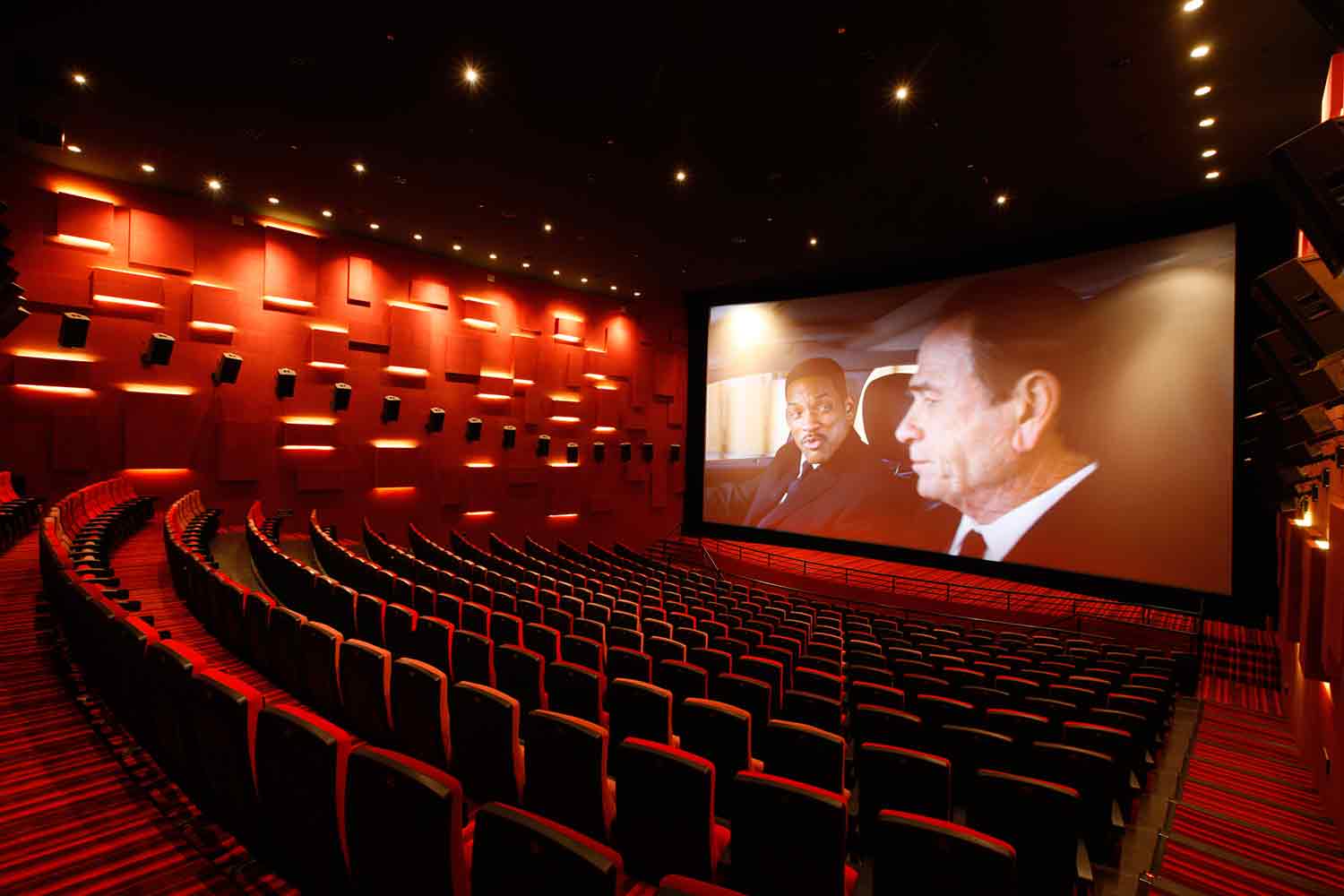 Exploring Movie Theaters in Amsterdam. Amsterdam, the cultural hub of the Netherlands, is a city known for its vibrant arts scene. From historic landmarks to contemporary galleries, Amsterdam offers a diverse range of cultural experiences. Among its offerings, the city boasts an array of captivating movie theaters that cater to both locals and tourists. In this article, we will take you on a journey through Amsterdam's movie theaters, highlighting their unique features, cinematic offerings, and the immersive experiences they provide.
Exploring Movie Theaters in Amsterdam
1. Pathé Tuschinski
Pathé Tuschinski stands as a true gem among Amsterdam's movie theaters. Located in the heart of the city on Reguliersbreestraat, this iconic theater is renowned for its grand art deco architecture, ornate interiors, and lavish atmosphere. Step into a world of elegance and indulge in the latest blockbusters, arthouse films, and special screenings. With its luxurious seating, state-of-the-art projection, and immersive sound systems, Pathé Tuschinski promises an unforgettable movie-going experience.
Address: Prinsengracht 452, 1017 KE Amsterdam
Website: http://www.uitkijk.nl/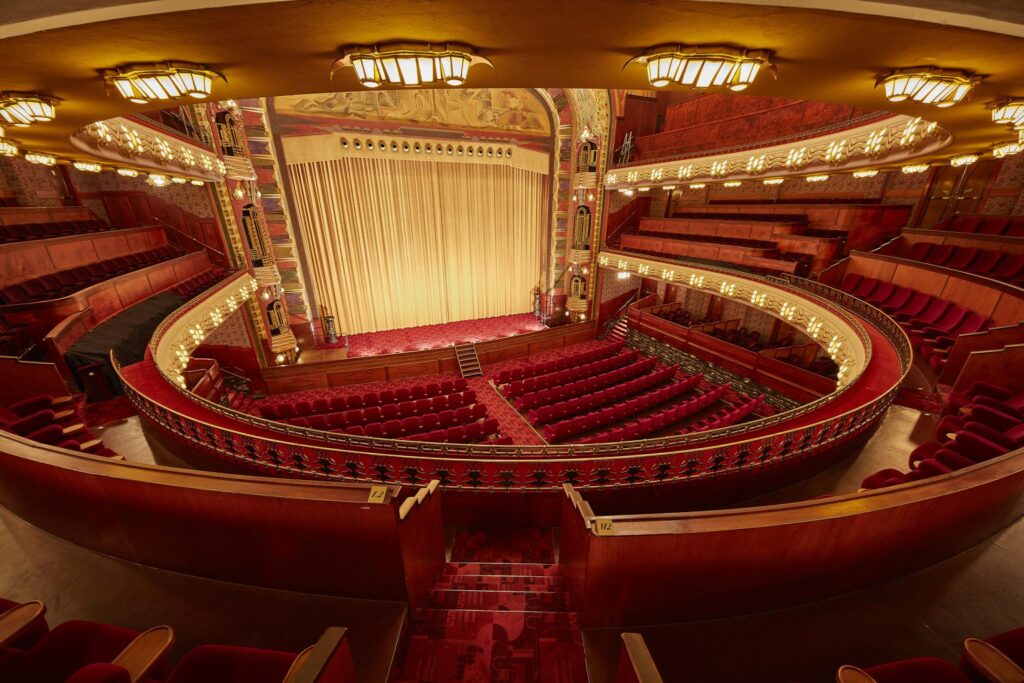 2. Eye Filmmuseum
Situated on the northern bank of the IJ River, the Eye Filmmuseum is not just a movie theater but a haven for film enthusiasts. Its striking modern architecture, featuring a futuristic white structure, instantly captures attention. The museum houses an extensive collection of films, exhibits, and interactive installations, making it a paradise for cinema lovers. With multiple screening rooms that showcase a diverse range of films, including classics, art films, and experimental works, the Eye Filmmuseum celebrates the art of filmmaking in all its forms.
Address: IJpromenade 1, 1031 KT Amsterdam
Website: https://www.eyefilm.nl/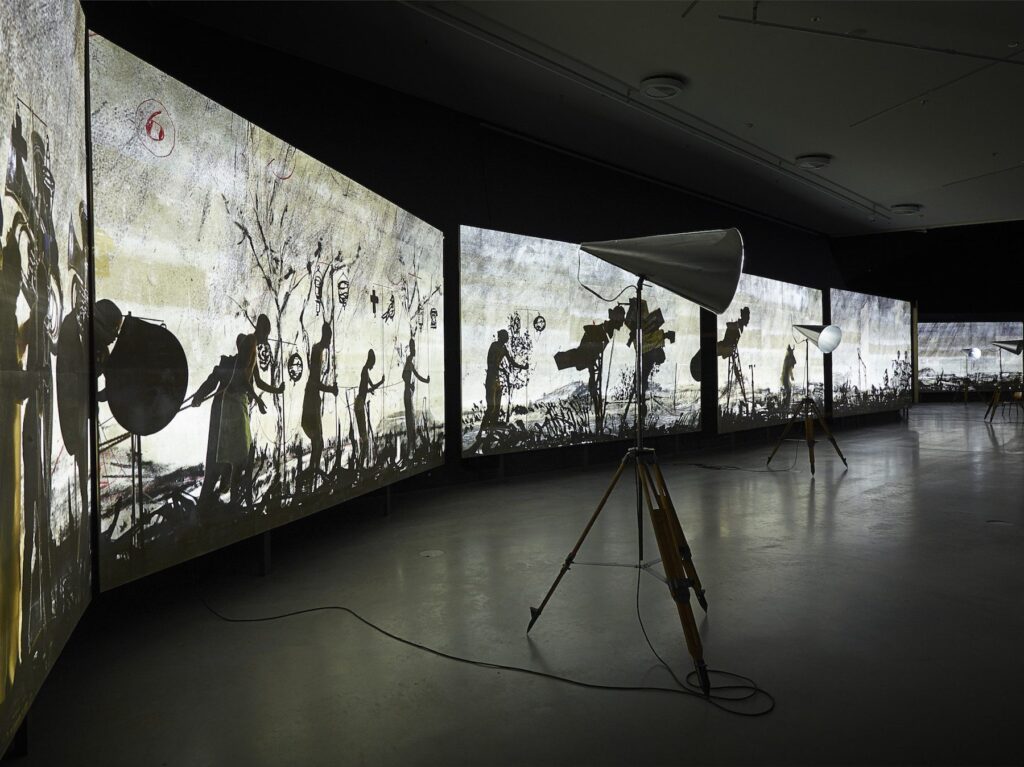 3. FilmHallen
FilmHallen, nestled in the vibrant district of Amsterdam-West, is a cultural hotspot that combines film screenings with a bustling food market and various other entertainment options. This former tram depot turned cinema boasts a relaxed and contemporary ambiance, featuring comfortable seating and excellent viewing facilities. FilmHallen showcases an eclectic mix of international and independent films, documentaries, and special events, making it a go-to destination for cinephiles seeking unique cinematic experiences.
Address: Hannie Dankbaarpassage 12, 1053 RT Amsterdam
Website: http://www.filmhallen.nl/
4. Kriterion
Kriterion is a beloved institution in Amsterdam, known for its rich history and commitment to supporting independent and arthouse cinema. Located near the University of Amsterdam, this student-run movie theater has been operating since 1945. Kriterion showcases a carefully curated selection of films, including international releases, retrospectives, and thematic film cycles. Besides its cinematic offerings, Kriterion also hosts discussions, debates, and cultural events, making it a vibrant hub for film enthusiasts and intellectuals.
Address: Roetersstraat 170, 1018 WE Amsterdam
Website: https://www.kriterion.nl/
5. De Uitkijk
For those seeking an intimate and cozy movie-watching experience, De Uitkijk is a hidden gem tucked away in the picturesque neighborhood of Prinsengracht. This historic theater, dating back to 1912, is the oldest continuously operating cinema in Amsterdam. With its vintage charm and single-screen setup, De Uitkijk offers a unique setting to enjoy art films, classics, and cult favorites. Unwind in its comfortable seats and soak up the nostalgic atmosphere while immersing yourself in the magic of the silver screen.
Address: Prinsengracht 452, 1017 KE Amsterdam
Website: http://www.uitkijk.nl/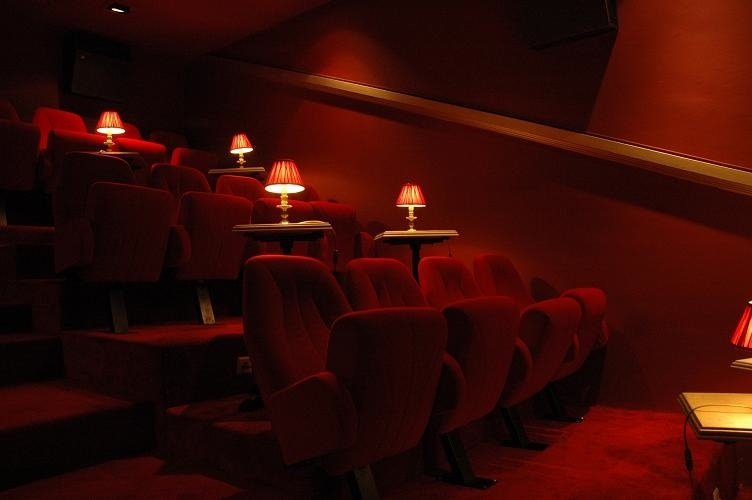 Amsterdam's movie theaters provide an enchanting blend of cinematic experiences, architectural splendor, and cultural significance. Whether you find yourself in a grand art deco palace like Pathé Tuschinski or a contemporary hub like the Eye Filmmuseum, each theater offers its own distinct charm and selection of films. From mainstream blockbusters to thought-provoking arthouse cinema, Amsterdam's movie theaters cater to diverse tastes and provide an opportunity to immerse oneself in the magic of storytelling on the big screen. So, grab some popcorn, find your preferred seat, and let Amsterdam's movie theaters transport you to captivating worlds and unforgettable cinematic journeys.