The Fairytale Village of the Netherlands: Giethoorn
Giethoorn is a fairy-tale village located in the Dutch Province of Overijssel . Described as the Venice of the Netherlands, Giethoorn is a fairy-tale town where streets and streets are replaced by water channels, where no means of transportation other than electric boats enter, and houses are located on islands and islets. I think it's one of the most amazing places in the world.
Giethoorn, whose name means 'goat horn', dates back to the 13th century. Only 2,620 people live in the village, which is made up of farmhouses, canals and bridges that impress. Giethoorn became especially famous after 1958, when Dutch filmmaker Bert Haanstra shot the village in the famous comedy Fanfare.
The Fairytale Village of the Netherlands: Giethoorn
The sentence 'The loudest sound you can hear may be the sound of a duck or the sounds of other birds' on the website of the town, which is on the UNESCO World Heritage List, explains all this calmness. Although many tourists skip this wonderful part of the Netherlands, Giethoorn and its surroundings are definitely worth a visit.
Giethoorn, who took part in the special series of Monopoly game released in 2015, became a world-renowned place after taking part in the game. The town, which is visited by more than 200 thousand Chinese tourists a year, is a destination that those who come to Amsterdam add to their route. Special tours are also organized to this fairy-tale village, where the interest is increasing day by day.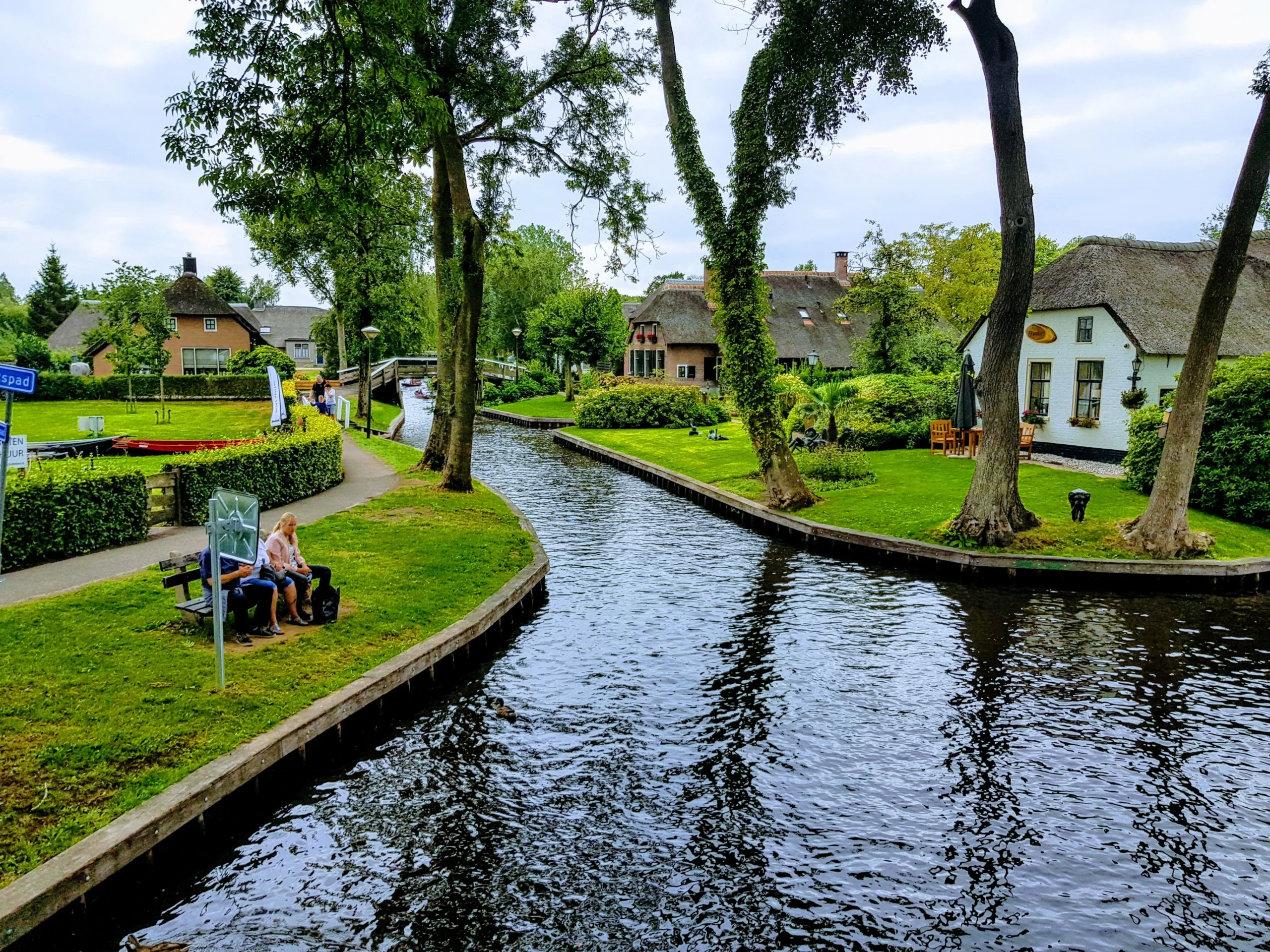 The village, which had no roads before, could only be reached by boats. As the number of people started to increase, a road was built and a bicycle path was also added. Although there is road access to the village, most of the houses in the village can still be reached only by boats. Even the delivery of mail is carried out by boats called punta.
In Giethoorn, where the use of gasoline-powered boats is prohibited due to both environmental pollution and noise, houses and islands are connected by 180 bridges.
The boots used by the people living in the town to go to work, school or shopping in their daily life are also the favorites of those who want to visit Giethoorn. Vehicles called Whisper Boats operate almost silently.
Those who want to rent these boats are told how to use the engine and a map is given to avoid getting lost in the channels. Another option other than boats is the gondola-like punters. You move forward by pushing this vehicle with the help of a stick. You can also tour the village by renting a bicycle and shop at the souvenir shops.
You can take a walk or take a boat ride among Giethoorn's fairy-tale houses, which look like they are from a fairy tale book, and you can rent a boat and wander the canals in the town. If you want to sit and just watch the village, you can take a pleasant break at the restaurants and cafes on the shore of the village.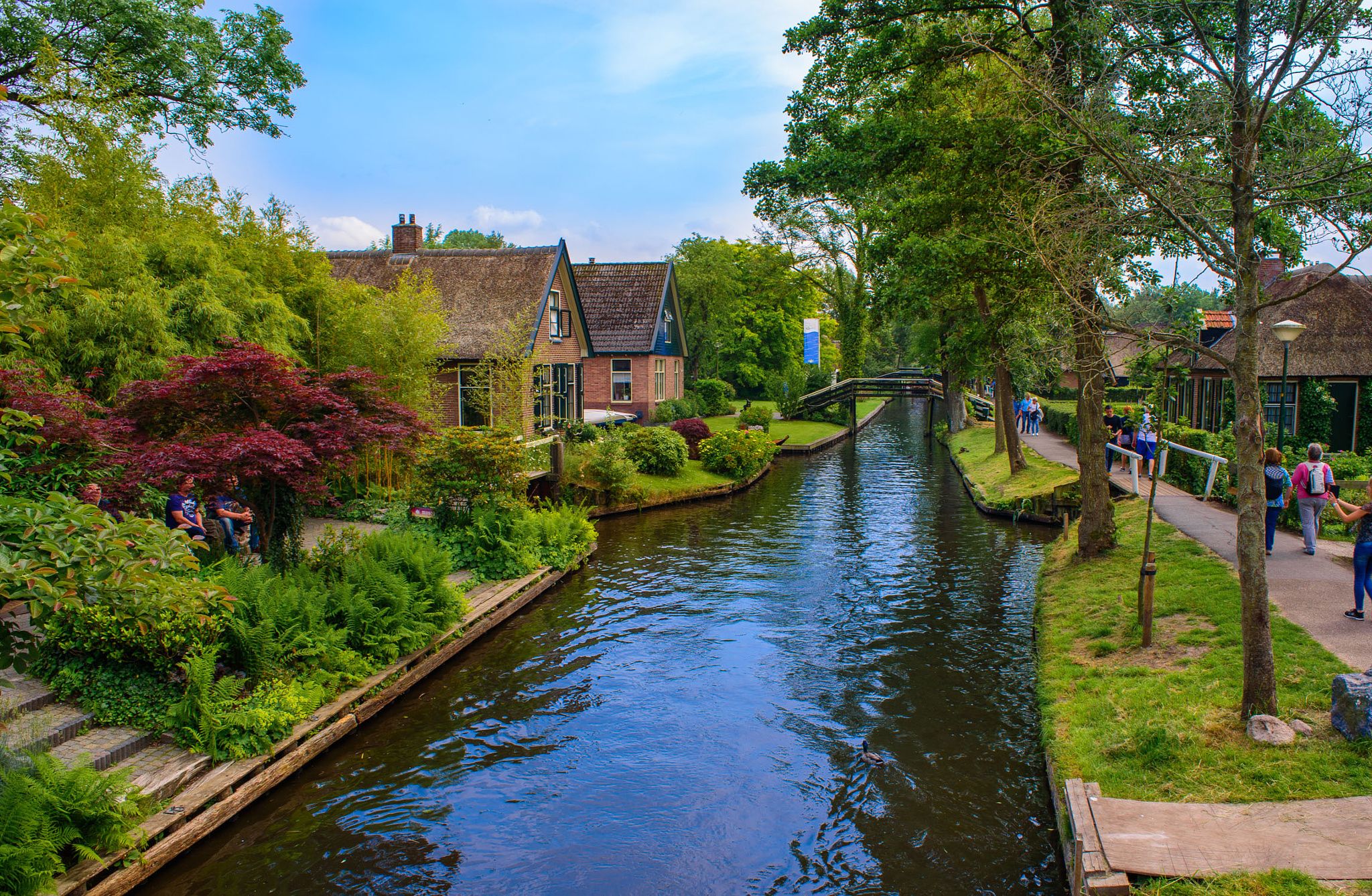 What to do in Giethoorn Villages?
Those who want to visit the town meet different landscapes at different times of the year. Giethoorn, which is a wonderful alternative for those looking for a peaceful and quiet place, lives its best times in the spring months when the flowers start to bloom and the nature starts to color. In addition, the village hosts various events and festivals during the summer months, and the village has a magnificent atmosphere.
In August, the town is flooded with tourists. In winter, with the snowfall, Giethoorn turns into a painting. The canals freeze and turn into ski slopes ready for use by locals and tourists alike. When it comes to places to visit in Giethoorn, not much comes to mind. Still, the village has several museums where you can get an insight into the lives of people of past centuries.
1.Museum De Oude Aarde
Museum De Oude Aarde, opened by Rene Boissevain in 1969, is one of the must-visit museums in town. The precious stones and minerals that Boissevain collected by traveling to different parts of the world are exhibited in the museum. Every year, new pieces are added to the museum collection run by the Visser Family. The museum is open to visitors between 10.00-18.00 in March-October, and between 10.00-17.00 in November-March.
Address: Binnenpad 43, 8355 BR Giethoorn
Website: https://www.deoudeaarde-webshop.com/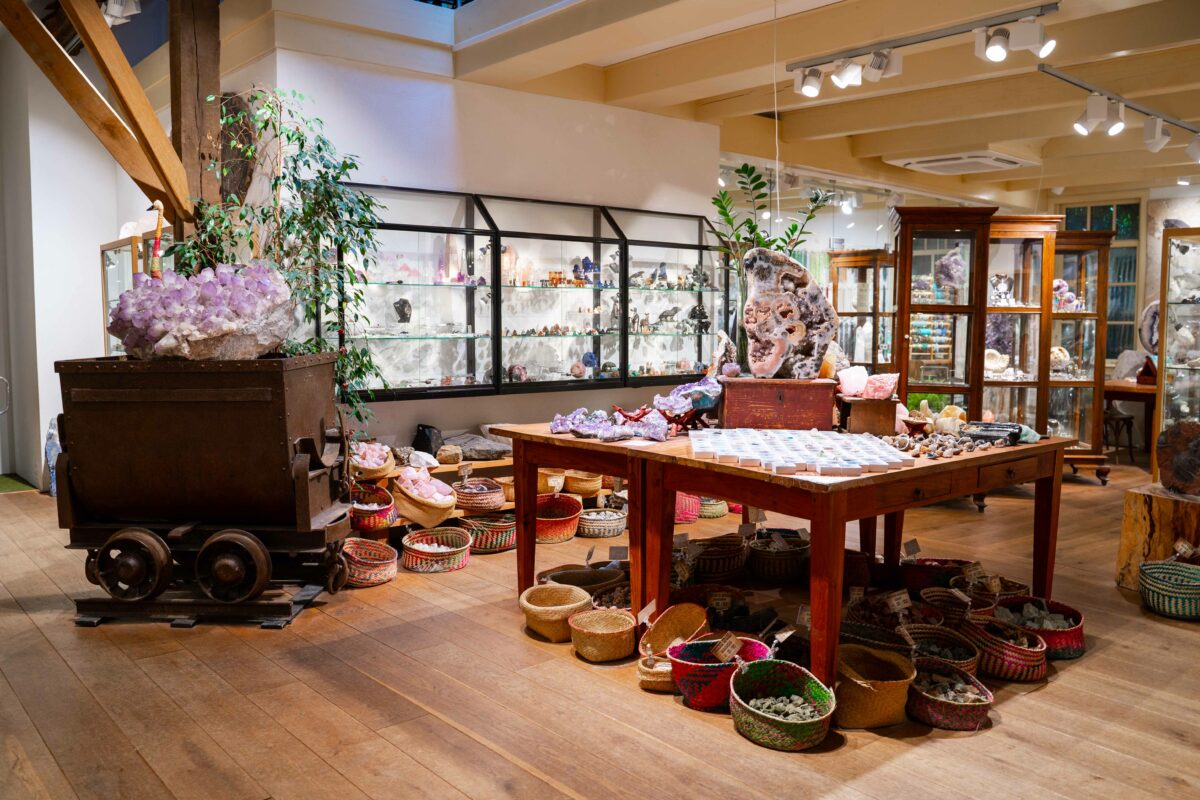 2.Mennonite Church
Mennonite Church, a church founded by Mennonites who were present in Giethoorn about 500 years ago. Mennonites are a sect of Christianity known for its religious rules that reject modern life. The history of the church, located on the main canal, dates back to the 1800s. Giethoorn grew up around this church. Its architecture is considered somewhat peculiar when compared to other churches of the period. It must be interesting to see how families arrive by boat for Sunday mass.
Address: Binnenpad 50, 8355 BT Giethoorn
Website: https://www.infochurchgiethoorn.nl/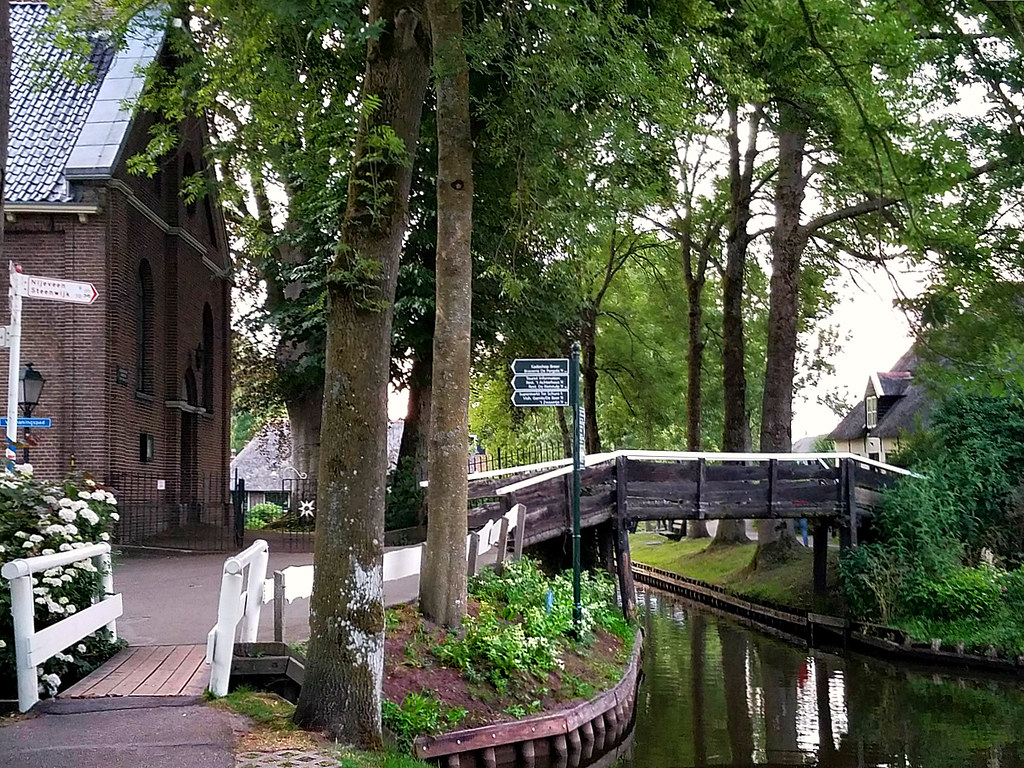 3.Museum Giethoorn 't Olde Maat Uus
Museum Giethoorn 't Olde Maat Uus is a museum displaying the daily life of a typical farmhouse in Giethoorn 100 years ago. The museum, which was opened after an old farmhouse was rebuilt in 1988 and decorated in an old style, is located right across the church. It's a sight to behold in Giethoorn 100 years ago to give you an idea of ​​what everyday life was like. The museum can be visited from Monday to Saturday.
Location: Binnenpad 52, 8355 BT Giethoorn
Website: http://www.museumgiethoorn.nl/
4.Grand Café Fanfare
Grand Café Fanfare is Giethoorn's most famous cafe. This place is very quiet, very calm and very beautiful, ideal for breathing. The popularity of this place is due to the fact that Dutch filmmaker Bert Haanstra shot part of his movie Fanfare in 1958 at the cafe.
Location: Binnenpad 68, 8355 BV Giethoorn
Website: http://www.fanfaregiethoorn.nl/
The Fairytale Village of the Netherlands: Giethoorn
5.De Weerribben-Wieden National Park
Weerribben Wieden National Park is a park surrounding Giethoorn. Every corner of the village is actually a national park. Most canal sightseeing tours offer an extended tour at certain times to delve deeper into nature reserves. There's more to see as you head to other corners of canals and lakes. Many bike trails run through this national park.
We rented a boat ourselves and toured as a group. My boat ride experience was great. It is not difficult to navigate the canals in a small and easy-to-drive boat. Those who wish can also join boat tours with captain. It is a great solution for families with children, those who are afraid to use their own boat and those who want to escape in rainy weather.
On these tours, the captain tells you the history of the village. This includes how thatched roofs were once a solution for the poor, but today they are a luxury for the rich. If you come across rare birds and animals while walking through the canal, it also introduces them.
It is necessary to stay at least 1 night in order to experience the peaceful atmosphere of Giethoorn, which is mostly visited on a daily basis due to its proximity to Amsterdam. For those who are considering accommodation, Hotel de Harmonie is located on the north side of one of the quietest areas of the town, right next to the canal. For those who do not want to spend a lot of money.
Address: Oeverweg, Giethoorn
Website: https://www.visitweerribbenwieden.com/nationaal-park/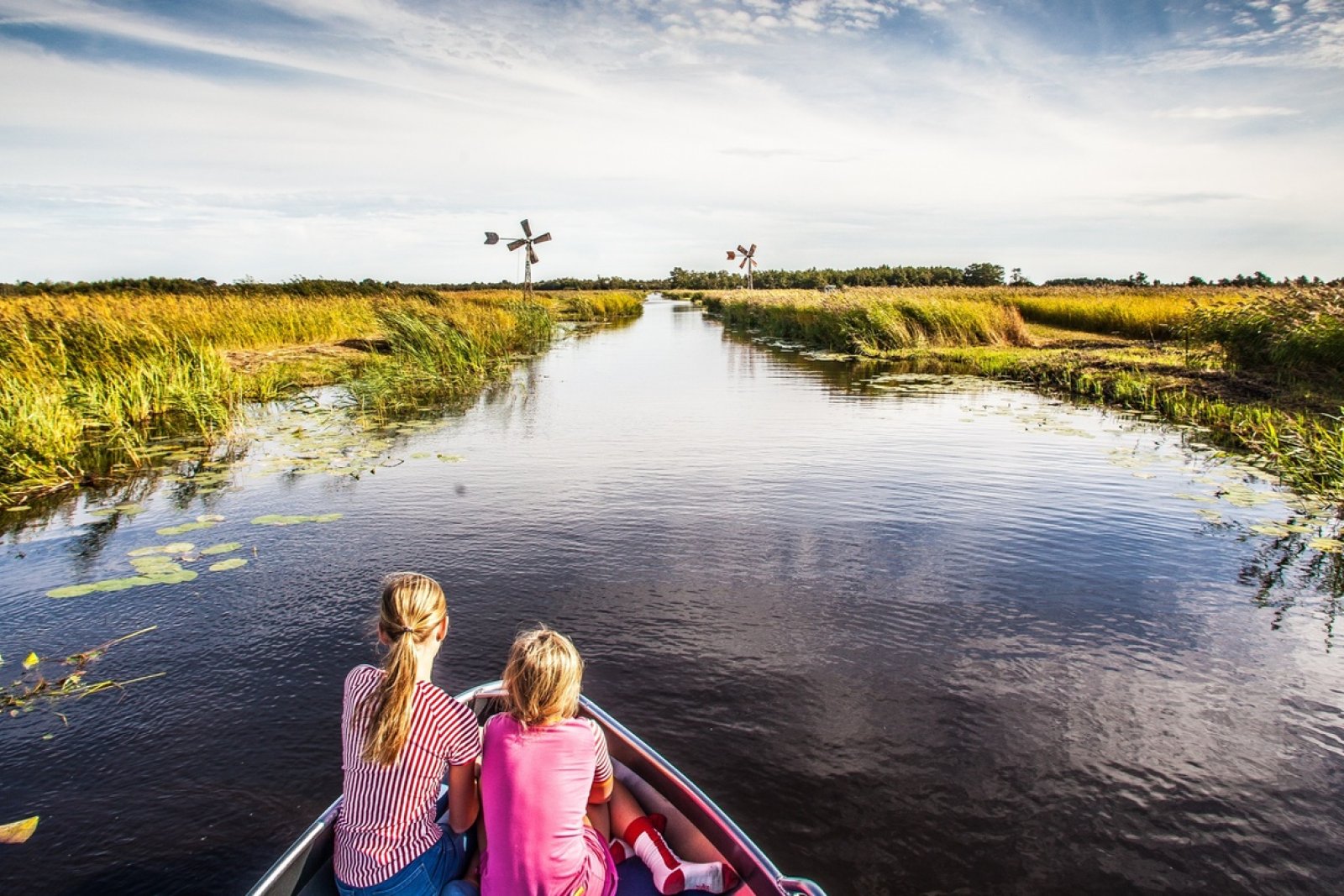 The Fairytale Village of the Netherlands: Giethoorn
How to get to Giethoorn Village Netherlands?
Giethoorn Village is located in the Dutch province of Overijssel. The village, which is part of the Steenwijkerland Municipality, is located approximately 5 km from Steenwijk in the south-west.
It is 120 km from Giethoorn to Amsterdam and can be reached in approximately 1.5 hours. You can also join the Giethoorn tour programs departing from Amsterdam to go to Giethoorn.
Amsterdam Central Railway Station Giethoorn, which can be reached by changing two or three trains from Amsterdam Centraal, is 114 km from Amsterdam. Depending on the number of trains and the time of departure, it takes between 2 and 3.5 hours to reach the village by train from Amsterdam.
The ring bus, which departs from the train station, drops the passengers at the point that is 10 minutes' walk from the village. It takes 1.5 hours by private car from Amsterdam to Giethoorn.
Giethoorn , a village you could never imagine existed in the world, is a dream village with its fairytale houses, canals and bridges, away from the eyes of hungry travelers, from which you will not want to wake up. It's your dream to take a walk along the canal, stand on a wooden bridge and watch the sunset, and take a boat ride among cute thatched farmhouses. This picturesque village should be at the top of your list.
Location: Kerkweg 35, 8355 BJ Giethoorn
Discovering Almere: A Visionary City in the Netherlands
Almere, a city located in the heart of the Netherlands, is a place where innovation, sustainability, and modern design converge. Established in 1976, this young city has quickly gained recognition for its unique urban planning, flourishing community, and dedication to a high quality of life. As one of the fastest-growing municipalities in Europe, Almere offers a vibrant mix of cultural attractions, natural beauty, and forward-thinking initiatives. Join us on a journey to explore what makes Almere an exceptional destination worth discovering.
Discovering Almere: A Visionary City in the Netherlands
1.A City Born from Water:
Almere, situated on reclaimed land, is a testimony to Dutch engineering prowess. The city's creation involved transforming the Zuiderzee, a former inland sea, into a network of artificial lakes, known as the IJsselmeer. The unique topography of Almere, with its waterfronts, canals, and architectural masterpieces, provides residents and visitors with a distinct living experience. The city's design harmoniously integrates water bodies, green spaces, and modern infrastructure, creating a picturesque and sustainable urban environment.
2. Architectural Marvels:
Almere showcases architectural diversity that reflects its commitment to modernity and urban planning. The city boasts numerous award-winning buildings, including the iconic "Cubic Houses" designed by Piet Blom. These cube-shaped houses, tilted at 45-degree angles, challenge conventional norms and offer a glimpse into the city's progressive mindset. Other notable structures include the futuristic "Eye Film Institute," the striking "Kunstlinie Almere Flevoland" theater, and the energy-neutral "The Wave" residential complex. Exploring Almere's architectural wonders is like embarking on a captivating journey through design and innovation.
3. Green Spaces and Outdoor Recreation:
Nature lovers will find Almere to be a true haven. The city is home to expansive parks, forests, and nature reserves, offering ample opportunities for outdoor activities and relaxation. The "Almere Forest" is a vast woodland where visitors can enjoy walking, cycling, or picnicking amidst serene surroundings. The "Oostvaardersplassen" nature reserve, renowned for its diverse bird population, invites birdwatchers and wildlife enthusiasts to explore its wetlands and open plains. Additionally, the "Noorderplassen" lake and "Gooimeer" waterfront provide options for water sports, boating, and leisurely strolls along the shores.
4. Cultural Delights:
Almere's cultural scene is thriving, with a multitude of attractions catering to various interests. The "Kunstlinie Almere Flevoland" serves as a hub for visual and performing arts, hosting exhibitions, theater performances, and concerts. Art enthusiasts can explore the "KunstRoute" (Art Route), a curated path that showcases public artworks scattered throughout the city. For history buffs, the "De Nieuwe Bibliotheek" (The New Library) offers an immersive experience with its extensive collection, exhibitions, and interactive displays. Additionally, Almere's diverse population contributes to a vibrant culinary scene, offering a wide range of international cuisines to satisfy every palate.
5. Sustainable Initiatives:
Almere stands as a beacon of sustainability and eco-consciousness. The city has made significant strides in implementing green initiatives, aiming to become fully energy-neutral by 2022. Almere's commitment to sustainability is evident in its energy-efficient buildings, renewable energy sources, and robust cycling infrastructure. The "Floating Pavilion," an innovative structure that generates its energy from solar panels and serves as a sustainable conference center, epitomizes Almere's dedication to eco-friendly practices. The city's emphasis on sustainability not only enhances its livability but also inspires visitors to adopt a more environmentally conscious lifestyle
What to do in Almere?
Almere, a city known for its modern design and commitment to sustainability, offers a range of exciting activities and attractions for visitors to enjoy. Whether you're a nature lover, an art enthusiast, or a history buff, there's something for everyone in Almere. Here are some top things to do in this captivating city:
1.Discover Architectural Marvels:
Embark on a journey to explore Almere's architectural wonders. Start with the iconic "Cubic Houses" designed by Piet Blom. These tilted cube-shaped houses are a sight to behold and offer a unique perspective on urban living. Visit the "Eye Film Institute" and admire its futuristic design, which houses a cinema, exhibition spaces, and a panoramic rooftop terrace. Don't miss the "Kunstlinie Almere Flevoland," a visually striking theater that hosts an array of performances and cultural events.
2.Immerse Yourself in Nature:
Almere boasts an abundance of green spaces and nature reserves, making it a haven for outdoor enthusiasts. Begin by exploring the "Almere Forest," a sprawling woodland perfect for leisurely walks, picnics, and cycling. For a unique wildlife experience, visit the "Oostvaardersplassen" nature reserve, where you can observe diverse bird species and other wildlife in their natural habitat. If you're a water sports enthusiast, head to the "Noorderplassen" lake or "Gooimeer" waterfront, where you can indulge in sailing, boating, or simply relaxing by the water.
3. Dive into Cultural Delights:
Almere's cultural scene is thriving, offering a range of attractions to explore. Start by visiting the "Kunstlinie Almere Flevoland," a vibrant hub for visual and performing arts. Catch an exhibition, theater performance, or concert to immerse yourself in the city's creative spirit. Take a stroll along the "KunstRoute" (Art Route) and discover captivating public artworks that adorn the city's streets and squares. For history enthusiasts, the "De Nieuwe Bibliotheek" (The New Library) is a must-visit, where you can delve into Almere's past through its extensive collection, exhibitions, and interactive displays.
4.Indulge in Culinary Delights:
Almere's diverse population contributes to a vibrant culinary scene, offering a wide range of international cuisines to tantalize your taste buds. Explore the city's numerous restaurants, cafes, and food markets, and savor delicious dishes from around the world. Whether you're craving Dutch delights, Asian fusion, Mediterranean flavors, or vegan and vegetarian options, Almere has something to cater to every palate.
5.Engage in Water Sports and Recreation:
With its extensive network of canals, lakes, and waterfronts, Almere offers ample opportunities for water sports and recreation. Rent a boat, kayak, or paddleboard and explore the city's waterways at your own pace. Join a sailing lesson or take a guided tour to experience the thrill of navigating through Almere's beautiful aquatic landscape. Alternatively, enjoy a leisurely bike ride along the well-planned cycling paths that crisscross the city, allowing you to soak in the scenery while staying active.
Almere is a city that combines modernity, sustainability, and a rich cultural heritage to create a unique and captivating destination. Whether you're fascinated by innovative architecture, eager to immerse yourself in nature, or keen to explore the vibrant cultural scene, Almere has something for everyone. So, plan your visit and get ready to discover the hidden gems of this dynamic Dutch city.