Eindhoven Travel Guide 2022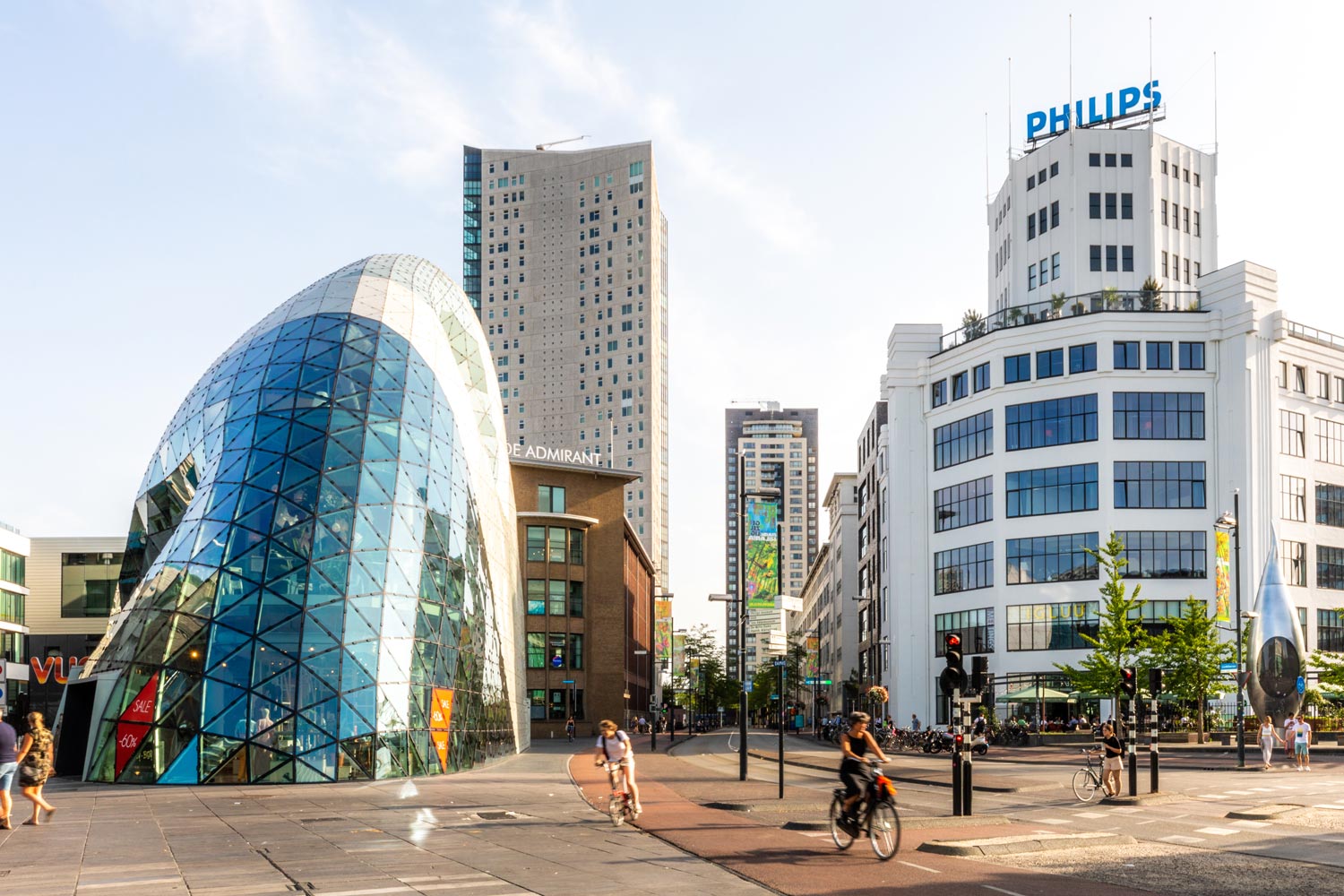 Eindhoven is the fifth largest city in the Netherlands and is located in the southeastern part of the country. The city is a traditional center of industry, technology and design and has always had a significant impact on the economic growth of the Netherlands through the ages. 
Eindhoven is still considered the great design and technology center of Western Europe. Eindhoven is among several major international destinations such as Düsseldorf, Brussels and Amsterdam. All three cities are just 90 minutes' drive from Eindhoven. Comprehensive Eindhoven travel guide is with you.
Eindhoven Travel Guide
General Information
Country: Netherlands
Region: Southeast Netherlands
Area: 88.87 km2
Language: Dutch
Average temperature: 10 Celsius
Climate: Oceanic Climate
Vegetation: Forest
Difference between GMT: GMT+2
Phone Code: +358
Currency: Euro
Eindhoven Transportation
Eindhoven Airport is the second largest airport in the Netherlands. The distance between Eindhoven Airport and Eindhoven city center is 9 kilometers. You can reach the city center by bus, taxi or car. Bus line 400 is direct access from Eindhoven Airport to the city centre. It takes about 15 minutes and is available every 15 minutes from 7.15 to 23.45 weekdays. The weekend bus line also runs every 15 minutes, but between 8.30 and 23.45. There are also many taxis at the airport that can take you to the heart of the city. Taxis cost 3 euros per kilometer.
Eindhoven does not have an underground transport network. You can travel anywhere in the city by bus and taxi. Eindhoven has an extensive bus network that even reaches the outskirts of the city. Buses run between 06:00 and 01:00. To use the buses, you need to buy a charged OV-chipkaart for 7.50 Euros. They are located at the airport and at central bus stops. You can also use taxis to get around Eindhoven. Taxis cost an average of 3 Euros. Some taxi companies apply their own prices.
Best Time to Visit Eindhoven
The weather in Eindhoven is generally slightly warmer in the summer and colder than the national average in the winter. Eindhoven has its famous heavy summer rains that occur every one to two weeks. The warmest month is August and the coldest is January. We recommend visiting Eindhoven in late spring or early autumn. It is also recommended to visit Eindhoven for at least three days.
Places to Visit in Eindhoven
Eindhoven used to be an industrial powerhouse and this can still be observed with its distinctive architectural style. The city offers its visitors wonderful cultural attractions. There are amazing museums, beautiful parks and historic churches all over Eindhoven.
Van Abbe Museum
The Van Abbemuseum displays wonderful contemporary art each year and is home to many works by important artists such as Pablo Picasso and Marc Chagall. The museum is one of Eindhoven's most popular attractions and boasts stunning architecture.
PreHistorisch Dorp
PreHistorisch Dorp is a rather interesting open-air museum that showcases life in Eindhoven from the Iron Age to the Middle Ages. PreHistorisch Dorp offers a unique journey into antiquity with many animations and games.
DAF Museum
The DAF Museum is dedicated to DAF Trucks, founded in Eindhoven. The museum displays many interesting engineering vehicles and blueprints for the first DAF Trucks.
Philips Museum
Eindhoven was also home to another industrial giant, Philips. The Philips Museum tells the story of founder Gerard Philips and the company's success over the years. There are many games for children in the museum.
St. Catherine's Church
st. Catherine's Church is Eindhoven's magnificent historical landmark. The church was completed in 1867 and is a work of magnificent neo-gothic architecture. The church is within walking distance of the city center and is a must-see attraction.
Festivals in Eindhoven
You can also plan your trip according to festivals:
Lichtjesroute – Path of Lights (September)
Dutch Design Week (October)
Glow Festival (November)
Where to Stay in Eindhoven
Accommodation information should also be included in the Eindhoven travel guide . If you are in Eindhoven for business matters, you can stay at hotels located near Eindhoven Airport. They are located just outside the airport and are very well organized. If your budget is limited, you can stay in the houses of the region at affordable prices. Eindhoven also has many hotels, from luxury to low-budget. There are many options for you when it comes to accommodation in Eindhoven. The city is backpacker friendly and has many affordable hostels.
What to Eat in Eindhoven
Eindhoven is the city of freshly brewed coffees, Stroopwafels, fast food and chocolates. There's a snack bar on every street that makes great chips and sausages. Eindhoven also has many great restaurants serving local and global cuisine.
Shopping Facilities
Although Eindhoven offers its visitors a variety of shopping opportunities, the city is famous for its street markets ranging from antiques to fresh vegetables. You can find a street market in different parts of the city almost every day of the week. On the Kruisstraat you can find many local shops as well as international brands. Eindhoven is also a city of design and there are many shops that design their own products. The Strijp-S neighborhood in particular is a great place to look for these shops. In Eindhoven you can buy gorgeous lighting decorations and designer jewellery.
Nightlife in Eindhoven
Eindhoven offers its visitors a wide variety of nightlife options. There are many live music venues, bars, dance clubs and rock bars. The Market Square area offers its guests a relaxing and gentle atmosphere, while Stratumseind ​​has many rock bars and pubs. Stratumsiend is the longest nightlife street in the Netherlands with 60 consecutive bars.
What You Should Know Before Visiting Eindhoven
Exploring Eindhoven by bike is easier and more fun. They are available for free almost anywhere in the city.
Credit and debit cards are widely accepted.
Although Eindhoven is a very safe city, walking at night is not recommended.
To encourage cycling, public transport in the Netherlands is more expensive compared to other European cities. You can always rent a bike.
Exploring Amsterdam's Best Laptop-Friendly Cafés for Digital Nomads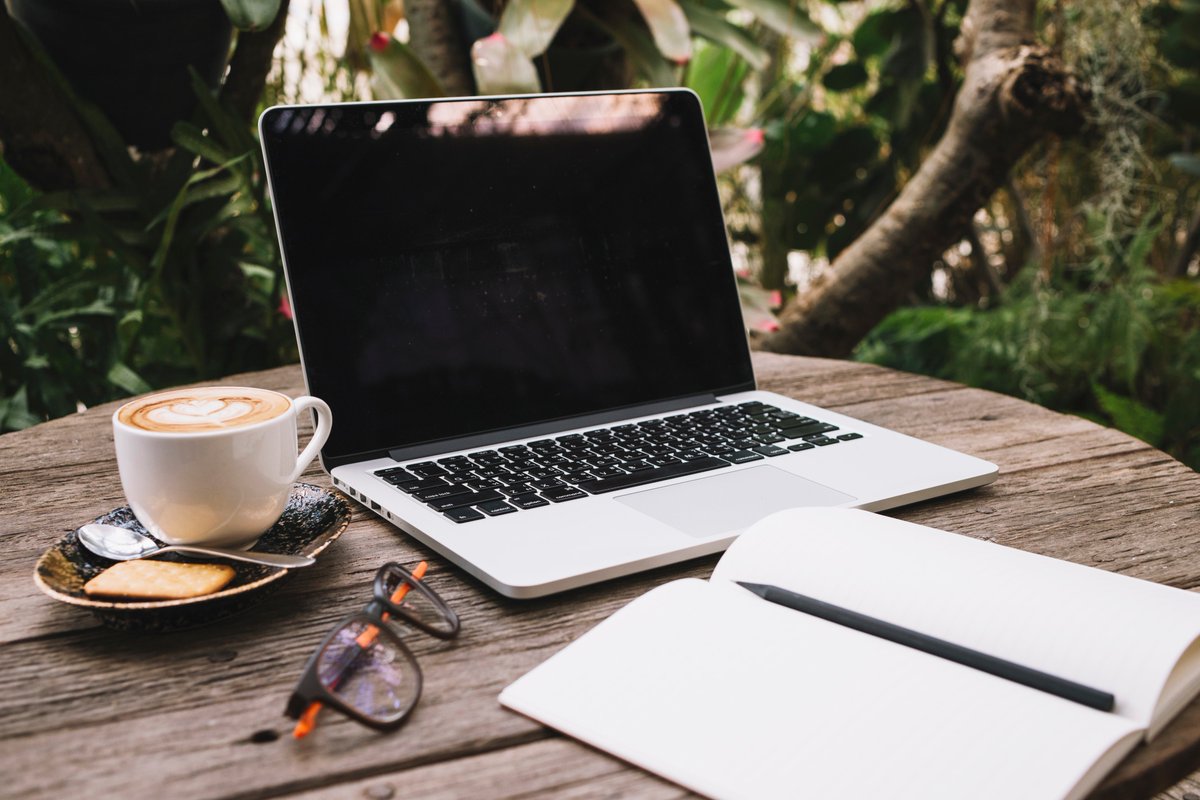 Amsterdam, renowned for its picturesque canals and vibrant cultural scene, has become a haven for digital nomads seeking a balance between work and exploration.
The city's charming coffee culture, coupled with its tech-savvy ambiance, has given rise to a plethora of laptop-friendly cafés that cater to the needs of remote workers. This article serves as a guide to some of the best laptop-friendly cafés in Amsterdam, where you can sip your favorite brew while staying productive.
Exploring Amsterdam's Best Laptop-Friendly Cafés for Digital Nomads
1. Coffee & Coconuts
Nestled in a former cinema, Coffee & Coconuts is a spacious and aesthetically pleasing café that offers a tranquil atmosphere for those seeking a productive work environment. With three levels of seating options, including cozy corners and communal tables, you can easily find your perfect spot. The café's ample power outlets, free Wi-Fi, and a menu featuring an array of coffee options, fresh juices, and healthy dishes make it a top choice for digital nomads.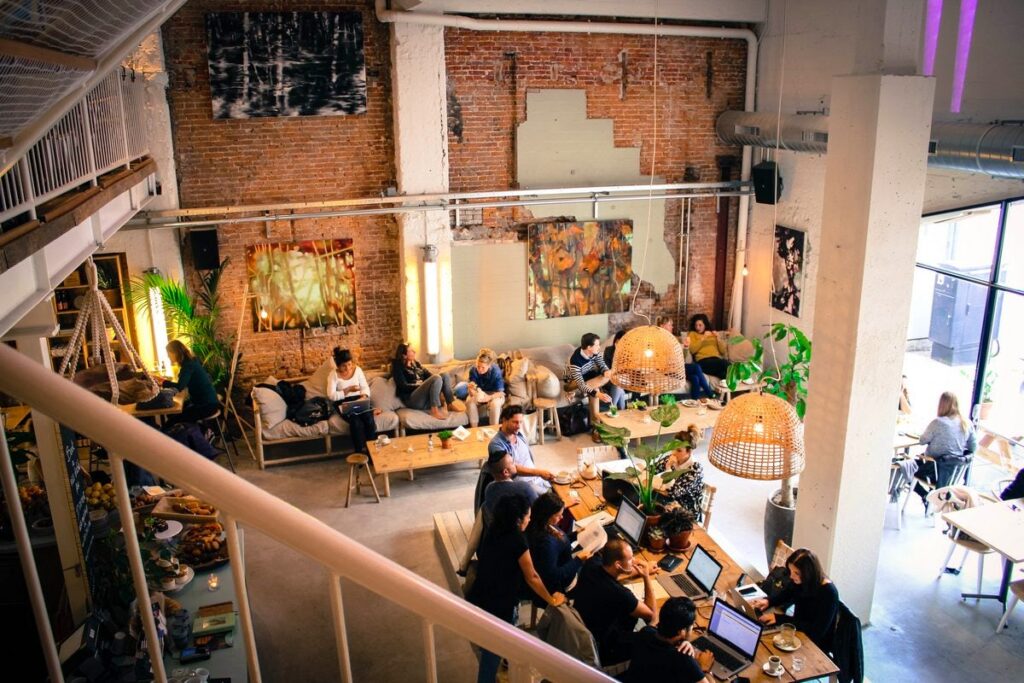 2. The Hoxton
Located along the Herengracht canal, The Hoxton is a stylish boutique hotel that boasts a welcoming lobby turned café, perfect for remote work. The ambiance blends vintage décor with modern amenities, offering a comfortable space to settle in with your laptop. The Hoxton provides complimentary Wi-Fi, a selection of delicious pastries, and a range of beverages from expertly brewed coffee to herbal teas.
3. Lot Sixty One Coffee Roasters
For the true coffee connoisseur, Lot Sixty One Coffee Roasters is a must-visit. This cozy café is celebrated for its exceptional coffee brewed from beans roasted on-site. The café's minimalist design and serene ambiance create an ideal setting for focused work. The absence of distracting background noise further enhances its suitability for remote work. While here, savor a cup of their artisanal coffee and perhaps engage in a quick chat with the knowledgeable baristas.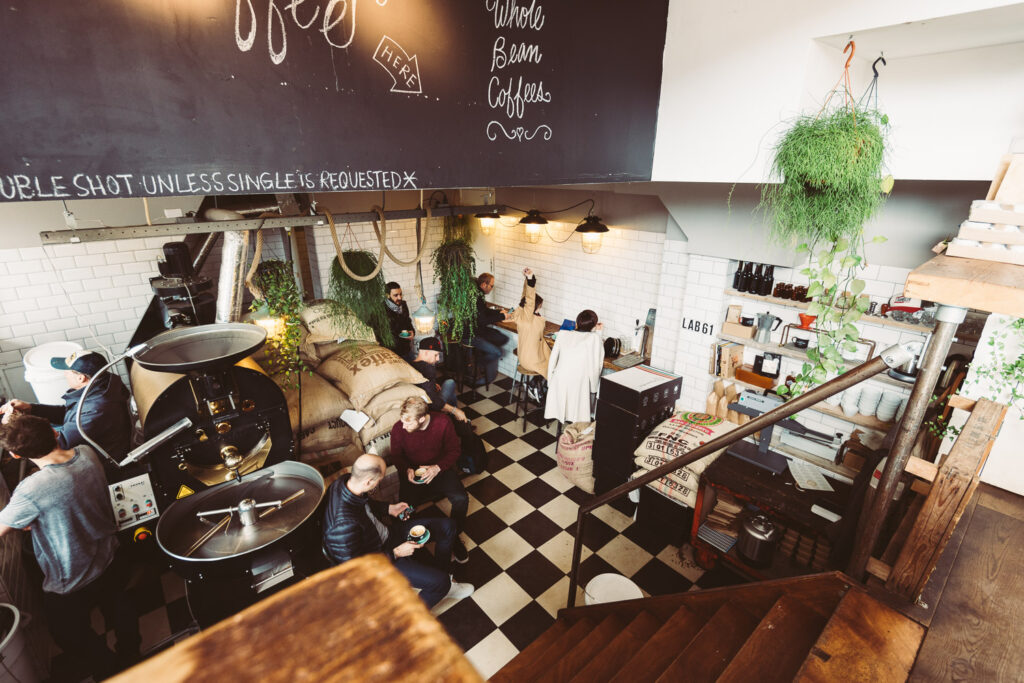 4. Scandinavian Embassy
A haven for lovers of Scandinavian design and quality coffee, Scandinavian Embassy offers a sophisticated space for digital nomads. The café's specialty coffee is crafted with precision, and the menu features an assortment of delectable treats. The minimalist interior, characterized by clean lines and natural materials, fosters a serene atmosphere, while the friendly staff ensures your caffeine fix is accompanied by a productive work session.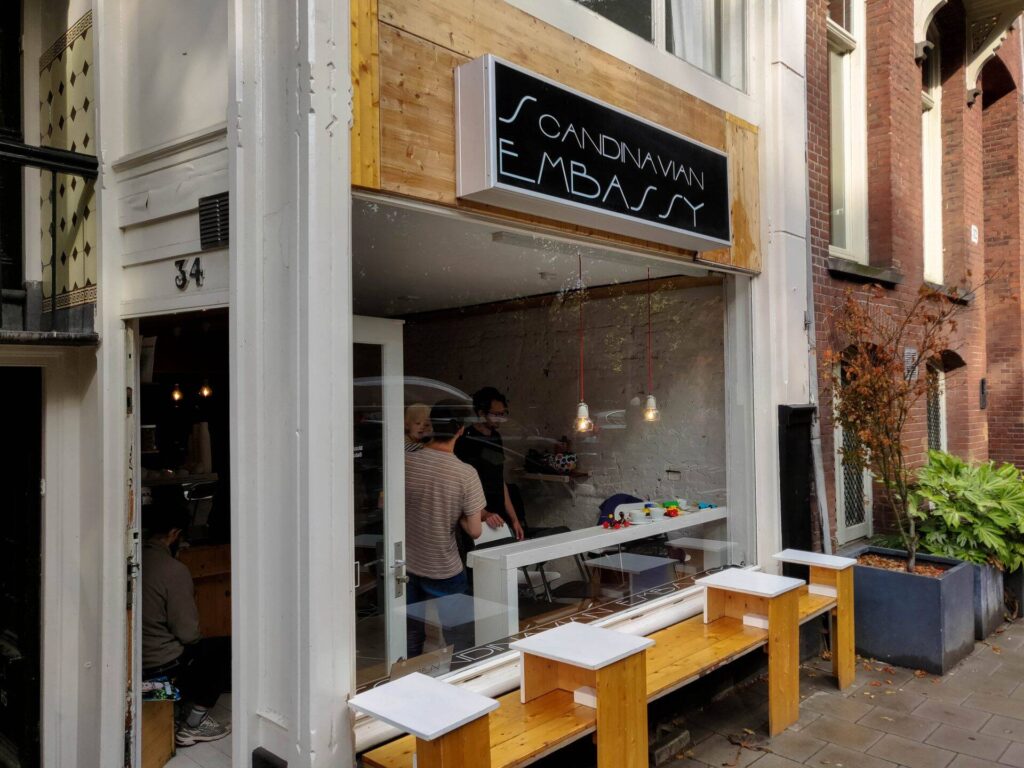 5. De Wasserette
De Wasserette, with its rustic charm and inviting atmosphere, seamlessly blends into Amsterdam's cozy ambiance. Known for its artisanal bread and pastries, the café provides an inviting environment for those seeking a laptop-friendly space. The wooden tables, ample natural light, and the aroma of freshly baked goods set the stage for a productive work session, complemented by their selection of coffees and teas.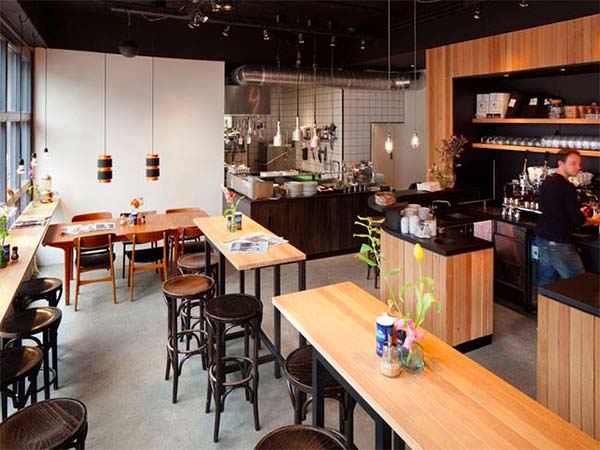 Amsterdam's coffee culture and digital-friendly mindset have given rise to an array of cafés where remote workers can find solace while pursuing their professional endeavors. From the trendy Coffee & Coconuts to the coffee perfectionists' haven, Lot Sixty One Coffee Roasters, each café offers a unique experience. So, whether you're a digital nomad in search of an inspirational workspace or a traveler looking to soak up Amsterdam's charm while catching up on work, these laptop-friendly cafés have got you covered. Embrace the blend of productivity and leisure that Amsterdam's coffee scene has to offer.