What is Amsterdam known for?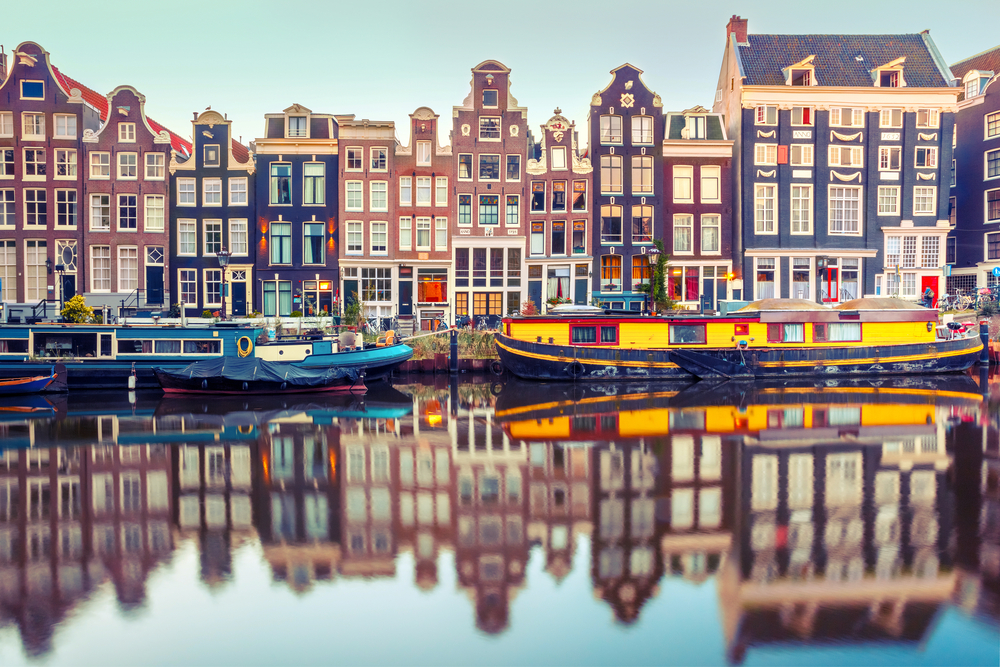 Amsterdam, the capital of the Netherlands, brings many things to mind… With the legalization of drugs, the Red Light District, canals and bridges, it has always been remembered. Amsterdam is a city where those who travel without a plan, like me, will encounter many things while walking around and be amazed. The women in Red Light that suddenly appear before you, the Dutch Wafer with the scent of cinnamon rising from the side of the Flower Market, the magic shows that overshadow the performances you watch many times in Dam Square, the ice creams with marijuana sold in the market you enter to buy water, the transportation line that passes as a taxi train. You can find many things in this article. Let's get started then!
1. Amsterdam Canals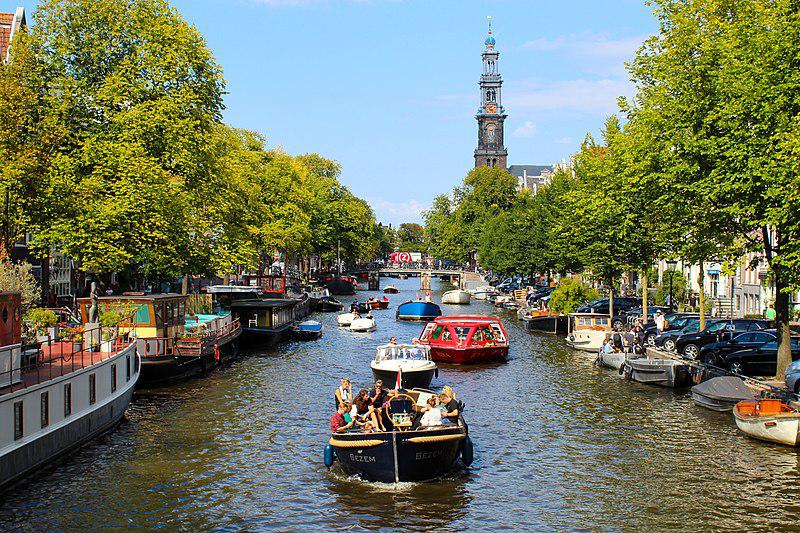 It is possible to tour with those beautiful boats that the sun hits, and while you sit by the canals and say "what an orderly city" in those sweet conversations you have with your feet dangling, Amsterdam is the city where you will be fascinated by the colorful flowers, and where you can watch the surroundings to the fullest from the bridges you cross with the bike you rented.
2. Dam Square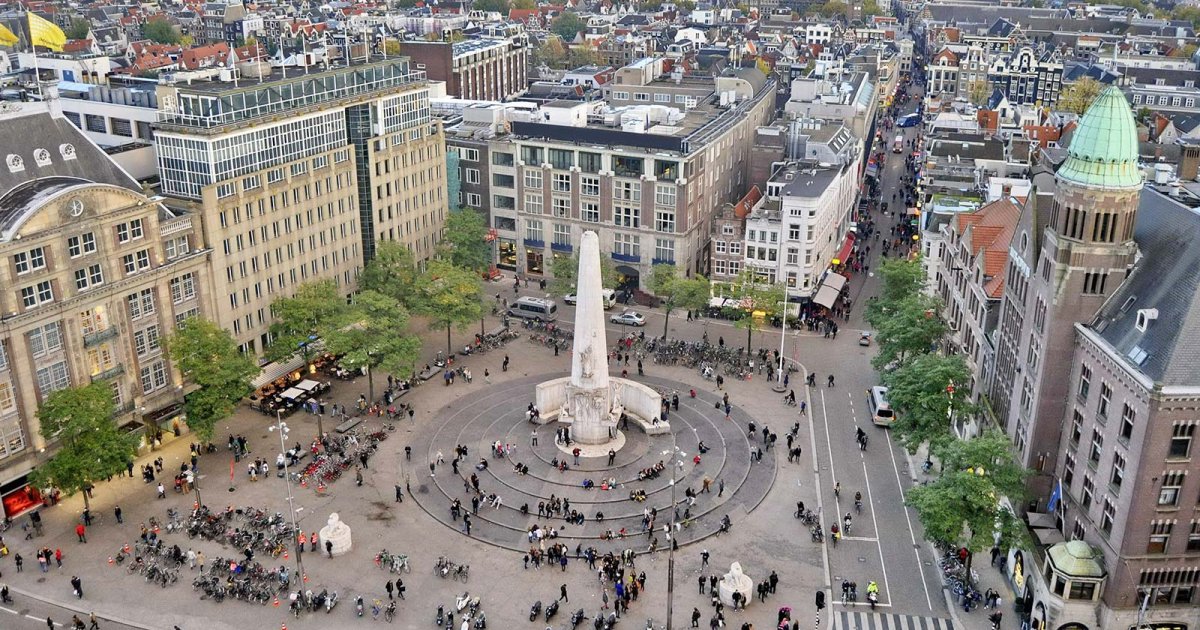 Dam Square is one of the most well-known places in the city, where the city's brand buildings and important activities are held. It is also located in the historic district of Amsterdam, about 750 meters south of the central train station. At the western end of the square is the Royal Palace of Amsterdam, a neoclassical building, while on the other side are the Nieuwe Kerk (New Church), Madame Tussaud's Museum. There is also a national monument made of white stone in the square. This National Monument I would say do not pass without examining this place, which was erected in 1956 to commemorate the victims of the World War II, and you will definitely pass by when you go to Amsterdam.
3. Begijnhof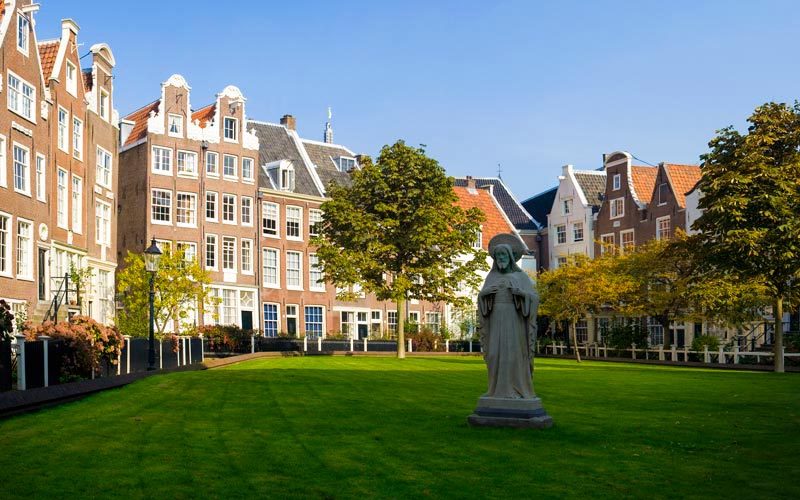 The Begijnhof is the city's key courtyard, home to some of Amsterdam's most beautiful and important buildings. It was built in 1346 as a place of worship for the Catholic sisterhood Begijntjes, who lived as nuns without taking monastic vows. And the people living here undertook the education of the poor and caring for the sick in return for the rooms they lived in.
4. Red Light District
The Red Light District, translated "Red Light District", is a more famous place in Amsterdam than Amsterdam. The Red Light District is not a place you can see everywhere. That's why I was very surprised at what I saw when our path unknowingly went down this street, of course, a place where prostitution is allowed may have seemed strange, if we had to look, you know why the prostitution profession and many soft drugs are allowed in the Netherlands? They made such a breakthrough to reduce the crime rate. Indeed, prostitution, one of the oldest professions in the world, is legal in Amsterdam so that it remains under the control and trust of the state. The location of this street is right next to Dam Square.
5. Rijskmuseum
The Rijksmuseum (State Museum) is a Dutch national museum located on the Museumplein in Amsterdam. This museum showcases art, craft, and history pieces. The museum has a large collection of paintings from the Dutch Golden Age and a sizable collection of Asian art. If you have an interest in art, you should not leave without seeing this place. There are paintings by Jacob van Ruysdael, Frans Hals, Johannes Vermeer, Jan Steen and Rembrandt and their students working in his workshop. The museum also houses the Netherlands' largest art history library. In terms of location, its façade is on Stadhouderskade, while the other side overlooks the Museumplein, where the Van Gogh Museum, Stedelijk Museum and Concertgebouw are located. (I think I can define it as the place where those who went without taking a photo in front of the Iamsterdam text, see me)
6. Van Gogh Museum
Van Gogh is the person I admire. I know everything from the story of cutting off his ear to the narrations of how he felt while painting his paintings (I've been looking for socks with starry nighties for a year, I regret not getting them when I saw them at the museum). Let's come to this museum, where Van Gogh's paintings and drawings are exhibited in the world. Although it is the largest museum, 1.6 million people visited the museum in 2014. In addition, the museum is a national museum.
7. Anne Frank's House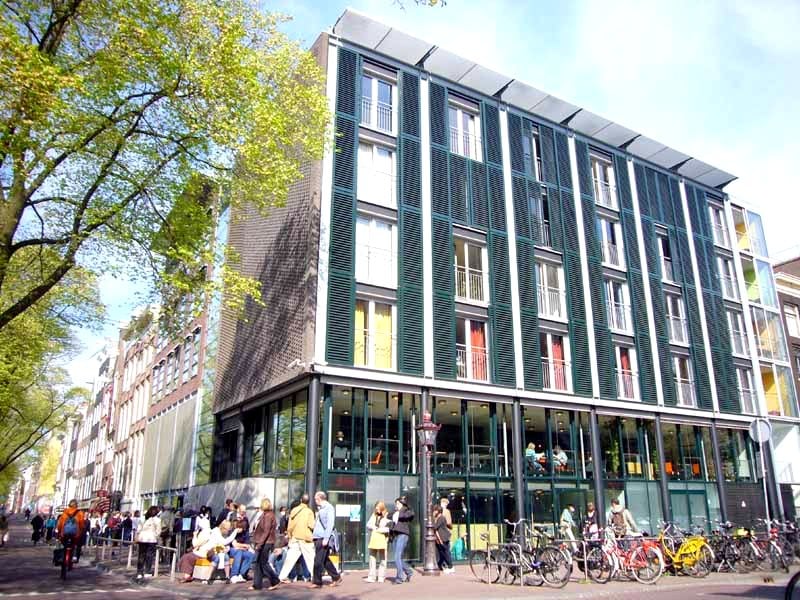 Anneliese "Anne" Marie Frank (June 12, 1929 – February 1945) was a Jewish girl, one of the iconic figures of the Holocaust. With Adolf Hitler's entry into the Netherlands, restrictions are imposed on the Jews here, as in Germany, and Anne Marie Frank begins to hide in a secret compartment at the back of Otto Frank's office building in Prinsengracht at the age of 14. She uses a diary given to her on her thirteenth birthday on a daily basis and writes down the events that took place during the two years she was hiding, then she decides to publish her diary with the pressure of her close circle. The diary has been translated into 60 languages ​​and entered the bestseller list. I think Anne Frank's house is the trace of a story worth seeing…
8. Vondelpark
Built by philanthropists, Amsterdam's largest park, Vondelpark, took its name from the 17th century poet Joost van den Vondel. Vondelpark has 100 species of trees, a wide variety of local or imported plants and, among many other features, an orchestra stage, a rose garden, lakes and small streams that are home to many house birds. The Peacocks here are also very friendly… If you want to relax a little during your trip, this place will be a great choice.
9. Flower Market (Bloemenmarkt)
In the Bloemenmarkt in Amsterdam, which means in our language, in the Flower Market, gardeners who came from their small lands to the upper Amstel River by boat were selling the flowers and plants they brought by anchoring at this point. Today, flower stalls are still located on small boats, but they are now fixed to the point where they are.
There is a great interest in this market, where there are various plant species, and small souvenirs are also sold here. Also, you will smell a very sweet smell of cinnamon as you stroll here, because there is a place nearby that bakes very good Dutch waffles. I say you should definitely try it.
10. Heineken Experience
Heineken Experience is an interactive museum where various entertaining presentations are made with Heineken, the country's famous beer company. The tasting bar in the museum, the mini-brewery and the barn tour where you can see the magnificent pack horses are some of the most remarkable points of the Heineken Experience. In addition, Heineken produces nearly half of the beer sold in Amsterdam, has many production facilities in different parts of the country and exports it all over the world.
Discovering Almere: A Visionary City in the Netherlands
Almere, a city located in the heart of the Netherlands, is a place where innovation, sustainability, and modern design converge. Established in 1976, this young city has quickly gained recognition for its unique urban planning, flourishing community, and dedication to a high quality of life. As one of the fastest-growing municipalities in Europe, Almere offers a vibrant mix of cultural attractions, natural beauty, and forward-thinking initiatives. Join us on a journey to explore what makes Almere an exceptional destination worth discovering.
Discovering Almere: A Visionary City in the Netherlands
1.A City Born from Water:
Almere, situated on reclaimed land, is a testimony to Dutch engineering prowess. The city's creation involved transforming the Zuiderzee, a former inland sea, into a network of artificial lakes, known as the IJsselmeer. The unique topography of Almere, with its waterfronts, canals, and architectural masterpieces, provides residents and visitors with a distinct living experience. The city's design harmoniously integrates water bodies, green spaces, and modern infrastructure, creating a picturesque and sustainable urban environment.
2. Architectural Marvels:
Almere showcases architectural diversity that reflects its commitment to modernity and urban planning. The city boasts numerous award-winning buildings, including the iconic "Cubic Houses" designed by Piet Blom. These cube-shaped houses, tilted at 45-degree angles, challenge conventional norms and offer a glimpse into the city's progressive mindset. Other notable structures include the futuristic "Eye Film Institute," the striking "Kunstlinie Almere Flevoland" theater, and the energy-neutral "The Wave" residential complex. Exploring Almere's architectural wonders is like embarking on a captivating journey through design and innovation.
3. Green Spaces and Outdoor Recreation:
Nature lovers will find Almere to be a true haven. The city is home to expansive parks, forests, and nature reserves, offering ample opportunities for outdoor activities and relaxation. The "Almere Forest" is a vast woodland where visitors can enjoy walking, cycling, or picnicking amidst serene surroundings. The "Oostvaardersplassen" nature reserve, renowned for its diverse bird population, invites birdwatchers and wildlife enthusiasts to explore its wetlands and open plains. Additionally, the "Noorderplassen" lake and "Gooimeer" waterfront provide options for water sports, boating, and leisurely strolls along the shores.
4. Cultural Delights:
Almere's cultural scene is thriving, with a multitude of attractions catering to various interests. The "Kunstlinie Almere Flevoland" serves as a hub for visual and performing arts, hosting exhibitions, theater performances, and concerts. Art enthusiasts can explore the "KunstRoute" (Art Route), a curated path that showcases public artworks scattered throughout the city. For history buffs, the "De Nieuwe Bibliotheek" (The New Library) offers an immersive experience with its extensive collection, exhibitions, and interactive displays. Additionally, Almere's diverse population contributes to a vibrant culinary scene, offering a wide range of international cuisines to satisfy every palate.
5. Sustainable Initiatives:
Almere stands as a beacon of sustainability and eco-consciousness. The city has made significant strides in implementing green initiatives, aiming to become fully energy-neutral by 2022. Almere's commitment to sustainability is evident in its energy-efficient buildings, renewable energy sources, and robust cycling infrastructure. The "Floating Pavilion," an innovative structure that generates its energy from solar panels and serves as a sustainable conference center, epitomizes Almere's dedication to eco-friendly practices. The city's emphasis on sustainability not only enhances its livability but also inspires visitors to adopt a more environmentally conscious lifestyle
What to do in Almere?
Almere, a city known for its modern design and commitment to sustainability, offers a range of exciting activities and attractions for visitors to enjoy. Whether you're a nature lover, an art enthusiast, or a history buff, there's something for everyone in Almere. Here are some top things to do in this captivating city:
1.Discover Architectural Marvels:
Embark on a journey to explore Almere's architectural wonders. Start with the iconic "Cubic Houses" designed by Piet Blom. These tilted cube-shaped houses are a sight to behold and offer a unique perspective on urban living. Visit the "Eye Film Institute" and admire its futuristic design, which houses a cinema, exhibition spaces, and a panoramic rooftop terrace. Don't miss the "Kunstlinie Almere Flevoland," a visually striking theater that hosts an array of performances and cultural events.
2.Immerse Yourself in Nature:
Almere boasts an abundance of green spaces and nature reserves, making it a haven for outdoor enthusiasts. Begin by exploring the "Almere Forest," a sprawling woodland perfect for leisurely walks, picnics, and cycling. For a unique wildlife experience, visit the "Oostvaardersplassen" nature reserve, where you can observe diverse bird species and other wildlife in their natural habitat. If you're a water sports enthusiast, head to the "Noorderplassen" lake or "Gooimeer" waterfront, where you can indulge in sailing, boating, or simply relaxing by the water.
3. Dive into Cultural Delights:
Almere's cultural scene is thriving, offering a range of attractions to explore. Start by visiting the "Kunstlinie Almere Flevoland," a vibrant hub for visual and performing arts. Catch an exhibition, theater performance, or concert to immerse yourself in the city's creative spirit. Take a stroll along the "KunstRoute" (Art Route) and discover captivating public artworks that adorn the city's streets and squares. For history enthusiasts, the "De Nieuwe Bibliotheek" (The New Library) is a must-visit, where you can delve into Almere's past through its extensive collection, exhibitions, and interactive displays.
4.Indulge in Culinary Delights:
Almere's diverse population contributes to a vibrant culinary scene, offering a wide range of international cuisines to tantalize your taste buds. Explore the city's numerous restaurants, cafes, and food markets, and savor delicious dishes from around the world. Whether you're craving Dutch delights, Asian fusion, Mediterranean flavors, or vegan and vegetarian options, Almere has something to cater to every palate.
5.Engage in Water Sports and Recreation:
With its extensive network of canals, lakes, and waterfronts, Almere offers ample opportunities for water sports and recreation. Rent a boat, kayak, or paddleboard and explore the city's waterways at your own pace. Join a sailing lesson or take a guided tour to experience the thrill of navigating through Almere's beautiful aquatic landscape. Alternatively, enjoy a leisurely bike ride along the well-planned cycling paths that crisscross the city, allowing you to soak in the scenery while staying active.
Almere is a city that combines modernity, sustainability, and a rich cultural heritage to create a unique and captivating destination. Whether you're fascinated by innovative architecture, eager to immerse yourself in nature, or keen to explore the vibrant cultural scene, Almere has something for everyone. So, plan your visit and get ready to discover the hidden gems of this dynamic Dutch city.