Rotterdam Travel Guide 2022
Rotterdam is an original and interesting Dutch city with its bridges, designer buildings and pleasant streets. This is also the architectural capital of the Netherlands with its interesting design structures. Wherever you look, you see the best examples of contemporary architecture. Rotterdam, which is the second largest city in the country after Amsterdam , is a Dutch city that should be visited with its architecture, entertainment venues and cultural events.
The history of the big city that grew around the fishing town dates back to the 14th century. While being a small fishing town in one of the branches of the Rhine delta, Rotterdam, which experienced the difficulties of accessing both the sea and the river, also experienced quite difficult times due to the constant relocation of the canals. At that time, the neighboring cities Dordrecht and Delft were more important than Rotterdam.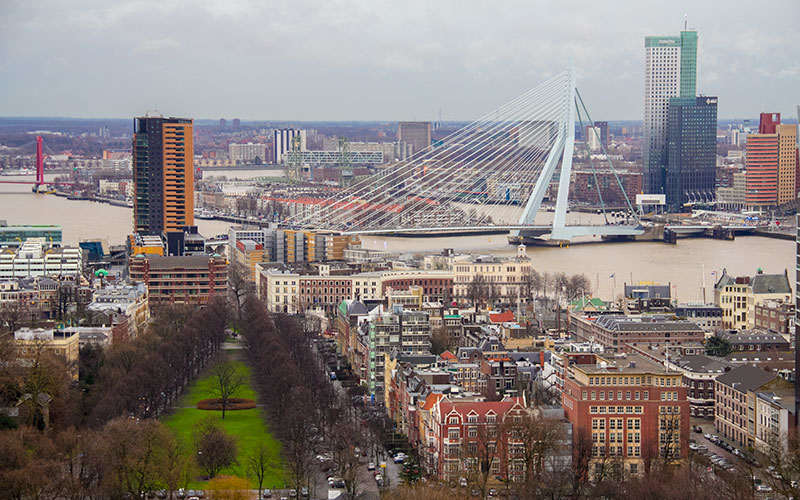 Rotterdam was one of the first Dutch cities to rebel against Spanish rule in 1572. Dutch assemblies met here in 1574, and by the 1600s it had 15,000 residents. It became the second city of the Dutch Republic in the 17th century. The commercial spirit of the city is felt more in the shipyards built than in the regular buildings.
Rotterdam, which was bombed countless times during the Second World War and turned into a heap of rubble, is undoubtedly the most futuristic city in the Netherlands today. The city, which was rebuilt, stands before us as a complete design and design work with its interesting structures.
Rotterdam Travel Guide
Having one of the largest ports in the world, Rotterdam has developed both economically and culturally with the presence of the Port of Rotterdam, which has an important role in world trade.
Stunning with its huge architecture and interesting colors, the Markthall Building and the Cubic Houses , designed by Piet Blom in the 1970s, are among the most striking buildings of the city. Hotel New York , on the site of the headquarters, previously owned by Holland America Line, is on the top of the Kop van Zuid District, forming the oldest texture of the city.
Boijmans Van Beuningen Museum , which is one of the few museums not only in the Netherlands but also in the whole of Europe, and which houses a large art collection from the Middle Ages to the modern period ; Kunsthal in the Museumpark with its photographic exhibits ; The Natuurhistorisch Museum , which stands out with its natural history and science collection, should also be added to the list.
Rotterdam Attractions
1. Cube Houses
Cube Houses was designed by Piet Blom in the 1970s and was brought to life by building several cubic houses in the Helmond area. Standing at a 45-degree angle in the city center of Rotterdam, the interesting hexagon-shaped cubic houses each represent a tree, and together they represent the forest. Blom, who designed the entire complex inspired by the forest, also created his works from wood. Cube Houses can be visited between 11:00 and 17:00, 7 days a week. Cube Houses entrance fee is 2.50€, children between 3-12 years old are 1.50€.
2. Rotterdam Markthal
The Markthal , Rotterdam's new indoor market space , makes you feel like huge fruits and vegetables drop from the ceiling as soon as you walk in, and you slip into the rabbit hole in wonderland. There are more than 20 shops and 9 restaurants in the market place. A great place to eat, drink and shop. Tulips identified with the Netherlands, the country's famous delicious cheese varieties, and vegetable and fruit aisles are listed. The Markthal can be visited free of charge on Mondays, Tuesdays, Wednesdays, Thursdays and Saturdays between 10:00 and 20:00, on Fridays between 10:00 and 21:00, and on Sundays between 12:00 and 18:00.
3. Erasmus Bridge
Erasmus Bridge , which is considered among the symbols of Rotterdam , was officially opened by Queen Beatrix on 6 September 1996. The first vehicle crossed the bridge in October of the same year. Even though it's not a very majestic bridge, cross it.
4. The Euromast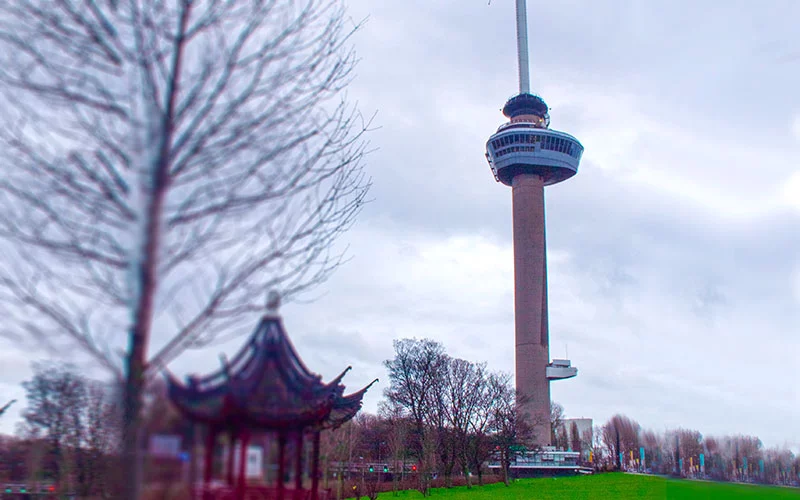 Built as an observation tower and added to the 100-meter-high Euromast in 1970, it gained its current form with the 85-meter-high Space Tower. Euromast, which can be seen almost everywhere in Rotterdam today, is an important center of attraction, especially with the lighting made when it gets dark. We are waiting for those who like to watch the city from above. Euromast can be visited between 09.30-23.00 in the April – September period and between 10.00-23.00 in the October – March period. Euromast entrance fee is 9.75€, children aged 4-12 are 6.25€.
5. Spido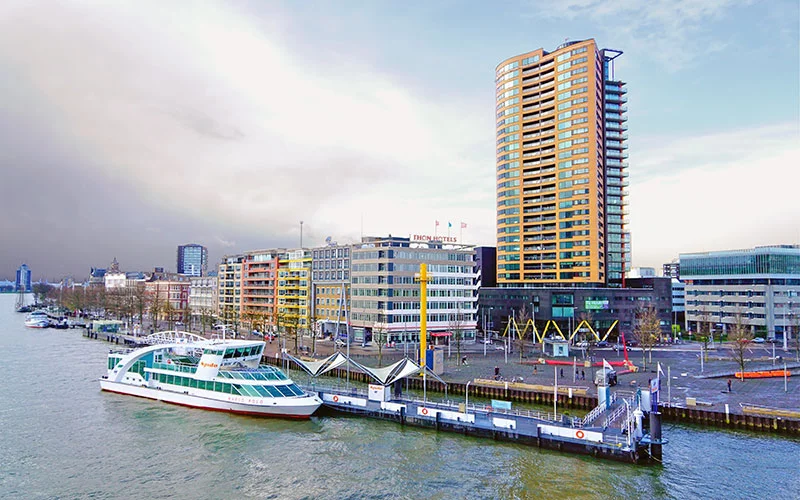 Ultramodern Spido boats take you on a 75-minute journey between the shores of the Port of Rotterdam, one of the largest ports in the world. It is possible to see the silhouette of Rotterdam and the harbor surroundings on the tour (11,75€). I didn't really enjoy it because of the drizzle and the gray weather. Maybe you like it.
6. Hotel New York
Hotel New York is located at the top of the Kop van Zuid District, on the site of the formerly Holland America Line headquarters. Once upon a time, ships departing from Wilhelmina Harbor here have been traveling to and from New York for a hundred years. Tens of thousands of people once went to America, the land of opportunity, in hopes of finding a better life. Later, The Holland America Line closed and the building remained empty until it became Hotel New York in 1993. I think it's a great place to take a coffee break.
7. Kunsthal Rotterdam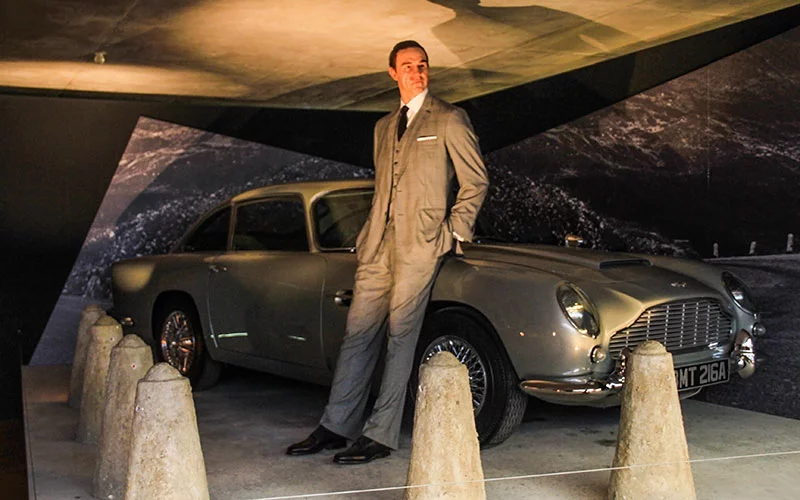 Being a very cosmopolitan country, the Netherlands hosts many festivals with paintings that do not fit in museums and shows by local and foreign artists. It has a room with all kinds of art; old, new and experimental art, photography, design and anything else you can think of. Kunsthal can be visited from Tuesday to Saturday from 10:00 to 17:00 and on Sundays from 11:00 to 17:00. Closed on Mondays. The Kunsthal entrance fee is 14€, free for visitors under the age of 18.
8. Museum Boijmans Van Beuningen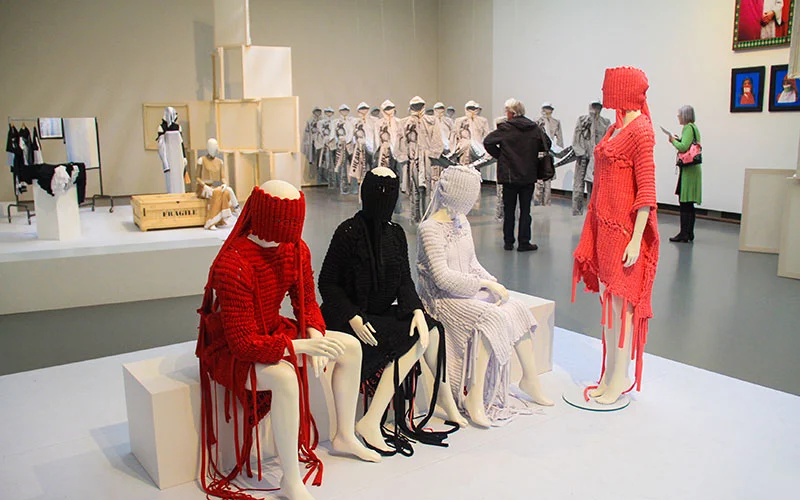 Located in the Museumpark District, the Boijmans Van Beuningen Museum is one of the country's most important art museums. One hundred and forty thousand works by artists such as Rembrandt, Monet, Van Gogh, Dali and Cézanne are exhibited in the museum, which has a wide collection from the Middle Ages to contemporary art. A place that should be on the radar of art lovers. The museum can be visited between 11:00 and 17:00 every day except Mondays. Boijmans Van Beuningen Museum entrance fee is 18.50€, free for under 19s.
9. St. Laurenskerk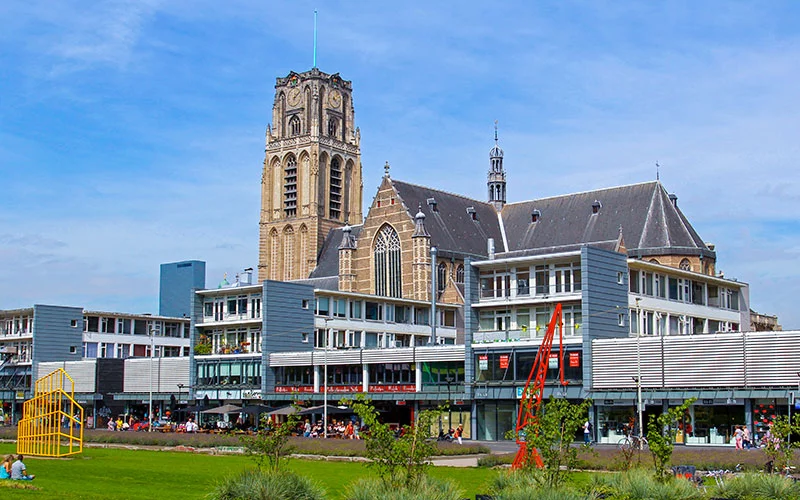 Located in Rotterdam, St. The Laurenskerk (Great Rotterdam Church) is the only surviving medieval structure in the city. Although it was damaged in the bombings in 1940, it was restored to its former glory with the restoration in 1952. The church, which is a perfect example of Gothic architecture, is also one of the most important symbols of Rotterdam. The church is open to visitors 5 days a week, except Sunday and Monday, between 11:00 and 17:00. st. Laurenskerk entrance fee is 3€, visitors aged 13-18 are 2€.
10. Witte de Withstraat
Witte de Withstraat is a street in the very center of the city, known for its magnificent galleries and world-renowned museums. Do not forget to take a look at the Bazar Hotel and Restaurant on the street. I really liked this oriental atmosphere in the atmosphere of the grand bazaar.
You can also visit the Netherlands Architecture Institute . In addition, TENT and Witte de With , one of the city's most provocative modern art gallery, are also among the places worth seeing. Rotterdam Zoo and Oceanium, Maritime museum, Villa Zebra are recommended for those who have more time.
Rotterdam Things to Do
Wandering its streets, going to an exhibition or an art discussion is one of the best things to describe this city. Not only that, it is a pleasure to eat at the many restaurants in historical buildings and to stay in modern buildings. Rotterdam is not a big city and can be explored by metro, tram, bike or even on foot, but the most fun are arguably the water taxis.
Shop at Meent and Pannekoekstraat
You can choose the boutiques around Meent and Pannekoekstraat , where you can find much smaller but more original and beautiful products, instead of shopping at the big chain stores in Lijnbaan .
Fill yourself with design at Galerie Puur, and history at Delfshaven
After Galerie Puur , where you can find finely crafted elegant jewellery , you can go to Delfshaven , which has quite beautiful canals and survived unscathed from the war .
Explore the seas in Delfshaven
It is possible to find many maps of the first ages of discovery in the shop, known as Delfshaven for short, where you can find marine objects, ceramics and antiques .
Experience the nightlife at Thalia Lounge, Off-Corso and Soho
After dark, Rotterdam turns into one of the hottest club destinations in Europe. Thalia Lounge is a good address for nightlife with its sophisticated client portfolio and bar above the dance floor. In Off-Corso , on the other hand, DJs appeal to younger audiences with their newest shows. When you think of cocktails, Soho always comes to mind. With its white walls and futuristic designed bar, it's like a giant yeti cave!
Rotterdam eating and drinking
In addition to traditional Dutch cuisine, there are plenty of French, Chinese, Moroccan and Turkish cuisine options in the city. Rotterdam is at least as ambitious as Amsterdam in nightlife. With its huge roses on the wall at the entrance and its large window overlooking the Nieuwe Mass River, Blits is a place that appeals to the eyes as well as the palate.
Chef Glyn Stoker's creative Japanese-North African mix menu draws attention to the quality of the food, which is the most important element in a restaurant. Try the andtabbouleh salad with spicy tuna here.
With the best view of the city, Euromast offers brunch on Sundays with prices starting from 19.50€. In the evenings, there are also opportunities to enjoy dinner and wine by the lights of the city.
Lulu , one of the best restaurants in the city , offers the most delicious examples of modern Asian cuisine in a seductive room with saffron and red painted walls, with floor-to-ceiling shoji displays. Delicious meals are served on Indonesian floor tables, accompanied by candlelight and sake.
Level , located on Pannekoekstraat 76a street, is my advice to those looking for a friendly warm place. You can also check the prices on the website . Do not forget to make an appointment for all restaurants.
Rodin restaurant at Schilderstraat 20a 3011 ES Rotterdam is also a preferred place for lunch. Rodin is a wonderful place to quench the hunger during the day, or to enjoy with a nice champagne and delicious snacks.
For a different experience, stop by Westelijk Handelsterrein . In 1894, a covered warehouse was converted into a complex with many galleries, restaurants, bars and clubs today. The pleasure of dining at Restaurant Rosso , which offers the tastes of Mediterranean cuisine and with its stylish brick masonry walls, turns into a sexy midnight pleasure after 10 pm.
Rotterdam accommodation recommendation
Citizen M , a small chain with hotels in many European cities, is a fantastic design hotel for accommodation. The design and experience of both the lobby and the room is extraordinary. The lobby resembles a cafe with plenty of books, unlike the lobby of luxury hotels we know. Its rooms, on the other hand, have a small but cute design, controlled by a tablet, where you control the colorful lights and the curtain digitally. I was satisfied. It is located right in the heart of the city.
How to get to Rotterdam
With Turkish Airlines, it is possible to go to Rotterdam The Hague Airport with direct flights from Istanbul Atatürk Airport, which take approximately three hours and forty minutes, five days a week. The airport is 10 km away from the city center and you will be at Rotterdam Central Station in half an hour by bus 33.
Amsterdam Schiphol Airport is only 80 kilometers from the center of Rotterdam. There are trains between Rotterdam and Amsterdam every 15 minutes. It is possible to fly directly to Amsterdam Schiphol Airport with Turkish Airlines from Istanbul Atatürk Airport, with Pegasus Airlines from Sabiha Gökçen Airport every day of the week, and with KLM Airlines, with flights of approximately three and a half hours, two days a week.
Getting anywhere in and around Rotterdam is pretty easy. I prefer to walk to most places. Sometimes I used the bus. Public transport facilities are widespread and operational throughout the city.
From May to September the weather conditions are very suitable. There are also many festivals and numerous parties on the banks of the Nieuwe Mass River during these months. Rotterdam is a candidate to be a beautiful holiday route both with Amsterdam and with Antwerp, Ghent and Bruges in the south.
Exploring Amsterdam's Best Laptop-Friendly Cafés for Digital Nomads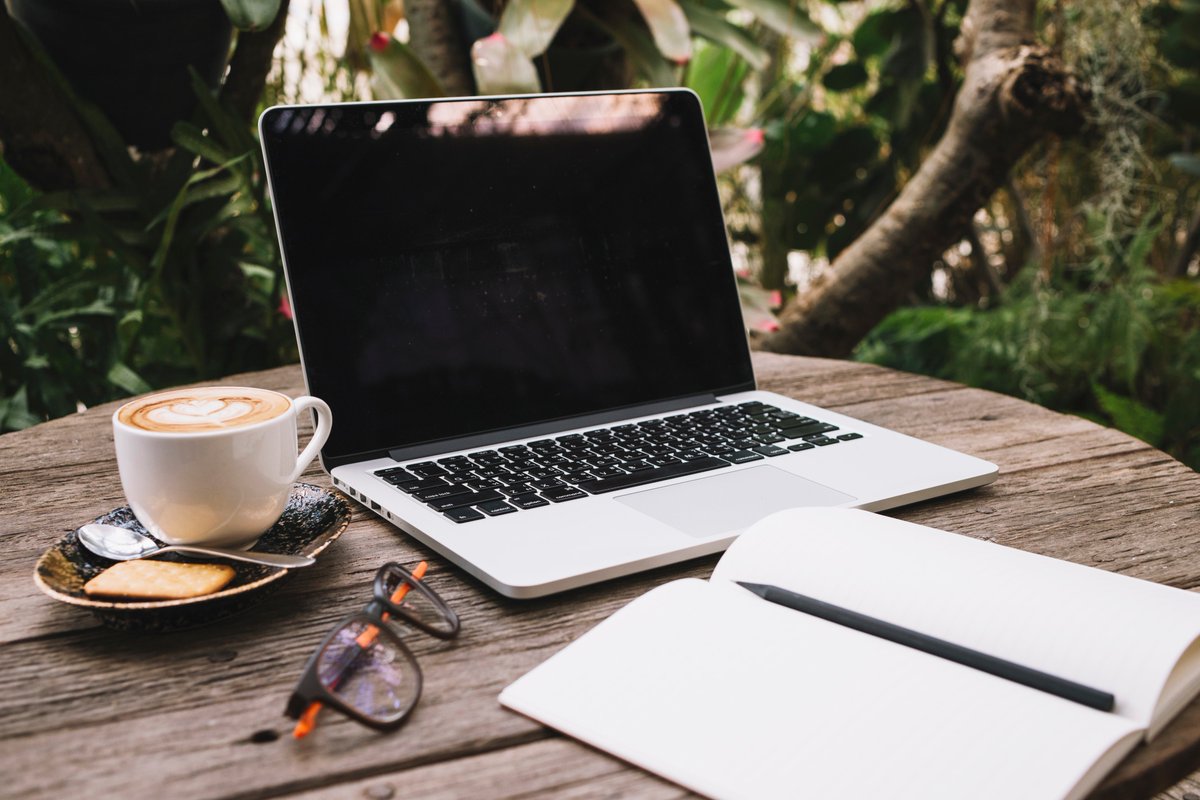 Amsterdam, renowned for its picturesque canals and vibrant cultural scene, has become a haven for digital nomads seeking a balance between work and exploration.
The city's charming coffee culture, coupled with its tech-savvy ambiance, has given rise to a plethora of laptop-friendly cafés that cater to the needs of remote workers. This article serves as a guide to some of the best laptop-friendly cafés in Amsterdam, where you can sip your favorite brew while staying productive.
Exploring Amsterdam's Best Laptop-Friendly Cafés for Digital Nomads
1. Coffee & Coconuts
Nestled in a former cinema, Coffee & Coconuts is a spacious and aesthetically pleasing café that offers a tranquil atmosphere for those seeking a productive work environment. With three levels of seating options, including cozy corners and communal tables, you can easily find your perfect spot. The café's ample power outlets, free Wi-Fi, and a menu featuring an array of coffee options, fresh juices, and healthy dishes make it a top choice for digital nomads.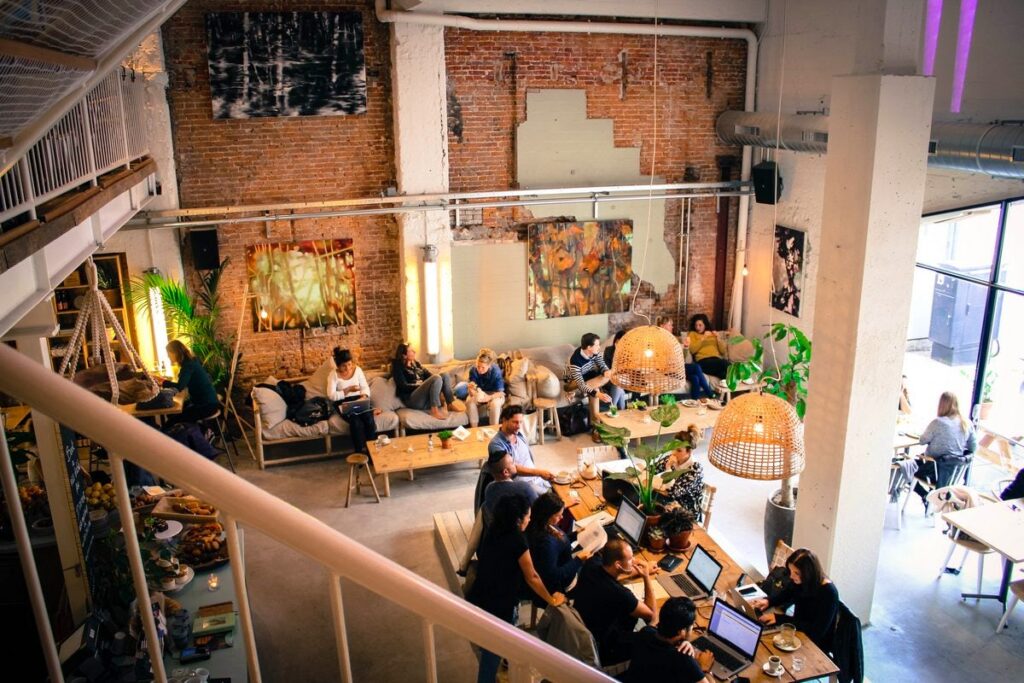 2. The Hoxton
Located along the Herengracht canal, The Hoxton is a stylish boutique hotel that boasts a welcoming lobby turned café, perfect for remote work. The ambiance blends vintage décor with modern amenities, offering a comfortable space to settle in with your laptop. The Hoxton provides complimentary Wi-Fi, a selection of delicious pastries, and a range of beverages from expertly brewed coffee to herbal teas.
3. Lot Sixty One Coffee Roasters
For the true coffee connoisseur, Lot Sixty One Coffee Roasters is a must-visit. This cozy café is celebrated for its exceptional coffee brewed from beans roasted on-site. The café's minimalist design and serene ambiance create an ideal setting for focused work. The absence of distracting background noise further enhances its suitability for remote work. While here, savor a cup of their artisanal coffee and perhaps engage in a quick chat with the knowledgeable baristas.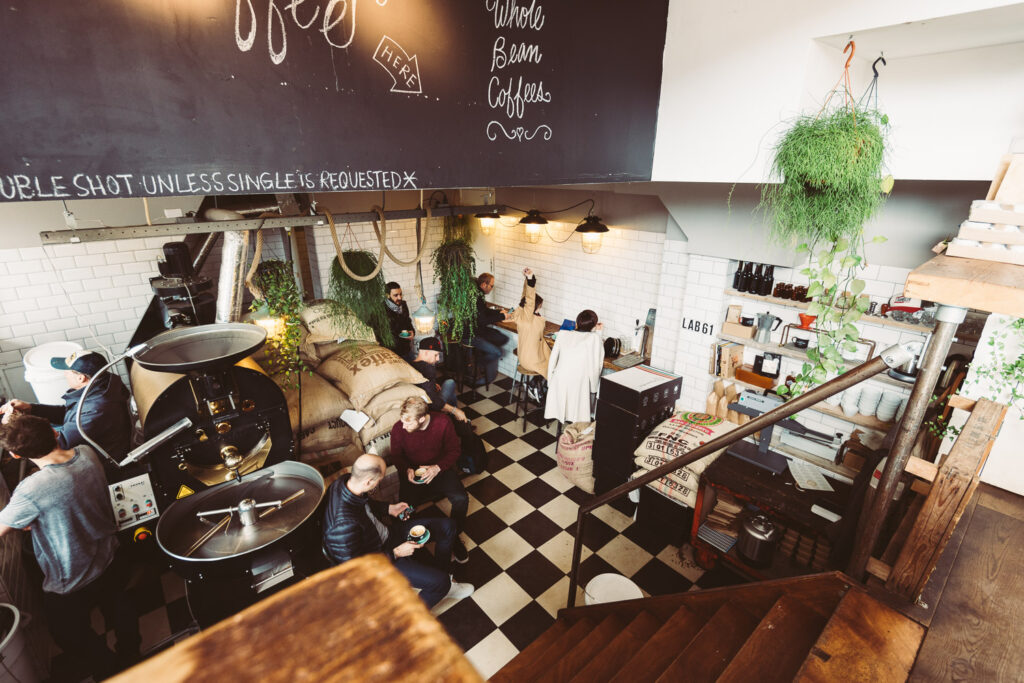 4. Scandinavian Embassy
A haven for lovers of Scandinavian design and quality coffee, Scandinavian Embassy offers a sophisticated space for digital nomads. The café's specialty coffee is crafted with precision, and the menu features an assortment of delectable treats. The minimalist interior, characterized by clean lines and natural materials, fosters a serene atmosphere, while the friendly staff ensures your caffeine fix is accompanied by a productive work session.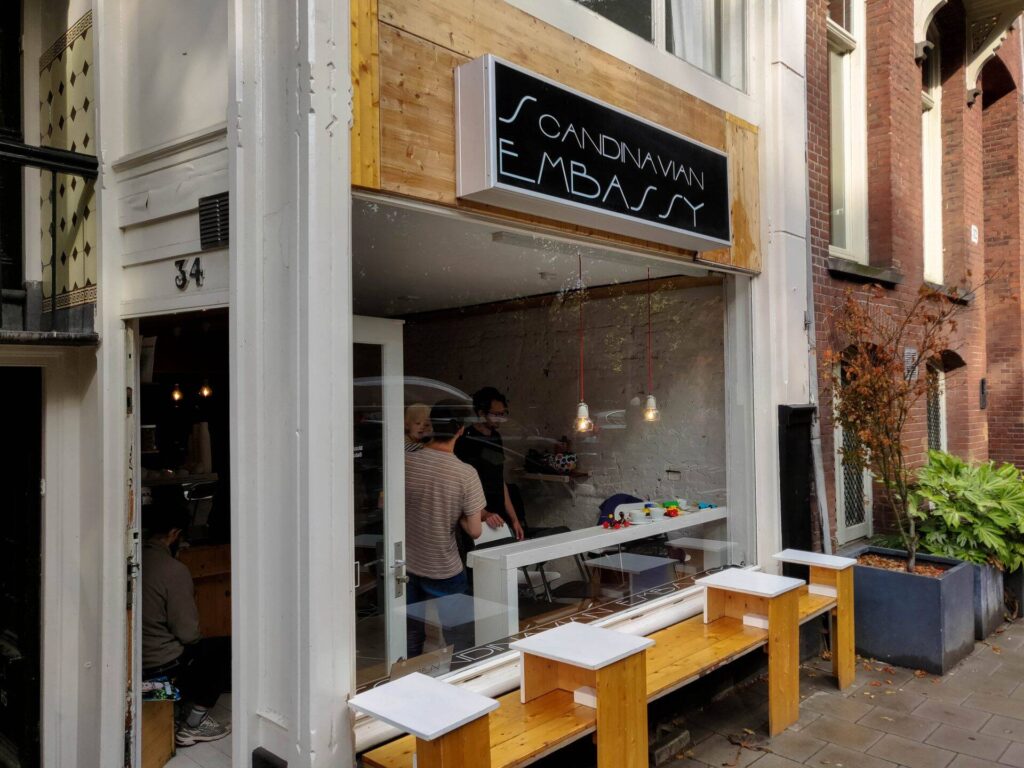 5. De Wasserette
De Wasserette, with its rustic charm and inviting atmosphere, seamlessly blends into Amsterdam's cozy ambiance. Known for its artisanal bread and pastries, the café provides an inviting environment for those seeking a laptop-friendly space. The wooden tables, ample natural light, and the aroma of freshly baked goods set the stage for a productive work session, complemented by their selection of coffees and teas.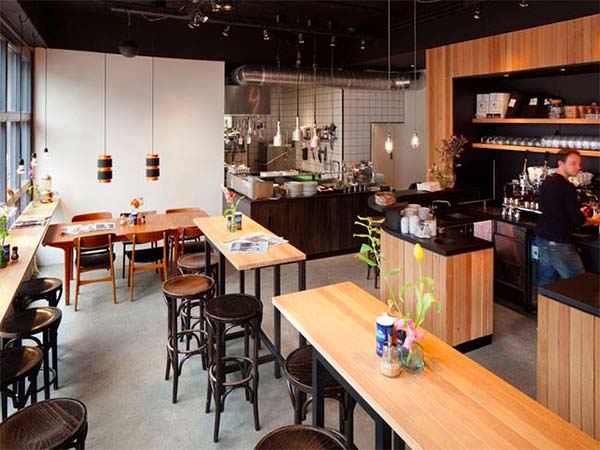 Amsterdam's coffee culture and digital-friendly mindset have given rise to an array of cafés where remote workers can find solace while pursuing their professional endeavors. From the trendy Coffee & Coconuts to the coffee perfectionists' haven, Lot Sixty One Coffee Roasters, each café offers a unique experience. So, whether you're a digital nomad in search of an inspirational workspace or a traveler looking to soak up Amsterdam's charm while catching up on work, these laptop-friendly cafés have got you covered. Embrace the blend of productivity and leisure that Amsterdam's coffee scene has to offer.