Amazing Villages Near Amsterdam
In most of Europe, the city of Amsterdam held in the city dozens of foreign visitors to the event, there is a stop to visit the many cultural and historical. Experience the Dutch culture, to discover the natural beauty of the region you need to visit, places to visit in and around Amsterdam. If you are looking for small towns near Amsterdam here is the list.
1. Kinderdijk
98 km 15 km east of Rotterdam is located in the south of Amsterdam Kinderdijk, views are amazing home to 19 Dutch windmills on a trip with stunning photo frames is a favorite of those who wish to capture.
Lek and Noord rivers, which is built at the confluence of the town, dating back to 1740, and extending between the channels of the 19 windmills of the Netherlands to experience the cultural atmosphere with a wonderful stop.
Between channels 6€Kinderdijk you can do a boat tour from Rotterdam to 90 bus is coming. From Amsterdam does not have a direct public transport option. Regular bus and train service from Amsterdam to Rotterdam has done.
2. Turkeye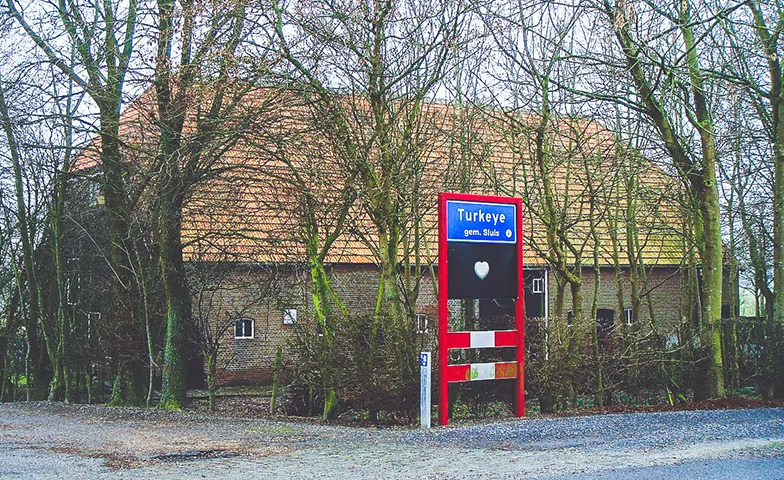 In the south of the Netherlands, located on the Belgian border Turkeye the name, even though it means no Turkey Turks living in this village. On the doors of some houses in the village, 'I am a Turk say how happy' and 'welcome' sheet includes Turkish.
Located in the village of Zeeland in the 1590's extending to date 1600s the Spanish in the area, was the site of the most important in the war between the Dutch defences.
The Spaniards captured in battle when she was rescued with the help of more than 1500 Turke the village took the name of Dutch Turks. Who is visiting for the first time in the history of the village where a famous Turkish artist Barış Manço job.
From Amsterdam 229 km distance to the village is reached in 2.5 hours by private car. Transportation of bulk trains and 1 Bus 2 different journey takes 5 hours to the village.
3. Naarden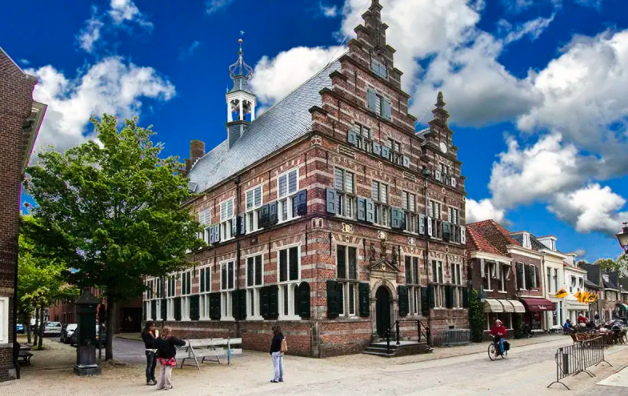 Located 25 km east of Amsterdam , Naarden is located in the Gooi district. When you look at the town, which is surrounded by high walls and ditches, from the map, its star-like channels and ditches create an interesting sight.
The town, which was founded in the 1300s and used as a defense center, is one of the most visited places among the places to visit near Amsterdam today.
The Dutch Fortress Museum (Nederlands Vestingmuseum), the tomb of the writer Jan Amos Komensky and the Great Church (Grote Kerk) from the 15th century are among the places to visit in the town where the local texture is preserved and invites you to travel back in time with its aesthetic city plan.
You can reach Naarden by trains departing from Amsterdam Central Train Station, getting off at Amstelstation, and bus number 320 departing from this point. Total journey time is 35 minutes.
4. Vinkeveense
Located 18 km south of Amsterdam , Vinkeveense is located in the state of Utrecht. In the town, which consists of dozens of settlements in the form of thin lines on a lake, there are mostly villa-style houses of the wealthy families of the Netherlands on these thin lines.
The inhabitants of these settlements, each of which is an island in the lake, reach their homes by boats. There is no public transport from Amsterdam city center to Vinkeveense town. Transportation by private vehicle takes half an hour.
5. Bourtange
Bourtange is a defensive settlement surrounded by canals and ditches, like another garrison town of Naarden. Located in the northeast of Amsterdam, 240 km from the city center, the town is very close to the Dutch-German border. Fully like a hobbit village.
The town, now a tourist attraction, was built in 1593 during the Dutch Revolt and was used until 1851. It takes approximately 5 hours to reach the town, where direct Flixbus buses run from Amsterdam city center. Transportation by private vehicle takes 2.5 hours.
6. Haarlem
Located 30 km west of Amsterdam, Haarlem is a city preferred by those who want to get away from the bustling daily life of Amsterdam to relax. In Haarlem, where the medieval-inspired city center is well preserved, the Grote Markt Square, where there is a gothic church, is Haarlem's meeting point.
Be sure to visit the museum named after one of the most famous portrait painters of the 17th century, Frans Hals, one of the most famous representatives of Dutch painting with Rembrandt. In warm weather, you can also stop by Zandvoort, a large seaside town. It takes 15 minutes to reach Haarlem by trains departing from Amsterdam Central Train Station.
7. Keukenhof Gardens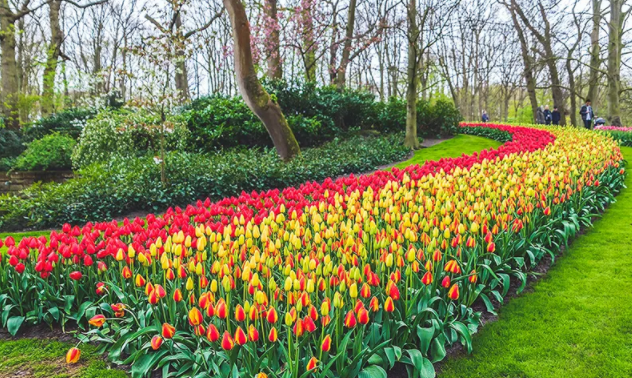 Keukenhof Gardens , located in Southern Haarlem, 40 km southwest of Amsterdam, is the right address to experience the Dutch floriculture tradition with over 7 million tulips and over 15 km of paths. From late March to mid-May, the tulip bulb fields of Keukenhof are colorful.
Keukenhof, which literally means "kitchen garden", also organizes many different activities. You can visit the park by bicycle and boat with bicycle tours and boat tours, you can take a tour on the Keukenhof with the Dakota plane, and you can participate in the flower parades called Bloemencorso Lisse.
Keukenhof can be reached in 1.5 hours by trains departing from Amsterdam Central Train Station. The journey by private car takes 45 minutes. Keukenhof visiting hours are from 08:00 to 19:30, 7 days a week. Keukenhof entrance fee is 19€, children 4-11 years old 9€.
8. Castricum
The seaside town of Castricum , located 40 km northwest of Amsterdam city centre , is a holiday destination that people in and around Amsterdam flock to during the summer months. The town, where you can explore the city with pleasure at the train station, is met by rental bikes, and is a peaceful route with its quiet and calm appearance. This is a candidate for the list of unknown places in Amsterdam. Castricum can be reached by a 25-minute journey from Amsterdam Central Train Station.
Exploring Amsterdam's Best Laptop-Friendly Cafés for Digital Nomads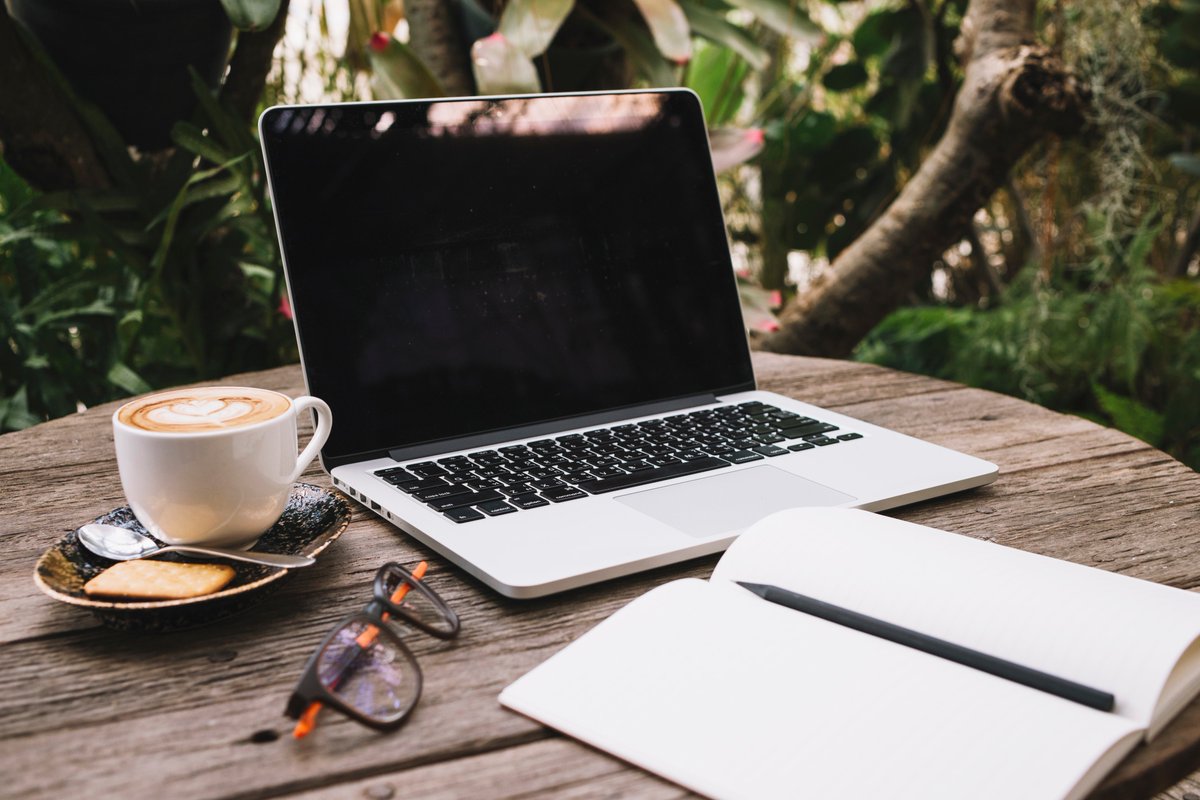 Amsterdam, renowned for its picturesque canals and vibrant cultural scene, has become a haven for digital nomads seeking a balance between work and exploration.
The city's charming coffee culture, coupled with its tech-savvy ambiance, has given rise to a plethora of laptop-friendly cafés that cater to the needs of remote workers. This article serves as a guide to some of the best laptop-friendly cafés in Amsterdam, where you can sip your favorite brew while staying productive.
Exploring Amsterdam's Best Laptop-Friendly Cafés for Digital Nomads
1. Coffee & Coconuts
Nestled in a former cinema, Coffee & Coconuts is a spacious and aesthetically pleasing café that offers a tranquil atmosphere for those seeking a productive work environment. With three levels of seating options, including cozy corners and communal tables, you can easily find your perfect spot. The café's ample power outlets, free Wi-Fi, and a menu featuring an array of coffee options, fresh juices, and healthy dishes make it a top choice for digital nomads.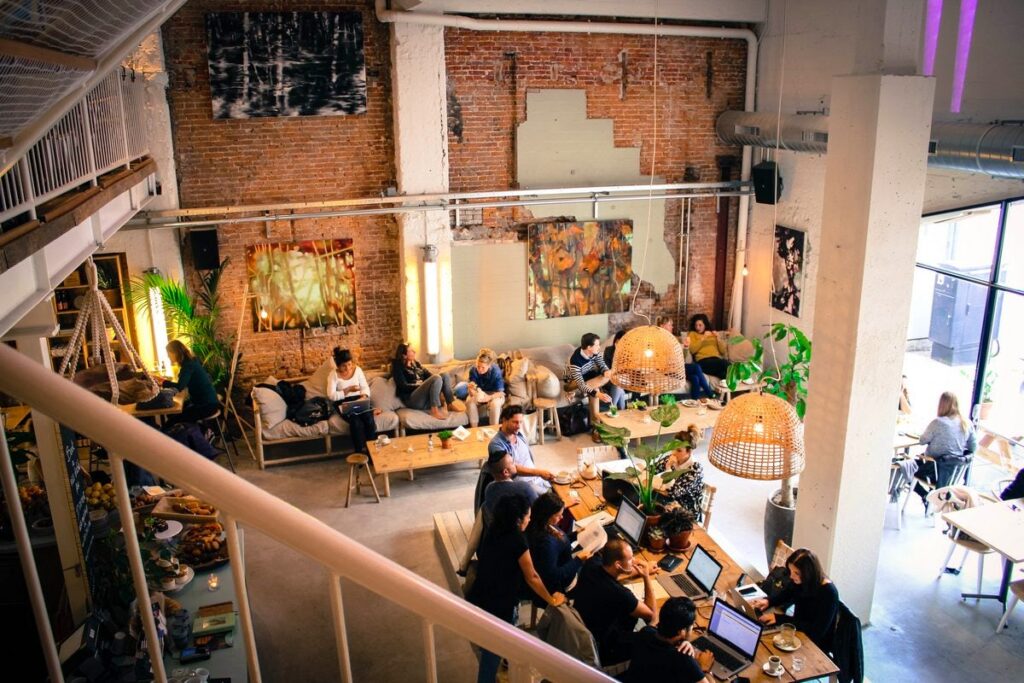 2. The Hoxton
Located along the Herengracht canal, The Hoxton is a stylish boutique hotel that boasts a welcoming lobby turned café, perfect for remote work. The ambiance blends vintage décor with modern amenities, offering a comfortable space to settle in with your laptop. The Hoxton provides complimentary Wi-Fi, a selection of delicious pastries, and a range of beverages from expertly brewed coffee to herbal teas.
3. Lot Sixty One Coffee Roasters
For the true coffee connoisseur, Lot Sixty One Coffee Roasters is a must-visit. This cozy café is celebrated for its exceptional coffee brewed from beans roasted on-site. The café's minimalist design and serene ambiance create an ideal setting for focused work. The absence of distracting background noise further enhances its suitability for remote work. While here, savor a cup of their artisanal coffee and perhaps engage in a quick chat with the knowledgeable baristas.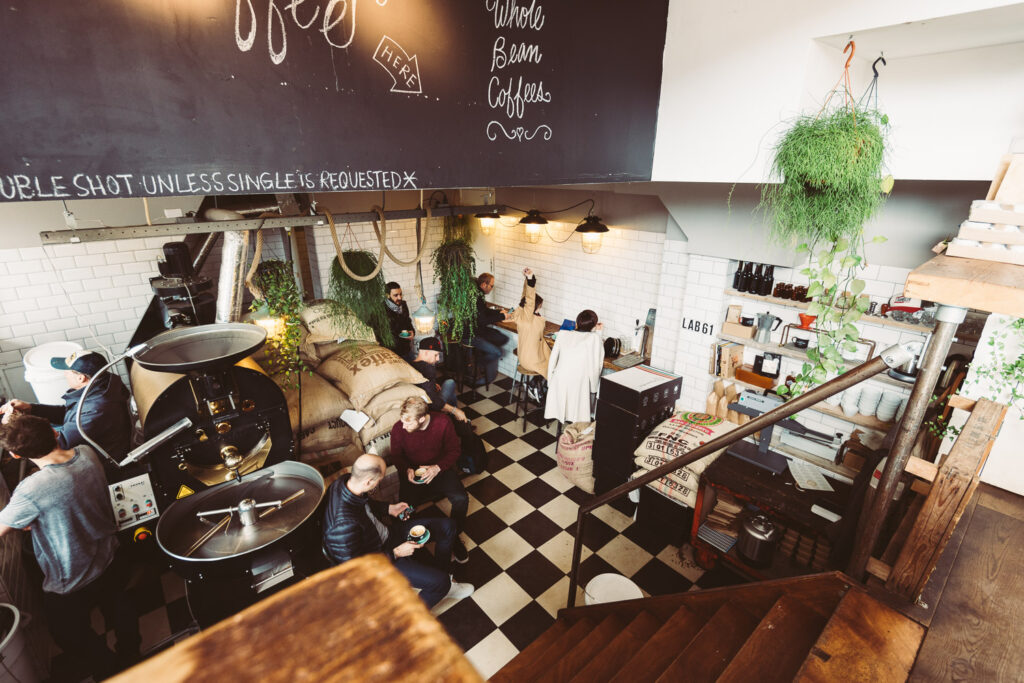 4. Scandinavian Embassy
A haven for lovers of Scandinavian design and quality coffee, Scandinavian Embassy offers a sophisticated space for digital nomads. The café's specialty coffee is crafted with precision, and the menu features an assortment of delectable treats. The minimalist interior, characterized by clean lines and natural materials, fosters a serene atmosphere, while the friendly staff ensures your caffeine fix is accompanied by a productive work session.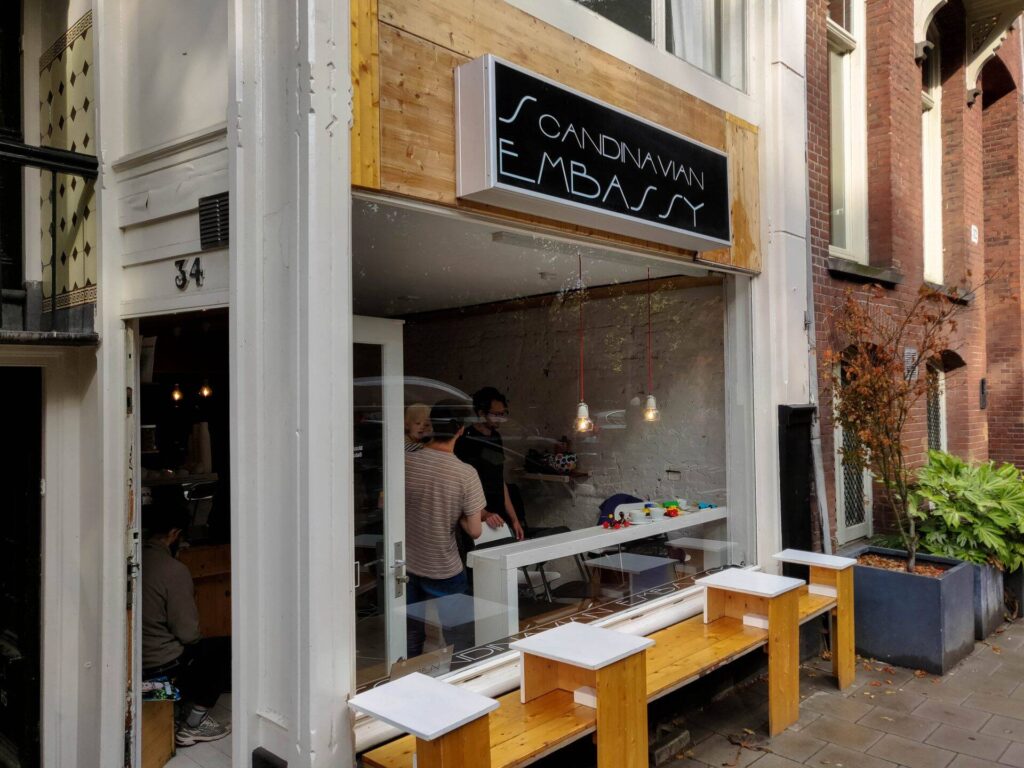 5. De Wasserette
De Wasserette, with its rustic charm and inviting atmosphere, seamlessly blends into Amsterdam's cozy ambiance. Known for its artisanal bread and pastries, the café provides an inviting environment for those seeking a laptop-friendly space. The wooden tables, ample natural light, and the aroma of freshly baked goods set the stage for a productive work session, complemented by their selection of coffees and teas.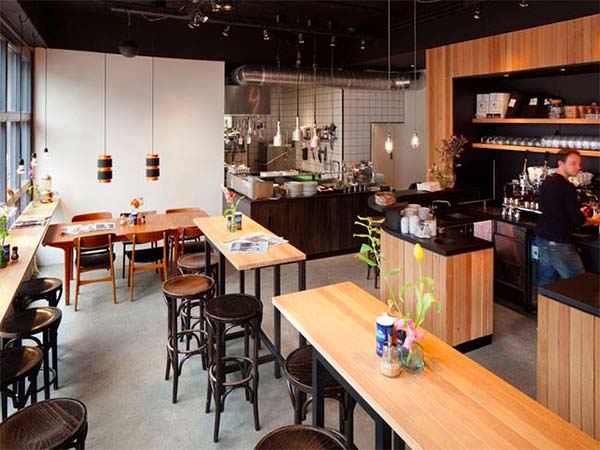 Amsterdam's coffee culture and digital-friendly mindset have given rise to an array of cafés where remote workers can find solace while pursuing their professional endeavors. From the trendy Coffee & Coconuts to the coffee perfectionists' haven, Lot Sixty One Coffee Roasters, each café offers a unique experience. So, whether you're a digital nomad in search of an inspirational workspace or a traveler looking to soak up Amsterdam's charm while catching up on work, these laptop-friendly cafés have got you covered. Embrace the blend of productivity and leisure that Amsterdam's coffee scene has to offer.