Disneyland Paris Travel Guide
Disneyland Paris is one of the largest thematic amusement parks in the world. Disneyland, whose name is identified with the capital of France, Paris, and is located 32 kilometers from the city center, has hotels, restaurants, shops, swimming pools, golf courses, Disney studios and toys.
Especially in the park where children are in demand, there is no for adults either.
Disneyland has been the world's largest amusement park since it was founded by American filmmaker Walt Disney in 1955. Resembling a magical fair, this giant amusement park is a place with plenty of action, adrenaline, and life energy. At Disneyland, one of the few places on Earth that attracts people of all ages, you also have the opportunity to closely examine Disney studios with Disney characters.
Disneyland Paris is an amusement park that focuses on children. The aim is to entertain the children while ensuring that the families are satisfied with the trip to Disneyland Paris. There are also many entertainment alternatives for adults. There are also eating and drinking places and shopping centers in the campus.
Disneyland Paris is a huge amusement park. Disneyland Paris, the second Disneyland park to open outside the United States (USA), is called Euro Disney. With this feature, it is the most visited entertainment area in Europe.
Disneyland Paris consists of a total of two amusement parks on an area of two thousand hectares, seven hotels and a section with shopping centers and restaurants, a golf course and an artificial lake. Disneyland Paris consists of two basic amusement parks, Disneyland Park and Walt Disney Studios Park, which opened in 1991 under the name Eurodisney.
There are areas dedicated to different themes in Disneyland Park, where there are more than 40 entertainment and gaming sections. Walt Disney Studios is the section with plenty of adrenaline and dizzying activities for adults.
Disneyland Paris consists of a total of five sections, including Disney Village, an area with seven hotels along with these parks, Golf Disneyland with golf courses for adults and children, and Lake Disney, an artificial lake with many activity areas around it.
Disney Village is a free area located right at the entrance of Disneyland Paris, where you can enter without a ticket. It is a region with a cinema, Planet Hollywood and places where you can eat. There is also a famous outlet mall called La Valle Village, where you can also walk from Disneyland.
In parks where children are a priority, the system is based on getting on and driving a vehicle in the playgrounds. With the ticket you bought at the entrance, you have the right to enjoy all the entertainment and ride the toys.
There are amusement park activities in the parks that we are familiar with, such as carousels, spinning cups or ballerinas. On the other hand, there are also shows that you can watch sitting down. Like Honey, I Shrunk the Audience, The Lion King at Discoveryland, the Tarzan show at The Caparral Theatre. You can see the dates, places and times of these on the map given to you at the entrance of the park.
A chirpy park full of joy, joy and adrenaline, where there are entertainment and game sections in countless concepts in each of them. The joy and excitement of children screaming wildly with huge eyes is an experience that cannot be found anywhere else in the world.
There are different levels of toys in each park and area of Disneyland Paris that are unique there. On the map provided at the door, all toys are marked with color codes according to their type. This way, you can see which toy is suitable for which age December.
Not to mention witnessing quite enjoyable moments of adults as well as children when they experience them. This park, which takes you away from the realities of life for a while and feeds your excitement and childish spirit, deserves to be at the top of the list of places to visit in Paris.
Sections of Disneyland Paris
You need to buy tickets to enter Disneyland Park and Walt Disney Studios Park in Disneyland Paris, participate in the games taking place there and watch the organized shows. You can get tickets from many places, especially Disneyland's website and Disneyland Paris door entrances.
1. Disneyland Park
Restaurants near Here: Disneyland Paris
Disneyland Park consists of theme areas where the Disney world is animated, such as Fantasyland, Discoveryland, Frontierland, Adventureland and Main Street USA. On the other hand, road roads, souvenir shops and restaurants are also located in this area. In these areas with different concepts, the players who are suitable for that concept leave the children with unlimited imagination as fans, and their abilities do not pass.
Fantasyland is the part that children love the most. There are reenactments of Disney characters, cartoon heroes, pointed towers, sleeping beauty castle and many more Disney stories here. In short, Fantasyland is a completely different world where fairy tales come to life, where princes and princes live here, where young age group children can go crazy.
Discoveryland is the section where real adventures in the future work with a science fiction theme. In Discoveryland, which resembles a huge space base, there are many topopic games, from time machines to flying saucers to travel with a spaceship on a rollercoaster.
Frontierland is an area that sheds light on the time of the wild west, cowboys and Indians. The episode, which portrays the American wild west as a theme, is divided into subcategories such as Big Thunder Mountain, Thunder Mesa Technique and Phantom Manor.
Adventureland is an area that feels like you are in an Indiana Jones movie, where scenes from the movie are animated, especially episodes such as the Indiana Jones Temple of Danger and Pirates of the Caribbean, where everyone, big and small, gets a key. You are participating in adrenaline adventures, exploring the depths of history.
The Main Street is one of the main sections of Disneyland Paris. 19. the Main Street, which has the concept of a century-old American town, is an area where you can sell souvenirs, taste delicacies from many country cuisines, and find a wide variety of fast food and shops.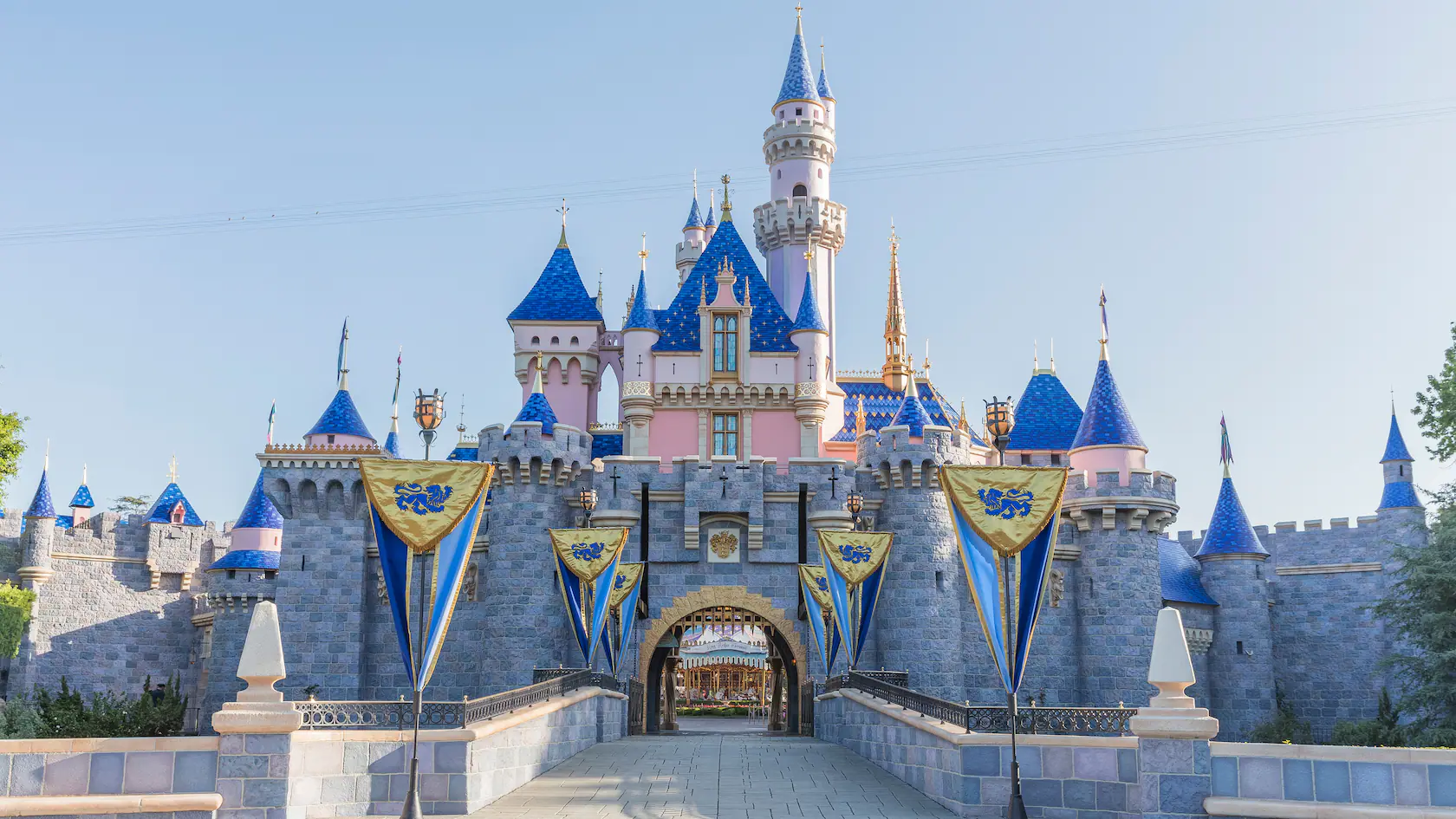 2. Walt Disney Studios Park
The Walt Disney Studios Park has many active promises, where film sets can be visited with tours, forcing the ranks of reality with simulations. This section, which is dominated by the film industry, is an educational paradise from start to finish! Walt Disney Studios, where he was portrayed in the most educational film in the world of TV and cinema, is one of the places he should escape. Scenes where famous films were shot, new living here is not bile from work.
Disney Village is the section located within the Disneyland Paris complex, where admission is free. Disney Village, a charming village with shopping centers, restaurants, concert venues, movie theaters, playgrounds for children and nightclubs, offers services for shopping and dining in the Disney concept. Located in Disneyland Park and Walt Disney Studios Park, Disney Village Shopping, live music, shows enhancement, movie theaters, concerts, street performers, themed restaurants, and games throughout the day continues.
Golf Disneyland is a section with nine- and eight-hole golf courses for adults and children. He also gives golf lessons on certain days of the week on the course that caters to professionals and amateurs. Golf Disneyland area also includes restaurants, fast food, bars as well as places to eat and eat.
Disney Lake is located next to Disney Village. At Lake Disney in Disney, it is possible to do many educational water sports from sea bikes to globe boats, kayaks and kayaks. You can take a mini tour around the lake by train to visit the area where multi-education is organized throughout the year, and you can participate in fun games and shows organized.
Disneyland Paris ticket fees
There are many types of tickets that are valid for Disneyland Park and Walt Disney Studios in Disneyland Paris. Disneyland Paris tickets are basically sold separately for the two parks, as well as in the form of a combined ticket covering both. Ticket prices vary depending on the high or low season, promotion periods and other criteria.
The ticket you buy gives you unlimited entry-exit rights to the park or parks you have chosen for the day in question. in the park, which is free for the 0-3 age group, the 3-11 age group is accepted as a child and the 12 age and later as an adult.
You can check the prices here.
Disneyland Paris visiting hours
Spring and autumn months can be preferred, which are ideal for going to Disneyland Paris. However, you should keep in mind that on weekends and special holidays, the park is very, very crowded. Especially from France and nearby countries, long queues in the park, which receives a lot of visitors, can annoy you. Likewise, the summer holidays are the most crowded periods.
The opening and closing hours of Disneyland Paris may vary depending on the dates you will visit the park. July September June August 09.00-20.00, the park is open between the hours of 09.00-23.00 in the period of the park is open between the hours of. the park is open between the hours of.09.00-23.00 in the period of.Dec. September August July June studios are open between 09.00-18.00, and July-August period between 09.00-20.00. Dec studios are open between 09.00-18.00, 09.00-20.00, 09.00-18.00. Hours vary for Walt Disney Park.
During the Christmas holiday period in February, the tourist density of the city and the park increases quite a lot. Although it is open between 09.00-23.00 hours in high season, the hours may change during the off-peak season. Dec. You can check out Disneyland's website about this.
Eating and drinking at Disneyland Paris
At Disneyland Paris, there are many options for eating, having a snack, drinking coffee or spending a pleasant time having fun in the evening. Disneyland Park and Walt Disney Studios Park in the area like many places where you can eat lunch with your child, Disney Village area, live music, themed restaurants, bars, night clubs until you have many alternatives.
While eating at Disneyland Paris, Disney characters can come to visit you at any time. For a bite to eat on Main Street USA, you can opt for Cable Car Bake Shop, Cookie Kitchen or Casey's Corner. Of course, as an American classic, Mc Donalds is also here.
You can eat a space hamburger at Discoveryland or take a meal break at Cafe Hyperion-Videopolis; you can taste Mexican food at Frontierland. The Blue Lagoon Restaurant at Adventureland is ideal for luxury lovers. Let me also say that the prices are a little high. Taking small snacks in your bag can save you, or even you can buy a water bottle and fill your bottle for free from the fountains in the park.
Shopping at Disneyland Paris
Main Street, located in the park section of Disneyland Paris for shopping, is the most ideal street. On the other hand, in the sections where you have countless options for shopping, there are many shops where you can buy gifts primarily for your children, yourself and loved ones.
On the street where you can find all kinds of clothes, toys, accessories for children, there are thousands of options that you can think of, from all kinds of toys and gifts of Disney heroes, from themed clothes to princess costumes, accessories, objects and items.
Disney Village, where the Disney Store is located, has more variety than the store's branch on the Champs-Élysées. Val d'Europe, which is also very close to Disneyland and where the famous Vallée Village is located, can also be preferred. Within walking distance of Disneyland there is also a famous outlet shopping center called La Valle Village. You can shop in this very spacious La Valle Village, because the prices are affordable.
You can shop in this very spacious La Valle Village, because the prices are affordable. There is also an aquarium in this charming village, which you can reach in five minutes by taxi, the children love it here. In the village, which turns into a carnival area at night, light and fireworks shows and barcovision shows with Disney heroes are also organized.
How to go to Disneyland Paris
Disneyland Paris is located in the fifth arrondissement of Paris, 32 kilometers from the city center. Disneyland, where it is very easy to reach by train, can be easily reached using the RER A line, which departs every 5-10 minutes from the Nation Train Station.
Through the 'Marne la Vallée – Chessy – Disneyland' stops, you are at the amusement park at the end of the journey, which takes about forty minutes to an hour. The cost of a one-way ticket for the train is about 9 euros.
Apart from the RER train, Eurostar and TGV trains also provide direct access to the park. In addition, Disneyland's own buses also provide transportation to the park during the morning hours. You can check the Disneyland website for the departure times and fares of the buses. When you get off at Disneyland, the last stop of the RER A, and turn right from the station by following the signs, you come across a giant park.
If it is to reach from the airport direct to Disneyland Paris, Charles de Gaulle and Orly airports is approximately 30 minutes and 45 minutes from moving between services and Suttle. You'll be at Disneyland in about an hour.
If you want to take a taxi, you still need to take about an hour and 60 to 100 euros depending on the airport. More information on how to get to Disneyland Paris in the blog post.
Disneyland Paris offers entertainment for both children and adults. Disneyland, one of the largest theme parks in the world, ranks first among the places to visit in Paris Dec.
Exploring Amsterdam's Best Laptop-Friendly Cafés for Digital Nomads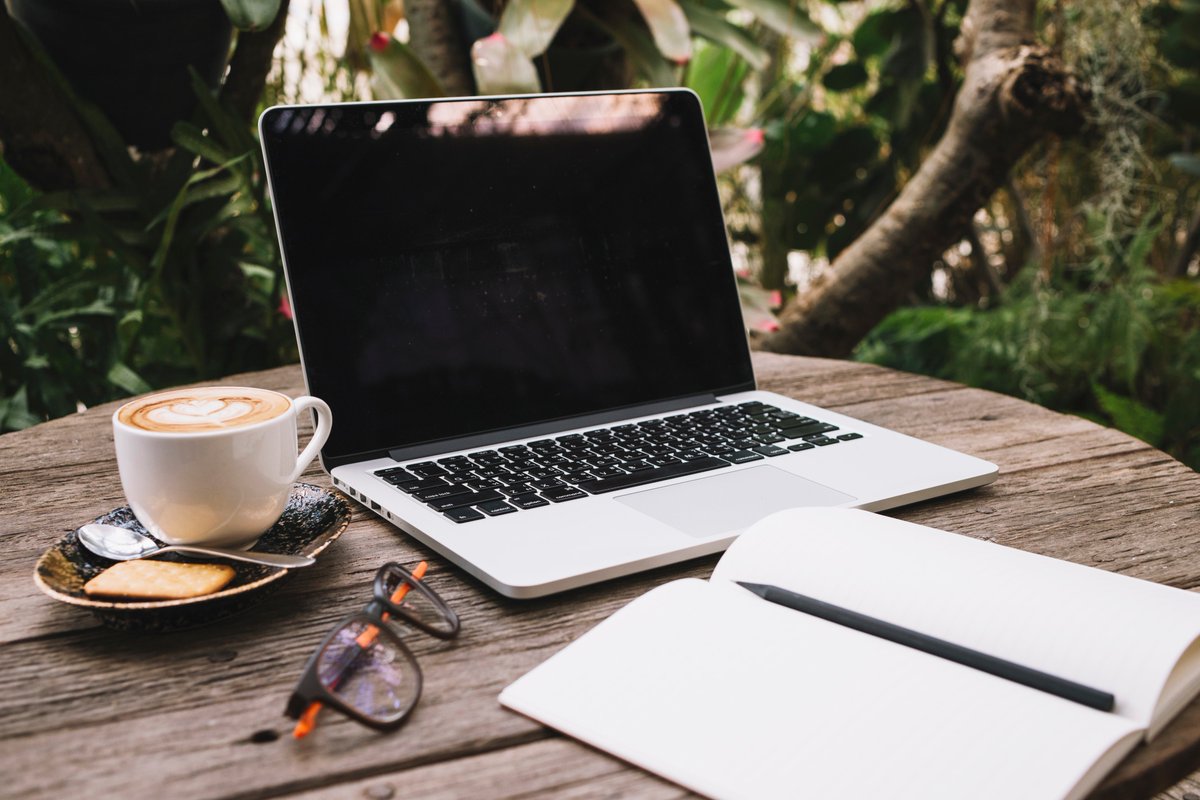 Amsterdam, renowned for its picturesque canals and vibrant cultural scene, has become a haven for digital nomads seeking a balance between work and exploration.
The city's charming coffee culture, coupled with its tech-savvy ambiance, has given rise to a plethora of laptop-friendly cafés that cater to the needs of remote workers. This article serves as a guide to some of the best laptop-friendly cafés in Amsterdam, where you can sip your favorite brew while staying productive.
Exploring Amsterdam's Best Laptop-Friendly Cafés for Digital Nomads
1. Coffee & Coconuts
Nestled in a former cinema, Coffee & Coconuts is a spacious and aesthetically pleasing café that offers a tranquil atmosphere for those seeking a productive work environment. With three levels of seating options, including cozy corners and communal tables, you can easily find your perfect spot. The café's ample power outlets, free Wi-Fi, and a menu featuring an array of coffee options, fresh juices, and healthy dishes make it a top choice for digital nomads.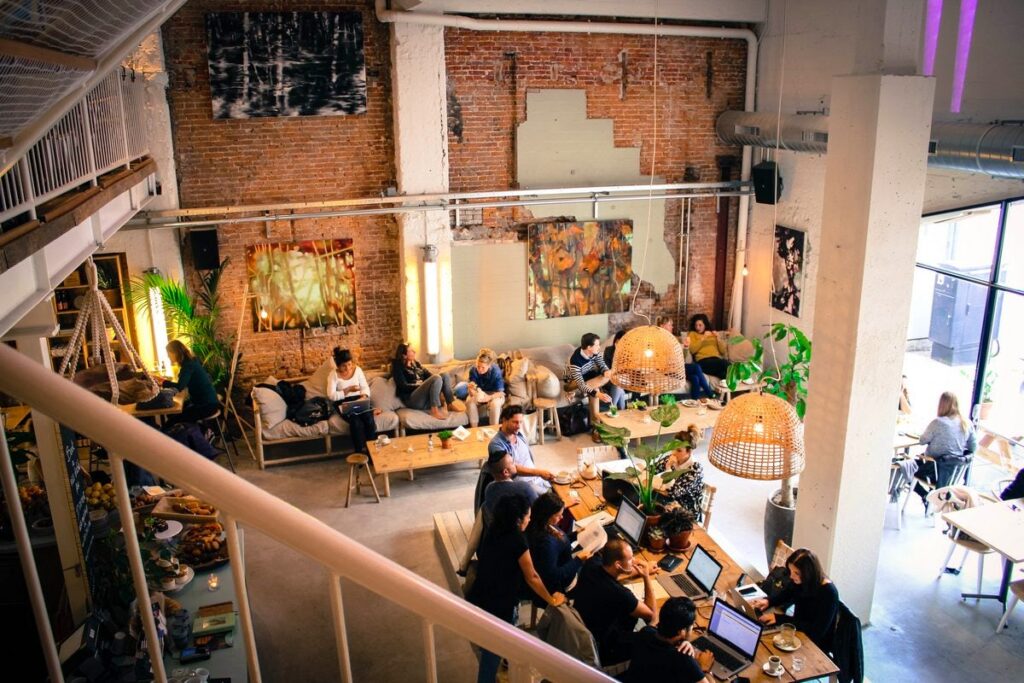 2. The Hoxton
Located along the Herengracht canal, The Hoxton is a stylish boutique hotel that boasts a welcoming lobby turned café, perfect for remote work. The ambiance blends vintage décor with modern amenities, offering a comfortable space to settle in with your laptop. The Hoxton provides complimentary Wi-Fi, a selection of delicious pastries, and a range of beverages from expertly brewed coffee to herbal teas.
3. Lot Sixty One Coffee Roasters
For the true coffee connoisseur, Lot Sixty One Coffee Roasters is a must-visit. This cozy café is celebrated for its exceptional coffee brewed from beans roasted on-site. The café's minimalist design and serene ambiance create an ideal setting for focused work. The absence of distracting background noise further enhances its suitability for remote work. While here, savor a cup of their artisanal coffee and perhaps engage in a quick chat with the knowledgeable baristas.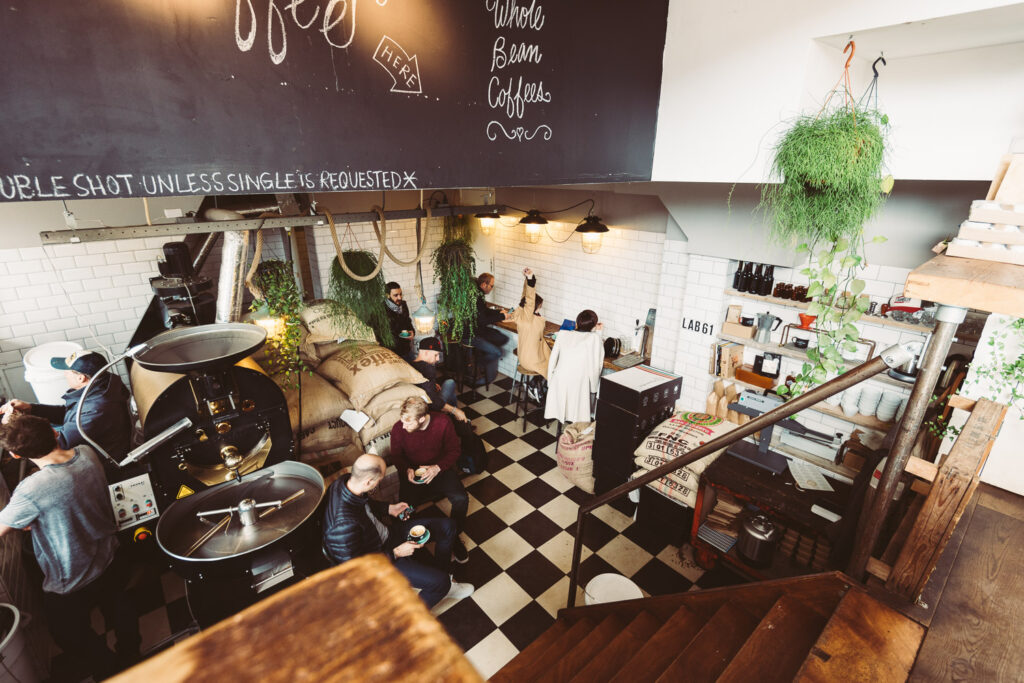 4. Scandinavian Embassy
A haven for lovers of Scandinavian design and quality coffee, Scandinavian Embassy offers a sophisticated space for digital nomads. The café's specialty coffee is crafted with precision, and the menu features an assortment of delectable treats. The minimalist interior, characterized by clean lines and natural materials, fosters a serene atmosphere, while the friendly staff ensures your caffeine fix is accompanied by a productive work session.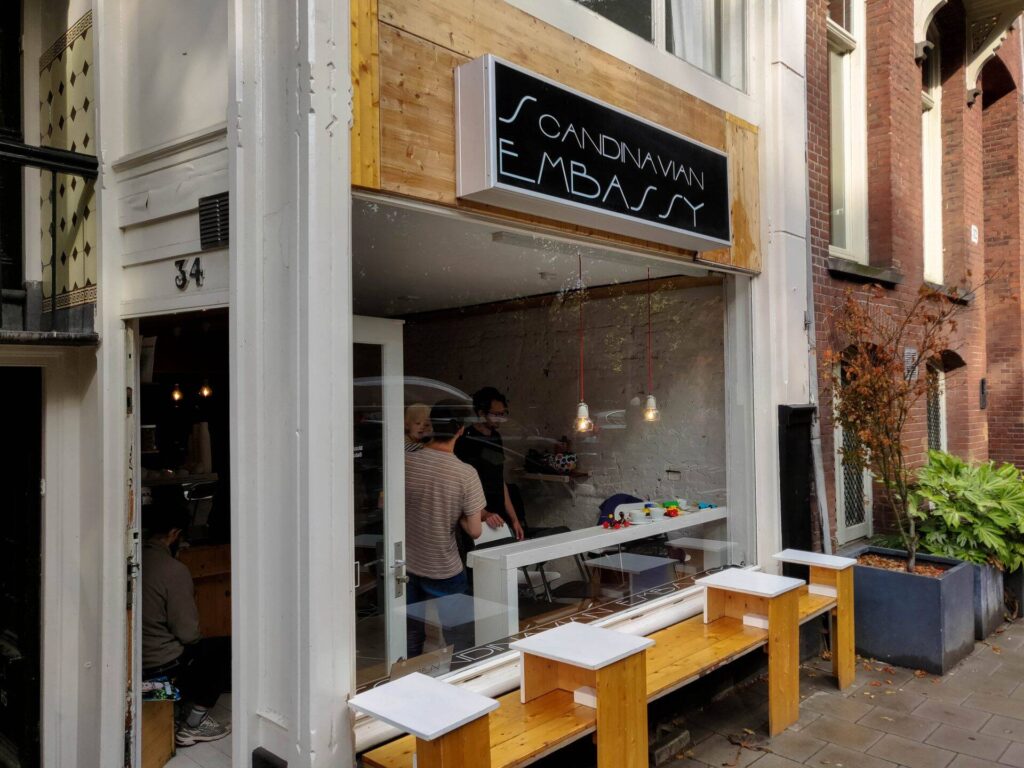 5. De Wasserette
De Wasserette, with its rustic charm and inviting atmosphere, seamlessly blends into Amsterdam's cozy ambiance. Known for its artisanal bread and pastries, the café provides an inviting environment for those seeking a laptop-friendly space. The wooden tables, ample natural light, and the aroma of freshly baked goods set the stage for a productive work session, complemented by their selection of coffees and teas.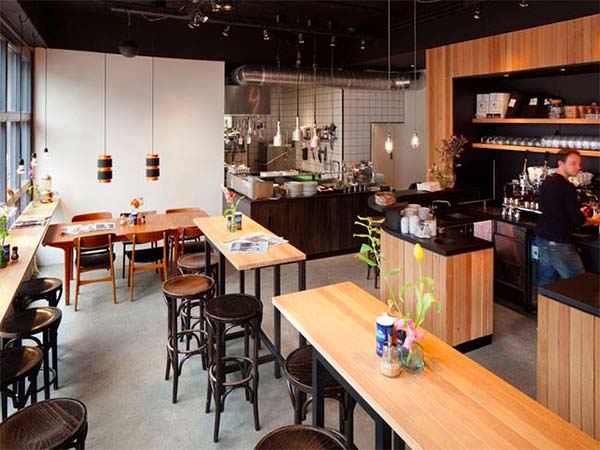 Amsterdam's coffee culture and digital-friendly mindset have given rise to an array of cafés where remote workers can find solace while pursuing their professional endeavors. From the trendy Coffee & Coconuts to the coffee perfectionists' haven, Lot Sixty One Coffee Roasters, each café offers a unique experience. So, whether you're a digital nomad in search of an inspirational workspace or a traveler looking to soak up Amsterdam's charm while catching up on work, these laptop-friendly cafés have got you covered. Embrace the blend of productivity and leisure that Amsterdam's coffee scene has to offer.