Amsterdam Public Transport Cards and Prices
Since Amsterdam is a very touristic city, there are many different types of public transport tickets. These tickets usually vary in terms of space you can use. Unfortunately, we can say that public transport ticket prices for Amsterdam are high. At the beginning of each article, there are sites of card types for you to get up-to-date information and prices. Now let's move on to these card types.
https://reisproducten.gvb.nl/en/toeristen/i-amsterdam-city-card
I Amsterdam card, which is included in all of the canal tour, museum tour and public transportation; It is very suitable for those who will give their due, but it is quite expensive for those who visit 1-2 museums and use public transport from time to time. There are 24-48-72-96-120 hours and prices start from 65€ . Current  current prices you can check the links above. Unless you buy a card for 72 hours or more, the Amsterdam Schipol Airport train is not included in the card, and as with all cards in Amsterdam, you have to scan this card before getting off the public transport. Details are written in the brochure accompanying the card. Your ticket time limit starts to run from your first use. If you want detailed information about I Amsterdam card you can click here to read our I Amsterdam card article.
https://reisproducten.gvb.nl/en/uur-en-dagkaarten/gvb-dagkaart
This card is for public transport only, you can only use it on public transport in the center of Amsterdam. You can use this ticket in Amsterdam, Diemen, Duivendrecht, Amstelveen, Schiphol and Weesp. If you are staying in the city center and not going to the surrounding places, this ticket is ideal for you. But still, do not decide to buy this ticket without reading our Zaanse Schans and Volendam-Edam article. The GVB card has options between one and seven days and the time starts to run from your first use. Prices continue as 8 € for 1 day, 13.50 € for 2 days, 19 € for 3 days, 24.5 € for 4 days . You can find tickets with current prices and more days from the link above.
https://reisproducten.gvb.nl/en/toeristen/amsterdam-travel-ticket
This card is basically similar to the GVB card, but this card also allows you to get on certain transportation vehicles of carriers other than GVB (in Amsterdam, GVB works completely). The Amsterdam Travel Ticket provides unlimited travel for all GVB trams, day buses, night buses and subways along with the train (NS is the railway operator), Amsterdam Airport Express (Bus #397) and Niteliner N97 (Operator of Connexxion) running between Schiphol and Amsterdam. This ticket; Valid from the first time you use it until 04:00 am after the last valid day. To explain with an example: With a 2-day ticket from 00.00 on Wednesday, your ticket will be valid until 04:00 on Friday morning when you check-in at any time of the Wednesday morning. In other words, if you use this ticket for the first time late at night, your one-day usage right will be wasted. The prices are:It is 17€ for 1 day, 22.5€ for 2 days, 28€ for 3 days . You can check the current prices from the link above.
Amsterdam & Region Travel Ticket
https://reisproducten.gvb.nl/en/toeristen/amsterdam-and-region-travel-ticket
First of all, I bought this ticket on both trips. This was because I stayed in the Zaandam area on both visits and was able to visit the amazing places around Amsterdam. Operated by GVB, Connexxion, EBS, NS companies with this ticket; You can travel unlimitedly on buses, trams and metro in Amsterdam and its region. In other words, with this ticket, you can get on the vehicle you want with peace of mind. Like the Amsterdam Travel Ticket you have to watch out for this ticket starts at 00:00 and ends at 04:00 the next day. For example, if you bought a daily ticket, your ticket will expire at 04:00 on Saturday morning, no matter what time you use your ticket for the first time between 00.00-23.59 on Friday. In other words, using this ticket for the first time late at night means wasting a day. The prices are:19.5€ for 1 day, 28€ for 2 days, 36.5€ for 3 days . Even though the Euro rate was 3's on my first visit, I didn't like it much, but in my second visit, I paid 36.5€ because the rate was 6.6. You can find the current prices from the link above.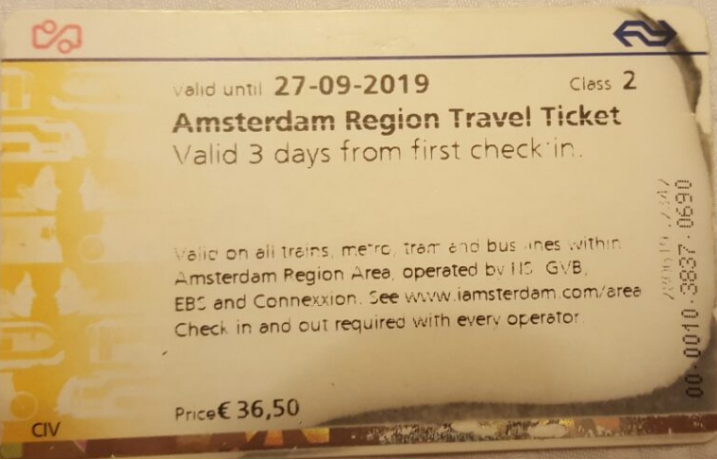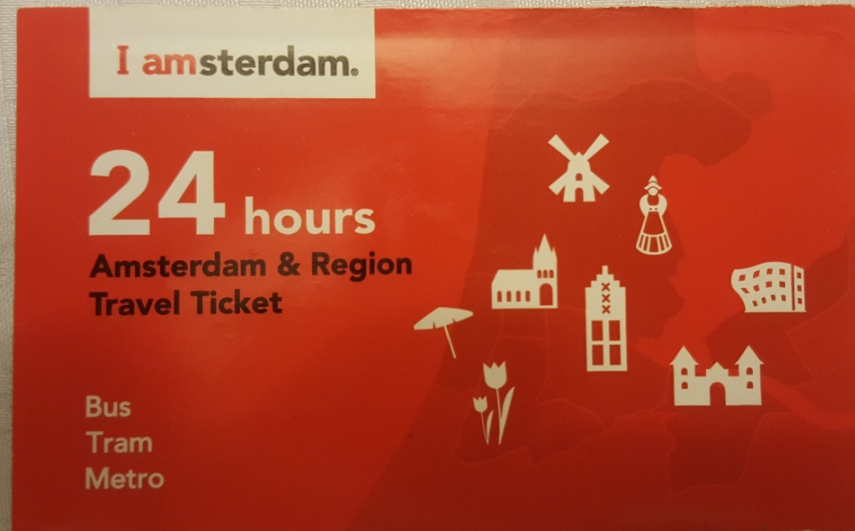 Don't forget to download GVB's mobile app on your phone before you go to Amsterdam. Since the Netherlands is a country where you can find wifi everywhere, you can easily reach anywhere you want with its very easy interface and recipes.
CLICK for Google Play app  .
Brugge – Belgium Travel Guide 2022
Brugge – Belgium Travel Guide. Brugge, unlike Brussels, is Belgium's most loved and most touristic city. So much so that this tiny medieval city hosts around 10-15 million tourists every year.
Brugge(or Brugge) is a city full of canals, beer, chips and, of course, delicious waffles. It is the capital and largest city of the province of West Flanders in the Flemish Region of Belgium, in the northwest of the country. The medieval canals of Brugge are so famous that they called it the "Venice of the North". If you hop on the boat and take a canal cruise, you'll definitely understand why Bruges is the Venice of the North. Bruges' Canals are almost as old as Brugge itself.
Brugge – Belgium Travel Guide 2022
Brugge – Belgium Travel Guide
Markt Square
This is the main square of the city. We love places like this. It is both lively and often the meeting points of young people. It is best for us to start from such a central place. It's a really sweet challenge. Colorful buildings lined up side by side are literally screaming for photos. If you are interested, the phaetons leave from here. We definitely do not recommend it, of course. This is not the place for horses!
Belfort Bell Tower
The bell tower, which is impossible to miss when you come to Markt Square. You can go to the top and watch the view of Brugge, but it didn't appeal to us as it was 14€. The view is said to be good. Let's add here that we saw a much better view with the drone instead 🙂 You have to climb 366 steps to get up. The Musea Brugge Card passes.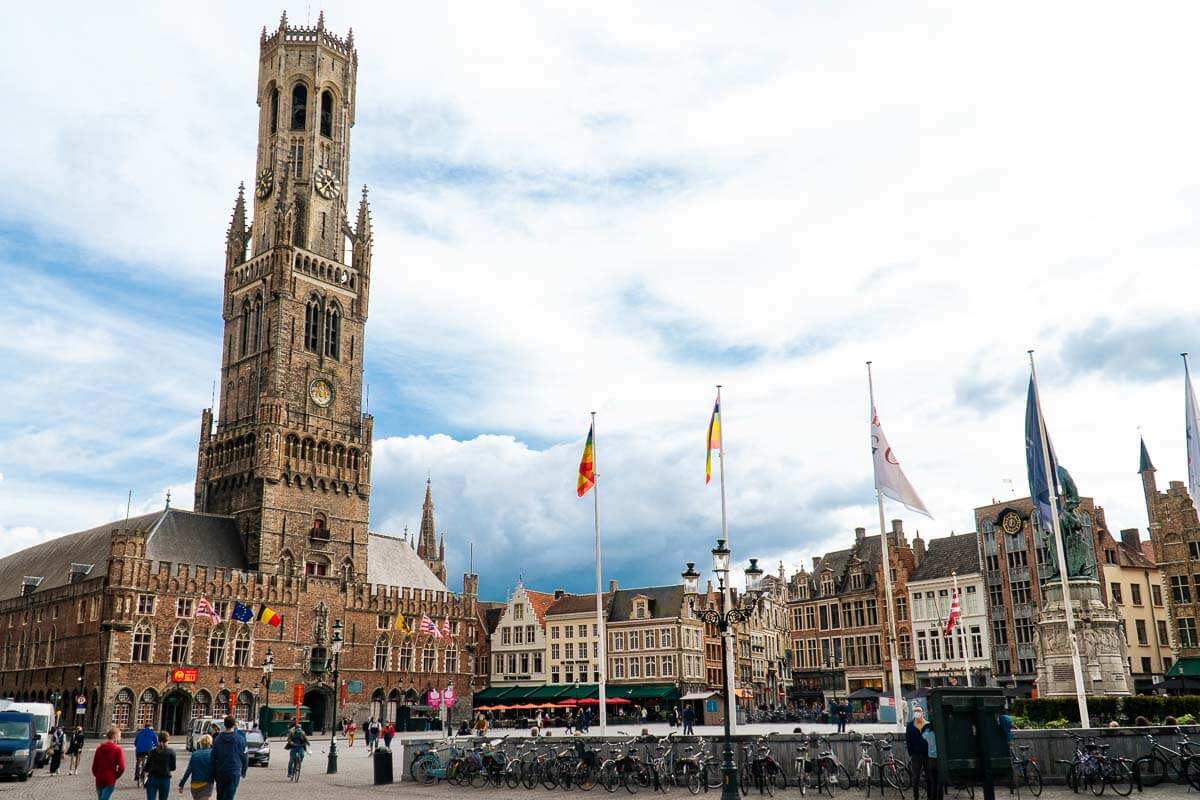 Burg Square
Even though it may seem very small after the Markt, the squares are our heart. The reason for this happening is to visit the Church of the Holy Blood, which we will talk about below. After seeing the Stadhuis, which is also located in this square and attracts attention with its architecture, do not miss to see the magnificent arch on the Blinde-Ezelstraat, on its left.
Basilica of the Holy Blood
Located in Burg Square, it is very difficult to understand that it is a church when you look from the outside, and this church is very important for Christians. In the church, there is a piece of cloth believed to have the blood of Jesus on it. Apart from that, the interior has the most interesting decorative elements we've ever seen. Entry is free. On certain days, the cloth was removed and shown to the visitors, but we could not get a very clear information about when. It is open daily between 09:30-12:00 and 14:00-17:00.
Rozenhoedkaai
In our opinion, this is the most romantic place in Brugge. A frequent destination for photography lovers. This is also the starting point of canal tours. 2be, one of Brugge' most popular breweries, is also located here.
Church of Our Lady
Let's not call it a church because it is the highest point of Brugge with its 122-meter tower, as well as home to Madonna and Child (Madonna and Child), the only work of Michaelangelo found outside of Italy. The entrance to the church is free, but if you want to see this work, cotton hands are in your pocket. Admission is 7€. Free for those with the Musea Brugge Card.
The detail you need to know before going about the work is that you cannot approach the work more than 15 steps. I guess that's why they put a replica closer. The statue differs from other works of Michaelangelo, as the Virgin Mary seems to be smiling. Located in the Vatican, St. It is also very similar to the Pieta in St. Peter's Basilica.
st. John's Hospital (St. John's Hospital)
One of the oldest surviving hospitals in Europe, St. John's Hospital served until 1978. Currently, it continues its life as a museum. You can both learn about its history and see the works of the famous Flemish artist Hans Memling. Admission is 12€. The Musea Brugge Card passes. Even if you don't visit inside, the garden is quite sweet. Be sure to take a look.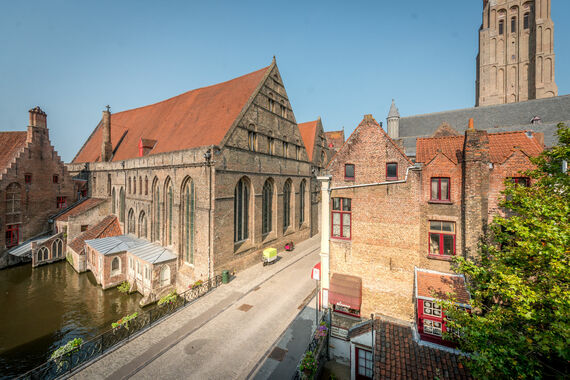 Begijnhof (Ten Wijngaerde)
Begijnhof, a convent where widowed or unmarried women live, is still an extremely quiet place where life continues. It is so calm that there are even signs to be quiet around. You can even come here to escape the crowds of Brugge. There is also a house that tells about the life here. The entrance fee is 2€. It closes at 18:30 in the evening.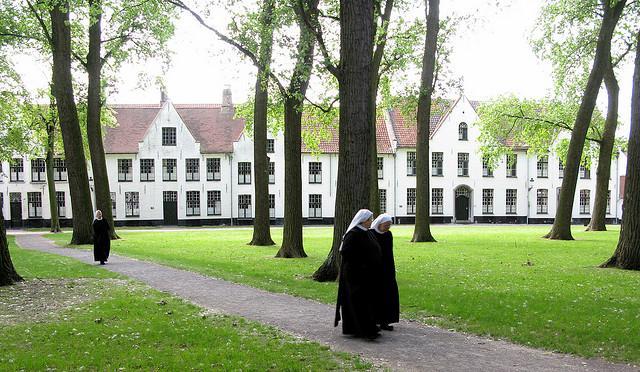 Brugge – Belgium Travel Guide 2022
Minnewaterpark
Minnewater Park, which is very close to the Begijnhof, is a place to take a rest. It is ideal for walking and relaxing with snacks.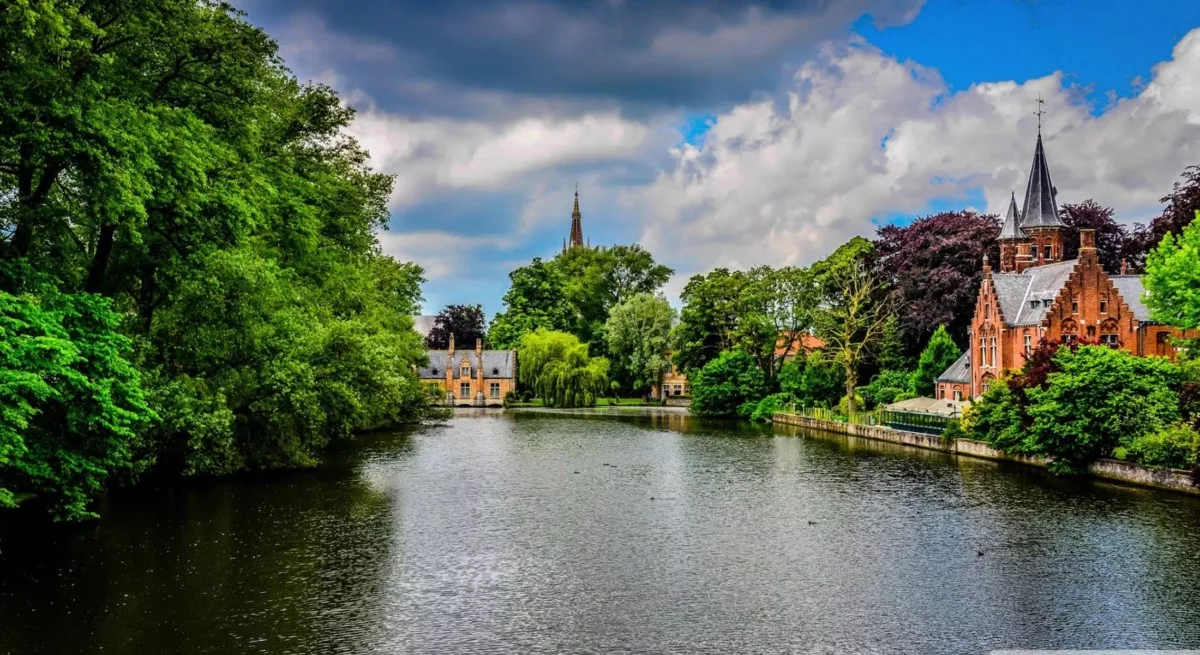 Groenerei
One of the quietest places in Brugge is this canal and its surroundings. The houses with ivy and the bridges again allowed us to take beautiful pictures.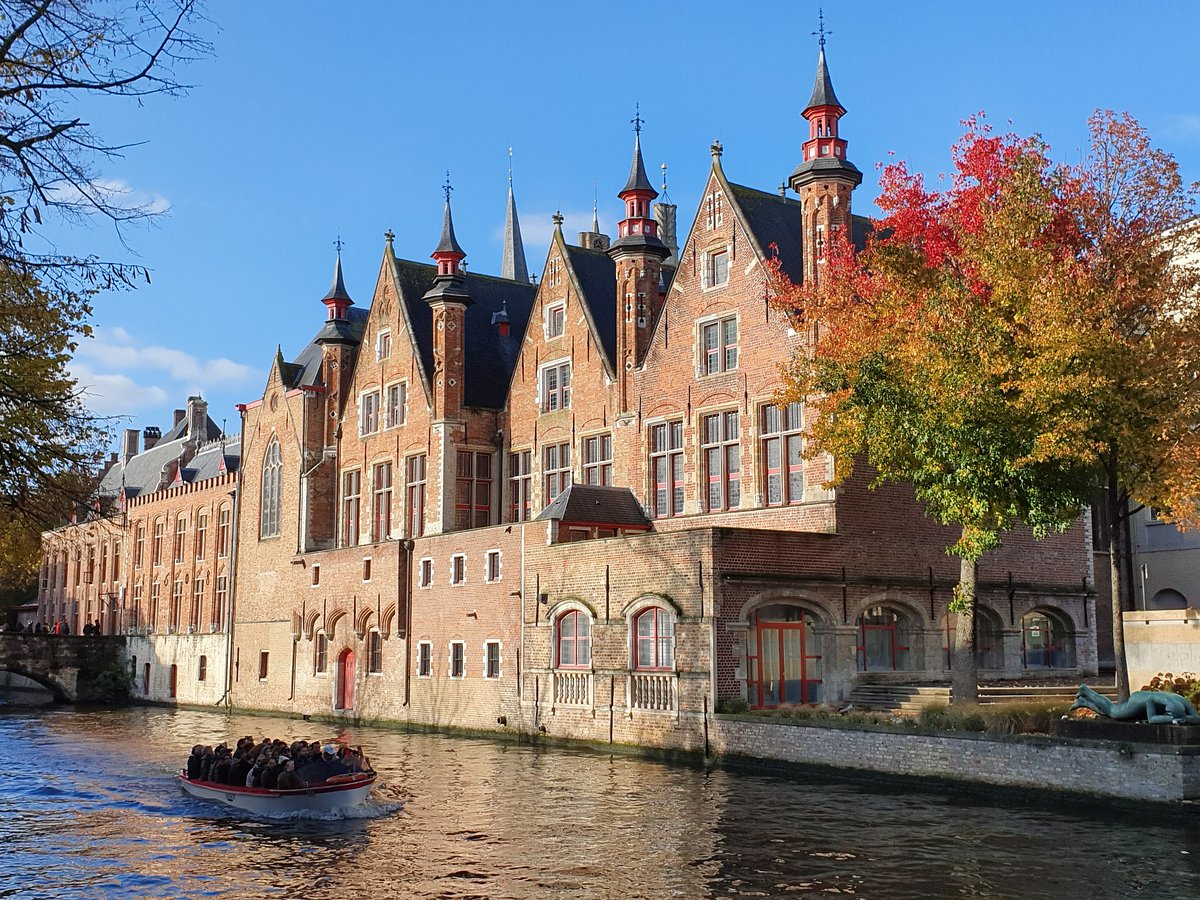 Bonifacius Bridge
We left our favorite place in Brugge for last. We declare this place as the most photogenic place of Brugge. Even if we did not realize that it is not a very old bridge with our Elf eyes, we think that the fact that we have seen the bride and groom photo shoot here gives an idea about its photogenicity.
Museums
As we said, the museum did not interest us at all here. We didn't have time either. But it might interest you. Gruuthusemuseum, Groeningemuseum and, perhaps, one of the most interesting museums, Frietmuseum (Fries Fries Museum) are museums to visit.
Huisbrouwerij De Halve Maan
We wrote this brewery in places to visit because it's a super tour. They explain the production processes of the beer and at the end of the tour there is an unfiltered beer treat. For those who do not go to the Belfort Bell Tower, a very satisfying view of the city can also be a plus. We really enjoyed this tour. The tour fee is 15€ per person.
You will see Brugse Zot, the beer produced here, from many parts of the city.
Brugge Canal Tour
One of the best activities to do in Brugge is the canal tour. Normally these seem like tourist traps to us, but things have changed in Bruges. In our opinion, exploring the city through the canals in a magnificent weather should definitely be done when you come here. You both see the places you cannot see on foot, and you have the chance to look at the places you see from a different angle.
There are several companies for the tour but they all follow the same route. The tour takes approximately 40 minutes. Tickets were 10€ per person in July 2021.
Brugge – Belgium Travel Guide 2022