What to Eat in Amsterdam?
1.  

Taste local Dutch food 
If you want to cure your stomach with the local delicacies of the Netherlands after walking and cycling, we have gathered Dutch dishes and the places where you can eat them in Amsterdam in this article.
2. Try the food of the Dutch colony of Suriname.
Suriname, one of the oldest colonies of the Netherlands, takes the Dutch cuisine from a generously given "eh" to the level of "nam nam nam". If you are one of those who do not want to miss the local delicacies when you go to a city, we say that you should definitely try the Surinamese cuisine. The name of the dish you see in the picture is Kip Kerrie; one of the famous Surinamese dishes, it doesn't normally have a tradition of being served with bread, but over the years, cultural interactions can put the dishes in different ways of presentation. Kip Kerrie  is made with chicken breast, green beans, garlic, onion, Kerrie seasoning and gin pepper. A very spicy and delicious dish.
We have listed a few places for you to taste Surinamese food:
Waterkant: One of the most preferred Surinamese restaurants. You can make a reservation on the website. It is a 15-minute walk from the Flower Market. Website: www.waterkantamsterdam.nl/nl/index.html
Dappermarkt: This is actually a market in Amsterdam. But you can find places that make very good Surinamese food in it. It is a little difficult to walk because it is a little far from the city; the best would be a bicycle or tram. You can reach the Heineken Experience by bike in approximately 12 minutes.
3. Eat at Foodhallen, hang out at De Hallen Amsterdam
The Dutch have created a wonderful cultural state that combines many branches from food to cinema, from fashion to architecture. A variety of cuisine options, from street flavors to Asian and Greek dishes, gathered under one roof in a stylish, high-quality atmosphere. If you want to shoot an Art House movie on it, you go to the cinema. A bit far from the center but definitely worth it.
Tapas
Although tapas is actually a special taste of Spain, we came across a tapas restaurant in Amsterdam and it makes not only tapas but also many local dishes very tasty. That's why we couldn't go without saying.
Pata Negra- Its food and wines are very good. Most of the staff are spanish, it's a bit of a messy place and it can get very full at times. But even this gave it another pleasure and a different atmosphere. It can be tried.
The Last Crumb
Let's give a suggestion for a breakfast spot. After a tiring night in Amsterdam, this is a bakery-cafe where you can find goat cheese, spinach daily quiches, fresh croissants and cakes and hot sandwiches for brunch. Click for location .
Rainbowls
Smoothie Bowl breakfasts are very trendy in Amsterdam. After a tiring night, it is the ideal place to start the day with a healthy and delicious smoothie bowl or acai fruit porridge. Click for location .
MaMa Kelly
MaMa Kelly Amsterdam is an all-pink restaurant with chicken and lobster on the menu. The restaurant, where you feel like you are in a giant Barbie house, is also a popular address for Instagram enthusiasts. Click for location
Most beautiful terraces in Maastricht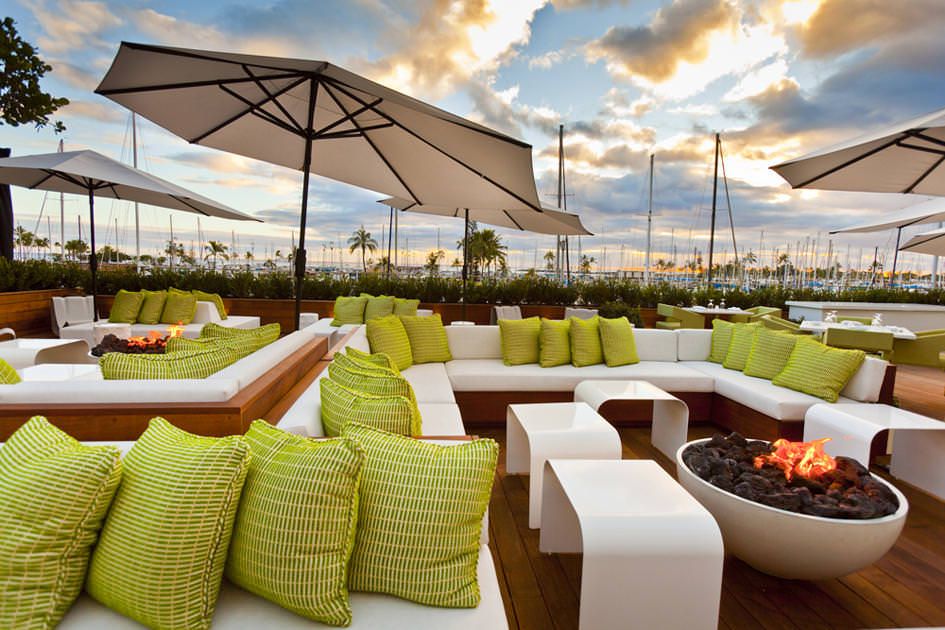 Which restaurants have the most beautiful terraces in Maastricht? Maastricht is the city to be if you want to enjoy the Burgundian life. Lucky you if you live in this beautiful city, but it is also the perfect destination for a weekend break or a holiday in your own country . Enough to experience and it often feels a bit like being abroad. The capital of Limburg has many nice terraces to enjoy a snack, a drink and to catch maximum sun along the Maas. We recommend the best places for your next drink in Mestreech.
Most beautiful terraces in Maastricht
1. Lure
This nice restaurant with a cozy terrace is located in the center of Maastricht, but in a neighborhood where not many people come. So if you don't want to sit in the middle of the hustle and bustle, you've come to the right place. Moreover, on the way here you will pass beautiful places of the city. There are delicious fine dining specialties on the menu, which you can indulge in. You are always among the locals , so you know for sure that you are in the right place!
Restaurant Lure, Grote Looiersstraat 7, Maastricht
2.
Bistro Bar 't Wycker Cabinet
This trendy restaurant is the place to be if you want good food. Start your day with eggs royale, pain perdu or freshly baked banana bread. Settle down here for a fresh salad, club chicken, various tasty sandwiches and croquettes de maison for lunch. Or try one of the classic bistro dishes from the French kitchen for dinner. In any case, you will never go home hungry here.
't Wycker Cabinet, Wyckerbrugstraat 29b, Maastricht
3. Noon
This is perhaps the most handsome terrace in town. Noon is located right next to the river Maas and is without doubt the sunniest terrace in Maastricht. Enjoy lunch, dinner or drinks here from 12 noon. cheers!
4.
Country estate Slavante
Best vegan restaurants in the Netherlands
Which are the best vegan restaurants in the Netherlands? Existing restaurants are opting en masse for a more plant-based menu, and fully vegan restaurants have also sprouted up like mushrooms in recent years . There's no getting around it: vegan is a trend. Great for anyone who likes to consume more consciously, and who has topics such as animal welfare and the environment high on their agenda. But don't think that you have to be at least vegetarian to enter a vegan restaurant. These vegan restaurants manage to convince even the most fanatical carnivores of plant-based delicacies. The menu is diverse, the house style on point and the atmosphere excellent.Wondering where to go in the Netherlands for the most delicious plant-based dishes? The best vegan restaurants (including some newcomers!) in a row.
Best vegan restaurants in the Netherlands
Mama Gaia, Haarlem
Best sushi restaurants in Amsterdam
Amsterdam is full of sushi restaurants, but what are the real gems? Chances are you will find some real hidden sushi gemsin Amsterdam is not yet known. And they don't have to be very expensive. We researched and collected the very best sushi restaurants in Amsterdam, especially for you. Because what's better than an evening of lemurs, nigiri and handrolls? After the photos below, your mouth is already watering.
This content is created and maintained by a third party, and imported onto this page to help users provide their email addresses. You may be able to find more information about this and similar content at 
piano.io