Foodhallen Guide Amsterdam
Foodhallen Guide Amsterdam. Foodhallen Netherlands is a popular food hall located in Amsterdam, Netherlands. It is a large indoor food market featuring a variety of food vendors offering a diverse range of cuisines, including local Dutch specialties, international cuisine, and street food. Foodhallen is a trendy spot for locals and tourists alike to enjoy a meal, grab a drink, or socialize with friends. The space is often bustling with live music, events, and food festivals, making it a popular destination for foodies and those looking for a fun and unique dining experience in Amsterdam.
Foodhallen Guide Amsterdam
What to do in the Foodhallen?
Foodhallen is more than just a food hall – it's a lively social hub where you can spend hours exploring and enjoying the atmosphere. Here are some things to do in Foodhallen:
Try the food: Of course, the main attraction of Foodhallen is the food! There are dozens of vendors offering a wide range of cuisines, so take your time to explore and try as many dishes as you like.
Enjoy a drink: Foodhallen has several bars where you can enjoy a drink while you eat or socialize. Choose from beer, wine, cocktails, or non-alcoholic beverages.
Attend an event: Foodhallen regularly hosts events such as live music performances, DJ sets, and food festivals. Check their website or social media pages to see what's coming up.
Shop for local products: Some of the vendors at Foodhallen sell locally made products such as cheese, bread, and sweets. You can also find unique kitchen accessories and food-related items at some of the shops.
People-watch: Foodhallen is a popular gathering spot for locals and tourists alike, so it's a great place to people-watch and soak up the atmosphere.
Overall, Foodhallen is a vibrant and bustling destination where you can eat, drink, and socialize to your heart's content.
What to eat in the Foodhallen?
There are many delicious food options to try at Foodhallen, but here are a few popular ones:
Bitterballen: These are deep-fried Dutch meatballs that are a must-try when in the Netherlands. You can find them at De Ballenbar or at one of the other food vendors.
Dim Sum: Dim Sum is a popular Chinese dish that is served at the Dim Sum Thing food stand in Foodhallen. You can choose from a variety of steamed and fried dumplings.
Gourmet Burgers: The Butcher is a popular food vendor in Foodhallen that serves up gourmet burgers with a variety of toppings. Their Black Angus beef burgers are especially delicious.
Dutch Pancakes: If you have a sweet tooth, be sure to try the Dutch pancakes at the Pancakes Amsterdam stand. You can choose from a variety of toppings like bacon, cheese, or Nutella.
Asian Street Food: At the Viet View or Baowow stands, you can try a variety of Asian street food, including banh mi sandwiches, Vietnamese pho soup, and Chinese bao buns.
These are just a few of the many food options available at Foodhallen. You'll be sure to find something to satisfy your appetite and taste buds!
Some of the Restaurants in the Foodhallen Amsterdam
Foodhallen is a food hall located in Amsterdam, Netherlands that features a variety of different food vendors. Some of the restaurants and food vendors you may find at Foodhallen include:
Bulls and Dogs – serves gourmet hot dogs
Petit Gateau – offers handmade cakes and desserts
Jabugo Bar Iberico – serves Spanish cured meats and cheeses
Taqueria Lima – offers Mexican street food
Friska – serves healthy bowls, salads, and wraps
Le Big Fish – serves fresh seafood and fish dishes
The Butcher – offers burgers and fries
Viet View – serves Vietnamese cuisine
Maza – offers Mediterranean and Middle Eastern cuisine
Kanarie Club – serves cocktails and other drinks
Please note that vendors may change from time to time, so the options may differ depending on when you visit.
Where is the Foodhallen Amsterdam?
Location: Bellamyplein 51, 1053 AT Amsterdam
Website: http://www.foodhallen.nl/
Best sushi restaurants in the Netherlands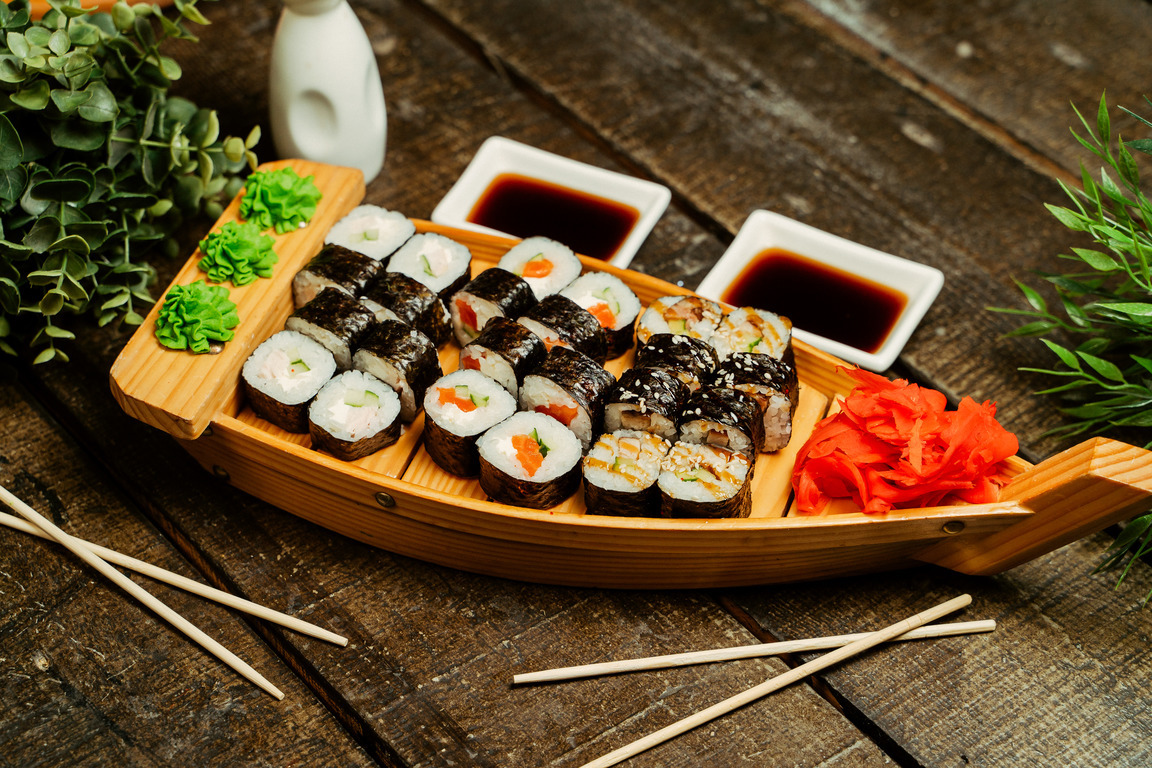 Where are the best sushi restaurant in the Netherlands? Fancy a nice portion of sushi? That's a good thing because, in addition to the best sushi in Amsterdam, the Netherlands has plenty of places where you can enjoy this specialty. From home delivery to going out to visit your favorite sushi place or the best all-you-can-eat sushi, it's all possible. So all sushi lovers pay attention because we list the best sushi restaurants in the Netherlands for you (in random order), from Amsterdam to Maastricht.
Best sushi restaurants in the Netherlands
1. De Japanner
In addition to sushi, you can also enjoy all the other delicacies that Japanese
cuisine
has to offer at De Japanner. Basically everything on the menu tastes fantastic, so don't hesitate to try a few things. Since a few years there are two branches of De Japanner in Amsterdam, one on the Albert Cuypstraat and one on the Bilderdijkstraat.
Bu gönderiyi Instagram'da gör
2. A-Fusion
With no less than five locations, you always have a place at A-Fusion. The restaurant is located in Amsterdam (Zeedijk), and can also be found in Volendam, Naarden, Baarn and Loosdrecht. All branches are beautifully decorated and the menu will make your mouth water spontaneously. Here you will certainly eat one of the best sushi in the Netherlands. Also available via Thuisbezorgd.
Bu gönderiyi Instagram'da gör
3. Miyagi & Jones
Miyagi & Jones is originally from Utrecht (a stone's throw from Utrecht Central Station), but now also has branches in Arnhem and
Haarlem
. They not only serve delicious sushi here, but also other Asian
street food
snacks that are guaranteed to make your taste buds happy. Anyway, order Miyagi's combo.
Bu gönderiyi Instagram'da gör
4. Tiger Mama
You can eat Asian food in a fantastic interior at Tiger Mama in Utrecht. The courtyard (with open roof) is spectacular and just wait until you see the pink cellar! They serve a changing 10-course and 6-course dinner here every six weeks, so you never eat the same thing. Recently you can also enjoy Tiger Mama's creations outside, because they have a brand new terrace. Also available via Thuisbezorgd.
Bu gönderiyi Instagram'da gör
5. Three
Three is one of the best sushi restaurants in the Netherlands and more specifically in
Rotterdam
. The rolls are very tasty and original. From prawn with flambéed salmon to tuna with strawberry, bet you haven't tasted these combinations before?
Bu gönderiyi Instagram'da gör
6. MOOD
Your 
mood
 will definitely get a boost when you visit this restaurant. MOOD serves the best of both worlds: the menu consists of a mix of French and Asian dishes. The tastiest sushi rolls that you really want to taste? The 
rainbow roll
 and 
lobster roll
 . They have two branches in
Eindhoven
, one in Rotterdam and a last one in Schiedam.
Bu gönderiyi Instagram'da gör
7. Momiji Sushi
If you eat at Momiji Sushi, you can't help but order as much sushi as possible. One look at specialties such as the Red Dragon or the White Shark Roll and you're hooked. But it is more than worth it to take a look at the rest of the menu. Because where else can you find a sushi restaurant that not only serves sushi, but also fragrant curry, spicy ramen and a wide selection of bubble teas? Also available via Thuisbezorgd.
Bu gönderiyi Instagram'da gör
8. De Sushimeisjes
What if you are two girlfriends and you both really like sushi? Then why don't you just start your own sushi place? That is exactly what these two girls from The Hague have done. The menu offers an enormous amount of choice – from the Pink Dragon Roll to the Torched Tuna Roll – which makes the hearts of many sushi lovers beat faster.
Bu gönderiyi Instagram'da gör
9. Thai Ichi
In one of the most picturesque places in Maastricht you will find Thai Ichi, an intimate sushi restaurant where they serve the most delicious sushi. The traditional sushi and Thai dishes are prepared by chef Phattanapong Khamto, who has over 25 years of experience as a sushi chef.
Bu gönderiyi Instagram'da gör
10. Sumo Oriental
If you want something more luxurious to eat out, then you should definitely visit Sumo Oriental in Rotterdam. Everything looks beautiful here, from the stylish interior to the artful sushi rolls. And this is not all because they are also one of the best all you can eat sushi restaurants in the Netherlands. This way you get 2 hours to eat unlimited sushi for a certain amount.
Bu gönderiyi Instagram'da gör