Cocktails with New Amsterdam Vodka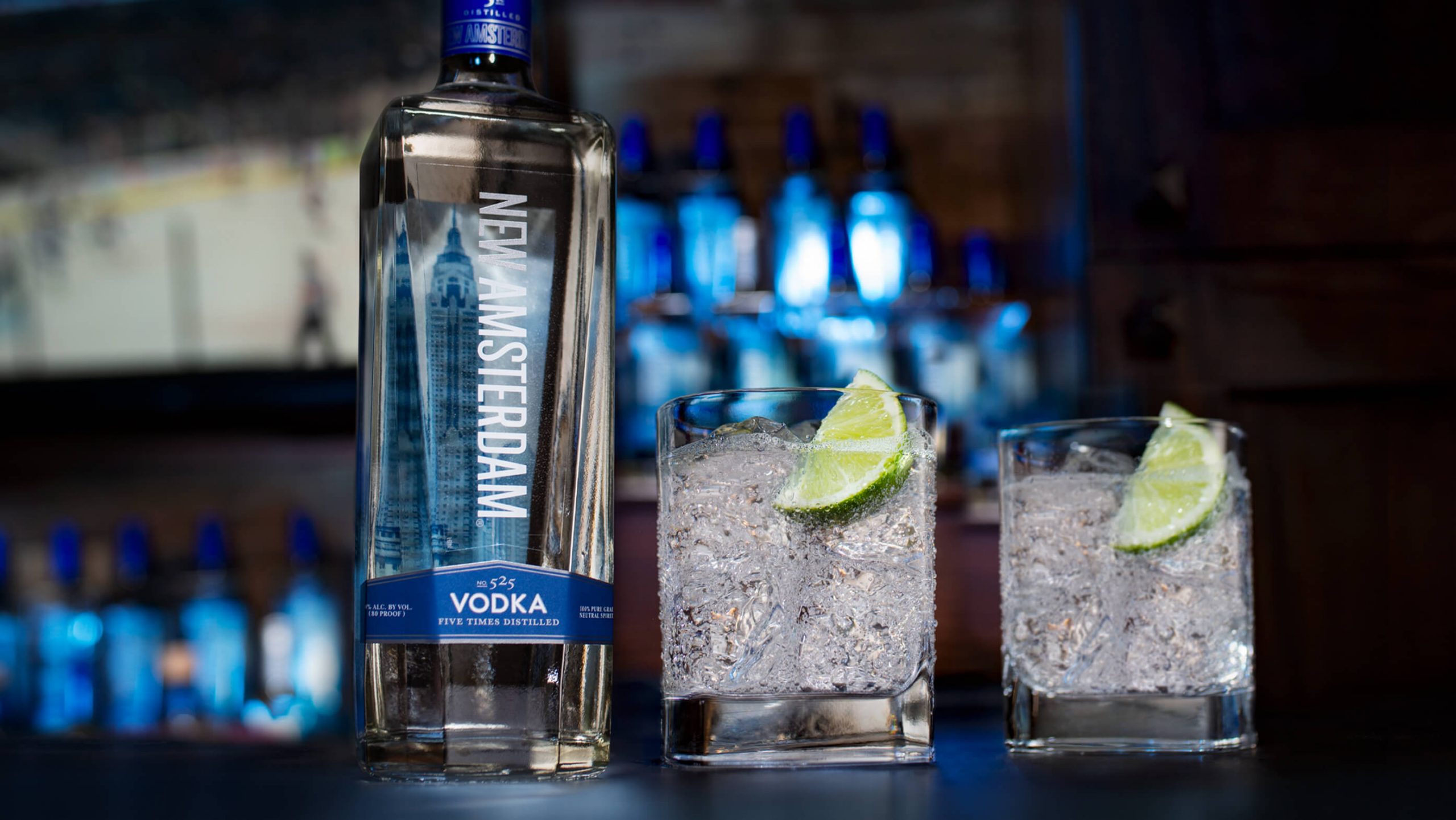 If you are addicted to New Amsterdam Vodka taste and looking for a delicious cocktail with it. These sweet alcoholic drinks are fruity, creamy, boozy… You can say all in one!  Let's shake some cocktails!
But if you are in Amsterdam and no time to make your own drinks at home just check out the 10 Best Amsterdam Bars post.
New Amsterdam Vodka is supremely smooth New Amsterdam Vodka compared to others. Let's get to know some cocktails with New Amsterdam Vodka.
1. New Amsterdam Vodka Collins
A refreshing flavor with lemon and lots of ice.
1/4 Glass of New Amsterdam Vodka
Juice of half a Lemon
1 Dessert Spoon of Sugar
1 Glass of Mineral Water
and Plenty of Ice
Mix all ingredients in a jar or shaker and serve in a glass with ice.
For decoration; you can use mint, orange, and cherry.
2. Hawaiian Punch for Those Who Want to Try Tropical Flavors
If you can't go to the tropics, it's a flavor that will bring you the taste of those places.
103 ml Coconut Milk
6.65 cl Lemonade
17 cl Pineapple Juice
9.3 cl New Amsterdam Vodka
0.25 ml Lemon Soda
Alone, you'll have to wait a night to taste it. After mixing the other ingredients except for soda, put it in the freezer overnight and let it freeze, then you can serve it by adding lemon soda.
3. Another Holiday Cocktail Sun Breeze
4.45 cl New Amsterdam Vodka
11.8 cl Cranberry Juice
2.9 cl Grapefruit Juice
1.5 Glass of Ice
Sliced ​​Lime
Mix all ingredients well except ice and lime. Then you can serve with ice and lime slices.
4. If You Are Stressed, We Recommend You New Amsterdam Vodka Stress
With the meeting of peach and ice-cold New Amsterdam Vodka, New Amsterdam Vodka Stress will make you forget all your stress.
2.95 cl New Amsterdam Vodka
2.95 cl Dark Rum
2.95 cl Peach Liqueur
2.95 cl Orange Juice
2.95 cl Cranberry Juice
You can mix all the ingredients completely and serve with plenty of ice.
5. Blue Hawaii to Spice Up Your Day
2.2 cl New Amsterdam Vodka
2.2 cl White Rum
1.45 cl Blue Curaçao (The orange blossom liqueur that gives the cocktail this beautiful blue color)
8.85 cl Pineapple Juice
1.45 cl Lemon Juice
1.45 cl Syrup (in equal amounts) You can obtain it by boiling water and sugar after cooling it.)
You can mix all the ingredients completely and serve with a glass with plenty of ice.
If you want to make it in the form of frozen, you can put all the ingredients in a blender with a glass of ice and mix well.
6. Not Without a Watermelon Cocktail Watermelon Cooler
For those looking for a great taste by adding some mint and New Amsterdam Vodka to the refreshing and sweet watermelon…
1.5 Glass of Watermelon
5.9 cl New Amsterdam Vodka
1.45 cl Orange Liqueur
1 Dessert Spoon Lemon Juice
After passing our watermelons through the blender, shake the remaining ingredients thoroughly with plenty of ice. Then pour this mixture over the watermelon juice. You can also add soda if you wish.
7. Cuppa Joe Martini For Those Who Can't Give Up This Cocktail Coffee
If you say you can't give up coffee, Cuppa Joe Martini
2.2 cl New Amsterdam Vodka
2.2 cl Hazelnut liqueur
2.95 cl Espresso or a coffee with a similar consistency
Shake all ingredients with ice. You can serve by straining the ice and garnishing with a lemon peel.
8. A Delicious Cocktail for Winter Lovers Tangerine Thyme Martini
5.9 cl New Amsterdam Vodka
1 tangerine juice
1 dessertspoon thyme syrup
For those who say how to make thyme syrup;
1 glass of water
1 glass of honey
10 sprigs of fresh thyme
After boiling and cooling all the ingredients, remove the thyme sprigs.
Mix all the ingredients well with an ice-filled shaker or jar. You can serve it with a tangerine slice and a fresh sprig of thyme.
9. Chocolate And Raspberry Combination Raspberry Chocolate Kiss
Quarter Glass of Mint Syrup (You can make it by boiling equal amounts of water and sugar, then adding a few leaves of mint to it.)
3 Chocolate Biscuits
10 Raspberry
Quarter Water Glass New Amsterdam Vodka
2 Tablespoons Cranberry Juice
After crushing the chocolate biscuits, soak the glass around the glass with cranberry juice and dip into the crushed biscuit. Shake the remaining ingredients with plenty of ice, pour them into a glass, and make it ready to serve.
10. The Most Beautiful Summer Fruits Meet With Cocktail Ice Blue
5.9 cl New Amsterdam Vodka
10 berries
3 or 4 Basil leaves
1.45 cl Lemon juice
Soda
After crushing the blackberries and basil, shake them well with the other ingredients. Then you can strain and serve with plenty of ice.
Artificial chicken meat produced
Food technology company Upside Foods will soon introduce chicken meat produced in bioreactors using real animal cells to the US market.
Only two steps remain for the sale of artificial chicken meat approved by the US Food and Drug Administration
Upside Foods will soon be able to offer chickens made from real animal cells produced in bioreactors in the US.
According to the news of Wired, the decision taken by the US Food and Drug Administration (FDA) is seen as the next important milestone for the artificial meat industry. So far, small-scale production facilities have raised billions of dollars to experiment with artificial meat production; however, it could not sell these products to the public.
The few people invited to try artificial meat had to sign a disclaimer acknowledging that the products were still experimental. Now there are only two small regulatory steps left before the introduction of artificial meat to the public.
TWO STAGES LEFT FOR SALE
Upside needs an inspection approval from the U.S. Department of Agriculture for its manufacturing facilities and an inspection mark for the food to enter the U.S. market. It is anticipated that these two steps will result in rapid results.
"This is the moment we've been working on for nearly seven years. Expanding into the US market is what every company in the world is trying to do," Upside CEO Uma Valeti said in a statement.
While Upside Foods is focused solely on chicken, different startups are working on many different products, including beef, chicken, salmon, and tuna.
IT CAN BE TASTE IN RESTAURANTS FIRST
The FDA's decision means that artificial meat products may soon be available to the public to try, but tastings will likely be limited to a select few restaurants. Michelin-starred chef Dominique Crenn has already announced that Upside Foods will serve chicken produced at her restaurant, Atelier Crenn, in San Francisco.
Valeti said he wants the public to taste Upside chicken for the first time through select restaurants before buying it and cooking it at home.
"CAN'T DISCRIMINATE FROM REAL MEAT"
"We wanted to get this to people through the chefs in the first place. It's really important for us to get the chefs excited about this. We want to work with the best partners who know how to cook well and also give us feedback on what we can do better," said Valeti.
Unlike plant-based meat, artificial meat contains real animal cells and is theoretically indistinguishable from real meat itself. Cells are initially taken from an animal and then transformed into cell lines that are frozen. Small samples from these cell lines are then transferred to bioreactors (usually large steel tanks) where the cells are fed with growth medium containing the nutrients the cells need to divide. Once the cells have grown and reached sufficient tissue type, they are ready.
It will be sold for 17 dollars per kilo.
It is thought that the market and restaurant sales prices of the meat, for which the facilities will produce half a kilo for 17 dollars (approximately 317 lira) in the future, will be much more expensive. Due to this price, it is stated that the first artificial meat products offered to the public will likely be a mixture of animal cells and plant-based meat. On the other hand, it is stated that the widespread production of artificial meat at affordable prices will be 10-15 years later.