8 of the best green Michelin star restaurants in the Netherlands in 2022
Which restaurants in the Netherlands will receive a green Michelin star in 2022 will be announced at the end of May. Green Michelin stars were first awarded to a handful of restaurants in the Netherlands in 2021. What exactly does a green Michelin star mean?
Restaurants with a green Michelin star are distinguished from their culinary counterparts by a commendable and forward-looking focus on sustainability. For example, they only work with local suppliers, strive for zero waste, or take plant-based foods to the next level. Every restaurant in the Michelin guide qualifies for a green star, and I expect that number to increase due to the popularity of plantforward. This year, cooking at a high level will only increase!
Restaurant de Kas : De Kas grows its own vegetables, herbs and edible flowers in the center of Amsterdam. It is harvested at the last minute so it is as fresh as possible on your plate. In other words: from plant to plate! The garden is always open to those who want to inhale the scent of fresh basil with or without a glass of wine. What I love about De Kaş is that they are also open for lunch! Party: Because you start with a table full of appetizers and then you can enjoy a delicious menu.
Kamerlingh Onneslaan 3, Amsterdam – restaurantdekas.com
Bolenius: This restaurant in the middle of Zuidas offers a vegetarian menu (vegan is also possible). With food-local thinking, fresh herbs and vegetables are sourced from its own vegetable garden located next to the restaurant.
George Gershwinlaan 30, Amsterdam – bolenius-restaurant.nl
De Librije: Not a hotel or restaurant where you stay or dine every week, but once in your life, when you have something very special to celebrate, it will be an experience you will remember often. The hotel, which has 19 uniquely decorated rooms, is located in the former women's prison. Two Michelin-starred restaurants need to be booked months in advance. Or book one of the packages.
Spinhuisplein 1, Zwolle – librije.com
Restaurant Lokaal : A beautiful place in Achterhoek where the environment plays an important role. That's why the entire menu is inspired by the seasons and the professionals who provide the restaurant with their best products every day. Highly recommended for a weekend away!
Ruimzichtlaan 150, Doetinchem – hotelvillaruimzicht.nl
Restaurant ONE : In 2007, ONE opened its doors in one of Roermond's oldest districts. A lot has changed since then. In 2010 they were already awarded a Michelin star and now the beautiful restaurant can add a green star.
ECI 17, MA Roermond – restaurantone.nl
Het Seminar: On the edge of Zenderen, you will find the restaurant Het Seminar, located in a former monastery. Here you can enjoy nature and the best the season has to offer. Here they mostly work with fresh produce from their own garden.
Hertmerweg 42, Zenderen – hetseminar.nl
De Nieuwe Winkel : A dinner at De Nieuwe Winkel is high on my food list . This restaurant, where mainly vegetable dishes are served, is one of the places to be considered. De Nieuwe Winkel even has a word for it: botanical gastronomy. The team believes that you can let your guests eat very well at a high level while choosing your ingredients in a way that does not tire the world. Chef Emile van der Staak prefers to design his new dishes on a log in the food forest where your dinner ingredients grow. I've been following De Nieuwe Winkel on Instagram for a while and the food looks great. Come back soon to try it!
Limbourg Square 7 brothers, Nijmegen  – denieuwewinkel.com
Organic restaurant Aan Sjuuteeänjd : An organic restaurant in Schinnen where everything revolves around good quality, taste and a friendly atmosphere. Here, they mainly cook organic food and prefer local products as much as possible. They also cook with forgotten vegetables from their own garden. Chef Jean Thoma loves to visit this vegetable garden. There he finds his peace and creativity. Sjuut's dishes are inspired by the flavors of the past and can also be seen as regional dishes, but at a high level.
Village Street 74, Schinnen – sjuut.nl
Best sushi restaurants in the Netherlands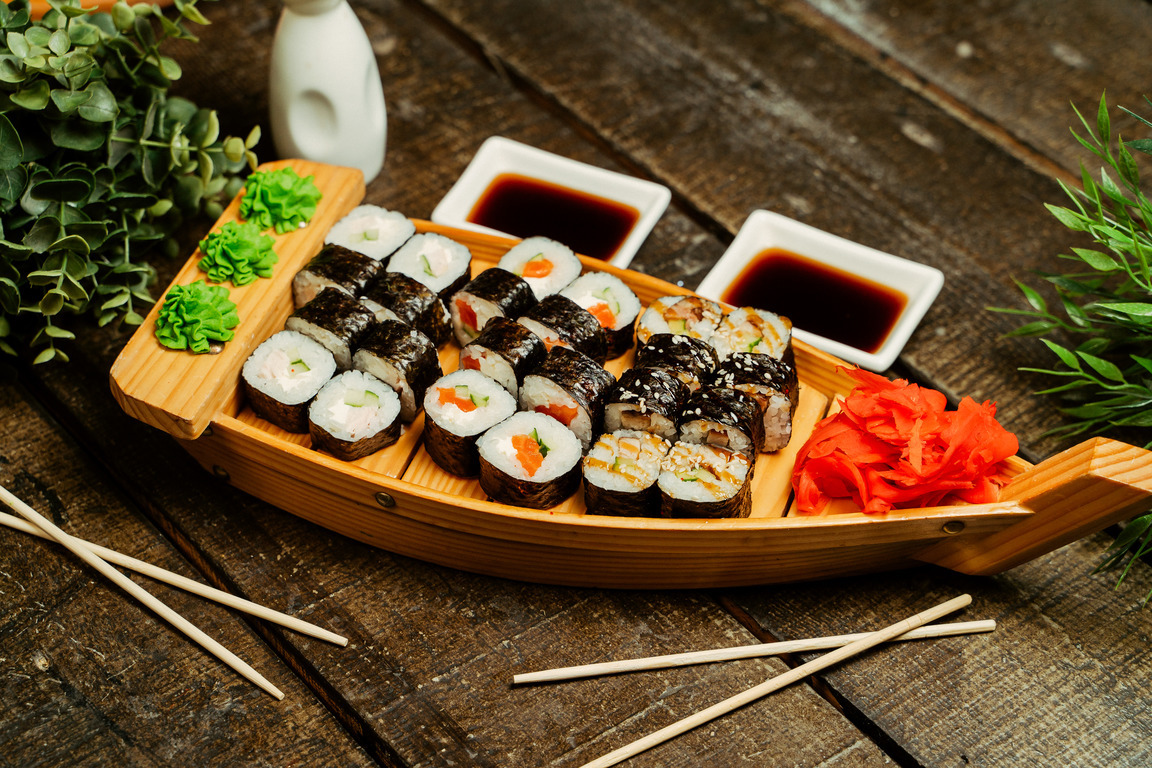 Where are the best sushi restaurant in the Netherlands? Fancy a nice portion of sushi? That's a good thing because, in addition to the best sushi in Amsterdam, the Netherlands has plenty of places where you can enjoy this specialty. From home delivery to going out to visit your favorite sushi place or the best all-you-can-eat sushi, it's all possible. So all sushi lovers pay attention because we list the best sushi restaurants in the Netherlands for you (in random order), from Amsterdam to Maastricht.
Best sushi restaurants in the Netherlands
1. De Japanner
In addition to sushi, you can also enjoy all the other delicacies that Japanese
cuisine
has to offer at De Japanner. Basically everything on the menu tastes fantastic, so don't hesitate to try a few things. Since a few years there are two branches of De Japanner in Amsterdam, one on the Albert Cuypstraat and one on the Bilderdijkstraat.
Bu gönderiyi Instagram'da gör
2. A-Fusion
With no less than five locations, you always have a place at A-Fusion. The restaurant is located in Amsterdam (Zeedijk), and can also be found in Volendam, Naarden, Baarn and Loosdrecht. All branches are beautifully decorated and the menu will make your mouth water spontaneously. Here you will certainly eat one of the best sushi in the Netherlands. Also available via Thuisbezorgd.
Bu gönderiyi Instagram'da gör
3. Miyagi & Jones
Miyagi & Jones is originally from Utrecht (a stone's throw from Utrecht Central Station), but now also has branches in Arnhem and
Haarlem
. They not only serve delicious sushi here, but also other Asian
street food
snacks that are guaranteed to make your taste buds happy. Anyway, order Miyagi's combo.
Bu gönderiyi Instagram'da gör
4. Tiger Mama
You can eat Asian food in a fantastic interior at Tiger Mama in Utrecht. The courtyard (with open roof) is spectacular and just wait until you see the pink cellar! They serve a changing 10-course and 6-course dinner here every six weeks, so you never eat the same thing. Recently you can also enjoy Tiger Mama's creations outside, because they have a brand new terrace. Also available via Thuisbezorgd.
Bu gönderiyi Instagram'da gör
5. Three
Three is one of the best sushi restaurants in the Netherlands and more specifically in
Rotterdam
. The rolls are very tasty and original. From prawn with flambéed salmon to tuna with strawberry, bet you haven't tasted these combinations before?
Bu gönderiyi Instagram'da gör
6. MOOD
Your 
mood
 will definitely get a boost when you visit this restaurant. MOOD serves the best of both worlds: the menu consists of a mix of French and Asian dishes. The tastiest sushi rolls that you really want to taste? The 
rainbow roll
 and 
lobster roll
 . They have two branches in
Eindhoven
, one in Rotterdam and a last one in Schiedam.
Bu gönderiyi Instagram'da gör
7. Momiji Sushi
If you eat at Momiji Sushi, you can't help but order as much sushi as possible. One look at specialties such as the Red Dragon or the White Shark Roll and you're hooked. But it is more than worth it to take a look at the rest of the menu. Because where else can you find a sushi restaurant that not only serves sushi, but also fragrant curry, spicy ramen and a wide selection of bubble teas? Also available via Thuisbezorgd.
Bu gönderiyi Instagram'da gör
8. De Sushimeisjes
What if you are two girlfriends and you both really like sushi? Then why don't you just start your own sushi place? That is exactly what these two girls from The Hague have done. The menu offers an enormous amount of choice – from the Pink Dragon Roll to the Torched Tuna Roll – which makes the hearts of many sushi lovers beat faster.
Bu gönderiyi Instagram'da gör
9. Thai Ichi
In one of the most picturesque places in Maastricht you will find Thai Ichi, an intimate sushi restaurant where they serve the most delicious sushi. The traditional sushi and Thai dishes are prepared by chef Phattanapong Khamto, who has over 25 years of experience as a sushi chef.
Bu gönderiyi Instagram'da gör
10. Sumo Oriental
If you want something more luxurious to eat out, then you should definitely visit Sumo Oriental in Rotterdam. Everything looks beautiful here, from the stylish interior to the artful sushi rolls. And this is not all because they are also one of the best all you can eat sushi restaurants in the Netherlands. This way you get 2 hours to eat unlimited sushi for a certain amount.
Bu gönderiyi Instagram'da gör