5 Little Known Places in the Netherlands
5 Little Known Places in the Netherlands. We know all the famous Dutch places like Kinderdijk, Amsterdam, Keukenhof and Giethoorn are great, but there are always tons of tourists there. These are also great places to see and are definitely worth it. But in this article, we have listed the special places that not everyone knows:
Jongenhoeve Kaasboerderij
Jongenhoeve Kaasboerderij, a dairy and shop in the Southern Netherlands. You can taste tons of different types of cheese before choosing what you want to buy. The old woman who works in this tiny cheese shop cuts the giant wheels of cheese herself. Pretty surprising. So you can buy exactly the amount of cheese you want.
Besides cheese, they also sell farm-made juices, fudge, mustard, ice cream and even goose burgers. They were also explaining how the cheese is made, but they haven't had such a service for a while. Maybe they will start over. Be sure to leave here with a bag full of cheese and many other delicacies.
Website: www.jongenhoeve.nl
Klompenmakerij Traas
Klompenmakerij Traas is where they make their famous Dutch clogs. They sell slippers of all sizes, from baby slippers to adult slippers. You can also get clogs made to order with the design you want. You can also learn about the clogging process by taking a tour. This small but impressive clog factory is located in the state of Zeeland.
Website: www.klompen.com
Kamphuisen Siroopwafelfabriek
Most people are familiar with the famous Dutch stroopwafel, but few know about the Dutch siroopwafel. Stroopwafel and siroopwafel are two different flavors. Hidden behind in the center of Gouda, this factory only makes siroopwafels. Everything about the history of these delicious cookies is in this factory. A highly interactive and delicious experience.
Website: www.siroopwafelfabriek.nl
La Trappe Brewery
La Trappe… This beer is sweet and full of flavor. This is not a regular brewery, it's a monastery. And here the beer is made by the monks. In addition to the tour, don't forget to stop by their restaurant to try all the beers and Dutch snacks. Also, visit the gift shop to buy cheese and other products made at the monastery.
But most importantly, don't leave without buying a bottle or two of their oak-aged beers. You won't find this beer in any grocery store or liquor store. They only sell it there and each one tastes delicious. This factory is close to Tilburg and in an amazing location. Come hungry and thirsty.
Website: www.nl.latrappetrappist.com
Como & Co Restaurant
This will be one of the most memorable restaurants you've ever been to. While not very memorable for food, it is memorable because of its location. This restaurant is at the foot of a lake with lots of indoor and outdoor seating. Everywhere you walk is full of flowers. Can you imagine a more perfect place?
It's a sunny day and you're sitting with a beer or tea at the restaurant on a lake surrounded by tons of gorgeous colorful flowers. A better way to enjoy the sun and this beautiful country cannot be imagined. This restaurant will leave a lasting impression on you.
Website: www.como-co.nl
Best sushi restaurants in the Netherlands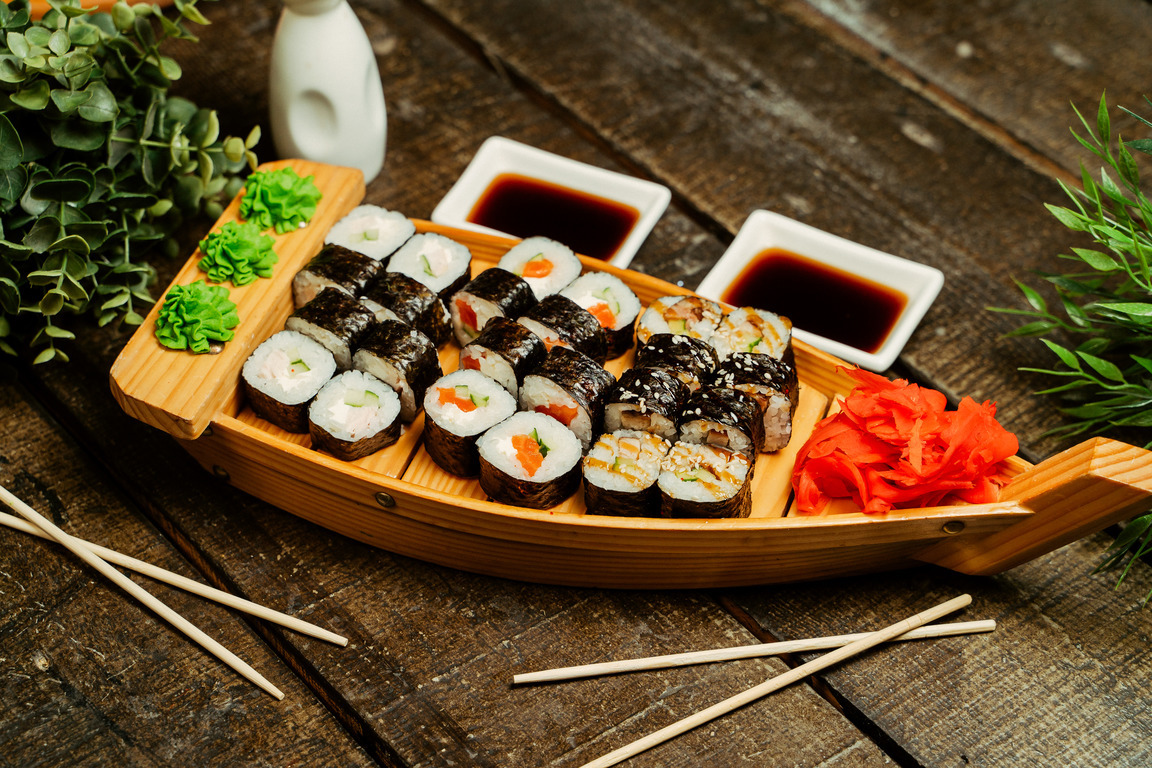 Where are the best sushi restaurant in the Netherlands? Fancy a nice portion of sushi? That's a good thing because, in addition to the best sushi in Amsterdam, the Netherlands has plenty of places where you can enjoy this specialty. From home delivery to going out to visit your favorite sushi place or the best all-you-can-eat sushi, it's all possible. So all sushi lovers pay attention because we list the best sushi restaurants in the Netherlands for you (in random order), from Amsterdam to Maastricht.
Best sushi restaurants in the Netherlands
1. De Japanner
In addition to sushi, you can also enjoy all the other delicacies that Japanese
cuisine
has to offer at De Japanner. Basically everything on the menu tastes fantastic, so don't hesitate to try a few things. Since a few years there are two branches of De Japanner in Amsterdam, one on the Albert Cuypstraat and one on the Bilderdijkstraat.
Bu gönderiyi Instagram'da gör
2. A-Fusion
With no less than five locations, you always have a place at A-Fusion. The restaurant is located in Amsterdam (Zeedijk), and can also be found in Volendam, Naarden, Baarn and Loosdrecht. All branches are beautifully decorated and the menu will make your mouth water spontaneously. Here you will certainly eat one of the best sushi in the Netherlands. Also available via Thuisbezorgd.
Bu gönderiyi Instagram'da gör
3. Miyagi & Jones
Miyagi & Jones is originally from Utrecht (a stone's throw from Utrecht Central Station), but now also has branches in Arnhem and
Haarlem
. They not only serve delicious sushi here, but also other Asian
street food
snacks that are guaranteed to make your taste buds happy. Anyway, order Miyagi's combo.
Bu gönderiyi Instagram'da gör
4. Tiger Mama
You can eat Asian food in a fantastic interior at Tiger Mama in Utrecht. The courtyard (with open roof) is spectacular and just wait until you see the pink cellar! They serve a changing 10-course and 6-course dinner here every six weeks, so you never eat the same thing. Recently you can also enjoy Tiger Mama's creations outside, because they have a brand new terrace. Also available via Thuisbezorgd.
Bu gönderiyi Instagram'da gör
5. Three
Three is one of the best sushi restaurants in the Netherlands and more specifically in
Rotterdam
. The rolls are very tasty and original. From prawn with flambéed salmon to tuna with strawberry, bet you haven't tasted these combinations before?
Bu gönderiyi Instagram'da gör
6. MOOD
Your 
mood
 will definitely get a boost when you visit this restaurant. MOOD serves the best of both worlds: the menu consists of a mix of French and Asian dishes. The tastiest sushi rolls that you really want to taste? The 
rainbow roll
 and 
lobster roll
 . They have two branches in
Eindhoven
, one in Rotterdam and a last one in Schiedam.
Bu gönderiyi Instagram'da gör
7. Momiji Sushi
If you eat at Momiji Sushi, you can't help but order as much sushi as possible. One look at specialties such as the Red Dragon or the White Shark Roll and you're hooked. But it is more than worth it to take a look at the rest of the menu. Because where else can you find a sushi restaurant that not only serves sushi, but also fragrant curry, spicy ramen and a wide selection of bubble teas? Also available via Thuisbezorgd.
Bu gönderiyi Instagram'da gör
8. De Sushimeisjes
What if you are two girlfriends and you both really like sushi? Then why don't you just start your own sushi place? That is exactly what these two girls from The Hague have done. The menu offers an enormous amount of choice – from the Pink Dragon Roll to the Torched Tuna Roll – which makes the hearts of many sushi lovers beat faster.
Bu gönderiyi Instagram'da gör
9. Thai Ichi
In one of the most picturesque places in Maastricht you will find Thai Ichi, an intimate sushi restaurant where they serve the most delicious sushi. The traditional sushi and Thai dishes are prepared by chef Phattanapong Khamto, who has over 25 years of experience as a sushi chef.
Bu gönderiyi Instagram'da gör
10. Sumo Oriental
If you want something more luxurious to eat out, then you should definitely visit Sumo Oriental in Rotterdam. Everything looks beautiful here, from the stylish interior to the artful sushi rolls. And this is not all because they are also one of the best all you can eat sushi restaurants in the Netherlands. This way you get 2 hours to eat unlimited sushi for a certain amount.
Bu gönderiyi Instagram'da gör