Dutch performers who have achieved success in Hollywood
Even though the Netherlands may be small, its effect is great. Even Hollywood has taken notice of our tiny nation with a population of fewer than 18 million people!
Numerous Dutch nationals have succeeded in establishing themselves in countries other than their native country. Let's look at some of the most well-known performers and actresses from the Netherlands.
Famous Dutch individuals
Anyone who spends time watching Dutch television could be excused for assuming that there aren't many famous people in the country. In fact, it frequently seems as though the same 10 people are featured on all the country's main networks and TV programs.
However, there are actually many well-known Dutch individuals, from DJs and models to athletes and actresses, and some of them have even made it big on the international stage.
Eddie van Halen, who co-founded the band Van Halen with his brother Alex, Doutzen Kroes, Yolanda Hadid, and DJ Martin Garrix are some examples of modern Dutch people who are well-known not just in the country but also overseas.
Dutch performers who have achieved success in Hollywood
Interested in learning more about famous Dutch actors and actresses in Hollywood? Here are a few well-known Dutch actors and actresses from the US and other countries.
Men Actors
All of these performers are Dutch citizens, despite the fact that they may not all flaunt it and that you might not be able to tell from their accents.
Michiel Huisman
Michiel Huisman, who is arguably the most successful Dutch performer to break through in Hollywood in recent years, received his breakthrough role on the global stage in 2014 when he played Daario Naharis in the fourth season of HBO's Game of Thrones. Huisman, who was born in Amstelveen in 1981, has been in a variety of movies and television shows over the past few years, including The Age of Adeline (2015), The Guernsey Literary and Potato Peel Pie Society (2018), and The Flight Attendant (2020).
Marwan Kenzari
Another more recent name to the list of Dutch actors who have achieved international recognition is Marwan Kenzari. Before his international career took off in 2016 when he acted in Ben Hur, Kenzari, who was born in The Hague in 1983, appeared in a number of Dutch movies and TV shows. Kenzari has since been in blockbusters including Aladdin (2019) and Black Adam (2022), as well as the groundbreaking Netflix original The Old Guard (2020).

Rutger Hauer
You might have guessed that this actor, most known for his portrayal as Roy Batty in Blade Runner (1982), had Dutch ancestry based on his name Rutger Hauer. Hauer's career spanned decades, and considering that he was married to fellow actor Ineke ten Kate and was born in Breukelen (a village close to Utrecht) in 1944, it's maybe not surprising that the Dutch people named him the Best Dutch Actor of the Century in 1999.
Carel Struycken
Carel Struycken is another well-known actor who was born and raised in The Hague. He has starred in a number of well-known movies and television shows, including Men in Black (1997), The Addams Family (1991), and Star Trek: The Next Generation (1987-1992). He recently played parts in The Eden Theory and Doctor Sleep (2019). (2021).
Dutch actresses
But not only Dutch males have become well-known in the American cinema and television industries; a number of Dutch women have also starred in numerous foreign productions and achieved international success.
Carice van Houten
Another Dutch actor who rose to fame after appearing in Game of Thrones is Carice van Houten (2012-2019). Van Houten, who was born in Leiden and played Melisandre in the popular HBO series from seasons two to eight, has also starred in a variety of other works, such as Brimstone (2016) and The Fifth Estate (2013). She also had a significant part in the 2006 Dutch war picture Zwartboek, which was nominated for the 79th Academy Award for Best Foreign Feature Film and made the shortlist.
Famke Janssen
Famke Janssen may have been born and raised in Amstelveen, but she has created a name for herself in Hollywood thanks to a string of successful movies. In addition to playing Jean Grey/Phoenix in four X-Men films, Janssen also earned the prestigious moniker of Bond Girl after appearing in GoldenEye. She shares this distinction with actors like Jane Seymour, Halle Berry, and Rosamund Pike, which is maybe even more significant.
Audrey Hepburn
You probably already know this name, but you might not be aware that the late, famous Audrey Hepburn was of royal Dutch descent. Hepburn, who was raised primarily in the Netherlands, was born to a British father and a Dutch mother, Baroness Ella van Heemstra. Before migrating to London in 1948 to pursue her passion for dance, she divided her time between a number of Dutch cities, including The Hague, Arnhem, and Amsterdam.
Katja Herbers
Katja Herbers, who was born in Amsterdam in 1980, has had a very successful and diversified career. The most notable part of her international career has to be her portrayal of Emily Grace in seasons two and three of the popular HBO show Westworld. She has had a lot of roles in various significant Dutch productions. She was just chosen for a prominent role in the Parapount+ original series Evil.

Famous Dutch actors from the Netherlands
Of course, there are a lot of performers who have quite lucrative careers right here in the Netherlands without ever becoming well-known abroad. Here are a few Dutch actors and actresses who are well-known in their own country.
Barry Atsma
Even to those who are unfamiliar with the world of Dutch celebrities, Barry Atsma may be a recognized name (or at the very least a familiar face). He was born in the UK even though he is Dutch and has been in several critically acclaimed Dutch movies and TV shows. He recently appeared in the BBC series The Split and the Hollywood movie The Hitman's Bodyguard thanks to his connection (and flawless English). However, his list of accomplishments in the Dutch language is just as amazing, including Klem, Bankier van het verzet, and Komt een vrouw voor de dokter, for which he received the Gouden Kalf for Best Actor!
Georgina Verbaan
Georgina Verbaan has acted in a number of feature films, but she is arguably best known for her recurrent role as Hedwig Harmsen in the Dutch soap opera Goede tijden, slechte tijden. Since the Dutch celebrity community is quite small compared to the rest of the globe, it probably comes as no surprise to learn that Verbaan co-stars with Atsma in one of her most well-known roles, Klem. In addition to this, she has appeared in Mannenharten, De club van lelijke kinderen, and Costa!
Frank Lammers
Frank Lammers will likely be recognizable to everyone who has ever seen Dutch television. In addition to playing Ferry Bouman in the ground-breaking Netflix series Undercover and its companion film Ferry, he also plays the bumbling but endearing dad in the commercials for the grocery store chain Jumbo.
Lies Visschedijk
If you can think of a Dutch romantic comedy, Lies Visschedijk probably starred in it. She played the iconic character of Soof in the Soof trilogy and TV series, but she also had significant parts in films like Alles of Tafel, All You Need Is Love, Gooische vrouwen, and Alles is Liefde, to mention a few.
Actors of Dutch descent
Even if these celebrities aren't actually Dutch, it seems that their families do have some Dutch ancestry; some of these roots may be more noticeable than others.
Jane Seymour
Did you know that the mother of this Golden Globe and Emmy-winning actress was Dutch? Although Seymour's mother, Mieke van Tricht, was a nurse from the Dutch city of Deventer, she was actually born in England. Seymour is even fluent in Dutch, and when she was younger, she frequently traveled to the Netherlands for vacations.
Cobie Smulders
You would not be surprised to learn that Cobie Smulders, of How I Met Your Mother fame, has Dutch ancestry given her name, "Smulders." The actress, whose real name is Jacoba Francisca Maria Smulders, was born in 1982 in Canada to a British mother and a Dutch father.
Robert De Niro
To locate Robert De Niro's connection to the Netherlands, you'll need to delve a little deeper into his family tree, but it's there! The Oscar-winning actor was related to Nicholas (Klaas) Admiral, who was born in a village close to Alkmaar, according to research done in 2018.
Angelina Jolie
Last but not least, the Netherlands may be able to claim a small amount of responsibility for the Hollywood icon that is Angelina Jolie. According to reports, Wim Kok's great-niece was Angelina Jolie's mother.
They're all over the place: famous Dutch people!
So there you have it, then! Even the glitzy Hollywood industry has been impacted by this diminutive but formidable nation.
The Home Of Aladdin: New Amsterdam Theatre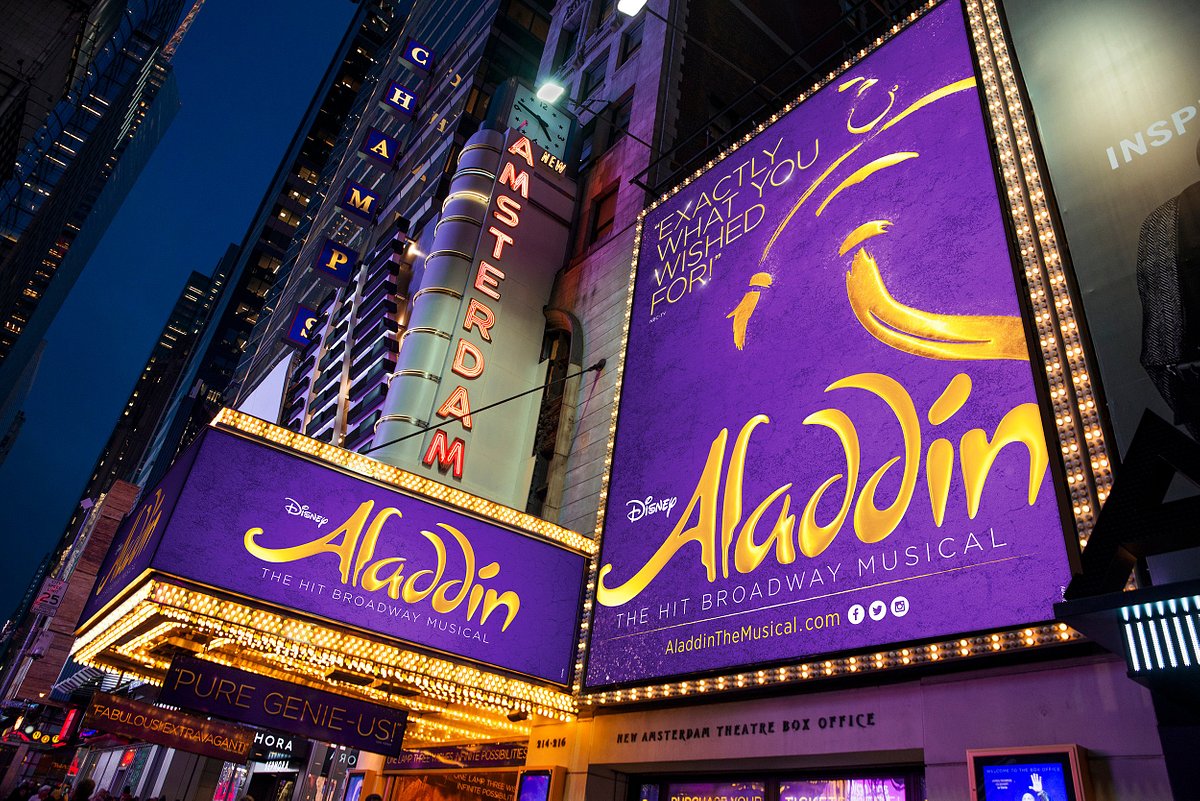 The New Amsterdam Theatre is a historic Broadway theater located in Manhattan, New York City. It was originally built in 1903 by the famous architectural firm Hertz and Tallant and was designed in the Art Nouveau style.
The theater has a rich history, having been home to many famous Broadway productions throughout the years. Some of the most notable shows to have premiered at the New Amsterdam include Ziegfeld Follies, Funny Face, and the original production of Annie.
In the 1980s, the New Amsterdam was in danger of being demolished, but it was ultimately saved and restored to its former glory thanks to the efforts of the Disney company. Today, the theater is owned by Disney Theatrical Productions and is home to the hit musical Aladdin.
The New Amsterdam Theatre is a popular tourist destination in New York City, attracting visitors who are interested in its history and architecture as well as theater enthusiasts who want to see a Broadway show in a stunning and historic venue.
New Amsterdam Theatre Ticket Prices
The ticket prices for shows at the New Amsterdam Theatre can vary depending on a number of factors such as the day of the week, time of day, and the demand for the particular show.
The ticket prices for Aladdin, which is currently running at the New Amsterdam Theatre, range from around $75 to $250 per seat. However, it's important to note that prices are subject to change and may vary based on availability and other factors.
It's also worth mentioning that many ticket resellers and brokers offer tickets for Broadway shows, including those at the New Amsterdam Theatre, but these tickets may be priced significantly higher than the face value of the tickets sold directly by the theater. So, it's always best to purchase tickets directly from the theater's website or box office if possible.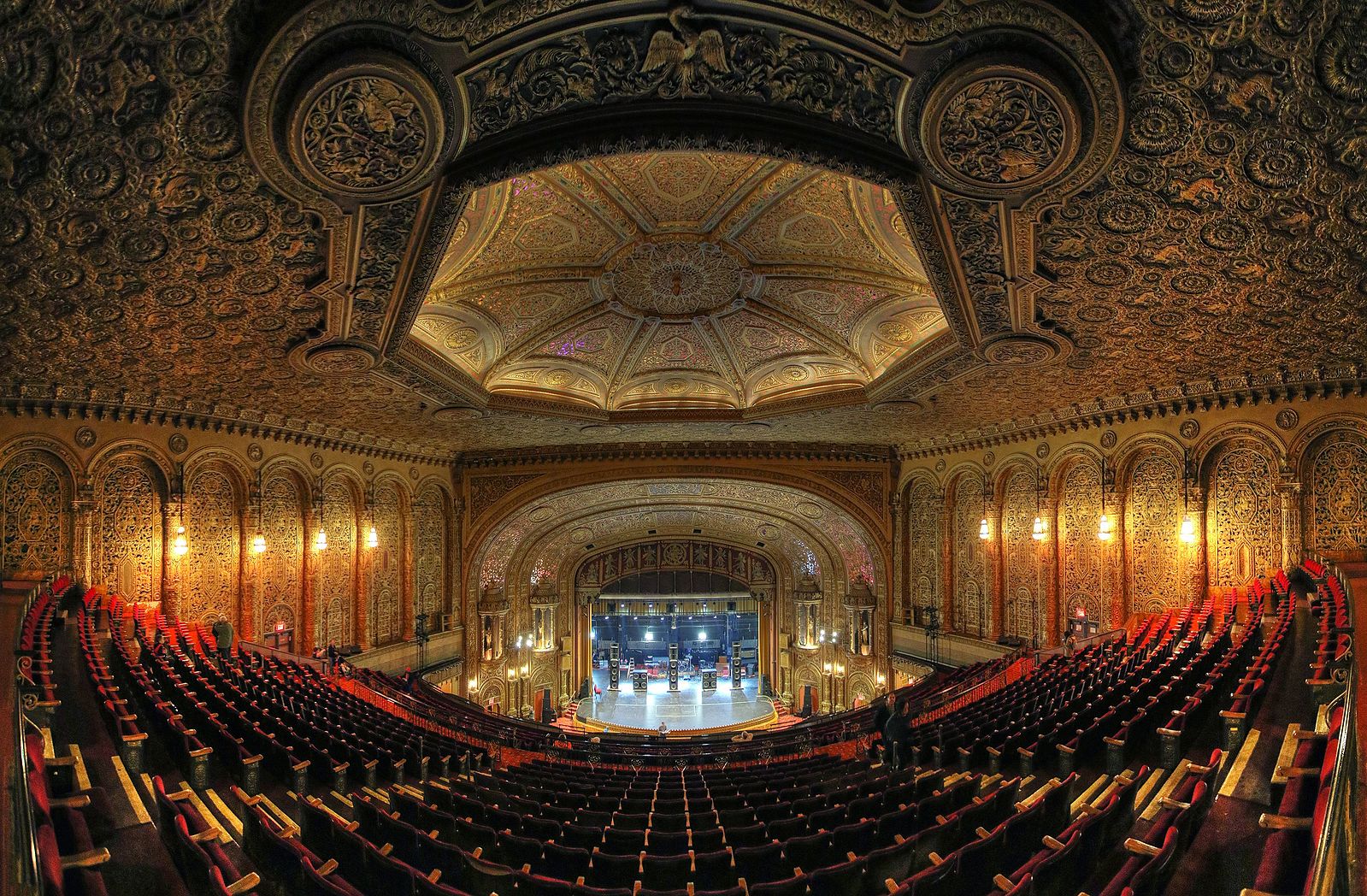 New Amsterdam Theatre History
The New Amsterdam Theatre is a historic Broadway theater located in the Theater District of Manhattan, New York City. It was built in 1903 by the prominent architectural firm Hertz and Tallant and designed in the Art Nouveau style.
The theater was commissioned by the impresario and entertainment mogul, Alexander Pantages, who wanted a grand venue for his vaudeville shows. In its early years, the New Amsterdam Theatre was primarily used for vaudeville acts, including performances by the famous comedian, Ed Wynn.
In 1913, the Shubert Organization, one of the most powerful theater production companies of the time, took control of the New Amsterdam and began using it for their Broadway productions. The theater became known for its opulent design and technical innovations, including the use of hydraulic lifts to move scenery on and off the stage.
Over the years, the New Amsterdam Theatre was home to many famous Broadway productions, including the Ziegfeld Follies, Funny Face, and the original production of Annie. However, by the 1970s, the theater was in decline and facing the possibility of demolition.
In the 1990s, the Walt Disney Company purchased the New Amsterdam Theatre and undertook a massive restoration effort to bring the theater back to its former glory. The restoration included recreating many of the original Art Nouveau features, as well as updating the theater's technical capabilities to meet the demands of modern productions.
Today, the New Amsterdam Theatre is owned by Disney Theatrical Productions and is home to the hit musical Aladdin. The theater remains an important and beloved part of New York City's theater scene and a testament to the rich history of Broadway.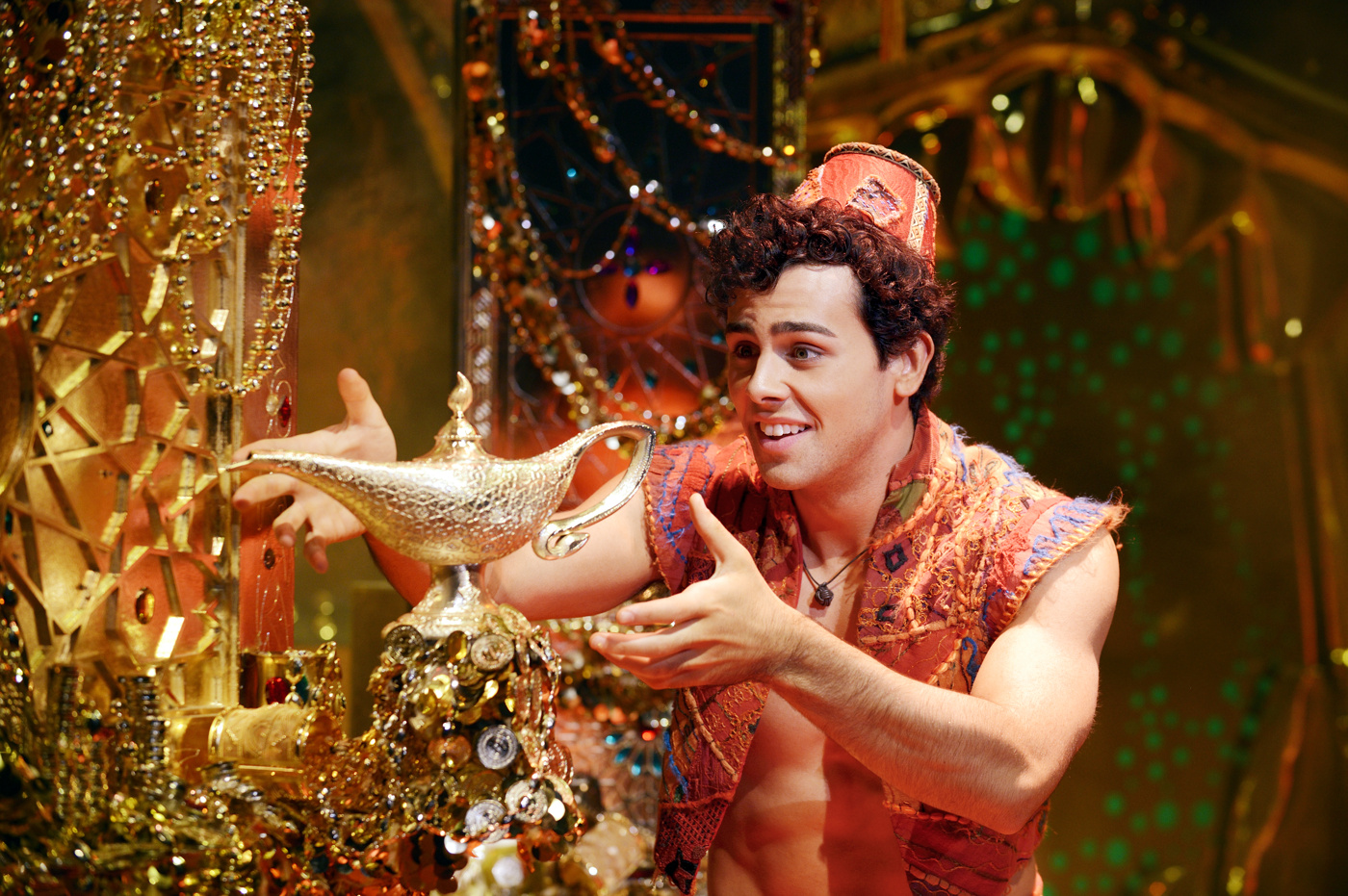 Where is The New Amsterdam Theatre?
The New Amsterdam Theatre is located at 214 West 42nd Street in the Theater District of Manhattan, New York City. It is situated between 7th and 8th Avenues and is easily accessible by public transportation, including subway lines and buses. The theater is just a short walk from Times Square, making it a popular destination for tourists visiting New York City.
Address: 214 W 42nd St, New York, NY 10036, United States
Website: http://www.aladdinthemusical.com/