To do list for Amsterdam travel 2022
Amsterdam is a secret Mediterranean person who did not understand its geography. If you don't have such a warm-blooded, fun-loving nation, what is it doing in northern Europe?
There is entertainment, there are people from 176 countries, there are canals, there are architectural beauties, there are freedoms, there is culture and art… It is impossible not to warm up to a city where a festival is held for 50 days a year and life is spent on bicycles.
How many days is enough for Amsterdam travel?
As you can see from the long list below, you won't be bored if you stay here for 4-5 days. It is very easy to travel in Amsterdam and you can see many beautiful places in one day.
1.  
Rent a bike

If there is a place in the world that is associated with cycling, it is Amsterdam. There is even jargon called "Amsterdam bike". The Netherlands is flat and 25% is below sea level. It was originally supposed to be submerged by now, but thanks to the intervention of engineers, it continues to exist and is an ideal place for cycling. The highest point in the entire country is 322.7 meters! Cycling is so easy here; Amsterdam bikes don't even have many gears. Most of the time you get off without sweating. Therefore, stylish ladies with heels going on the top of the bike, men in suits are also very common sights. Everyone from 7 to 70 prefers bicycles for transportation. There are separate bicycle paths, traffic lights and parking spaces for cyclists. Even if you don't ride a bike, take great care of bike paths, lights, etc., because, rightfully, cyclists have no patience for pedestrians to accidentally encroach on their bike areas. We once witnessed a cyclist pushing a woman aside in anger as she passed by a woman on the bike path.
Aside from transportation, we can't think of a more enjoyable way than cycling the canals of Amsterdam in nice weather! You can both explore the city faster than walking, and enjoy cycling with pleasure. It is possible to find many reliable bike rental companies in Amsterdam as it is very comfortable and preferred for tourists as well as locals. We've listed a few for you. All day rent is 10-20 EUR.
Where to rent bicycles in Amsterdam?
Macbike – Click for website Yellowbike
– Click  for website Rentbike4u
–  Click for website Discount
Bike Rental –  Click for website Rent
a Bike Harleem –  Click for website
2. The most enjoyable way to visit the canals of Amsterdam: Rent a boat
Let's come to our favorite activity in Amsterdam! When you think of Amsterdam, the first image that comes to mind is its canals. It is unthinkable to return without visiting the canals. Of course, we do not mean the touristic boat tours that depart as if they are full. Not much is known, but there are actually small electric boats like Taka that you can rent hourly or daily. Criteria such as maritime knowledge and experience are not sought. You're going so slow that you can't even compete with a duck because it's already battery powered. Your only problem is to bring the boat back in the maze-like channels. Did you turn on the navigation for that, the problem is solved. Put your drink, music, and anything else that will make your heart happy in a backpack. You don't even need food or water, because you are in the city by the canals, you can go down and get your needs and come back.
Where to rent a boat in Amsterdam?
Canal Motorboats – Tel: +31 20 422 7007, open between 10.00-22.00, click for location
Boaty – Tel: +31 6 27149493, Open between 9.00-21.30, click for  location
MokumBoot – Tel: +31 20 210 5700, 9.00- Open between 10 pm,  click for location (This is the most central one)
3.  
Join the King's Day enthusiasm
No matter what you call the best time to go to the Netherlands, if your wallet doesn't mind the skyrocketing prices, we say King's Day (Koningsdag, formerly Queen's Day). King's Day, which receives visitors from many parts of Europe every year, is one of the most entertaining days in the Netherlands and one of the biggest city festivals in Europe.
Every year, King's Day starts the night before April 27, and there are hundreds of events under the name of King's Night in many nightclubs, bars, parks and streets. Tickets are sold out long beforehand, so if your trip coincides with King's Day, it is imperative that you make many reservations and plans in advance, not just a party. Because the streets and venues of Amsterdam are the scene of a terrible flood of people on April 26-27. This national holiday – I didn't know whether to call it a national holiday or fun – one of the most important and entertaining details is that everyone has to wear orange from head to toe! Wherever you turn your head, from wigs to shoes, you'll be greeted with smashing oranges. Another beauty of this day is that it is free to sell things on the streets, and even tax is not charged!
4. Watch the Ajax legend from the stands
You can watch the legendary football team of the Netherlands, Ajax, in his home Amsterdam! For a football lover, watching a match from the stands of Ajax is one of the greatest football joys to be had, and experiencing that ambiance is one of the best Amsterdam experiences, even for those who are not very football freaks. The football club, which was opened in 1900, is one of the most rooted and prominent clubs in world football. In fact, it is the seventh most successful club of the 20th century according to international football statistics institutions. They have seen the UEFA Champions League trophy home 4 times and they are also the winners of many awards in the Netherlands and the world. In addition, since they have won the UEFA Champions League 3 times in a row, they have earned the right to be one of the 5 teams around the world that can keep the trophy in their museum.
Click for the AJAX website.
5. Sip beer in the beer capital's iconic breweries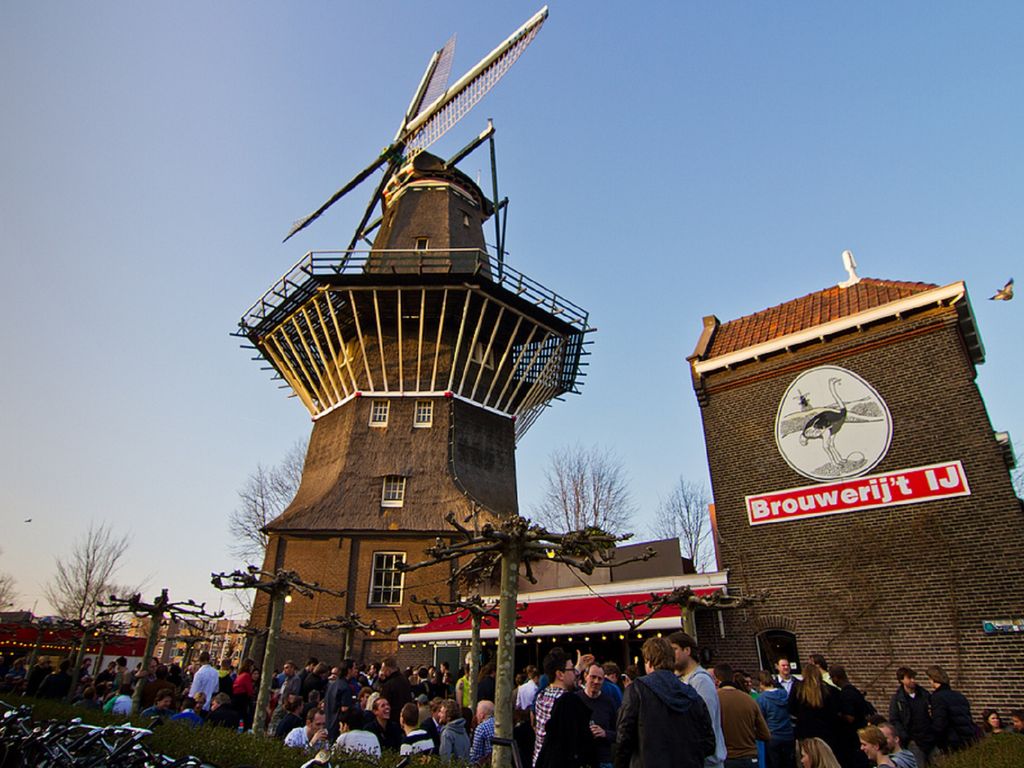 Dutch beers are very famous. It is very pleasant to take a break at the artisanal breweries that make their own beer and to mingle with the locals here. The Brouwerij't IJ brewery is known more to Amsterdammers than to tourists. In our 2-day tour article, we presented an enjoyable program that also stopped by here. Don't forget to review.
Brouwerij't IJ:  This is a brewery that was built under a windmill, used to be a bathhouse, and is loved by everyone. They produce their own beers and there are also sections where you can drink and sit, that is, some of them are pubs. It's something you can snack on with beer rather than regular meals. Moreover, beers are not more than 4-5€. Interestingly, it is only open from 14.00 to 20.00 every day of the year. There is no option like reservation, it's like the one who goes early closes. If you still want to take a look at the website:  click
6. Snooze at Vondelpark
Vondelpark is the largest city park in Amsterdam and one of the most famous parks in the Netherlands. Located next to the Rijksmuseum, the park spans exactly 47 hectares and has been a landmark of the city since 1864. In the park, which has greenery and ponds as far as the eye can see, you can see people running from 7 to 70, cycling, walking or lying on the grass and chatting. It is not possible to visit all of the park, but if you do not have a very tight schedule, we say take 1-2 hours and take a walk and take a walk in nature, intertwined with nature. As many places in Amsterdam are close to each other and within walking distance, you discover new places when you just want to take a walk!
Places to Visit in Amsterdam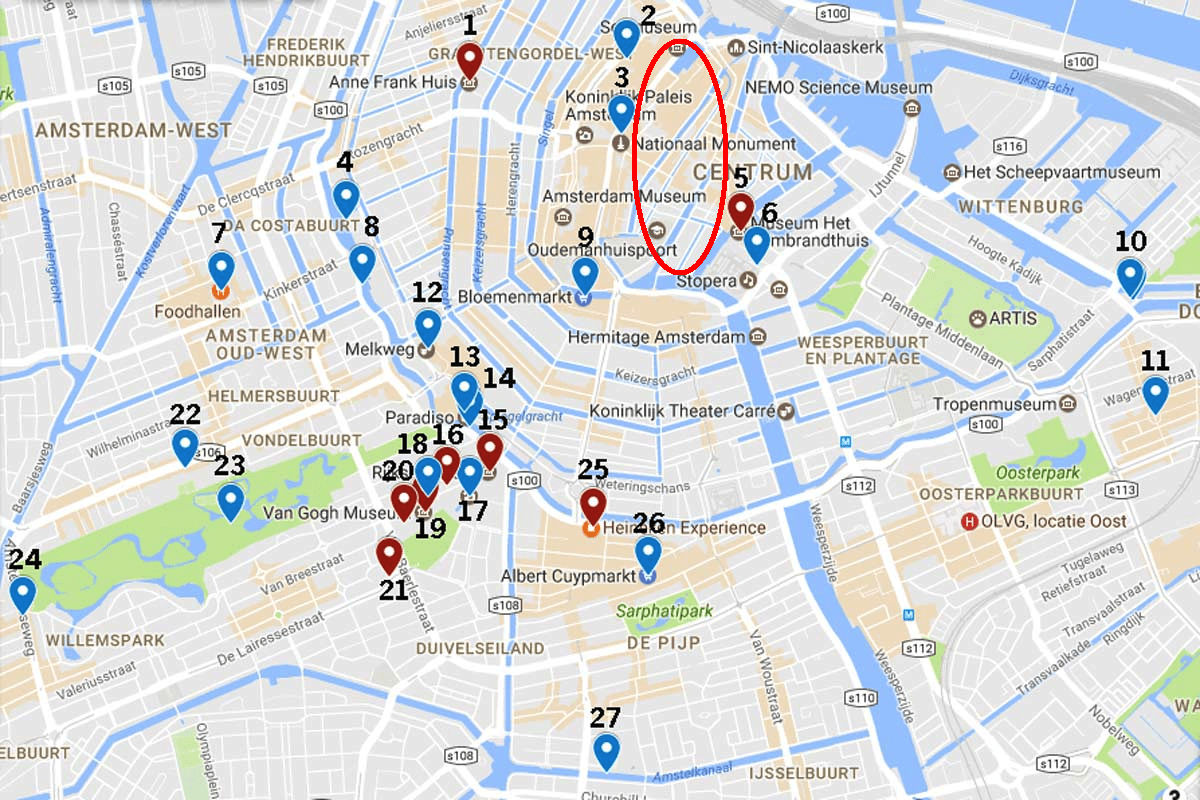 The area marked with a red ring on the map is the famous Red Light District. 1. Anne Frank's House 2. Yellow Bike Tours 3. Dam Square 4. Waterkant 5. Rembrandt's House 6. Waterlooplein 7.  Foodhallen 8. Mokumboot 9. Bloemenmarkt  10. Brouwerijt 11.  Dappermarkt 12.  Melkweg 13.  Macbike 14  City Canal Cruise 15. Rijksmuseum 16. Diamond Museum 17. i amsterdam inscription 18 . House of Bols 19. Van Gogh Museum 20.  Stedelijk Museum 21.  Concertgebouwplein 22.  Ot301 23. Vondelpark 24. Occi 25.  Heineken Experinece 26.  Albert Cuypmarkt 27.  Boaty
The minimum wage in the Netherlands for 2023 has been announced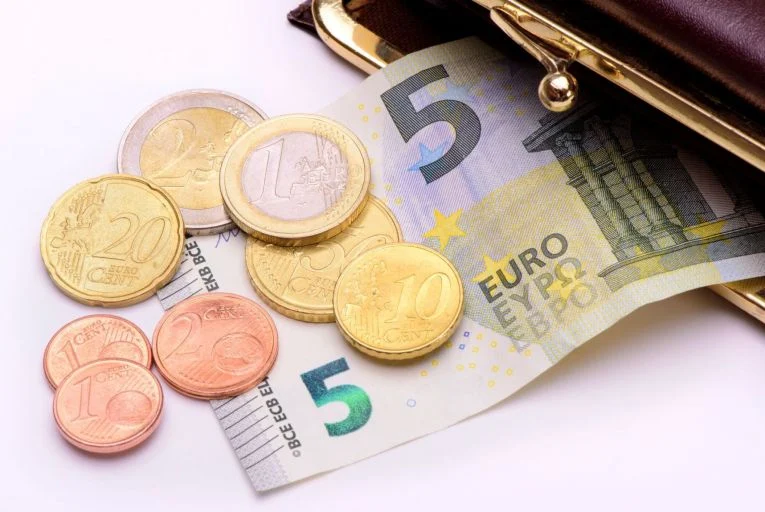 In the Netherlands, the government increased the minimum wage by 10.15 percent for the first time since 1969. In 2023, the minimum minimum wage was increased to 1934 euros.
The energy crisis and the cost of living that came after the days of the pandemic affected the citizens and especially the employees very badly this year. The government announced a new support package for low-income people in its 2023 budget, which it announced recently.
The cabinet, which tries to provide support in certain areas to increase the purchasing power of the citizens, announced the minimum amount of minimum wage to be applied for 2023.
For the first time since the six-month hike of 8.05 percent in 1969, the cabinet has increased the minimum wage by 10.15 percent as a semi-annual increase. However, the gross minimum wage of 1,756.20 euros, valid in the second half of 2022, was increased to 1,934.40 euros as of January 1, 2023.
As of January 1, 2023, the legal gross minimum wage for full-time workers aged 21 and over will be:
Monthly: € 1,934,40
Weekly: € 446.40
Daily: € 89.28
The 10.15 percent increase to be applied to the minimum wage will also be reflected in all other allowances and aids such as AOW, social assistance and Wajong. As a result, the minimum wage increase will also have positive effects on the incomes of social assistance recipients and retirees.