The XtraCold Ice Bar Amsterdam
Where is The XtraCold Ice Bar Amsterdam? Sipping a cocktail in frosty temperatures of -10 °C and from a glass made entirely of ice? In the XtraCold Ice Bar Amsterdam it is possible. We reveal how you survive a visit without frostbite and whether it's worth it.
The Ice Bar and all of its furnishings were created from around 60 tons of ice. There is hardly a better place for really "cool" drinks …
Prices, tickets and opening times
The entrance fee for the XtraCold Ice Bar is €26.50 per person. You can get tickets at Get Your Guide , for example . When you visit, you can show your ticket either in printed form or as an e-ticket on your smartphone.
You do not necessarily have to book the ticket for your visit to the XtraCold Ice Bar in advance. However, the number of visitors is limited and there is usually a high demand, especially on weekends.
So that you don't miss the icy bar attraction under any circumstances, it is advisable to play it safe and buy the ticket in advance.
Opening hours
The opening times are set as follows:
Friday to Saturday : 1:40 p.m. to 11:00 p.m.
Sunday to Thursday : 2:40 p.m. to 10:00 p.m
Important: The ticket office closes one hour before the ice bar itself closes. Even if you booked your ticket in advance, you must arrive at least one hour before closing time.
4 important tips for your visit to the ice bar
The ticket is booked and the anticipation great? Then the frosty fun can begin – at least almost! Before that, we'll tell you what you should consider when you visit Amsterdam's "Ice Bar" and how you can best prepare for it.
1. How much time do you have to plan for a visit?
You can spend up to 20 minutes in the Ice Bar itself – you won't be able to stand the cold much longer. However, you can stay in the associated lounge as long as you like. In order to fully enjoy the experience, it makes sense to plan at least two hours.
2. What clothes should you wear?
Even though the Ice Bar doesn't have a dress code, you should definitely opt for warm clothes.
Since the temperatures in the Ice Bar are as low as −10 °C, dresses, shorts, T-shirts or open-toed shoes are out of place! In order to keep visitors warm enough, the bar provides each guest with an additional coat and gloves.
3. What drinks are served in the Ice Bar?
The selection on the drinks menu at Amsterdam's Ice Bar ranges from a glass of Sprite or orange juice to beer and various shots. The regular admission ticket includes two drinks in the Ice Bar and one in the associated lounge. In the lounge you also have the option to order additional drinks; however, this is not possible in the bar.
4. Can I take photos of the Ice Bar?
Taking and posting photos is allowed and even encouraged. There is also the option of having a photo taken by a professional photographer and purchasing the results or downloading them online.
Stay tuned: In the next part, we'll tell you how to get to the ice bar and whether it's worth a visit.
How to get to the ice bar – map with directions
The XtraCold Ice Bar is located right in the center of Amsterdam – just a few steps from the Blauwbrug .
Address : Amstel 194-196, 1017 AG Amsterdam.
From the main train station, it is best to take the metro (lines 51, 53, 54) and get off at Waterlooplein station. From there you just have to cross the Blauwbrug and you're already there. You can buy discounted tram tickets here .
Alternatively, you can also reach the bar by car. You will find multi- storey car parks and parking spaces right next to the Waterlooplein metro station.
Conclusion: Is the Ice Bar in Amsterdam worth a visit?
If you are in Amsterdam, you should definitely not miss the Ice Bar XtraCold . Enjoying drinks against such a backdrop is a once-in-a-lifetime spectacle. Even those who do not normally count themselves among the typical "bar-goers" will appreciate this special kind of refreshment.
PS We fund this site through affiliate links. If you book through such a link, we get a small commission. You don't pay a cent more. If you want to support us, book tickets for city tours, canal cruises, museums and sights through our partners. Here is a list of the most popular tickets for Amsterdam.
The high-end restaurant and lounge in the Netherlands: Harbour Club Amsterdam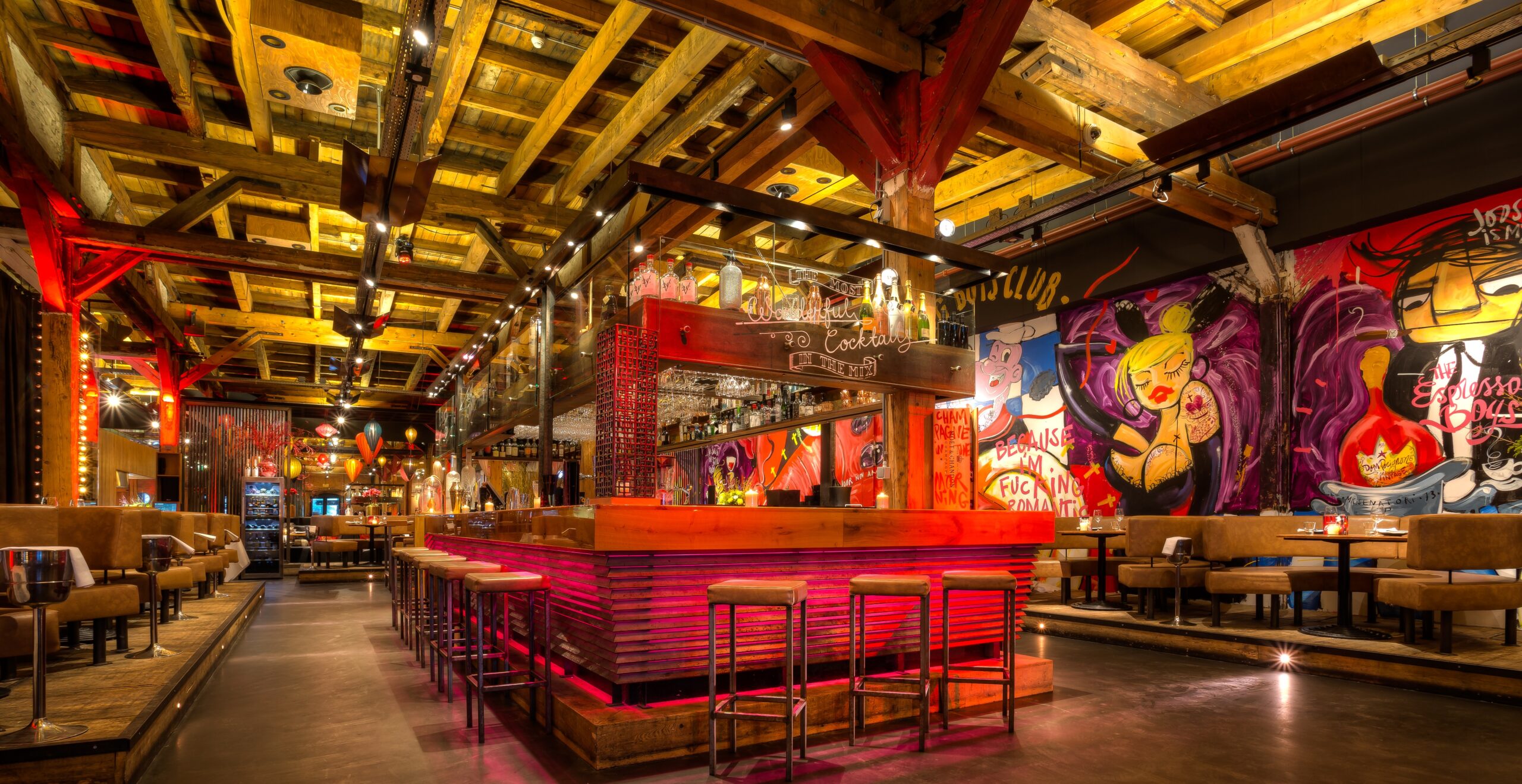 The Harbour Club Amsterdam is a high-end restaurant and lounge located in the city center of Amsterdam, Netherlands. It offers a sophisticated and trendy atmosphere with a focus on seafood and sushi. The restaurant also serves a variety of other dishes, including meat and vegetarian options.
The Harbour Club Amsterdam is known for its chic and modern interior design, which includes a large aquarium and a spacious outdoor terrace overlooking the water. It has a lively atmosphere and is a popular spot for both locals and tourists.
In addition to dining, the Harbour Club Amsterdam also offers private event spaces for corporate events, weddings, and other special occasions.
What to Eat at Harbour Club Amsterdam?
The Harbour Club Amsterdam is primarily known for its seafood and sushi dishes, but they also serve other types of cuisine such as meat and vegetarian options. Some of the dishes you might expect to find on their menu could include:
Fresh seafood dishes such as oysters, lobster, crab, and shrimp
Sushi rolls and sashimi made with high-quality fish and seafood
Meat dishes such as steak, lamb, and chicken
Vegetarian dishes such as salads, risottos, and pasta dishes
Side dishes such as truffle fries, mashed potatoes, and roasted vegetables
Desserts such as cheesecake, chocolate mousse, and fruit sorbet
The Harbour Club Amsterdam also has an extensive wine list and cocktail menu, which includes both classic and modern drinks. They also offer various options for brunch, lunch, and dinner.
Visit the website to view the menu.
What to drink at Harbour Club Amsterdam?
At the Harbour Club Amsterdam, you can find a wide range of drinks including cocktails, wine, champagne, and non-alcoholic drinks. Some of the popular drink options at the Harbour Club Amsterdam are:
Cocktails: The Harbour Club Amsterdam is known for its creative and innovative cocktails. Some of the popular options are the classic Mojito, Espresso Martini, and Margarita.
Wine: The Harbour Club Amsterdam offers an extensive wine list featuring a variety of wines from different regions around the world. You can find both red and white wines, as well as rose and sparkling wines.
Champagne: If you're looking for something special, the Harbour Club Amsterdam offers a selection of champagne by the glass or bottle. It's a great way to celebrate a special occasion or just enjoy a night out with friends.
Non-alcoholic drinks: For those who don't drink alcohol, the Harbour Club Amsterdam offers a range of non-alcoholic drinks, including mocktails, fresh juices, and smoothies.
Beer: The Harbour Club Amsterdam also offers a selection of beers, including local and international brews.
Overall, the drink menu at the Harbour Club Amsterdam is diverse and caters to a range of tastes and preferences.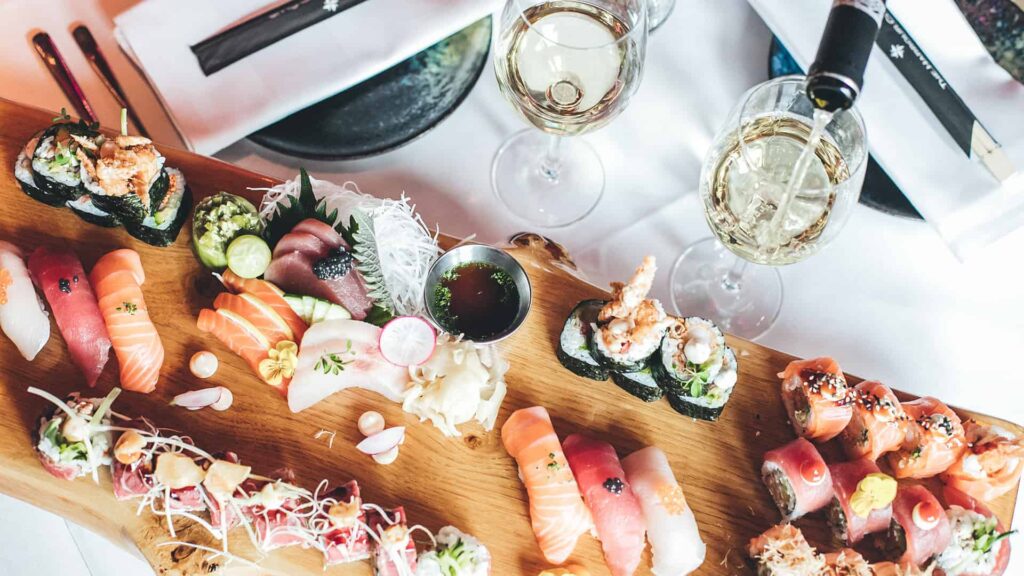 What is the prices Harbour Club Amsterdam?
The Harbour Club Amsterdam is a high-end restaurant and lounge that typically offers a premium dining experience with high-quality food, drinks, and service. Therefore, the prices are generally on the higher side compared to other restaurants in the area.
The exact prices will depend on various factors such as the time of day, the day of the week, and the specific dishes and drinks you order. It's always a good idea to check the current menu and prices on their website or by calling the restaurant directly to get the most up-to-date information.
That being said, the Harbour Club Amsterdam typically offers brunch, lunch, and dinner menus, and the prices can range from around €15-€30 for starters and €25-€50 for main courses. Cocktails and wine prices can vary widely depending on the selection. Private event spaces can also be booked at the Harbour Club Amsterdam for special occasions, and prices for these events can vary widely depending on the specific event and requirements.