Appearing in court, Trump denied the accusations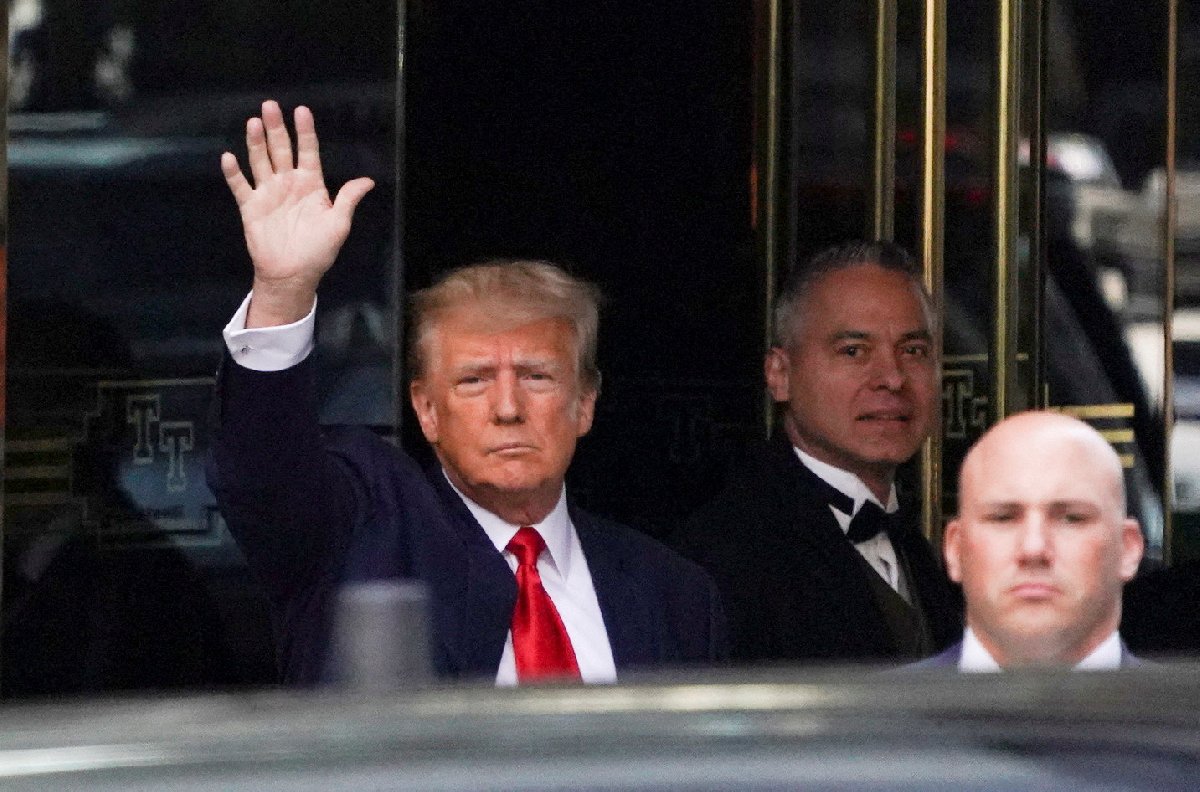 Former US President Donald Trump surrendered to court as part of a lawsuit filed on charges of paying adult movie star Stormy Daniels a "shake-up" during the 2016 Presidential election.
Trump, the first ex-president in US history to appear in court on charges, dismissed the charges brought against him by the Manhattan Attorney General's Office and left the court.
The front of the Manhattan Criminal Court, where Donald Trump will stand trial, was filled with members of the press the day before. While the police took extensive security measures by surrounding the court area with iron barriers, the streets and avenues in the court area were also closed to traffic.
Manhattan District Attorney Alvin Bragg, who conducted the investigation against former President Donald Trump, came to the courthouse in the morning, while Republican Member of the House of Representatives George Santos entered the courthouse.
Small groups of anti-Trump and supporters also took their places in the park in front of the building reserved for them with police barriers since morning hours.
TRUMP REJECTS
Trump, who came to the courthouse under intense security measures, listened to the accusations brought against him by the Manhattan Attorney General's Office.
In the 16-page indictment, Trump was charged in 34 separate articles with the election campaign law violation regarding the $130,000 "hush share" payment to porn star Stormy Daniels and fraudulent business records as part of the payment.
Prosecutors argued that Trump was part of an illegal conspiracy to undermine the integrity of the 2016 election, suppressing negative information about him to promote his candidacy.
While Trump strenuously denied all the charges against him, saying "I am innocent", the judge also warned Trump in court to avoid rhetoric that could cause social unrest.
Leaving the courtroom, where he stayed for more than an hour, Trump waved goodbye to his supporters, and set off for LaGuardia airport with his 8-car convoy to go to his mansion in Florida with his private plane.
Trump's four lawyers, who were with him in the courtroom, made statements to the members of the media on the way out and stated that they would fight for the charges to be dropped.
The US media shared information that the next face-to-face hearing date for Trump's case was set for December 4 in New York.
Trump is expected to make a statement regarding the charges against him at his Mar-a-Lago mansion in Florida at around 8:15 p.m. local time this evening.
ATTACKS AGAINST TRUMP
Speaking to the press after Trump took his statement, Manhattan District Attorney Alvin Bragg said about the payments he made to Michael Cohen, the former President's lawyer during the 2016 election, "The grand jury has found a total of 34 documents containing critical misstatements." he said.
Bragg said they were conducting a "deep investigation" into the allegations against Trump and that, according to the records, he violated the Federal Election Act limit or contribution limits.
"Under New York State law, it is a felony to falsify business records for the purpose of defrauding and concealing another crime." said.
Bragg said Trump paid Cohen for "fictitious legal services" in 2017 "to cover up true crimes committed in the previous year".
Stating that there is additional evidence about the allegations against Trump, Bragg said, "Whoever you are. We cannot and will not normalize serious criminal behavior." used his words.
"WE WILL ASK BRAGG TO ACCOUNT"
Republican leader McCarthy reacted to Manhattan District Attorney Bragg in a post on Twitter after Trump gave his statement.
Noting that Bragg's "attempt to interfere in the presidential elections" in 2024 has done irreparable damage to the United States, McCarthy continued:
"(Bragg) has armed our sacred justice system against President Donald Trump, while routinely releasing criminals who engage in violence to terrorize the public. The American people will not tolerate this injustice, and the House of Representatives will hold Bragg and his unprecedented abuse of power accountable."
A CHALLENGE STARTED BETWEEN TRUMP'S SUPPORTERS AND THEIR OPINIONS
From time to time, verbal and physical taunts and clashes took place between people carrying banners calling for Trump's support or punishment.
A Trump supporter, who gave his name as Dion, told AA that Manhattan Attorney General Bragg should focus on crimes in New York instead of Trump. he said.
Anti-Trump Zachary Machado, who is on the other side of the park, argued that Trump's actions should not be tolerated and said, "Trump is a terrible person and should be punished for his actions. Just as justice is done to all of us, it must also be faced with justice." used the phrases.
Despite Trump's earlier protest and call for support, announcing that he expected his arrest regarding the investigation, it was noteworthy that Trump supporters did not exceed 20-30 people.
THE WHITE HOUSE MAINTAINS SILENCE
White House Spokesperson Karine Jean-Pierre answered journalists' questions at the daily press conference. Leaving unanswered questions about former US President Donald Trump's appearance in New York district court at the same time as the meeting, Jean-Pierre reiterated that the White House would not comment on an ongoing criminal case.
Jean-Pierre was asked why President Joe Biden had spoken on the subject many times during the legal proceedings regarding the events of the January 6 Congressional raid, but for the first time in American history they did not comment on the impeachment of a former president.
Defending the congress raid as "an attack on American democracy" and "a different moment", Jean-Pierre evaluated that people including security guards died in this process and that Biden did not spare his word when it comes to democracy.
Although tensions rose from time to time between Jean-Pierre and journalists, the White House remained silent about the impeachment of Trump.
"This is not what President Biden is focusing on," spokesman Jean-Pierre said. used the phrase. Jean-Pierre said that they are prepared for the demonstrations that may occur in New York.
DISCUSSIONS ON "POLITICAL CALCULATING IN THE JUDICIARY" IN THE USA
Republican politicians in the US argued that the impeachment of former US President Donald Trump was "politically motivated" and that this move by the New York district court would deeply affect American politics.
Republican Senator Marco Rubio, in his message on Twitter, said that the day Trump went before the judge was "a bad day for all Americans".
"American politics today is crossing a line from which it can never return." Rubio pointed out that from now on, prosecutors who want to make a name in the USA may target a politician with different views.
"Who's going to stop a Republican or conservative prosecutor from saying, 'Now I'm going after Joe Biden or his family or Bill Clinton or Hillary Clinton or Nancy Pelosi? No one will stop it because today we have set a 'new normal'." he said.
Noting that after today, laws can be manipulated to accuse politicians, Rubio said that the accusations against Trump are "absurd".
Rubio stated that the accusation against Trump was time-barred, but the prosecutor brought it up by associating it with election laws.
Arguing that Trump's accusation is "political", Rubio continued:
"However, this is more than political, it is poison for our country. This will permanently change American politics. Forever. Whether you like Trump or not, we will regret today. We are establishing a new normal that will disrupt American politics and put us on a destructive path, hurting us. We will live with today's regret for a very long time."
"THIS HAPPENS ONLY IN AUTHORITARIAN REGIMES"
Andy Biggs, a Republican lawmaker, argued in a program he attended that a former president could only testify in authoritarian regimes. "This is what you can see in communist China, Venezuela, Iran, North Korea and the former Soviet Union," Biggs said. This is how it got out of control." he said.
Republican Senator Mitt Romney, who stands out with his opposition to Trump, stated in his written statement on the subject that he thinks that Trump's character and attitude are not suitable for the presidency, but that he believes that the New York Attorney's office also accused the former President with a political agenda.
"No one is above the law, not even ex-presidents," Romney said. However, everyone has the right to be treated equally before the law. The prosecutor's oversight sets a dangerous precedent for criminalizing political dissidents and undermines the public's faith in our justice system." made its assessment.
Senator Ted Cruz also claimed that bringing Trump to court by the left-wing "(George) Soros prosecutor" amounted to mocking the "rule of law" principle.
Republican Deputy Marjorie Taylor-Greene, a member of the House of Representatives who came to New York to support Trump and participated in the protests, also addressed the crowd here, claiming that Prosecutor Alvin Bragg was "the tool of the Democrats."
Arguing that such things "only happen in communist countries, not in the United States", Greene said that Trump's accusation is interference in the 2024 presidential election. Greene called Trump's impeachment "a threat to American democracy"
WHAT HAPPENED?
Trump, who is a candidate for the 2024 presidential election in the USA, was indicted on March 18 by the grand jury as a result of the investigation conducted by the Manhattan District Attorney's office into paying adult movie star Stormy Daniels during the 2016 Presidential election.
Reacting to the accusations as a "political witch hunt", Trump arrived in New York yesterday from his Florida mansion on a private plane to testify.
Trump became the first ex-president in American history to appear in court for an accusation against him.
Intense air strike from Russia on Kiev
Ukraine announced that Russia carried out an air strike on Kiev, destroying more than 40 targets in the air.
It was reported that an air attack was carried out by the Russian army on the capital of Ukraine, Kiev, and more than 40 targets were destroyed in the air by the Ukrainian air defense forces.
In a statement made by the Kyiv City Military Administration, it was stated that the Russian army carried out an air strike again on the capital, Kiev. It was stated in the statement that Russian forces launched missiles and unmanned aerial vehicles (UAV) towards Kiev in the early hours of the morning, and that 15 airstrikes were carried out on the capital city in May alone.
In the statement, it was stated that more than 40 targets attacked on Kiev were detected by the Ukrainian air defense forces and destroyed in the air.
Kyiv Mayor Vitaliy Klichko also announced on his social media account that some missile fragments destroyed in the air hit the civilian infrastructure in various districts and caused damage.
Klichko later stated that there were explosions in the city again. Noting that Ukrainian air defense systems are working in Kiev, Klichko informed that missile fragments hit the Desnyan, Podilsk and Obolonskyi districts of the capital and one person was injured. Klichko stated the reason for the attack and stated that the enemy targeted the central districts of Kiev.