Amalia de Orange has broken tradition and will not join the University of Amsterdam student association accused of sexism
The heir to the Dutch throne makes a "personal" decision to distance himself from a group criticized nationwide for misogyny.
Princess Amalia of Orange , 18, has decided not to join the Amsterdam University Student Association (ASC/AVSV, in its Dutch acronym) for the time being, thus breaking a family tradition with this type of brotherhood that goes back to his great-grandmother, Queen Juliana. The heiress to the throne of the Netherlands will study in the Dutch capital from next September and this is the group that would correspond to her. However, she has made the decision after the sexist speeches made during a party held last July by its members generated a wave of criticism on a national scale. The information service of the royal house (RVD) has confirmed Princess Amalia's decision to public television, and has described it as "personal".
The ASC/AVSV association, to which in addition to the students of the University of Amsterdam those of the Free University (VU) —also in the Dutch capital— and those of the polytechnic (Hoge school) can sign up, already lost last year the subsidy it receives from the rectorate to carry out its activities.
So, it was due to the violence of the hazing to which the new partners are subjected. This course, the initiation rituals have been suspended. Scandals due to humiliating treatment in an educational center are also a problem in other countries and for other European royalty. This is the case of the crown princes of Denmark, Federico and Mary, who last June announced that they have decided to change schools for their 16-year-old eldest son, Christian. The young prince will no longer study at the Herlufsholm boarding school, an official report uncovers cases of bullying and harassment. Located about 90 kilometers from Copenhagen, and with a good reputation to date, both brothers will now attend other schools.
In the biography on the Dutch princess Amalia, which appeared in 2021, its author, Claudia de Breij, pointed out that the young woman hoped to enjoy the full experience of the university stage. She wanted to "belong to a student association and live in a house with other students", as she said. 
Her current resignation shows, however, that she is attentive to what is happening in Dutch society, since becoming a member of these groups is not mandatory. In the case of ASD/AVSV, both the president of the board and three of its male members resigned as soon as misogynistic comments made during the party held on July 24 came to light. That day, the three now-separated students said, among other things, that "women are buckets of semen." It was also proposed to "break their necks to penetrate them", and they were called "whores", in chorus, during a meal. The leaking of a video of the celebration generated a wave of criticism, and 270 students published a letter of rejection.
Amalia de Orange is diligent and passed secondary school with an average grade of 8. Technically, she obtained a diploma cum laude . She at the University of Amsterdam will pursue a three-year degree (Bachelor) in Politics, Economics, Law and Psychology., which requires a selection process. In her family, membership in student associations goes back to her great-grandmother, Queen Juliana, followed by her grandmother, Queen Beatrix. 
Her father, King William, now on the throne, also did, although it was not his intention. According to Peter Rehwinkel, an expert on constitutional law, when William of the Netherlands was crown prince, he "would have preferred not to join a university brotherhood." "He didn't want to study at Leiden University either, where future sovereigns used to do it, but he ended up doing both," Rehwinkel told Dutch television.
As for the place chosen to live, Amalia wanted to reside with other university classmates, although she knew that in her case security measures had to be taken into account. Right now, the shortage of student rooms across the countryit is notorious and the educational centers themselves advise those enrolled to postpone their studies, or even cancel their enrollment, if they do not find accommodation before the start of the course. 
Amalia de Orange will not have these problems. As indicated on her Twitter account by Rick Evers, information expert of the Dutch royal house, the princess will live in a house next to the canals of Amsterdam that is owned by some friends of her parents, the kings Guillermo and Máxima. . At the end of May, RVD spokesmen stated that the space chosen during this stage would be rented to its owners.
Amsterdam 'fietsflat' bike parking lot closed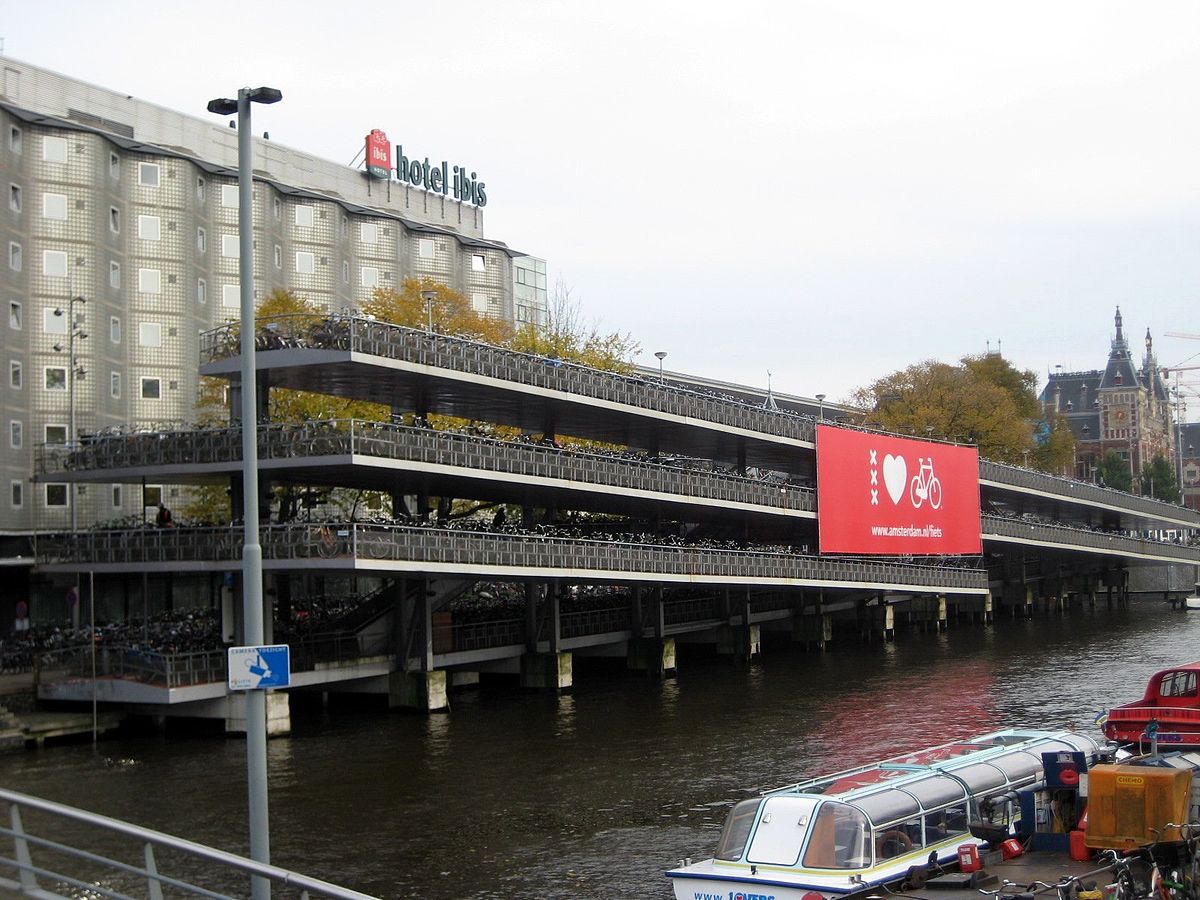 The underwater bike park at Amsterdam Centraal marked the end of an era.
,This week, the old fietsflat parking lot at Stationsplein has closed its doors forever and it has been announced that people have until February 24 to pick up their bikes. It has been announced that the old parking lot will be open every day from 7 am to 7 pm for those who will buy their bikes. It was also stated that the bicycles not received by the deadline will be taken to the Bicycle Depot (Fietsdepot) of the municipality.
Fietsflat, meaning "bike flat", was located to the west of the main station building. This structure was opened in 2001 and was designed as a temporary solution for passengers who use public transport and need a place to park their bikes.
More than 20 years after it opened its doors, on 30 January fietsflat officially closed, taking with it around 2,500 parking spaces for bicycles. This closure was more than compensated by the addition of two new parking spaces to the station. One of the new parking spaces is known to hold 7,000 bikes under Stationsplein (opened on 26 January) and the other at Ijboulevard (opening 14 February) for 4,000.
According to the municipality's statement, Fietsflat stood out as an iconic building that captures Amsterdam as a bicycle city in a single image and is therefore frequently photographed by tourists. Although cyclists will no longer be able to use this building, the fietsflat will not be demolished any time soon, and the municipality will keep the building in case additional spaces are needed.