China aims for faster and higher quality growth with its recovery and modernization move
While China, the world's second largest economy, is gaining momentum to increase its recovery momentum and take its modernization move forward, it aims for a faster economic growth of about 5 percent in 2023 with more qualified development.
This projected target, higher than the country's 3 percent growth in gross domestic product (GDP) last year, was one of the key development goals in the government work report presented by Chinese Premier Li Keqiang at the national legislature's annual session, which began Sunday.
As national legislature delegates and political advisers gather for the first annual meeting since the 20th National Congress of the Communist Party of China (CCP) in October last year, the world is closely watching new policy moves for China's development. On the other hand, the rapid recovery of the country after the Kovid-19 pandemic has increased the hopes for a wider global growth and made this meeting even more important.
Ensuring stable and quality growth is key to the CCP's plan to build a large and modern socialist country by the middle of this century.
China's National Development and Reform Commission (NDRC), the top-level agency in charge of economic planning, reported on Sunday that at the 20th CCP National Congress, the country's GDP per capita will reach the same level as a mid-level developed country by 2035. It was noted that the introduction of "It is imperative that we maintain reasonable long-term economic growth, sustaining our miraculous achievements in rapid economic growth and long-term social stability while ensuring better quality and efficiency," the report said.
According to the NDRC's report on the implementation of the 2022 national economic and social development plan and the 2023 national economic and social development draft plan, a growth target of about 5 percent is "necessary to achieve growth, employment and price stability".
"This growth target will send a positive signal to the market and increase confidence, guide expectations, expand employment, improve living standards and prevent and neutralize risks in the pursuit of development," the NDRC report said.
According to the report, this year's GDP target is consistent with the current growth potential of the Chinese economy and the capabilities of resources and production factors to support the economy.
"For China, 2023 will be the year of economic comeback," said Liu Shouying, Dean of the Faculty of Economics at Renmin University, China.
According to Liu, the annual GDP target is an appropriate growth rate to stabilize prospects and economic expansion, and an indication that the Chinese economy will continue to focus on high-quality development.
REVIEWING GROWTH
Expressing that the Chinese economy showed a decisive recovery with a significant improvement in consumer demand, market distribution, industrial production and job prospects, the Chinese Premier noted that the economy showed great potential and momentum for further growth.
It is possible to see and feel the recovery on the roads with heavy traffic, in crowded cinemas and restaurants, and in the shopping spree both online and in stores. Manufacturing activity has returned to its highest level in more than a decade, foreign investment growth has rebounded, and new monthly bank loans rose more than expected, according to the latest official data.
While acknowledging past successes, Li reminded that caution is needed regarding the challenges facing the economy, such as growing uncertainties in the external environment, insufficient domestic demand, and risks and hidden dangers in the real estate market.
Addressing members of the legislature, Li stressed that it is "important to prioritize growth, employment and price stability" this year.
China is targeting around 12 million new urban jobs this year and a survey-based urban unemployment rate of around 5.5 percent, according to the government study report. Annual targets include keeping the consumer price index increase around 3 percent and grain production above 650 million tons. The government work report announced a series of measures to support growth this year. These measures include an estimated 3 percent budget deficit to GDP ratio, an increase of 0.2 percentage points from last year's level, and the allocation of 3.8 trillion yuan (about $549.8 billion) of special-purpose bonds to local governments.
While also calling for prudent monetary policy to be targeted and strong, the report stressed that the M2 money supply and total financing should generally increase in line with nominal economic growth to support the real economy.
In the report, it was stated that China will prioritize recovery and consumption expansion to expand domestic demand, while the incomes of those living in urban and rural areas will be supported through many channels.
"The Chinese economy will generally improve and the growth rate will most likely reach normal levels," said economist Yu Miaojie, President of Liaoning University and member of the national legislature.
International institutions and investment banks have raised their forecasts for China's growth rate this year. The International Monetary Fund (IMF) raised its growth forecast for 2023 from 4.4 percent to 5.2 percent in China last January.
QUALITY IS IMPORTANT
The Chinese government will focus on economic growth, but will not blindly do so. Instead, the country wants a greener and more efficient economy.
Presenting the government work report, Li outlined policy priorities such as accelerating industrial system modernization and promoting the transition to a green development model, underscoring once again efforts to pursue high-quality development policy.
Aiming to reduce its energy consumption per unit of GDP by about 2 percent this year, according to the NDRC report, China will "try to achieve better results in actual work".
The report outlined the goals of sustaining the reduction in emissions from major sources of pollution, tightening controls on the consumption of fossil fuels, and continually improving the natural environment.
On increasing the country's technological strength, Li called for pooling quality resources and joint work on breakthrough developments in key technologies in key areas. Li also called for efforts to be made to make traditional industries and small and medium businesses more advanced, smarter and more eco-friendly.
In the face of the serious challenges posed by rising protectionism and spikes in COVID-19 cases over the past few years, China has refrained from relying on investment as a way to boost economic growth and has focused on helping market institutions overcome challenges and grow.
"While we refrained from implementing a lot of strong stimulus policies that would wear down our future growth potential, we took decisive measures to strengthen macro policy support," Li said.
High-quality development is considered the "most primary and most important task" in China's modernization efforts. Chinese President Xi Jinping emphasized that instead of taking GDP growth as the sole measure of success, China is now more focused on improving the quality and efficiency of growth.
According to the government study report, within the scope of better quality development, research and development expenditures have increased in the last five years in China, and energy intensity and carbon emissions have decreased.
"Modern China should be a country with high-quality development," said Han Baojiang, director of the Economics Department of the National Academy of Governance of China and national political adviser.
"Only by giving equal importance to growth and quality, and creating strong synergies for high-quality development, can we build a solid economic foundation for Chinese modernization," Han said.
Layoffs spread across all sectors in Europe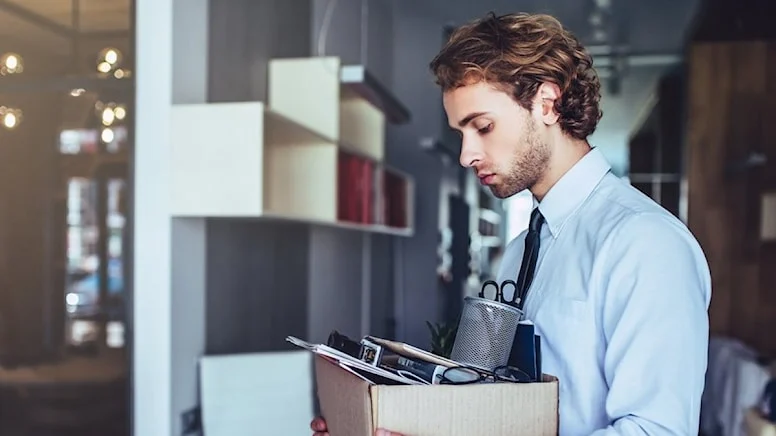 In Europe, unusually sticky high inflation, rising interest rates and uncertainty about the economic outlook have forced more and more companies to reduce the number of their employees, while layoffs have accelerated in the continent with the latest decisions announced by telecommunications companies.
The prices of goods and services rose due to disruptions in supply chains in the Kovid-19 outbreak and increased demand after the epidemic.
Increasing interest rates to combat inflation, which became stubborn with the effect of the Russia-Ukraine War, hit the highest level in recent years in Europe. The uncertainty created by the high inflation and high interest rates and the worsening macroeconomic outlook has led more and more companies to accelerate the layoffs to reduce their costs and to reduce their costs. The layoffs, which have spread to almost all sectors since the beginning of this year, especially the technology, manufacturing and automotive sectors, have recently accelerated with the dismissal decisions announced by the UK-based telecommunication companies BT and Vodafone.
Telecom companies reduce employment to reduce expenses Vodafone-based telecommunications company announced last week that it will lay off 11,000 jobs in the next three years to reduce costs and accelerate growth. Vodafone has approximately 104 thousand employees worldwide. It is predicted that Germany, England and Italy, the largest and at the same time the "worst" performance market of the company, will be the countries most affected by the dismissal decision. Vodafone announced in March that it plans to lay off 1,000 people in Italy and approximately 1,300 people in Germany. Vodafone's decision was again followed by the UK-based telecommunications company BT.
BT, with the increase in digitalization, required less workforce in its operations and reduced costs. It announced that it will part ways with 40,000 to 55,000 employees by 2030. The British telecommunications giant's total employment will fall from 75,000 to 90,000 by 2030, from its current level of 130,000.
This reduction means the company has cut more than 40 percent of its total workforce.Telekom Italia is reported to be planning to cut 2,000 jobs in Italy through a voluntary early retirement program.Swedish telecom equipment manufacturer Ericsson is working as part of a plan to cut costs. Swiss computer accessories manufacturer Logitech decided to lay off 300 people in March. Finnish telecom equipment manufacturer Nokia announced on May 3 that it will lay off 208 people. Irish-US joint information technology firm Accenture , decided to lay off 19,000 people at the end of March due to concerns about the global economy.
German software company SAP announced that it plans to lay off 3,000 people, who make up 2.5 percent of its global workforce, in order to reduce costs and focus on the cloud business at the end of January. Automotive manufacturer Stellantis, which includes the brands Vauxhall, Peugeot, Citroen, Fiat, DS, Jeep, Alfa Romeo, Maserati, Abarth and Fiat Professional, agreed with the unions in February to lay off 2,000 workers through voluntary layoffs in its Italian operations. group Volvo announced in March that it will restructure its bus manufacturing operation in Europe and cut 1,600 jobs. Earlier this month, Volvo Cars announced its decision to lay off an additional 1,300 people in Sweden. This figure constitutes 6 percent of the workforce in the company's home country.
Italian automotive parts manufacturer Marelli announced that it agreed with the unions to lay off 400 people at the end of March. British electric vehicle manufacturer Arrival decided to lay off 800 people, which make up half of its employment, in order to reduce its costs. German automotive and industry supplier Schaeffler has announced that it will lay off 1,300 more people by 2026 during the restructuring process.
Retail and consumer products companies are also making waves group Sainsbury's has announced it will cut 300 jobs immediately following a restructuring plan that will affect nearly 2,000 jobs announced at the end of February. Just Eat, an online food and delivery company headquartered in the UK, announced at the end of March, 1,700 couriers and 170 office workers. German online fashion retailer Zalando said in February that it will cut hundreds of jobs across the company, citing "difficult economic conditions".
German eyewear retailer Fielmann announced in March that it plans to cut hundreds of jobs by 2025. reported.
British cybersecurity firm Sophos announced in January that it will cut 450 jobs globally. German consumer products company Henkel also cut 2,000 jobs to combat rising costs and low demand. British retail chain Wilko is reportedly planning to lay off 400 jobs. Finnish elevator manufacturer Kone also announced in January that it would cut staff by 1,000, including 150 in its country. Netherlands-based Philips announced plans to lay off 6,000 jobs to offset falling sales after the massive recall of ventilators at the end of January. British Steel, which was sold to China, announced that it would lay off 260 people after announcing the planned closure of coke ovens in the north of England at the end of February. German chemical company BASF, warning that its earnings will decrease further due to rising costs, laid off 2,600 people. German specialty chemicals manufacturer Evonik announced a 200-person layoff plan in April.
Germany's largest bank Deutsche Bank also announced on April 27 that it will cut 800 jobs in an effort to cut costs by 500m euros over the next few years.Wind turbine manufacturer Siemens Gamesa reported last year that it plans to cut 2,900 jobs by 2025 as part of its plan to return to profitability. 1,900 of this employment reduction is planned to be made in Europe. Spanish pharmaceutical company Grifols has decided to lay off 2,300 employees as part of its strategy revision, which aims to save approximately 400 million euros annually.
British contracting firm Taylor Wimpey was laid off in January to limit costs. Swedish engineering group Alfa Laval has announced a restructuring program that will lay off about 500 employees after rising costs took its toll on its shipping business last year. Swedish garden equipment and tools manufacturer Husqvarna, on the other hand, announced that it will go through a restructuring and cut 1,000 jobs. British homebuilding company Vistry Group is also reported to be laying off 200 employees.