VIDEO: Painted attack from environmental activists on luxury brands like Gucci, Rolex and Prada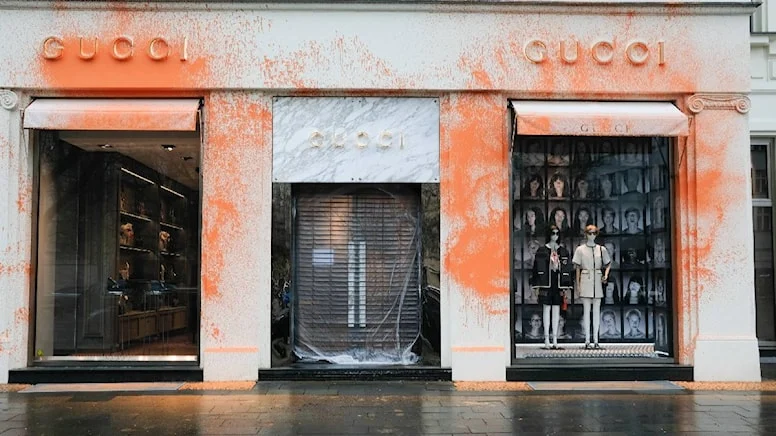 In the German capital, climate activists staged a painted attack on luxury shops on the city's popular streets.
Environmental activists carried out a painted attack on luxury shops on Kurfürstendamm Street, one of the popular shopping streets in Berlin, the capital of Germany.
Activists, who painted the stores of luxury brands such as Gucci, Rolex and Prada orange, said, "We can no longer tolerate the rich. Your luxury is causing the climate to collapse"
The action movements of the environmentalist group, also known as "The Last Generation", drew reaction on social media. Some social media users said, "We cannot tolerate this. When will the state take action against these actions?
Intense air strike from Russia on Kiev
Ukraine announced that Russia carried out an air strike on Kiev, destroying more than 40 targets in the air.
It was reported that an air attack was carried out by the Russian army on the capital of Ukraine, Kiev, and more than 40 targets were destroyed in the air by the Ukrainian air defense forces.
In a statement made by the Kyiv City Military Administration, it was stated that the Russian army carried out an air strike again on the capital, Kiev. It was stated in the statement that Russian forces launched missiles and unmanned aerial vehicles (UAV) towards Kiev in the early hours of the morning, and that 15 airstrikes were carried out on the capital city in May alone.
In the statement, it was stated that more than 40 targets attacked on Kiev were detected by the Ukrainian air defense forces and destroyed in the air.
Kyiv Mayor Vitaliy Klichko also announced on his social media account that some missile fragments destroyed in the air hit the civilian infrastructure in various districts and caused damage.
Klichko later stated that there were explosions in the city again. Noting that Ukrainian air defense systems are working in Kiev, Klichko informed that missile fragments hit the Desnyan, Podilsk and Obolonskyi districts of the capital and one person was injured. Klichko stated the reason for the attack and stated that the enemy targeted the central districts of Kiev.