Record investment from German companies to China
German companies invested a record 11.5 billion euros in the country last year, despite growing concerns about the German government's economic dependence on China.
According to calculations by the German Economic Institute (IW), investment by German companies in China has increased significantly over the past two years, after a steady decline after 2016.
German companies invested a record 11.5 billion euros in the country last year, despite growing concerns over the German government's economic dependence on China, according to data from IW.
THE MAJORITY CAME FROM THEIR PROFITS IN CHINA
The majority of German companies' investments in China came from profits in that country.
According to a study by the Rhodium Group last year, a third of German investments in China between 2019 and 2021 came from the country's three biggest automakers Volkswagen (VW), BMW and Mercedes-Benz, as well as chemical group BASF.
IW foreign trade expert Jürgen Matthes told the German economics newspaper Handelsblatt that "if a war breaks out in the near future, the German economy will face a crisis of enormous dimensions." "Therefore, it is high time to reduce critical dependencies. But if that doesn't show up in the statistics soon, politicians will have to act." used the phrase.
FOREIGN TRADE DEFICIT WITH CHINA 84.1 BILLION EURO
12.8 percent of Germany's total imports come from China. The country's next largest trading partner after China is the Netherlands, with around 8 percent. The Netherlands is followed by the USA.
In exports, China ranks fourth in Germany's exports. The USA leads the ranking of the most important export markets for German products, followed by France and the Netherlands.
It is also noteworthy that Germany's foreign trade deficit with China, which was 23.5 billion Euros in 2010, increased to 84.1 billion Euros last year.
German companies rely on imports from China, especially when it comes to critical raw materials such as rare earths or magnesium.
According to the analysis of the German Industry Federation (BDI), about 94 percent of all rare elements imported into Germany come from China. Similarly, for other critical raw materials, Germany is heavily dependent on China.
It is also worth noting that some of the German companies' earnings come mostly from China. More than 30 percent of German automakers VW, Mercedes and BMW revenues come from China.
ADDICTION TO CHINA IS THE TOPIC OF DISCUSSION
While China has been on the record as Germany's largest trading partner for the last 7 years, the German public has been discussing economic dependence on China after the recent energy dependence on Russia resulted in an "energy crisis".
The German government has been warning for months about German companies' dependence on China.
Prime Minister Olaf Scholz warns that German companies should not "put all their eggs in one basket".
GERMAN-CHINA RELATIONS
While Western countries, especially the USA, Canada and Australia, have started to take a tougher stance against China, which has expanded its economy and influence, it is observed that Germany does not approach this by keeping its trade relations ahead of politics.
China's increasing effectiveness in Europe through investments and acquisitions in critical sectors such as infrastructure and technology, including European Union (EU) countries, has been a matter of public debate for a long time.
The fact that the economic relations of Germany, which has the largest economy in Europe, with China play a decisive role on political relations, also causes criticism on the continent.
Former German Chancellor Angela Merkel visited China 12 times during her 16-year rule.
The government prioritized economic relations over human rights. While the Chinese policy of the Merkel era was frequently criticized by the opponents, it is noteworthy that Prime Minister Olaf Scholz continued his economic cooperation with China, taking into account the trade balances with a similar approach to Merkel.
BENEFIT FROM CHINA'S OPENING TO THE GLOBAL ECONOMY
While the EU sees China as a negotiating partner for the union, as well as an economic and systemic competitor, Germany, which has an export-oriented economy, has been one of the countries that benefited most from China's opening up to the global economy for years.
German cars and machinery are in high demand in China. While exports to China supported Germany's longest post-World War II economic growth in the last 10 years, China became Germany's largest trading partner in 2016.
Germany's dependence on China draws attention in foreign trade, supply chains or the big market. Germany has a "strong import dependency" on China, even for raw materials such as lithium batteries and rare earth elements, which are becoming increasingly important for electric cars.
TRADE VOLUME EXCEEDED 245 BILLION EURO
The Covid-19 lockdown in Shanghai, which has severely disrupted supply chains around the world in recent years, has also revealed how dependent the German economy is on primary and intermediate products from China.
According to the data of the German Foreign Trade Chamber (AHK), approximately 5 thousand German companies operate in China. 1.1 million jobs in Germany depend on trade with China.
The Chinese market is of great importance for German companies, especially German automobile manufacturers, both in terms of sales and growth. German companies develop and test the latest technologies in China for the global market.
While China has been Germany's largest trading partner for the last 7 years, the trade volume between the two countries exceeded 245 billion Euros ($246 billion) in 2021.
Layoffs spread across all sectors in Europe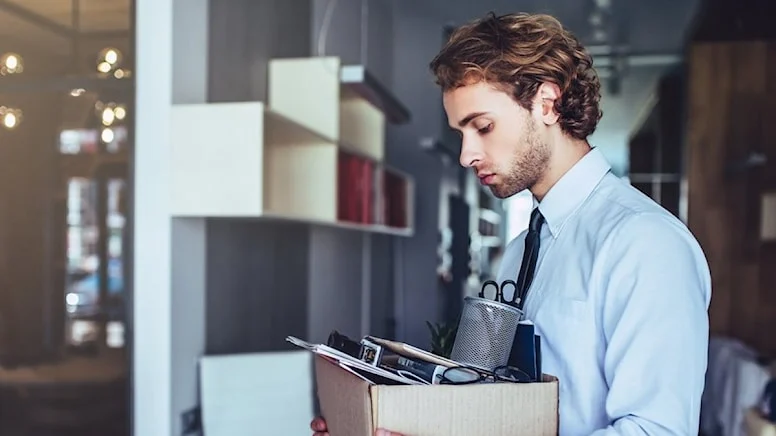 In Europe, unusually sticky high inflation, rising interest rates and uncertainty about the economic outlook have forced more and more companies to reduce the number of their employees, while layoffs have accelerated in the continent with the latest decisions announced by telecommunications companies.
The prices of goods and services rose due to disruptions in supply chains in the Kovid-19 outbreak and increased demand after the epidemic.
Increasing interest rates to combat inflation, which became stubborn with the effect of the Russia-Ukraine War, hit the highest level in recent years in Europe. The uncertainty created by the high inflation and high interest rates and the worsening macroeconomic outlook has led more and more companies to accelerate the layoffs to reduce their costs and to reduce their costs. The layoffs, which have spread to almost all sectors since the beginning of this year, especially the technology, manufacturing and automotive sectors, have recently accelerated with the dismissal decisions announced by the UK-based telecommunication companies BT and Vodafone.
Telecom companies reduce employment to reduce expenses Vodafone-based telecommunications company announced last week that it will lay off 11,000 jobs in the next three years to reduce costs and accelerate growth. Vodafone has approximately 104 thousand employees worldwide. It is predicted that Germany, England and Italy, the largest and at the same time the "worst" performance market of the company, will be the countries most affected by the dismissal decision. Vodafone announced in March that it plans to lay off 1,000 people in Italy and approximately 1,300 people in Germany. Vodafone's decision was again followed by the UK-based telecommunications company BT.
BT, with the increase in digitalization, required less workforce in its operations and reduced costs. It announced that it will part ways with 40,000 to 55,000 employees by 2030. The British telecommunications giant's total employment will fall from 75,000 to 90,000 by 2030, from its current level of 130,000.
This reduction means the company has cut more than 40 percent of its total workforce.Telekom Italia is reported to be planning to cut 2,000 jobs in Italy through a voluntary early retirement program.Swedish telecom equipment manufacturer Ericsson is working as part of a plan to cut costs. Swiss computer accessories manufacturer Logitech decided to lay off 300 people in March. Finnish telecom equipment manufacturer Nokia announced on May 3 that it will lay off 208 people. Irish-US joint information technology firm Accenture , decided to lay off 19,000 people at the end of March due to concerns about the global economy.
German software company SAP announced that it plans to lay off 3,000 people, who make up 2.5 percent of its global workforce, in order to reduce costs and focus on the cloud business at the end of January. Automotive manufacturer Stellantis, which includes the brands Vauxhall, Peugeot, Citroen, Fiat, DS, Jeep, Alfa Romeo, Maserati, Abarth and Fiat Professional, agreed with the unions in February to lay off 2,000 workers through voluntary layoffs in its Italian operations. group Volvo announced in March that it will restructure its bus manufacturing operation in Europe and cut 1,600 jobs. Earlier this month, Volvo Cars announced its decision to lay off an additional 1,300 people in Sweden. This figure constitutes 6 percent of the workforce in the company's home country.
Italian automotive parts manufacturer Marelli announced that it agreed with the unions to lay off 400 people at the end of March. British electric vehicle manufacturer Arrival decided to lay off 800 people, which make up half of its employment, in order to reduce its costs. German automotive and industry supplier Schaeffler has announced that it will lay off 1,300 more people by 2026 during the restructuring process.
Retail and consumer products companies are also making waves group Sainsbury's has announced it will cut 300 jobs immediately following a restructuring plan that will affect nearly 2,000 jobs announced at the end of February. Just Eat, an online food and delivery company headquartered in the UK, announced at the end of March, 1,700 couriers and 170 office workers. German online fashion retailer Zalando said in February that it will cut hundreds of jobs across the company, citing "difficult economic conditions".
German eyewear retailer Fielmann announced in March that it plans to cut hundreds of jobs by 2025. reported.
British cybersecurity firm Sophos announced in January that it will cut 450 jobs globally. German consumer products company Henkel also cut 2,000 jobs to combat rising costs and low demand. British retail chain Wilko is reportedly planning to lay off 400 jobs. Finnish elevator manufacturer Kone also announced in January that it would cut staff by 1,000, including 150 in its country. Netherlands-based Philips announced plans to lay off 6,000 jobs to offset falling sales after the massive recall of ventilators at the end of January. British Steel, which was sold to China, announced that it would lay off 260 people after announcing the planned closure of coke ovens in the north of England at the end of February. German chemical company BASF, warning that its earnings will decrease further due to rising costs, laid off 2,600 people. German specialty chemicals manufacturer Evonik announced a 200-person layoff plan in April.
Germany's largest bank Deutsche Bank also announced on April 27 that it will cut 800 jobs in an effort to cut costs by 500m euros over the next few years.Wind turbine manufacturer Siemens Gamesa reported last year that it plans to cut 2,900 jobs by 2025 as part of its plan to return to profitability. 1,900 of this employment reduction is planned to be made in Europe. Spanish pharmaceutical company Grifols has decided to lay off 2,300 employees as part of its strategy revision, which aims to save approximately 400 million euros annually.
British contracting firm Taylor Wimpey was laid off in January to limit costs. Swedish engineering group Alfa Laval has announced a restructuring program that will lay off about 500 employees after rising costs took its toll on its shipping business last year. Swedish garden equipment and tools manufacturer Husqvarna, on the other hand, announced that it will go through a restructuring and cut 1,000 jobs. British homebuilding company Vistry Group is also reported to be laying off 200 employees.