Chinese massage places in Amsterdam
Chinese massage places in Amsterdam. Chinese Massage, also known as Tui Na, is a therapeutic form of massage that has been practiced in China for over 2,000 years. It involves the use of various techniques such as kneading, pressing, and stretching to help relieve muscle tension, improve blood circulation, and promote overall relaxation.
On the other hand, Amsterdam is the capital city of the Netherlands, known for its beautiful canals, historic architecture, and vibrant culture. There are many massage parlors and spas in Amsterdam that offer a variety of massage treatments, including Chinese massage.
If you are looking for a Chinese massage in Amsterdam, you can do a quick online search to find massage parlors and spas that offer this service. It is important to choose a reputable establishment and check for reviews from previous customers to ensure that you have a safe and enjoyable experience.
Chinese massage places in Amsterdam
1.Traditional Chinese Massage Number 1
They offer a variety of Traditional Chinese Massage options, based on "Tui Na", to help you relax from head to toe. The Tui Na based massage therapy focuses on pinching, stretching and kneading movements. Tui Na works to alleviate problems such as musculoskeletal conditions and headache. Choose either a full body relaxing massage, Foot Massage, "Head, Neck, Shoulder & Back" massage (on a massage table or specialist massage chair) or a Sports Massage.
Address: Singel 240, 1016 AB Amsterdam
Website: http://www.massagenumber1.com/
2. China Massage
Professional, clean and authentic Asian massage at a reasonable cost in the heart of Amsterdam. Traditional style and consistency of massages and ambience; relaxing and stress-relief. We would highly recommended an hour long, full body massage or half an hour foot massages!
Address

:
Nieuwendijk 2, 1012 MK Amsterdam
3.China Beauty Massage Center
China Beauty Massage Center near Dam Square in Amsterdam is a Chinese massage parlor geared mostly towards passers-by, tourists and shoppers.
Especially foot massages are very popular here and are performed by professional masseuses and masseurs.
You can definitely go here for a traditional Chinese body massage.
Address: Paleisstraat 19, 1012 RB Amsterdam
Website: https://www.chinese-massage.net/ads/china-beauty-massage-center/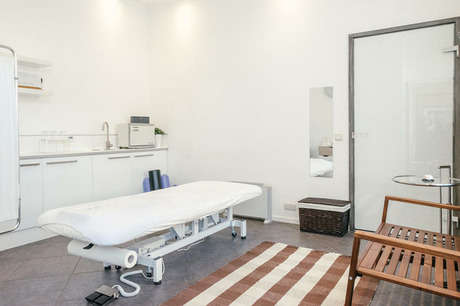 4.The Sun Chinese Massage Amsterdam
Sun Chinese Massage is an attractively decorated salon for Oriental massages, foot reflexology, pedicures and manicures with friendly and skilled massage therapists.
You can go here for real traditional Chinese massage such as "Tuina" and "Shiatsu", as well as Japanese massage, Thai massage, cupping and sports massage.
Address: Reguliersdwarsstraat 107, 1017 BL Amsterdam
Website: http://www.sunmassage.nl/
5. Linnaeusstraat Massage
A moment for yourself and your body. Stressed? In a hurry? Stressed or in pain? Many people benefit from massage: man or woman, young or old. Massage is for everyone. Massage is often associated with relaxation. Loosening stiff muscles, de-stressing in our busy daily lives or just relaxing with the help of massage. There are various types of massage that can be counted as relaxation massage. In Linnaeusstraat Massage salon, you can relax with atmospheric music playing in the background.
Address: Linnaeusstraat 12, 1092 CK Amsterdam
Website: http://www.linnaeusstraatmassage.nl/
Scientists warn: Ultra-processed food is as addictive as cigarettes
According to a study, overly processed frozen pizza, ready meals, chips or sauces purchased from the supermarket are as addictive as cigarettes.
Almost all of us buy and consume ready-made soups, sauces, frozen pizzas, ready-made meals, chips, donuts and many more from time to time. However, scientists state that these overly processed products are not only unhealthy, but also carry the risk of addiction, like smokers' addiction to tobacco.
Individuals with limited time, especially working people, prefer to throw overly processed, industrial foods into the basket while shopping. According to experts, due to this trend, almost 80 percent of supermarket shelves are filled with ultra-processed foods.
Antwerpen University Hospital (UZA) chief dietitian Michaël Sels explains what ultra-processed foods are in the VRT NWS Laat program in which he participated as a guest: "For example, tomatoes; When you buy it from the farm or supermarket it is an unprocessed tomato. You can make some manipulations to this tomato. For example, you can dry it. This would be a lightly processed tomato. But if you make a sauce from it, you have to add many things like oil, salt. The next step is ultra-processed food, such as tomato ketchup. Coloring agents, preservatives and sweeteners have been added to this product."
Signs of addiction observed
An analysis conducted by scientists on 281 previous studies in 36 countries was published in the BMJ medical journal. All this information from the studies was evaluated according to the Yale Food Addiction Scale, a standardized questionnaire designed in 2009 to accurately assess signals of compulsive eating.
According to the results, 14 percent of adults and 12 percent of children score high on symptoms of addiction to ultra-processed foods.
According to the study, overly processed foods are as addictive as cigarettes.
While Sels notes that ultra-processed foods contain a combination of substances that "make them tempting," he says, "Sugar, carbohydrates and fat are things we really innately love. It causes our brain to release dopamine, so when we eat it we feel very happy, but then we experience a slump. Therefore, we seek a dopamine rush again and thus turn to overly processed foods. "Buying these products starts to become more attractive every time," he said.
Stating that it is not necessary to completely eliminate all carbohydrates or fats from our lives, Selms recommended that, for example, when shopping at the supermarket, prefer the homemade version of a product, which is a better alternative, instead of the overly processed version.
Excessive consumption of these products increases health problems
Two studies, the results of which were published in the British medical journal "The British Medical Journal" in 2022, emphasized that excessive consumption of ultra-processed foods carries the risk of serious illness. Research in the USA found that excessive consumption of these products significantly increases the risk of colon cancer. A study conducted in Italy revealed that it causes heart disease and premature death.