UK nurses plan bigger strike next month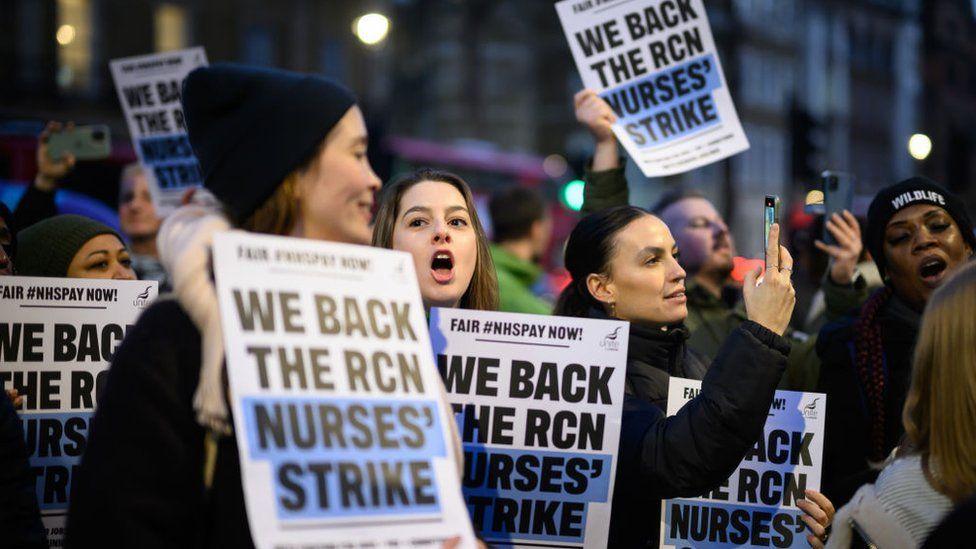 Nurses in the UK have announced that they will go on a larger strike in February if the government does not agree to compromise.
Nurses in the UK have announced that they will go on a larger strike in February if the government does not agree to compromise.
The Royal College of Nursing (RCN) has announced that if no progress is made in the negotiations by the end of January, they will make a call for all members entitled to strike in the UK for the first time.
Nurses went on strike this month as well.
On the other hand, the government is working on a new regulation that will restrict the right of workers to strike in certain sectors.
Nurses are demanding a 5 percent increase over inflation. Calculated from the peak of inflation, this means a 19 percent increase.
But in some news, there is also information that they can accept an offer of 10 percent.
The government, on the other hand, emphasizes that the rate of increase is decided by independent boards and it is not possible to pay this amount.
RCN Secretary General Pat Cullen said Prime Minister Rishi Sunak's stance was "confusing, reckless and politically inconsiderate":
"The prime minister gave the nurses some hope at first, but after seven days it seems like he has no intention of taking any action.
"Nurses only want to see the value they deserve.
"Otherwise, nurses will continue to leave their profession."
A spokesperson for the Ministry of Health said that this year they have raised at least £1,400 per year to their more than one million employees:
"This raise was made in addition to the 3% raise given to public officials last year."
Prime Minister Sunak, in his statement on the subject on Friday, said he hoped this knot would be untied.
If the government's plan to limit strikes becomes law, a certain number of workers will be required to work while workers in health, education, transportation and some critical sectors go on strike.
Ford decided to discount electric vehicle
Ford has announced that it is increasing production and cutting prices to increase the competitiveness and accessibility of its electric car Mustang Mach-E for customers.
In a statement made by the company, it was stated that production increases and discounts will continue to position Ford as an important option in the growing electric vehicle market.
It was stated in the statement that two-thirds of Mustang Mach-E's customers come from competing brands, and it was stated that the model was the number 3 electric car in the USA last year.
In the statement, it was reminded that Ford already offers a truck, SUV and minibus to its electric vehicle customers, and it was shared that the raw materials and batteries are safe for the scale production of these models in 2023.
"EXCITING"
Pointing out that current pricing is part of the plan to keep the model competitive in a rapidly changing market, the statement also included a table of price changes for Mustang Mach-E.
Marin Gjaja, the company's representative in charge of customers, whose views are included in the statement, stated that they will produce more electric vehicles in order to reduce customers' waiting times, offer competitive prices and create an unrivaled customer experience. We will continue to push the limits." used the phrase.
HOW MUCH DISCOUNT WILL BE DONE?
According to the shared price table, prices of various versions of Mach-E will be reduced by up to 8 percent, while low-priced models will be discounted between $ 600-900.
The discount on high-priced models will also reach 5 thousand 900 dollars. In this context, the starting prices of the model will vary between approximately $ 46 thousand and $ 64 thousand.
Existing customers waiting for their vehicle to be delivered will automatically benefit from the new price.
COMPETITION IN THE ELECTRIC VEHICLE MARKET IS HEATING
Electric car maker Tesla also lowered its prices in the USA and Europe after discounts in China at the beginning of the year in order to increase its sales.
While Tesla's discounts, which find 20 percent in the prices of Model 3 and Model Y vehicles, vary between 6 percent and 20 percent according to the car model in the USA; In Germany it was 17 percent.
Tesla prices were also reduced in Austria, Switzerland and France.