How much money can you earn working remotely abroad?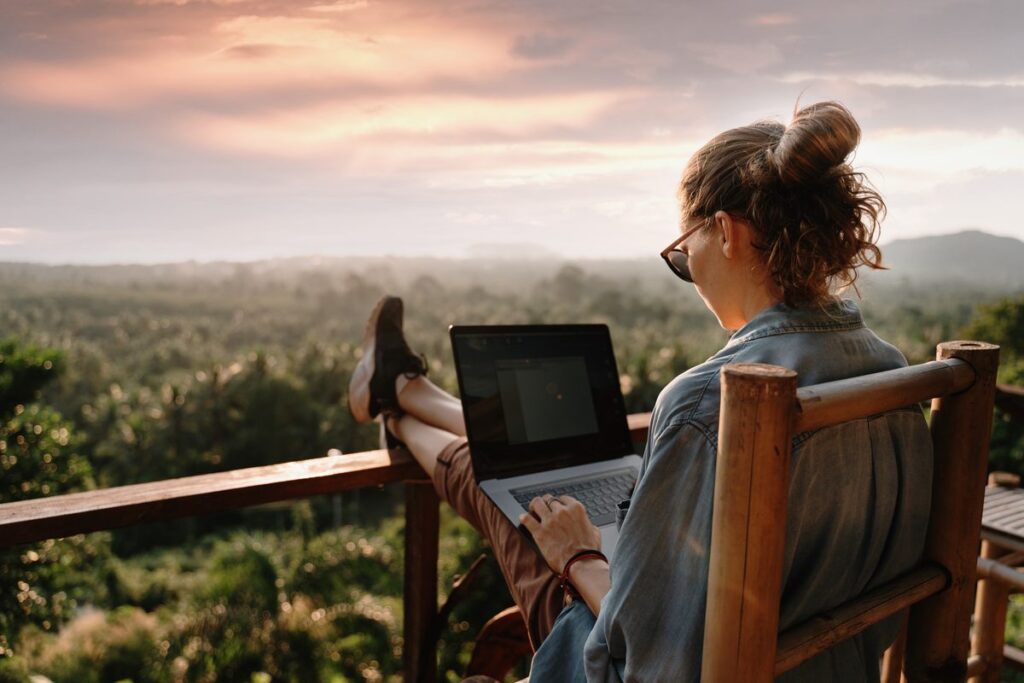 How much money can you earn working remotely abroad? Are you dreaming of a bright new life abroad by maintaining your current job, trade and social connections? You are definitely not alone.
The number of people who want to start a life in different countries with the way of working and living remotely, called 'digital nomad', is increasing day by day. So, would you like to know what you can earn with this kind of lifestyle in 38 different countries?
With the Covid-19 pandemic, officeless 'digital nomadism', which is now accepted all over the world, has become the most necessary and possible way for young people who are involved with technology to live their dreams, increase their opportunities and possibilities.
Many employees, especially in Europe and the USA, are considering quitting jobs that do not meet their needs or offering a good work-life balance and stepping into this type of life.
According to a recent survey by PricewaterhouseCoopers (PWC), 1 in 5 people who say they can change employers in the next 12 months will choose the 'digital nomad' life.
If you are one of them, some important income-expense calculator data may be useful for you.
Data produced by insurance company William Russell shows how average salaries for different jobs vary in 38 countries in the Organization for Economic Co-operation and Development (OECD).
The firm used data from Glassdoor to find the average salary for 36 different job roles in each OECD country and then converted those salaries into US dollars. Hourly wages were also converted to an annual salary based on a 37.5-hour work week.
How much money can you earn working remotely abroad?
Accordingly, a web developer who wants to be established in Europe earns 43 thousand 757 dollars a year in France, 40 thousand 531 dollars in the Netherlands, while this figure rises to 88 thousand 496 dollars in Switzerland and 70 thousand 763 dollars in Denmark. In Greece, it decreases to 13 thousand 492 dollars and in Portugal to 15 thousand 557 dollars. .
While there isn't enough data for every job in every country, the company also lists average salaries for a wide variety of occupations, including nurses, doctors, bartenders, graphic designers and accountants.
While salaries can vary considerably between countries, the same can be said for living costs.
Switzerland and Denmark are the top income earners, but both countries are among the top 10 most expensive countries to live in, according to the OECD's cost of living index.
The top 5 countries with the highest cost of living are: Switzerland, Iceland, Norway, Israel and Australia.
In addition, Turkey, Colombia, Mexico, Poland and Hungary are listed as the 5 most affordable countries.
Jobs and typical salaries in some prominent OECD countries:
UX/UI (interface) designer
The highest average annual salary for a UX/UI designer in the United States is $105,000, according to the salary calculator. It is followed by Switzerland with 88 thousand 496 dollars. The lowest level of salary in this field is in Turkey with 6 thousand 217 dollars and in Colombia with 12 thousand 311 dollars. In other words, even the lowest country, which is only one step higher than Turkey, provides twice the income of Turkey.
Revenues in some other European countries:
top 5
Switzerland – $88,496
United Kingdom – $64,478
Germany – $58,782
Ireland – $52,076
Luxembourg – $51,648
last 5
Poland – $20,613
Hungary – $18,404
Portugal – 17 thousand 769 dollars
Greece – $16,731
Slovakia – $16,461
Doctor
The United States has the highest average salaries in the OECD at $151k, Canada $112,290 and Norway $110,668, while Turkey is among the lowest at $7,994, Mexico ($10,243 and the Czech Republic $14,853).
top 5
Norway – 110 thousand 668 dollars
Switzerland – 101 thousand 447 dollars
Italy – 93 thousand 152 dollars
Netherlands – $70,484
Ireland – $69,842
last 5
Greece – 35 thousand 347 dollars
Spain – 35 thousand 053 dollars
Slovakia – 23 thousand 126 dollars
Portugal – 21 thousand 615 dollars
Czech Republic – $14,853
Graphic designer
The highest average salaries for graphic designers are in Switzerland, at $85,258. It is followed by Lithuania with 58 thousand 467 dollars and Norway with 57 thousand 990 dollars, while Turkey ranks at the bottom with 4 thousand 441 dollars once again. The countries just above Turkey are Colombia with 6 thousand 155 dollars and Mexico with 6 thousand 829 dollars.
Here is the situation in Europe:
top 5
Switzerland – $85,258
Lithuania – $58,467
Norway – $57,990
Denmark – $56,248
Italy – $48,527
last 5
Slovenia – $15,759
Portugal – $12,049
Poland – 11 thousand 779 dollars
Greece – 11 thousand 725 dollars
Hungary – 11 thousand 314 dollars
Accountant
The highest average salaries for accountants are again in Switzerland, at $118,714. On the other hand, this figure is 7 thousand 994 dollars in Turkey, the lowest level in Mexico (12 thousand 520 dollars and 14 thousand 126 dollars in Greece)
When we look at the situation in Europe once again, the table is as follows:
top 5
Switzerland – $118,714
Iceland – $83,219
Austria – $72,060
Netherlands – $69,570
Denmark – $68,949
last 5
Slovakia – $19,038
Portugal – $18,700
Hungary – $18,073
Poland – 17 thousand 668 dollars
Greece – 14 thousand 126 dollars
2023 Salaries in the Netherlands
Did you know that the Netherlands is the 9th highest paying country in the international rankings?
Yes, that's a real benefit of being right here. However, before you focus solely on salary and sign the deal, there are some important things you should know about salaries in the Netherlands.
2023 Salaries in the Netherlands
The Netherlands may also be one of the top paying countries worldwide, but it is very important to understand that the amount of pay you receive on the route depends on the type of fare you receive.
What is the minimum salary in the Netherlands in 2023?
What may come as a surprise to some is that the minimum salary in the Netherlands actually varies entirely with your age.
As of January 2023, the hourly minimum wage costs for a person over the age of 21 in the Netherlands:
36 hours: 12.40 €
38 hours: 11.75 €
40 hours: 11.16 €
What is the average salary in the Netherlands in 2023?
The Netherlands boasts an average monthly salary of 3,333 € or an average annual profit of 40,000 € in 2023!
However, life is generally pretty average no longer – and the same goes for your income. Depending on your mission, your payoff will be higher or lower than this variety.
Inflation and Dutch salaries in 2023
Beyond 12 months, house prices in the Netherlands soared to new highs. With living expenses rising by a staggering 14.5% towards the end of 2022, many of us entered the new year with overwhelming need for a pay rise.
Fortunately, as we have seen, the Dutch government solved this problem by raising the Dutch minimum wage by 10.15%. Meanwhile, in line with the ADP, average salary earners can count on their net earnings to increase by an average of €91 (3.7%) per month in 2023.
Will this be enough to fight inflation? However, it is worth noting that 2023 started with some correct indicators and at the end, the inflation rate fell once again.
What is the difference between Bruto camiis and Netto massis?
During your interview you will be offered an income after getting dressed and taking off your socks to impress your Dutch employers.
But before you get too excited about the numbers, you will listen to some numbers: these could be your Gross and Net profit and it is very important that you know the difference!
What is Bruto masais in the Netherlands?
One might be the amount you get before taxes and other deductions – that's your Bruto salary and you can't take it all.
What is Netto salaryis in the Netherlands?
Netto salaryis represents the money you receive after taxes and all other deductions.
How much of your profit will be taxed in the Netherlands?
Now, after all this talk about Netto and Brutto's paychecks, you're probably wondering how much of your paychecks the Dutch tax officer will get.
There are two different tax brackets in the Netherlands in 2023. You may be taxed at a certain rate depending on your property and business income. Let us list them for you.
TAXABLE INCOME: TAX RATE
Less than €73,031 per year36.93%Above €73,031 per year49.50%
What is included in your Dutch salary?
Yes, taxation is high in the Netherlands – but being employed in the Netherlands also has its advantages – a number of advantages in particular.
Vacation share (vakantiegeld)
In the Netherlands you can receive at least 8% of your gross salary as holiday pay. Employers normally pay you in a lump sum between May and June, but depending on your contract, it can be awarded in increments each month.
Note: If you are a trainee, self-employed or earning three times the Dutch minimum wage, you are not entitled to holiday pay in the Netherlands.
"13th month"
In any task, there is a constant luck of receiving bonuses. But in the Netherlands, some companies provide what is described as a "13th month" under certain contracts.
If your salary includes a "13th month", you can basically get an extra monthly payment! It is normally given before the holiday period in November or December and also equals 8.33% of an employee's earnings.
Sick leave
In the Netherlands, most employment contracts even cover you due to illness. According to Dutch law, your business venture must pay you 70% of your salary if you become ill at any point in your contract.
If you've been sick for a long time, you don't have to worry about your organization losing you. In fact, according to Dutch regulation, a company is required to pay up to 104 weeks of sick leave.
A great work-life balance
Ok, that's not exactly a financial advantage that can be discovered for your Dutch earnings – but it is indeed an advantage. A great work-life balance is valued in the Netherlands.
This means that you are no longer expected to bring your work home "as part of the corporate subculture".
How do you know your Dutch payslip?
Once you've found yourself a job and the earnings to come with it, the payroll can be very difficult to understand.
Luckily, we have listed all these difficult words for you.
| DUTCH | ENGLISH |
| --- | --- |
| Salaris Periode | Period of pay |
| Personeelsnummer | Employee number |
| BSN | Dutch social security number |
| Geboortedatum | Date of birth |
| Afdeling/Functieomschrijving | Job role |
| Anciënniteitsdatum/Datum in dienst | Date you started your employment |
| Salaris/uurloon | Gross salary (before tax) |
| Minimumloon | Minimum wage |
| Verzekerd voor WW/WiA/ZW/Zvw | Social security you contribute to |
| Bijz. tarief/heffingskorting (ja/nee) | Tax rate (percentage)/general tax credit (yes or no) |
| Gewerkte uren | Hours worked |
| Sociale verzekeringen (SV) | Social security contributions |
| Reiskostenvergoeding | Transport reimbursement cost |
| Totaal Netto | Net salary after everything — what you receive in your bank account |
| Vakantiegeld | Holiday leave |