Earth orbit is on the verge of disaster
LeoLabs officials stated that the two objects missed each other by just 6 meters.
The brink of a catastrophic collision in low-Earth orbit has been swept away.
Satellite tracking and collision detection firm LeoLabs announced that the two discarded spacecraft missed each other by a narrow margin. The collision would occur between a rocket body from the Soviet Union and a spy satellite.
According to LeoLabs' statement, on January 27, the distance between two objects was measured in meters only. Fortunately, however, the collision did not occur.
BOTH SPACE VESSELS AND astronauts can be damaged
LeoLabs officials stated that the two objects missed each other by only 6 meters. Experts say such a collision would cause thousands of dangerous pieces to emerge in Earth orbit.
The number of spacecraft parts in low Earth orbit is increasing. As they collide with each other, they form smaller and more dangerous pieces.
According to Independent Turkish's report, these pieces, which scientists call space junk or space debris, may hit the International Space Station, which is home to functioning satellites and astronauts in orbit.
This could result in damage to both spacecraft and astronauts.
US officials state that they track nearly 30,000 space debris in orbit. But there's also a lot of space junk that's too small to detect from Earth's surface, according to NASA.
According to LeoLabs, one of the two objects that narrowly missed each other was the SL-8 rocket. This class of rocket was used to launch spacecraft between 1964 and 2009.
The second piece was the Russian spy satellite Cosmos 2361, designed to intercept electronic signals such as radio communications and radar transmissions. This spacecraft was launched in 1998.
Did drought bring the end of the Hittites?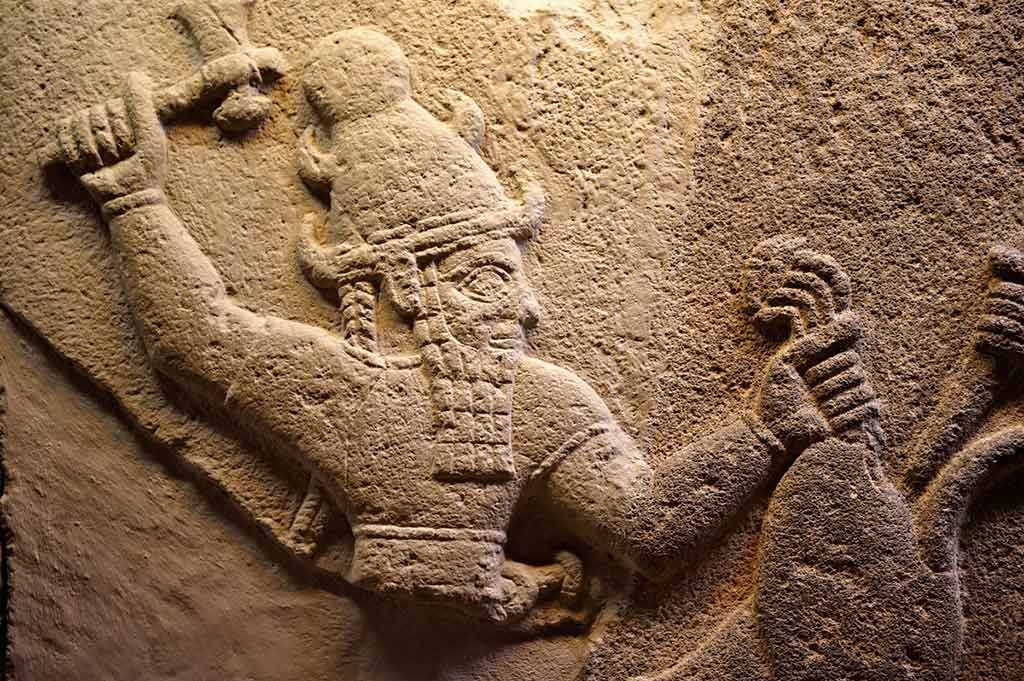 A new study examining the reason for the collapse of the Hittites, one of the most powerful empires of antiquity in the Middle East, sheds light on the impact of an unusual drought on the end of the 500-year reign.
The Hittite Empire, which reigned between 1650-1200 BC, had established a powerful civilization in Anatolia during its golden age.
At that time, it controlled central, southern and southeastern Anatolia, as well as the Levant and northern Syria.
Hattusa, the capital city of today's Çorum province, was central to Hittite political and religious policies for centuries.
But the five-century-old empire collapsed quite suddenly and dramatically around 1200 BC.
Hittite king II. Suppiluliuma came to power around 1207 BC and won numerous victories.
However, there was no other Hittite king recorded after him in history.
An inscription from the reign of Egyptian ruler Ramses III (1188-1177 BC) states that the Hittites were driven out by 'seamen' before attacking Egypt.
It was thought that Hattusha, the capital of the Hittites, was also destroyed by the attacks of the sea peoples or raiders in Anatolia.
However, new research has revealed that the city had been evacuated by the royal administration prior to these invasions.
It has remained an important question for historians why they left Hattusha, the center of their faith and bureaucracy, which was based on difficulties such as raids, internal and external conflicts or epidemics, one of the best-known enemies of the Hittites.
Answering BBC's questions, Sturt Manning, Professor of Classical Archeology and Science at Cornell University and lead author of the study, states that climate has previously been thought to be a factor, but that long-term, infrequent changes in climate are unlikely to lead empires to collapse:
"Instead, it is the successive or ever-expanding years of unexpected crisis that adversely affect many communities of people who depend on agriculture and animal husbandry from the past to the present.
"A semi-arid environment can exacerbate such challenges. So we tried to study the climate in the region in high resolution: This meant addressing the climate on an annual scale."
THEY EXAMINED THE AGE RINGS OF ANCIENT JUNIPER TREE
prof. Sturt Manning and his research team studied the age rings of trees to get a broader perspective on the impact of climate during the Hittite collapse.
Researchers investigated how the age rings obtained from preserved juniper trees at Midas Mound in Gordion, about 100 km from Ankara, changed over the years.
Juniper trees were known to grow around 1200 BC.
prof. The narrowing of the ring spacing of these trees means their access to water is reduced and drought conditions are exacerbating, Manning says.
"We checked this prediction by also performing stable carbon isotope analysis of tree rings: In drier conditions, the pores (stomas) in trees' leaves tend to conserve water, and at such times the ratio of carbon 12 to carbon 13 in tree age rings changes."
As a result of these studies, the researchers found that the Hittites were accustomed to one-year dry periods and they adapted to it.
However, successive severe dry seasons and associated droughts were only a once-in-a-lifetime event.
And according to the researchers, the only example of this happened around 1198-1996 BC.
prof. "The extraordinary and unexpected drought that lasted 3 years in a row is likely to have plunged Hattusha and her empire into an existential crisis during this already very difficult period," says Manning.
HOW DID THE HITTITES RESPONSE TO THE DROUGHT?
According to researchers, the Hittites were accustomed to dry seasons. And they were taking different measures to deal with these periods.
They stored their grain in the warehouses they built and consumed them in a longer time.
Similarly, he built dams to conserve water for later use.
They consciously used both grains and livestock to feed.
Answering the questions of BBC, the lead author of the research, Prof. "They had a sophisticated infrastructure. These combinations provided reasonable resilience to anticipated challenges. It can be said that they had reasonable expectations of low crop/drought times," says Manning.
But, according to the study, consecutive years of drought may have broken their resilience, bringing them to the point of no return.
prof. Manning states that the storage technology of the Hittites and the practices that protect the crops in the warehouses against insects and other pests can be effective for a maximum of 1-2 years.
According to him, the inability of land transportation to be carried out on a large scale like today's caused the Hittites to face an "acute catastrophe threat in the third year".
'DROUGHT COULD BE ONLY A FACTOR IN THE COLLAPSE OF THE HITIES'
The research, published in the journal Nature, offers a different perspective on the collapse of the Hittites' glorious empire, but there are historians who are skeptical of its results.
Speaking to BBC, German Archeology Institute Boğazköy Archaeological Excavation Head Prof. Dr. Andreas Schachner says that the drought problem alone cannot be a sufficient reason to bring the end of an empire:
"The fact that the research comes to this conclusion with limited data from only one political and cultural center of the Hittites oversimplifies the complexity of the event. Many different reasons may have come together in the same period and drought could be just one of these reasons. For example, migrations or earthquakes are some of them. According to one hypothesis. Around 1200 BC there was a chain of earthquakes that destroyed the current Syrian coastlines."
prof. Dr. Schachner states that research should use more comprehensive data to reach a more reliable conclusion:
"There is too much regionalism in Central Anatolia; you cannot adapt the data in Gordion to Ankara and the data from Boğazköy to Gordion."
However, there are those who think that it is important that the research reveals for the first time the role of environmental factors in the complex chain of events that affected the collapse of the Hittites.
Answering BBC questions, an academic at the Department of Ancient Near East Languages and Studies at Bilkent University Department of Archeology, Mr. Yavaş Gerçek, said that Manning and his team's research "rather than suggesting that the Hittite state collapsed due to drought, drought is a spark that triggers other economic, political, social or environmental factors." He argues that he is" and continues his words as follows:
"It shows that environmental factors and the accompanying political, economic and social transformations need to be studied at smaller scales, not just at the state or empire scale.
"Further studies should investigate whether small or medium-sized human communities are more resilient to such environmental challenges than the state, and how they cope with such processes."
prof. Manning notes that the risk of unexpected droughts that occur every few centuries is a "historical challenge" with the power to "shake any status quo."
The research suggests that this crisis brings with it other problems and threats.
prof. "While this actually happens rarely, he emphasizes that we also need to take into account the things that harm our world," says Manning.
"Three years in a row of severe drought affecting a wide area across many continents can present a real challenge today as it was then."
"We have to ask ourselves the question: 'How resilient is our society, country and world really to such risks?'"