PINK BEACH: DREAM OF PINK SAND AND DRINKS IN AMSTERDAM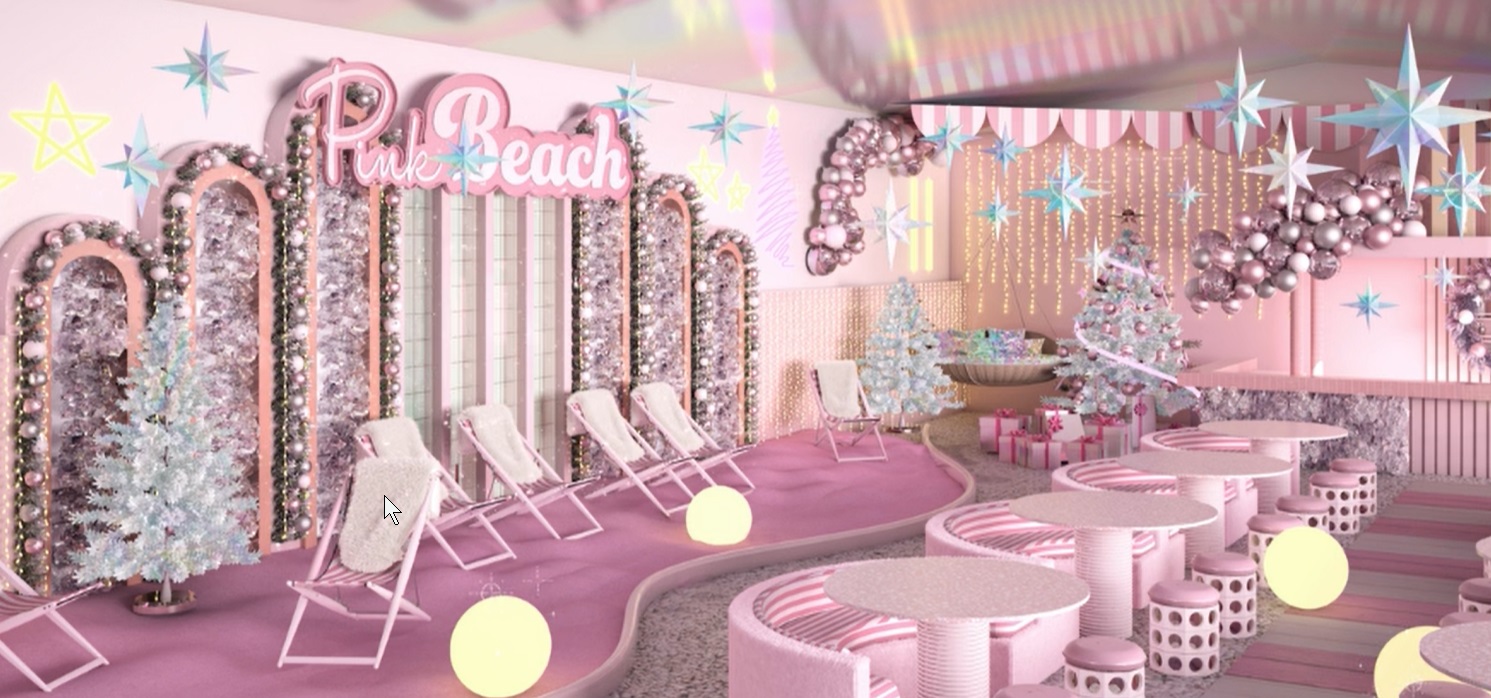 This phenomenal place is %100 for Pink fans! Pink Beach is an incredible spot of pink sand and drinks, the perfect excuse to travel to Amsterdam.
Welcome to your new favourite beach bar: Pink Beach Amsterdam , a surreal pink sand tropical oasis located in Amsterdam North , just one metro stop from Central Station. This spot is designed to give you genuine moments of joy and escapism. Pink Beach transports you to a different place and time so you can relax, reconnect with friends, and have a great summer time!
Enjoy amazing cocktails with your toes dipped in pink sand. If you prefer, you can dive into the ball pit while the hosts serve you delicious food and a cold glass of wine.
The menu at Pink Beach
A place as surreal as this, must have food and drinks to match the experience and to satisfy all its customers.
Pink Beach Special Meals
Nacho Salad Bowl (10.5 euros): Filled with crispy corn tortilla chips, a mix of lettuce, beans in sauce, sliced ​​avocado, corn, chives, hot sauce and grilled beef (there is also a vegan option)
Miami Hot Dog (€ 9): Plant-based veggie or beef sausage served on a pretzel bun with curly lettuce, pickled pink onion, guacamole, hot sauce and celery salt
Pink Beach Special Burger (13 euros): Plant-based veggie or beef patty, served on a crusty bun with Asian coleslaw, pink onions, carrot rasp, panko breadcrumbs and creamy siracha mayonnaise
Palm Springs Burger (11.9 euros): Plant-based veggie or veal patty served on a butter bun with curly lettuce, tomato, sauteed onions, cheddar cheese, jalapeños, and homemade burger sauce
Pink Beach Special Cocktails
Barbie's Pink G&T (9.5 euros): Raspberry-infused gin, Espelette pepper liqueur and rose lemonade with a touch of marshmallow
Pineapple Festival (10.5 euros): Plantation pineapple rum, lime juice and ginger beer adorned with tropical flowers
Mermaid's Tears (10.5 euros): 100 percent organic vodka, blue curaçao sugar syrup and sparkling lemonade garnished with mint
Paloma Loca (9.5 euros): Premium tequila, lime juice and grapefruit soda, served with a splash of salt and a spicy crunchy caramel
Cherry bomb (9.5 euros): Special dry rum and lime juice topped with cherry soda and garnished with fresh mint and cherries
Mocktails
No Wondr (8 euros): Spritz Everlast Forest alcohol-free with vanilla and orange infusion
Spring flowers (8 euros): Non-alcoholic gin infused with cherry blossom, strawberry and rosehip mixed with a light premium tonic and garnished with fresh strawberries
In the wine part they have Red, Rose, White and Sparkling, either by the bottle or by the glass. They also have commercial beers and non-alcoholic beverages.
Where is Pink Beach Amsterdam?
Pink Beach is part of WONDR, an immersive experience that combines visual magic with limitless creativity. A world of color and sensations dotted with confetti that invites you to play and explore. Regardless of your age.
Designed in collaboration with the most creative minds in Amsterdam, this experience park is unlike anything you've seen before. It is a place that invokes inspiration, fantasy and pure joy. A dazzling adventure created to engage all of your senses in unexpected ways.
Get lost in a jungle from another world. Dive into a sea of ​​pink marshmallows. Dance under a blazing sky. Write on the walls. Jump into the biggest ball pit you have ever seen. Sing with all your heart. Let your imagination run wild and experience the art of play.
WONDR (Pink Beach) is located in Amsterdam Noord , the coolest neighborhood in the capital of the Netherlands. The address is 88 Meeuwenlaan Street, just from Noorderpark tube station.
If you want to know more, check out their Instagram or Facebook or the official site .
Most beautiful terraces in Maastricht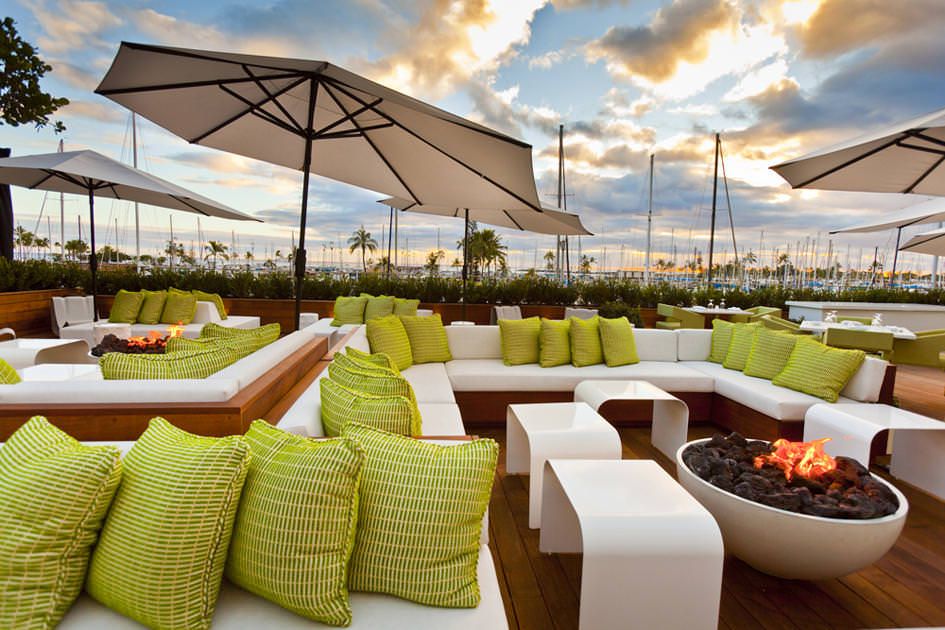 Which restaurants have the most beautiful terraces in Maastricht? Maastricht is the city to be if you want to enjoy the Burgundian life. Lucky you if you live in this beautiful city, but it is also the perfect destination for a weekend break or a holiday in your own country . Enough to experience and it often feels a bit like being abroad. The capital of Limburg has many nice terraces to enjoy a snack, a drink and to catch maximum sun along the Maas. We recommend the best places for your next drink in Mestreech.
Most beautiful terraces in Maastricht
1. Lure
This nice restaurant with a cozy terrace is located in the center of Maastricht, but in a neighborhood where not many people come. So if you don't want to sit in the middle of the hustle and bustle, you've come to the right place. Moreover, on the way here you will pass beautiful places of the city. There are delicious fine dining specialties on the menu, which you can indulge in. You are always among the locals , so you know for sure that you are in the right place!
Restaurant Lure, Grote Looiersstraat 7, Maastricht
2.
Bistro Bar 't Wycker Cabinet
This trendy restaurant is the place to be if you want good food. Start your day with eggs royale, pain perdu or freshly baked banana bread. Settle down here for a fresh salad, club chicken, various tasty sandwiches and croquettes de maison for lunch. Or try one of the classic bistro dishes from the French kitchen for dinner. In any case, you will never go home hungry here.
't Wycker Cabinet, Wyckerbrugstraat 29b, Maastricht
3. Noon
This is perhaps the most handsome terrace in town. Noon is located right next to the river Maas and is without doubt the sunniest terrace in Maastricht. Enjoy lunch, dinner or drinks here from 12 noon. cheers!
4.
Country estate Slavante
Best vegan restaurants in the Netherlands
Which are the best vegan restaurants in the Netherlands? Existing restaurants are opting en masse for a more plant-based menu, and fully vegan restaurants have also sprouted up like mushrooms in recent years . There's no getting around it: vegan is a trend. Great for anyone who likes to consume more consciously, and who has topics such as animal welfare and the environment high on their agenda. But don't think that you have to be at least vegetarian to enter a vegan restaurant. These vegan restaurants manage to convince even the most fanatical carnivores of plant-based delicacies. The menu is diverse, the house style on point and the atmosphere excellent.Wondering where to go in the Netherlands for the most delicious plant-based dishes? The best vegan restaurants (including some newcomers!) in a row.
Best vegan restaurants in the Netherlands
Mama Gaia, Haarlem
Best sushi restaurants in Amsterdam
Amsterdam is full of sushi restaurants, but what are the real gems? Chances are you will find some real hidden sushi gemsin Amsterdam is not yet known. And they don't have to be very expensive. We researched and collected the very best sushi restaurants in Amsterdam, especially for you. Because what's better than an evening of lemurs, nigiri and handrolls? After the photos below, your mouth is already watering.
This content is created and maintained by a third party, and imported onto this page to help users provide their email addresses. You may be able to find more information about this and similar content at 
piano.io