PINK BEACH: DREAM OF PINK SAND AND DRINKS IN AMSTERDAM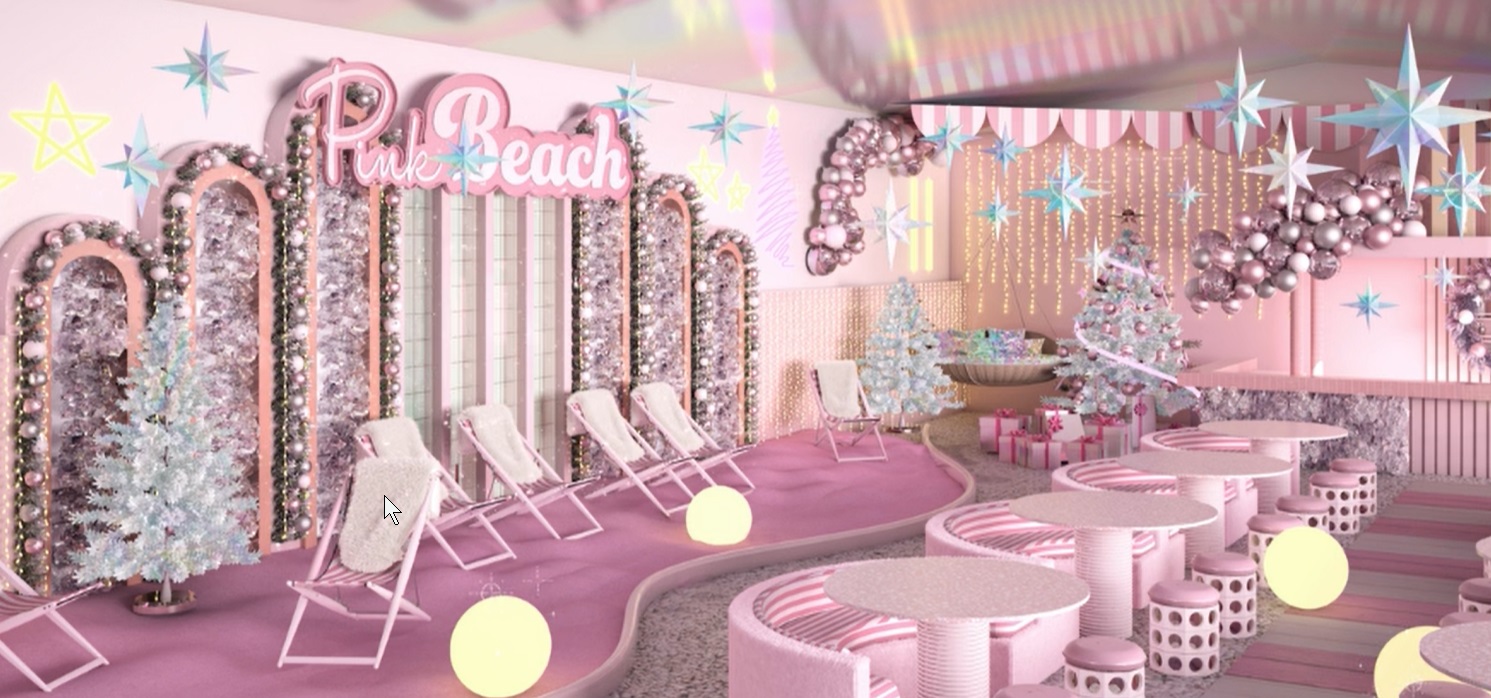 This phenomenal place is %100 for Pink fans! Pink Beach is an incredible spot of pink sand and drinks, the perfect excuse to travel to Amsterdam.
Welcome to your new favourite beach bar: Pink Beach Amsterdam , a surreal pink sand tropical oasis located in Amsterdam North , just one metro stop from Central Station. This spot is designed to give you genuine moments of joy and escapism. Pink Beach transports you to a different place and time so you can relax, reconnect with friends, and have a great summer time!
Enjoy amazing cocktails with your toes dipped in pink sand. If you prefer, you can dive into the ball pit while the hosts serve you delicious food and a cold glass of wine.
The menu at Pink Beach
A place as surreal as this, must have food and drinks to match the experience and to satisfy all its customers.
Pink Beach Special Meals
Nacho Salad Bowl (10.5 euros): Filled with crispy corn tortilla chips, a mix of lettuce, beans in sauce, sliced ​​avocado, corn, chives, hot sauce and grilled beef (there is also a vegan option)
Miami Hot Dog (€ 9): Plant-based veggie or beef sausage served on a pretzel bun with curly lettuce, pickled pink onion, guacamole, hot sauce and celery salt
Pink Beach Special Burger (13 euros): Plant-based veggie or beef patty, served on a crusty bun with Asian coleslaw, pink onions, carrot rasp, panko breadcrumbs and creamy siracha mayonnaise
Palm Springs Burger (11.9 euros): Plant-based veggie or veal patty served on a butter bun with curly lettuce, tomato, sauteed onions, cheddar cheese, jalapeños, and homemade burger sauce
Pink Beach Special Cocktails
Barbie's Pink G&T (9.5 euros): Raspberry-infused gin, Espelette pepper liqueur and rose lemonade with a touch of marshmallow
Pineapple Festival (10.5 euros): Plantation pineapple rum, lime juice and ginger beer adorned with tropical flowers
Mermaid's Tears (10.5 euros): 100 percent organic vodka, blue curaçao sugar syrup and sparkling lemonade garnished with mint
Paloma Loca (9.5 euros): Premium tequila, lime juice and grapefruit soda, served with a splash of salt and a spicy crunchy caramel
Cherry bomb (9.5 euros): Special dry rum and lime juice topped with cherry soda and garnished with fresh mint and cherries
Mocktails
No Wondr (8 euros): Spritz Everlast Forest alcohol-free with vanilla and orange infusion
Spring flowers (8 euros): Non-alcoholic gin infused with cherry blossom, strawberry and rosehip mixed with a light premium tonic and garnished with fresh strawberries
In the wine part they have Red, Rose, White and Sparkling, either by the bottle or by the glass. They also have commercial beers and non-alcoholic beverages.
Where is Pink Beach Amsterdam?
Pink Beach is part of WONDR, an immersive experience that combines visual magic with limitless creativity. A world of color and sensations dotted with confetti that invites you to play and explore. Regardless of your age.
Designed in collaboration with the most creative minds in Amsterdam, this experience park is unlike anything you've seen before. It is a place that invokes inspiration, fantasy and pure joy. A dazzling adventure created to engage all of your senses in unexpected ways.
Get lost in a jungle from another world. Dive into a sea of ​​pink marshmallows. Dance under a blazing sky. Write on the walls. Jump into the biggest ball pit you have ever seen. Sing with all your heart. Let your imagination run wild and experience the art of play.
WONDR (Pink Beach) is located in Amsterdam Noord , the coolest neighborhood in the capital of the Netherlands. The address is 88 Meeuwenlaan Street, just from Noorderpark tube station.
If you want to know more, check out their Instagram or Facebook or the official site .
Artificial chicken meat produced
Food technology company Upside Foods will soon introduce chicken meat produced in bioreactors using real animal cells to the US market.
Only two steps remain for the sale of artificial chicken meat approved by the US Food and Drug Administration
Upside Foods will soon be able to offer chickens made from real animal cells produced in bioreactors in the US.
According to the news of Wired, the decision taken by the US Food and Drug Administration (FDA) is seen as the next important milestone for the artificial meat industry. So far, small-scale production facilities have raised billions of dollars to experiment with artificial meat production; however, it could not sell these products to the public.
The few people invited to try artificial meat had to sign a disclaimer acknowledging that the products were still experimental. Now there are only two small regulatory steps left before the introduction of artificial meat to the public.
TWO STAGES LEFT FOR SALE
Upside needs an inspection approval from the U.S. Department of Agriculture for its manufacturing facilities and an inspection mark for the food to enter the U.S. market. It is anticipated that these two steps will result in rapid results.
"This is the moment we've been working on for nearly seven years. Expanding into the US market is what every company in the world is trying to do," Upside CEO Uma Valeti said in a statement.
While Upside Foods is focused solely on chicken, different startups are working on many different products, including beef, chicken, salmon, and tuna.
IT CAN BE TASTE IN RESTAURANTS FIRST
The FDA's decision means that artificial meat products may soon be available to the public to try, but tastings will likely be limited to a select few restaurants. Michelin-starred chef Dominique Crenn has already announced that Upside Foods will serve chicken produced at her restaurant, Atelier Crenn, in San Francisco.
Valeti said he wants the public to taste Upside chicken for the first time through select restaurants before buying it and cooking it at home.
"CAN'T DISCRIMINATE FROM REAL MEAT"
"We wanted to get this to people through the chefs in the first place. It's really important for us to get the chefs excited about this. We want to work with the best partners who know how to cook well and also give us feedback on what we can do better," said Valeti.
Unlike plant-based meat, artificial meat contains real animal cells and is theoretically indistinguishable from real meat itself. Cells are initially taken from an animal and then transformed into cell lines that are frozen. Small samples from these cell lines are then transferred to bioreactors (usually large steel tanks) where the cells are fed with growth medium containing the nutrients the cells need to divide. Once the cells have grown and reached sufficient tissue type, they are ready.
It will be sold for 17 dollars per kilo.
It is thought that the market and restaurant sales prices of the meat, for which the facilities will produce half a kilo for 17 dollars (approximately 317 lira) in the future, will be much more expensive. Due to this price, it is stated that the first artificial meat products offered to the public will likely be a mixture of animal cells and plant-based meat. On the other hand, it is stated that the widespread production of artificial meat at affordable prices will be 10-15 years later.